Will Windows Phone 8 feature new Lock screen notifications?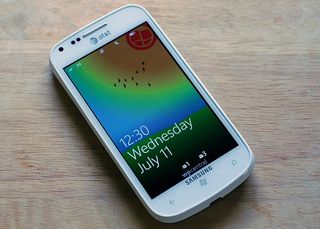 Can we expect changes in the Windows Phone 8 Lock screen?
Back at the Summit a few weeks ago, Microsoft was very clear that they were not showing all of Windows Phone 8, in fact we were only getting a peek. The reason for that is multifaceted but their official position is they don't want to show consumer features to consumers when we're still months from release. Then there's the whole idea of trying to prevent an Osborne effect i.e. hurting current sales by enticing customers to wait for new phones this fall.
One tiny area of interest was an observation today from a reader (erichon99) in the new Start screen video by Microsoft. At about the 2:15 mark (snapshot below) you can see some icons on the Lock screen: 1 Missed Call/Voicemail, 4 text messages and presumably 13 new Hotmail/Live mail messages.
What caught our reader's attention was the new Hotmail/Live mail icon which ironically is the old Windows flag logo (yet the new logo is clearly used for the capacitive button). To be honest, we think this is just a mockup oversight and we have no idea if Hotmail/Live mail would use the old logo though we're leaning towards 'no' on that one--in other words, nothing to see here. However...
In Microsoft's video there's an apparent oversight in logo-matching
...this brings back to the beginning—what are those new features in Windows Phone 8? We don't want to ruin Microsoft's surprise but we can tell you that looking at the Lock screen for notification changes is a good start.
One area many have complained about in Windows Phone 7 is the lack of a "notification-center". More accurately if a notification comes in for a 3rd party app and you miss it, well, you missed it. Sure you can use the app's Live Tile but that assumes (a) You've pinned it to your Start screen and (b) You've scrolled down to check it at some point. But can the OS be even more "glance and go"? The answer is 'yes'.
We're not sure if Microsoft will have an actual notification-center on board (ala Android's "drawer") but we do know they solved this problem another way in Windows Phone 8—by giving developer access to the Lock screen with the added ability to have custom notifications. There are actually four options for developers to choose from with one of them being extremely creative as it will give you a fresh look to your Lock screen numerous times a day. We won't say much more on the matter for fear of raising Microsoft's ire but hopefully this tease will get you excited for what's coming in Windows Phone 8.
Microsoft is once again not copying the competition, they're doing it their way and in a few weeks, you can judge for yourself.
Windows Central Newsletter
Get the best of Windows Central in your inbox, every day!
Daniel Rubino is the Editor-in-chief of Windows Central, head reviewer, podcast co-host, and analyst. He has been covering Microsoft since 2007 when this site was called WMExperts (and later Windows Phone Central). His interests include Windows, laptops, next-gen computing, and for some reason, watches. Before all this tech stuff, he worked on a Ph.D. in linguistics, watched people sleep (for medical purposes!), and ran the projectors at movie theaters because it was fun.
I am glad to see MS doing thing there way,,why follow when you can be a leader. Hope the new lock screen stays elegant and simple as always with just a little more function.

What I would really like to see is lockscreen notifications for third-party apps like WhatsApp. This is very essential. I hate having to unlock and scroll to the WhatsApp tile to see if I have a new message or not.

AGHHHH!! You damn you tease you!!! .......... you. >.<


Also, <3 <3 <3

I have said it before and will again. They don't need a new notification system they just need to extend the capabilities of the notifications pane in the me hub. Open this to developers and build their own stuff in. Problem solved

Me hub still requires you to slide-to-unlock. Allowing devs to the Lock screen is even better.

Yes in one way, but alot of things are secondary and you won't want them on lock screen. Adding to me tile is seamless and a natural progression of that hub, no?

I think in addition to the Lock screen, it'd be nice. Can't say if that's what they have planned though. I think the Me hub will be limited to native services like Skype and VOIP apps for WP8.

That could leave things disjointed if its true, time will tell.

i still think that idea that someone came up with to swipe to the left side for notification center would be ideal.... (get all apps on the right and messages on the left :] )

That was Nokia with Meego

I agree with both myself. However, I don't want the Lockscreen Notification to look like iOS. I'd like something similar to what's there, but it stays persistent, or collapses similar to that of WebOS. I would also like the Notification Center itself to be in the ME tile as well. It would be very easy to do , especially with the newer WP8 home screen look

Agreed 100%. The me area is the ideal location for notifications and could allow quick access to the apps that gave the notification.

I suggest have an option for developers to have a setting where the option could be set for a lock screen notification. The option to have an icon show up on the lock screen would be wise. The only ones that should need it would be of course your (FB, Twiter & IM clients) and possibly WP central & Engadget if new articles come in.

Yeah I kinda like the idea of expanding missed notifications in the Me tile as well. Obviously the tiles that you have pinned would still show the notifications as well, but having the Me tile have a list there with notification history would be cool. Simply rename the current notifications list to something else like feeds or whatever. (Live, Facebook, Twitter, etc).

It might be cool, but it would also be a bit impractical. Too many steps. If you miss an important notification, you're not going to enjoy unlocking the phone, finding the Me tile, tapping it, then swiping through the hub to the notifications list. Ideally, you should be able to see a notification history list with a single gesture after unlocking the phone.

check out win8. you can chose what is on the lock screen there, too. same api, same technology.

Would be bad ass if you could read the weather too.

This is outstanding news, even if it is just a "tease." Really looking forward to WP8 even more now!

What do you mean whit a few weeks wasn't it months Daniel

Nah, MS said they will have more events this summer for WP8--August, September. They're kind of flying by the seat of their pants (see the 2 Developer Summit...err..1 day SF Summit).

Ps not 13 emails its something else rewatch the video and he has 5 showing on tile.

Since I got Tango (yesterday) my phone shows a Yahoo! mail icon for new email messages, presumably because one of my email accounts is Yahoo. I assume that the Windows flag logo is an extension of this.

I hate windows phone nw.... Y my 1st gen phone not update 7.8/8... Dis not gud news windows user :-( even 2 years old computer r updated for windows 8 den my phone is not update :-(:-(:-(:-(

"even 2 years old computer r updated for windows 8 den my phone is not update"

Give this user the Pulitzer Prize!

Windows disappoint me :-(

Oh yay, another person bleating about how their current Gen phone won't be updated to WP8. Give it a rest and go cry in your milk elsewhere!

Yeah woodbane m really crying nw :'(

I think nw apple is gud... Anybody want my windows phone i have samsung omnia7... M going to buy iphone 4s !!!

Who said omnia wouldn't get 7.8?

Gary u knw omnia get 7.8 ?? One of artical i read and in dat artical said omnia not updated 7.8 ....

I was under the impression it will be pushed to all devices

Google has a patent pending for the app drawer, so it is smart that Microsoft is taking a very different approach to notifications. Sounds like webOS notifications system which was very good. Curious what the "in a few weeks, you can judge for yourself" statement means? Has Microsoft announced another Windows Phone 8 event coming soon? Is there a calendar date we should be looking forward to?

MS will be revealing more this summer as they work their way up to release. Devs still need an SDK, after all and MS is not just going to go "Here you go!" they're going to have a conference on it. Date? Not set but probably be end of summer the latest.

At first I was a very vocal supporter of using the Me tile to house the notification center. With the new start screen all important apps can now fit on the screen and it'll be easy to see what app has new notifications.
This means the Lock screen getting expanded functionality for devs is the ideal way to do it. We'll still have the live tiles to indicate things when the phone is unlocked.
I'm excited about WP8 and this only affirms my excitement.

There will be Facebook and twitter notifications.

The marketplace "bag" still has the old Windows logo...I wonder if it is app or app update notifications.

My marketplace bag has the Nokia "n" logo :-D Lumia with Tango ftw!!

Everyone remembers that in the few demos of the new Start Screen nobody was "authorized" to show the list of apps? So my idea about this is that they will increase a bit that list.
Before showing the complete list (an "All Apps"), there would be a list of recently used apps (as it is with the contacts in the Messenger App), or who have received notification recently. And, rather than only show the name of the app, this list would be expandable as it is with threads in Mail App. And this "expansion" would show the latest notifications of each app. Would be a very interesting way of having a Central Notification without copy of competitors. And, for me, would be well organized as well.

Another thing I want apart from notifications center is a true multitasking..!!

Type: "one tiny of area of"
Line: 15

If you want to see how this will be implemented...

http://msdn.microsoft.com/en-us/library/windows/apps/hh761460.aspx



i'm guessing it'll be just like windows 8 where you select like 5 or so apps to display lockscreen notifications (other than calendar) and their positioning. that would be perfect for me.

It's developer API access to the lock screen wallpaper. :)

Interesting. Although I was kind of hoping that Nokia's 'always on' lock screen would be implemented in WP8 - lock screen is not blank nor does it time out; it has a clock displayed, the date, and shows missed calls/messages. If not 'Always On', then double tap to unlock would be great as well.





True multitasking & notification center makes wp interesting..!!

****** LED notification lights PLEASE !!!!!!!!

This is one step in the right direction, but with out a place for me to go READ all the missed notifications, it's pretty much just a "too late" indicator

yes, it will, they told me.

All I want to know is, if something happens like an email, a text, a Facebook notification, a calendar reminder, etc., and the phone is locked, will the notification "wake up" the screen in order to show you the notification briefly before it times out? iOS does this and it would be the final element that gets me over to Windows Phone. Lock screen notifications are critical for me to run business effectively.