New Lumia ringtones available on SoundCloud, you can download for free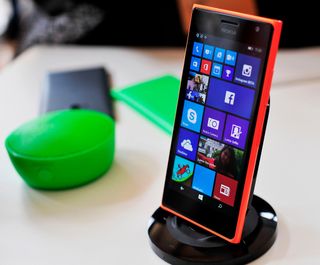 The Lumia 730, Lumia 735 and Lumia 830 are now starting to show up around the world. Like any new Lumia handset, you'll find a new set of ringtones. Some familiar, some brand new. The Nokia Design Team has posted their latest ringtones up on SoundCloud.
30 ringtones are available for you to listen to on SoundCloud. Each tone can also be downloaded. Which is perfect if you hear some new sounds you want to add to your own Lumia today.
Hit up the source link below to mosey on over to SoundCloud and listen to some familiar and new ringtones.
Have any new favorites from that list? I'm digging Nevada.
Source: SoundCloud
Get the Windows Central Newsletter
All the latest news, reviews, and guides for Windows and Xbox diehards.
Tonality has many of these sounds and many more. Requests taken as well. Check it out you can save them as ringtone from the free app. http://www.windowsphone.com/s?appid=7ac59477-9b21-41a7-9433-9f9f602e8f77

Yes please! We don't even have an official sound cloud app lol!!! It's crazy!!!

Well, this is always welcomed but too bad they wont add more system sounds. Notification sounds, like mail, messenger sounds etc. There are really few to choose from. And unofficial ones suck.

yeah i just noticed they posted alerts too :-) sorry

yet no official sound cloud app

Yeah right. But we cant download them because there's no soundcloud app for our wp. P.s people please don't tell me to go for audiocloud

OK, not telling you to, but you might go for audiocloud..

Well we don't have official Soundcloud app unfortunately but only some 3rd-party ones. I'm using Audiocloud also and it works well.

But yet, you can, if you press the download button on the soundcloud page...

Download button isn't working for me.

Click "Show in browser"... Just listened to and downloaded the ones I like....... Just need to put ur mind to it ;)

Its the app culture, there doesn't need to be an app for everything. A great website will trump an app.

Though using that soundcloud through my Lumia was laggy it definitely worked and I didn't need to boot up my laptop. Patience is all you need sometimes.

That's naive. Each medium has it's pros and cons and is totally situational. If I download a file from SoundCloud to my phone, I can't seem to get it to show up in my ringtone list, even after moving it to the Ringtones folder. Something is wonky about it. But, if there was an app that hooked into it, and after it downloaded the file, made the appropriate changes to the file to show up as a ringtone for me, then that would be better than the web app, obviously.

Ya... Same happened to me. Man'd up and did it through file explorer. Lol. Patience. Its not that difficult. Remember folks... No matter what... Were always gonna be Beta Testers. Whether you want to believe it or not. Enjoy your Lumias!

What did you do to get it to show up as a ringtone? I was under the impression that changing the genre to Ringtone, would fix that, but neither idea of pouring it in the ringtone for nor changing the genre is letting me see it in my ringtone list.

Use Music+ by Idea Creator Corp, it's a good SoundCloud app.

MUSIC+ is a godsend to windows phone. Best ive used on any device. Of course it can be quirky but heck... It works! So stream line for dumb people which is what we need. Considering this OS seems to be being wasted on uneducated poverty-level with all these cheap crap devices. Ik ik... Im over dramatic. I have a headache this morning lmao. Waiting for a flagship for all carriers just like everyone else.

Cloudoh is the best, and yes it lets you download these directly from the app. Stop complaining about official apps, they suck anyway.

Check this app out. http://www.windowsphone.com/s?appid=7ac59477-9b21-41a7-9433-9f9f602e8f77

Did Microsoft acquire the rights to the Nokia tune? That has been my ringtone on every Nokia device I've owned, including my 1520.

Not as good as earlier ones....

These have been on my Icon for a while now.

Just kidding! Didn't see the full list.

:p That's why I said some are old and some are new. Nevada and Exoplanet are the two new ones I like the most so far.

How we can download the tunes?

Try one of the third-party SoundCloud apps in the Windows Phone Store or visit the source link on your PC.

Best Nokia Ringtone Remix ever! http://www.youtube.com/watch?v=8BB4tnaIwTw

How to add ringtones in Macintosh? Had classic iPhone tunes but can't add them with the WP app for OS x?

As long as they make their way to the ringtone folder you are good. So even if you dump them into your music folder and use a file app to move them there it should work.

I tried this with a ringtone I had, used NFC to transfer to another WP 8.1 phone. Found the file in random storage area, moved it to ringtones, WP doesn't see it when using ringtone selection, even rebooted.

Quick question, don't have time to start forum thread. I can't enter Windows PC store or system updates for last 24h, anyone facing same problems? Sorry for of topic comment..

Me too not able to update the apps showing technical error...

http://www.wpcentral.com/commenting-guidelines

Yup, act a smart guy now. Thanks for your help!

Thanks! Downloading these for my HTC M8 and Nexus 5. WP has some nice ringtones.

I've already followed Nokia a while back ;D !!!

Oh thank you thank you thank you thank you thank you thank you thank you thank you thank you thank you thank you thank you thank you thank you thank you

Looking forward into downloading some ringtones because these basic tones suck

The Original Nokia tone too!!

Nevermind ring tones my phone never rings, how do we update notification sounds?

From settings, go into notifications+actions and find the app you want to update. All of the base notification sounds will be there plus any new ones you have added.

Same way: -Put the audio files in the Ringtones folder via PC or a File Manager if you are running 8.1+. -Go to Settings & Choose : - if you are still on 8.0 GDR3, Choose Notifications & choose from the list. - If you are on 8.1 & Up , Choose Notifications + Actions & choose from the list.

Where can I get a "Clean" version of the Nokia Remix?

Don't want any of those. The iconic original Nokia tone is okay. They sound awful.

Great! Time for some new ringtones ;)

There are 2 applications in windows phone store: http://www.windowsphone.com/fr-fr/store/app/nokia-tones/bf4c6a1b-34d8-4b... http://www.windowsphone.com/fr-fr/store/app/nokia-alerts/f3b154aa-d618-4...

God, I felt old just listening to Kick & Marble. So far my favorites are Afternoon, Ice & Lean Forward.

I like Ice too. Coincidence cos of your name.

Soundcloud app please? Posted via the Windows Phone Central App for Android

Do a store search please?

I always liked the Nokia ringtone used in the Star Trek reboot from the scene where young Kirk was stealing the classic Corvette. Does anyone know if that is available?

Too bad you can't set custom sounds for messaging. Dumb du dum dumb.

Do you even use windows phone? If you do, there is a 'thing' called settings in ur phone which will let u set custom sounds for anything....height of 'dumb-du-dum-dumb'ness

Ah dur, rudeness mcgee. I downloaded the file, moved it to the Ringtones folder, went to ringtones+sounds, manage app sounds, Messaging, it shows 11 choices under Window Phone and 4 under Nokia, it does not show the downloaded tones.

I upload my tones to OneDrive and use an app 'SkyDrive ringtone maker' on phone to download and set them. They show as custom on messaging app sounds.
I'm not sure about ur problem, but my best guess is u need to set ringtone as genre in the id3 tags of the ringtone files.

Hm I'll try that, thanks.

Want notifications tones is it available there?

Soundcloud isn't even availible for Windows Phone, awkward.

Not that awkward, audiocloud is amazing. I downloaded some of these tones through it.

Daniel should get/use the Two Cats ringtone for all his phones. It would be a great way to mess with his cat.

here is the pack with the 30 files if anyone want it as a single click New Lumia Tones

What about the wallpapers/backgrounds?

It would be kind of cool if they add the halo theme to the list

I have the Star Trek Nokia tone! You can find it on google etc

downloaded some, moved to ringotone folder on the phone but i cannot set as my ringtone, why? Help me guys

Um. I'm using the HTC radar, and I would like to get a few of those ringtones. Anyone has managed to download them on 7.8? If yes please share the steps with me. Thanks.

It's not very easy to find the Nokia ringtones on soundcloud! Rubbish search engine like most ringtone apps.

Too bad SoundCloud hasn't released an official app for Windows yet...

Wonder if they'll add these to the app

Looks like wunderman polska put out a successor to motion monitor. Hope they continue to update these apps now that nokia doesn't own devices & services anymore http://www.windowsphone.com/en-us/store/app/life-tracker-pro/dd78c1e4-2c...

Thanks! I been looking for a new ringtone!

"Nevada" will be sweet when the Lumia 1550 comes out with dual subwoofers.

Damn, some really nice tunes.
i grabed Exoplanet, ice, Keypumper, Lean Forward, Lord of Trance, Nevada and Universe. now i need to carefully choose one.

I shall wait for the Tonality app to update with these ringtones.

uhm there is no Soundcloud app ??

Hey guys! Many of you may not know this but Audiocloud can make ringtones out of downloadable tracks on SoundCloud. Here's how: From the app, do a "people" search for "Nokia Design Team" Navigate to the profile and swipe over to "tracks". You'll see a list of ringtone tracks. Tap on a track title to navigate into the details section and choose "create ringtone" from the app bar menu. Optional: Trim the track using the sliders. Tap on the save button followed by the ok button. Done!