New photos of Microsoft's canceled 'McLaren' Windows Phone reportedly surface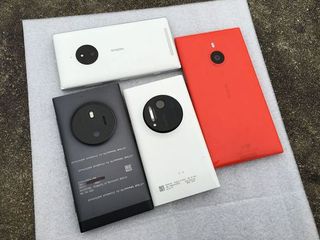 New images that reportedly show prototypes of Microsoft's canceled Windows Phone, code named "McLaren" have been posted on the Internet. Microsoft never officially announced the phone, but the company decided to quietly cancel its development in July 2014, a few months before a planned release that fall.
The new images, which come from a Chinese Baidu account, show the prototype next to some older Windows Phones for comparison, including Nokia's Lumia 1020.
McLaren's biggest planned feature was its "3D Touch" technology, which would have allowed the owner to navigate through the Windows Phone OS without having to touch its display.
Source: Baidu; Via: Blogjackphone.
I feel like this is what loyal WP users wanted, not the 950/XL. A shame really.

I'm with you, you can see from the comments a lot of fans want either a Surface Phone or a 1020 successor with Powerful Hardware. Let's hope Microsoft is truly listening to fans and creates phones for us. If they can't make their small fan base happy it's bad news for them, but I'm sure as we see going into early/mid next year, we should really see Microsoft stance on their Mobile front.

1020 successor has to happen. Surface phone I want, but can wait for.

Possible to get both in the same device?

So you're saying the 950/XL are unworthy successors of the 1020 and other flagship Lumias for that matter? Is that right? Even though the 950/XL outperform and take better photos than the 1020?

"Even though the 950/XL outperform and take better photos than the 1020?" You're insane. The 950 takes great photos but they are not better than the 1020's. Sorry.

Except that they are, I've had both and the 950 is definitely a better camera and a **** of a lot quicker.

The 950/XL sure take FASTER photos,by FAR! What good is the high res moment you never caught? Plus, they sold how many 1020's again? That giant disc on the back of a second phone, with no associated speed gains, in processing, would have turned me off. My 1520 took photos, too slowly, and the 1020, made it look like The Road Runner.

"Plus, they sold how many 1020's again?" They sold how many 950's again?

The race is still on for the 950.

'Beep Beep' The Roadrunner Show :D

I've tried both, and I'm a 1020 fan, but the depth of field and color seem to be way better on the 950s. The 950s get way more pixelated if you try to zoom in though. Neither is completely superior to the other, you just have to choose between overall image quality vs raw resolution and the amazing zoom levels that provides.

Why argue? Just try the GSMArena's photo comparison tool. Don't forget to scale both pictures to the same resulotion (12MP): http://www.gsmarena.com/piccmp.php3?idType=1&idPhone1=5506&idPhone2=7262 And as for which one is better - they both produce great pictures, but it seems that the 950 (it seems that GSMArena also have the 950XL being reviewed now, as it appears to be an option in the comparison tool) has a much more accurate colors in the pictures it takes (as seen in the color chart in the comparison tool).

@efektos
Those comparison pics are not even the same! Nice trick GSMArena!!! Look onto certain portions of the printed patterns. They are not the same. The color boxes are not the same. Colors match the Lumia 1020 more than the oversaturated 950 ones. But hey, someones has to beat 1020 right? Wrong answer!!!


The chart is not the same as the chart that was being used on the 950's review is newer (I suppose the chart was getting worn down some time after being used on the 1020's review - all in all, it's been 2.5 years since the release of the 1020), but it's the same chart in both tests since it's a test within a specific standard (ISO 12233, look it up and see). GSMArena a professionals in this matter. Besides, read their Lumia 1020's review - they LOVED it.

Agree. 1020 was made for it;s camera mostly

They are better than the 1020 and it is specially convenient that I can basically use the auto settings without worrying about the results. Now, I have to admit that in some specific cases the extra MP that the 1020 has are tentative better than the 950 XL capabilities. As a side point I didn't like the 1520 camera.

It outperfomes the1020 on performance;) meaning, speed. That's about it;)

Exactly, Speed is what everyone is about these days. Nothing about the actual photo that comes from the camera. They (review) sites all say the apple has the best camera. Why? because it has silly feautres like slow mo video. WHO CARES. A camera is for PICTURES. and there have been many independant tests that prove that the 1020 MOPS up everything else including the fruit when it comes to producing REAL PHOTOS. The selfie generation could care less about how the photos look as long as they look like douchebags in them!

You've obviously never learned the 1020's camera buddy! Once you've mastered it NOTHING comes close, my 1020 is still my daily driver and the 950/xl is not it's successor... Sorry

The 1020 is barely in the top 20 for camera phones these days. A camera is much more than just megapixels. If the 950 isn't better than the 1020, how can it ever hope to compete with Samungs, LGs and Sony cameras? Posted via the Windows Central App for Android

Samsung, lg and sony cameras? Lol they all use the same modules manufactured identical for every OEM and they all suck. Look at that duocrap fail

"They all suck"... So you're one of THOSE types of fans eh? One picture at a time -- LG V10

Since when Samsung, LG, Sony having better cam than that of Lumia! I had Samsung Grand. I have seen. L640xl cam quality is way better than Grand. Personal experience.

I'm not sure why everyone is comparing 1020 to 950. The real comparison would have been between the successor of 1020, lets say 1050, and a 950. The successor would surly have faster processor, more ram, camera with new advancements, etc.
I own 1020 and 950. Once you get a hold of how 1020 camera works, you can beat 950 photos in any situation. 950 has true to life colors, but only if you are using RAW images. The JPG compression is the worst I have seen so far from Microsoft/Nokia.
950 tip: Enable RAW pictures on 950. Download to computer. Open the RAW image in FOTOR and save as JPG without changing anything. You will get an awesome picture at around 10-12MB size. Then open in W10 Photos (with auto enhance disabled in settings). Make minimal changes in lightening, etc. And save changes. File size will come down to 2.5-3MB with very little loss in picture. If you compare that picture to the JPG your phone created, you will see how bad the post processing is on W10P camera. Wish they improve.

I smell discontinuity for win 10 mobile very soon... And so for all ARM devices.... I'm really thinking about selling my 950 as soon as it arrives, before throwing 530€ to the toilet...

This time we are desapointed not to see Microsoft innovate any good specs fone.and this time around I can only see android fones in the smart market cuz this platform that we love so much didn't bring out any flagship killer that could really smash the android world. And nnow we have no choice than to go the android that we do not prefer ..

Yep even them choosing a 2k screen instead of maxing out their currently supported chassis spec. Resolution was a let down. & from what ive herd of type-c its not electrically safe yet

Yup. That's sexy. Posted via the Note 4/Nexus 7 (2013)/Lumia 1020/Lumia 2520

Oh come on how could they have cancelled such a beauty.. It's a real pity it never got released. That's the kind of thing I could upgrade my 1020 to...

The camera would have been a 15-20 MP shooter (look at the disparity in lens size). The design is cumbersome (the hump is meaningless with basically a 1520/930 camera). 3D touch wouldn't be very much value added, and it would have been a WP8.1 still. In contrast, the 950/XL has continuum, hello, W10, and it's camera is actually better than the 1020. I'm happy with the 950.

Even with a 41 mp camera, I think it shouldn't have that large 1020 like hump on the back as it looks ugly. They should make it look like a regular camera. Remember that underpromising/underrating and then overdelivering is the sort marketing gold that Apple has capitalized on many times in the past to great success.

Nope, friend. That hump is the only thing that made it special;). For you, is ugly, cause you probably don't get to far from the mass. For me? Is the only device out there that represent a snall part of who i am: Different...as some would say!

Yep the design of 1020 is totally awesome and flawless.

Agree. I'll take that design any day, over lets say 950 (I own).
I think 1020 was the best phone I have had. On small trips with family, I never need to take my DSLR. I'm not saying its as good as a DSLR, but I didn't feel the need to carry a big camera to weekend trips. But with 950, I take my DSLR along.

Why do you think if McLaren released there would be no 950? McLaren was due months ago. Posted via Note 4/Nexus 7 (2013)/Lumia 1020/ Lumia 2520

My friend just got the Lumia 950, upgrading from a 1020, his Vodafone in the UK. He's blown away by it, extremely impressed by how fast it is, the camera, and even said it's beautiful. Compared to his Lumia 1020, he said it's like night and day!

Yeh, well....People would praise whatever they own...

Also, it has an almost 4 years newer SoC, so the speed is a given. 1020 used an old SoC because WP did not support anything better at the time.

Not true. I hated sgs3 the one month I had to deal with it

No doubt that the 1020 was sink in terms of popularity by the slow camera. I miss a lot of shots in the real world because of it. You can't beat it for static subjects or things that are far away or dimly lit though. MS did promise a successor to the 1020, but losing the lossless zoom capabilities by using a much smaller sensor on the 950 was a cop out. And yielding the enhanced touch interface to Apple was too. Sadly, this is becoming Nadella's MO for WinMo. Not a good sign.

Naw, the 950/XL are both fine phones. But had McLauren been released last year then I would still be on a Windows Phone today... canceling that phone really killed the upgrade cycle.

So true. They still could have moved on to the 950 after the McLaren. Still though I'm in the US and I think people are beginning to respect Windows phone as an exclusive brand for people who know how to use them.

So basically you're here to inform us you left windows phone but comment on WP articles still...good info, thanks. Some define that as a troll.

Is s reasonable comment regardless of what phone he now uses. MS has lost ground badly in the US and it's worthwhile to listen to those who lost patience. It's unfortunate though that we seem to be the only ones listening. As usual MS is deaf to the desires of its customers, and is reaping the predictable rewards woke seemingly looking dazed and confused and wondering why.
They should listen more to guys like him and less to people like us who continue to put up with them.

How is it reasonable? He basically says he would still be with Windows had they released a phone no one can even say what it was like because it was never released?? That's like saying I really would have liked that movie that never got made by that director who never got funded for a script that had some good ideas...so I went and saw something else that was good instead...yeah, okay.

i feel that too..hope that ms will make something like nokia did before,...a lot better.

Ya you are right.....i Own a beast "Nokia" Lumia 1520 & 720 ,i also used "Microsoft" lumia 640 xl and 535 and my experience was like earth and sky. Microsoft failed to deliver the quality of Lumia phone. It is not even close to Nokia phone level. Now i m looking forward to Lumia 950 xl and hoping that it will change my openion about Microsoft phones.

I've own the 920/1020/525 and now a 950. After seeing and holding a 640, there is no comparison. The 950 is a premium device.

The 950/950xl is above all those Nokia phones you mentioned, including the 1020.

Speak for yourself, I'm so happy with my XL.

Making the best out of a bad situation... Bravo!

It is a shame, this was the phone I would have wanted, screen size of a 1520, on par or better camera than 1020, and with much better performance. I really hope a surface phone gives us something amazing, these 950/XL's are good but nothing special.

Lets be honest... McLaren is the device that has to be released as W10M device.. Pushing WP8.1 with McLaren will kill the device like it did with 1020.. Even though 1020 has some fans, it was a failure in producing money for Nokia.. So lets leave it to them.. I hope they plan something for the fans of 1020 after Surface Phone .. Who knows.. May be Panos will make the 950/XL successor a Lumia 1060/XL ;) lets get pumped

I think the failure was not the device it self, but the price. Even after 1 year of shelf, The 1020 was 520€ in Germany. And was never reduced till it's end of shelf life. I got it with 499€ but with a bit of "business" making. At that time, a year and half ago, even the s4 was cheapper. So, i pretty much think this device never sold to much cause of it's high price.

If you think the camera is on par or better than the 1020, then you are saying the 1520/930 camera is on par or better since that is the module most likely in there given the lens and flash. The 950 outperforms all of them.

I'm right there with you... Well said!

True, that would have been a unique feature. Perhaps, they saw too many issues with it that would lead to poor user experience. IF, that is the case, I'm glad they scrapped it. Maybe, it is something they can revisit, once they can make it more of a good experience than not. It's the only reasonable idea that I can come up with that would make them scrap it at the last minute.

I could go for the camera "hockey puck" being reduced in size, but in general, the McLaren body style is so much better looking than the 950. The McLaren was a quintessential Lumia. It was rumoured to be available on all carriers too. Such a tragedy that it was cancelled.

I miss that "Sharp" desing. Now it's more rounded :/ also colors! I think live tiles look more cool when phone has sharp corners. :)

Looks like that iconic Nokia design will never come back.. Even though we love the design, it looks really old comparing to the competition in today's world. MS is going the Samsung way I guess. All phones might look same except the flagship device. A bad idea if it's like that.

Yes, this what i want successor for L1020..

I'm very happy with 950XL

Understandable.. Not everyone's expectations are the same...

Exactly! This phone seems like a real Lumia. It is a shame we didn't get this instead... SMDH.

No way. These phones look too over the top. And their version of 3D touch sounds ridiculous.

Design wise, 100% agree. One picture at a time -- LG V10

This is what the 950/xl should have looked like. (PREMIUM)!!

How does this monstrosity look good? That enormous camera /shudders

I too concur. Who wants a camel in their pocket?

I might answer! Who? A lot of non-retards;). There you go! The dumb answer to a dumb question, and to think the answer is not dumb. At all...

I have the same question for Google about the Nexus 6P.

Well, in a way a amateur would not understand;)

It would have been another niche device like the 1020. It was a holdover from Nokia's wacky days and deserved to be put to bed. 3D touch sounds ludicrous but the exploding tiles would have been interesting.

I agree on the actual 3D Touch, but this design is way better than the 950's to alot of people. Posted via the Note 4/Nexus 7 (2013)/Lumia 1020/Lumia 2520

Better a niche device than none at all, which Microsoft learned the hard way.

No. The 1020 didn't sell worth a **** - just look at the stats the 1020 never registered but is always regulated to the "others" in market share. Not to mention the MacLaren is an inferior camera phone to the 1020. People who thinks that the MacLaren would have quieten the whinging is delusional because if MS released this phone which looks a 1020 but uses the 930/1520 camera module with a 3D touch system which 3rd party devs found no use for would be the ultimate dud phone, the complaining would only be louder about how MS "lost their minds". The only reason people are so hyped about eh MacLaren now is because its a unicorn phone. But if it ever got to market it would've been the biggest Lumia dud ever.

I bet if they released it now ...it wouldn't be such a dud ...compared to the 950 (which IMO is not doing a great job at wooing all Windows Phone customers over...including me.) Posted via the Windows Central App for Android

Sorry but if they release the MacLaren with a 3d touch feature that nobody had found a use for and isn't going to be available to all W10 phones then it won't wow anyone. Also the lack of the 41mp camera would be a deal breaker too, especially when they make it look so much like the 1020. If you make it look like the 1020 but not use an improved version of the 41mp camera then people WILL feel cheated - the backlash would be greater than what the 950 is getting now for sure. Not to mention that there are people who prefer to have polycarbonate and wireless charging instead of metal. I've been Lumia user since Lumia 800 and I still have a Lumia 1020 - there is nothing about the MacLaren prototype that excites me - again if it is to be a successor of 1020 nothing short of 41mp plus polycarbonate body with wireless charging will be acceptible to me, I don't want a metal phone! That's why I'm happily using a 950XL now.

So you're saying you haven't been wooed over by the 950 which means you don't actually use it. That's not a very informed and knowledgable judgment now is it?

Well, you talk to walls, or to people that think one milion is the best. Niche is niche, and they will never get it...well. I hope you got my point

Wtf. I don't get some people. How do you think this looks premium?

It stands out, and it looks like it means business. Can't say that for the 950/XL.

I thought the same thing about the 950 in pictures but then I held the darn thing in my hand unlike most commentors here blasting the 950. It's gorgeous in it's simplicity. I don't want my phone to "stand out", that's called being a narcissistic dooshbag like we have way to many of in this society (thank you facebook!). Why can't a phone just do it's job, look sleek and professional (950 does) and people go about their lives without the need to one-up their coworkers and friends with their awesome phone?

Surely I'm not the only one that thinks it looks terrible with that huge camera hump.

950xl over these, might as well make that hump cover the entire back of the phone.

agree, I prefer my 950....

Yes,i just got my 950 yesterday and was a but sceptical for all the bad comments about it, but now I know that those people don't actually own one and talk from the ignorance.

It's light, the screen is beautiful. It's fast, with sufficient internal memory and plenty of available external memory. It has Qi charging and you can replace or take out the battery. It has a Glance capable display. It has what a lot of us were looking for... I would have preferred a metallic rim around the edges like the Lumia 925 and clearly there's some work left to be done on Windows Mobile 10. I expect much of what I think is necessary will be addressed with Windows Mobile 10 and so overall I am quite happy with my 950. I hope you find your 950 is to your liking. I expect you will.

I'm sure a lot would agree, disagree ... I'm sure a lot of others are using cognitive dissonance to make amends for their purchase of a cheaper feeling phone (nonpremium) compared to the previous Nokia releases. However, there seem to be a lot more threads popping up over on the Windows Phone subreddit stating that customers are having buyers remorse due to the nonpremium feel and the OS being half baked right now. Posted via the Windows Central App for Android

EXACTLY. I would be 90% of the people ripping the 950 have never actually held it in their hands. That's what changed my mind, I was very skeptical until I picked the darn thing up. I loved it immediately.

+1 ... Have 950 & 950xl, both better than all previous Nokia phones.

No, I don't like it. My first thought was "ew".

It looks FAR more interesting than the 950 though. Remember, Microsoft in their own words are targeting Microsoft Fans (along with Enterprise/Budget niches) which this device would have been perfect for us fans. Nothing since the 1020 has captured anyone's imagination from a Lumia hardware perspective, this could have been the device. Instead, Apple "invented" 3D touch and Microsoft released a meh device that has been discounted 3 times during preorder. The 950 is a year too late, rocking a bland non-premium design and now we see this leak to rub salt in the wounds. The life of a Microsoft fan is long and full of terrors.

Speak for yourself please. The 1020 Imo is ugly and not capturing my imagination at all.

The 1020 had the whole tech industry talking about it, multiple articles rather than one short review like the 950. That's what 'capture imagination' is about. Its instantly recognizable still today thanks to the rear camera. Nobody I know in my non-tech social circle could tell you what the 950 is. They do know though that our local supermarket sell a phone that looks like it for $60 unlocked lol. Lumias brand is damaged now by budget 4x,5x series. The 1020 was a bold design, show me any review out there that claims the 950 has unique hardware or bold design? Microsoft need Bold designs (not just colors) with 2-3% market share lol.

Of course the industry talked about it. The 1020 wasn't the first lumia to get industry attention. Let's hope the 950/xl het consumer attention.

I loved my 1020, but the 950 is leaps ahead in EVERY aspect.

Sure it does, now. But at release, the 1020 made more waves than the 950 is currently. AT&T actually pushed the 1020 fairly hard, at release. The 950 is going to continue with the 1520 and 930 reputation. It'll be a decent offering, but nothing spectacular. Although Continuum is obviously an added bonus, but its not complete enough (like W10M) to really grab people. The 950 is like a preview of what W10M could be. Another year waiting for the next Gen for a complete experience. Posted via Note 4/Nexus 7 (2013)/Lumia 1020/ Lumia 2520

but if Nokia could break the barrier of 20mpx then why Microsoft didn't a model with 41mpx or even higher I consider the 950 an big step back in the megapixels war which clearly was winning Nokia 20 mpx is good but am step back

Obviously your imagination lacks a lot. But the 1020 captures the whole of it.

My imagination can be vivid. The 1020 doesn't do it for me as I said. I appreciate it but that's al.

from your perspective.... However I disagree.

Apple's 3D touch and Microsoft's are two different things... Microsoft's meant that you didn't have to touch the screen to interact with the phone...Apple's means that the display recognizes and responds differently depending on the amount of pressure put on the display by the finger

I think Motorola is working on the same thing. Wouldn't that be something if they actually released one, but on Android. Talk about a kick in the nuts.

Not it it fails and is largely considered a gimmick like most people know it will. Posted via Note 4/Nexus 7 (2013)/Lumia 1020/ Lumia 2520

Sure, the 950 may be lacking, but the Xl's hardware is on point. Plus, with the steely Caseformers case, it pretty much becomes a *** god IMO. ;)

Whatever Microsoft currently makes, that's what people here will say looks the best. If Mclaren was what was available right now, people here would be slamming the looks of the 950/XL.

I have the same thoughts about it. Give me the 950s or something else. That camera area I hideous. It wad the only knock I could have made about the 1020 as well but that huge camera made it easy to ignore.

You surely are not, Fiann. It looks atrocious. I had a 920, at the time, and could have bought the 1020, but that hump, and the reported slow image processing, froze me, in my tracks. Not to mention is was EXACTLY, a 920, except for the camera, and a little extra RAM.

Have to agree - I liked the idea of the 1020 but bought the 920 instead due to that huge bump. That 920 in red was unique and the design was supreme.

Initial reaction: "not my thing", but then I remember that I had the same reaction to the 1020, but when I held one, it felt and looked great to me.

I'm with you. Glad Windows 10 has brought a more mainstream look to everything.

I'd have payed 700$ for that

I want xenon flash not led flash. The photos r sooo much better

Have you tried the triple LED flash on the 950? You actually get shots comparable to the 1020 flash wise and the new multishot system and large aperture make it a better low light camera.

I am super impressed by the new flash.

That prototype clearly had the same LED flash as the 1520...

For a phone that had the body of a 1020 and the internals (including the camera) of a 930? I'm not so sure. Also that 3D touch would have been a gimmick at best. This is like paying extra for a Mustang with an inline 4 and a hood scoop. Somehow it makes you think it's powerful until you actually press the accelerator.

Beautiful phone! Microsoft should release a surface phone along with a 1020 successor. Surface for everyone, 1020 successor for Windows fans!

Yes! I am considering getting a 950, but don't want to give up my 1020 camera.

Unless you only shoot in 38mp RAW, the camera on the 950 is on par with the 1020.

I don't wanna spend money for on par. I want better. Plus the zoom is the main thing for me on the 1020.

I had the 1020 for two years and in one day the pictures from the 950 are already better than the ones i took during those two years... If you don't own a 950 don't make things up as it misleads peoples conception of the phone

The 950 actually has a better camera.

And an incredible screen.

I really don't understand why they didn't make a 1020 successor. The 1020 was a first generation device and it would have been quite easy to make the second model fantastic. Top-of-the-line chipset, fast camera, better battery, smaller (no) camera bump, polycarbonate/magnesium versions (optional) and a full featured official Instagram app. A success.

They should have done a follow up of the 1020 - just improved, thinner, lighter, better processor and it looked like a winner due to the many demands on this site. Hard to understand why this did not happen.

It looks AWFUL. Glad we got the 950 design but even that didn't look fantastic. Why cant we just get a phone that has the looks to stand up to the iPhone 6

Guess I'll never get it, there ain't a whole lot to a smartphone as far as looks, there are the corners, the back and how thick the sides are. Samsung gave a different option with that curved edge phone,not exactly adding a whole lot just different. After looking through some iPhone 6(s) pics, nothing special still!! It's the same candy bar style phone that most all smart phones look like.

It's preference and cost. Plastic's cheaper than metal. Me, I find iPhones to be ugly devices, plus they don't mesh well with wireless charging and they don't have removable backs. I'm not that fond of the 950 or XL's design, but I'd take them over the iPhone any time. Oh, and don't forget that Apple would sue if anything else looked in ANY way similar to an iPhone.

I forgot color, as for plastic vs metal, if mozo makes an all metal back, then the 950 series should shoot to the top of the most desirable phones list.

Also, the iPhone is a candy bar slab with the with one button(simple), I've always preferred more than one button on a smartphone, just allows you to do more faster.

How about Xiaomi that some models are like the iPhones in case of their camera position?

The Lumia 830 is a fantastic example of good design

Ah heck, to me so is the 640.

The 640 is boring and uninspired, just like the 950.

Agreed. Lumia 830 is a great looking phone. So was the 820

Much,much, much more preferred the 920 design. One piece contoured polycarbonate with the curved screen that made the text seem to float. Rock solid design - this style with less bezel would be the perfect design for me. Unique, oozing style and less likely to break.

And this is a major reason MS cancelled old designs... If you want premium like iPhone then just wait for Surface phone... Full metal n premium design crafted by Panos..

Iphone? Well, that's one ugly device.FOR sure. 1020 is like it's king showing how the world works;).

I thought they nailed it with the 930. The black body with the gold rim still gets many remarks.

We like it, but the masses? Nah. They want a sheet of tissue paper for a phone, unfortunately. I don't understand it any more than anyone else, but it's true. That's why Apple is getting rid of the headphone jack...they think even thinner is necessary. It's ridiculous.

Can confirm, there are rumors of apple trying to make their own headphone jack because the 3.5mm jack was too mainstream.. lol

Apparently 2.5mm is too mainstream for them as well.

They are the kings of removing ports, and so far they have been right.

If by removing you mean replacing with proprietary ports then yes, they are the kings of that.

And they will put it in their Beats headsets.. Ta Da .. Apple is money eating ****

Well, good morning. Still never saw something, Crapple does, for the people and not for their greedy pokets. I wait for the icrapp fans to crapp their pants when their so called vast environment would be even more closed being told(of course) all is about security and super design:)))). God bless ms. At least this guys ain't forcing people to buy only their crapp if you enter in their ecosystem.

The McLaren looks more premium than the 950/XL. But the huge camera hump is not very appealing. Anyways I'm looking forward to Microsoft's next flagship Lumia. :D

They gave you the option of buying a new back cover to make your phone look however you want it to.

How nice of them to allow people to cover up the cheap, creaky plastic back of their $500+ phone.....

Yeah, that Mozo chassis... it feels so premium and classical.

And one of my favourite aspects of WP and Surface too is the slanted Windows symbol. I don't know why I love this but I do. They have now given the option to replace the back on phones so the symbol is non-existent. I find this a ridiculous move. Anyone buying a BMW, Mercedes etc would not want to replace the symbol with Mozo! Microsoft need to stay premium and keep their name on WP and Surface - who would buy an iPhone and replace the Apple symbol with Mozo, seriously!

It's probably a legal thing....

As a Bmw owner I always thought the BMW hood ornament was surely metal, after just recently needing to replace it after 10yrs, to my surprise it's plastic, I was in disbelief.....

I'd still buy this phone come on Chinese factory put it on eBay

Such a sexy phone!! Beautiful. Especially the bigger black one. Amazing. Posted via the Windows Central App for Android

The bigger black one is what the article is about

His is what I really wanted.... not this stupid 950/XL..... I'd even pay a Grand for it no problem

Well for a grand you could buy....... hmm I don't know how about a DSLR or a Sony Mirrorless camera. While I love the shots the Lumia 1020 does the 950 just does it better. The only benefit of the 1020 or this "McLaren" phone would've been the crop/print capability.

DSLR is not portable like a phone. Doesn't make calls or run W10 with all the cloud integration etc.

There are three flagships in Lumia: 9xx,10xx and 15xx...950 has been launched, the remaining ones will be real premium

You do know that the 950 XL counts as the 15xx, right?

They make less phones now. Doubt there will ever be a 1020 successor.

W10 camera isn't supporting a 41MP sensor (hence 1020 getting to keep the Lumia camera app). I doubt there will be a 1050, or frankly a need.

Well, it supports the 41 mpx camera cause i took pictures with it while thr lumia camera was not available. Sadly the ms camera did not oversampled and the pics were huge. And that is why, we, the 1020 users, need that lumia camera. Which i still like way better then the integrated camera app. They made them look... well, almost the same, but the lumia camera is just better.

I remember when the 1520 came out and people didn't like the hump in the camera,when the 920 came out lots of ppl criticise the colour varisnts...now other brands have done the same thing and all of a sudden it looks great...I have no problem with the McLaren but feel the 3D tech will be a selling point for any upcoming Surface phone Posted via the Windows Central App for Android

Same happened with 730/735 and 830... ppl criticized alot after leaked images like worse design n bla bla... But after release of these devices users actually feeling proud to be owner of these devices.. And accepted 830 n 730 has best design

What? Those designs were largely praised. 830 would have been great had it launched with a competitive SoC and sane pricing.

I don't understand you guys, 950 doesn't look premium because it's polycarbonate and not metal but THIS phone looks premium? Too funny.

I have to concur. It looks even more ridiculous than the 1020.

"premium" is the next overused term for phones, and it basically used to say MS's products arent that. "Premium" is a feel, not a look. And these idiots claiming one way or another with something they are ONLY seeing pictures of shows that they have once again bought into the next wave of bullshit nay-saying.

Premium is a feel and look;). First of all, i can look into a device quality. And without even touching it am never wrong when i already know if is a crapp or not. The way it's made, the way everything of it's parts blend together, can call premium or avarage or cheap.

Premium is a relative term. I'll take colorful polycarbonate over cold dull metal. Frankly at this point we should be looking towards exotic. Carbon fiber phone anyone?

950 is not just plastic but cheap non-unibody 'design'. Only thing very very premium is the price.

Yeah. I agree. Snapdragon 808/810, 3Gb RAM, liquid cooling, QHD/High pixel density, 2Tb MicroSD expansion, Gorilla Glass 3/4, and 3d modelling, iris scanner just scream low end, and are easily bested by the iPho... Oh, wait. Nevermind...

Personally it looks horrible with that big bump.

Does anyone know why the "property of Microsoft" message on the back is always written like a bad typewriter? There must be some reason.

Allegedly, the combinations of superscript, subscript, upper and lower case characters etc are a code which allowed Nokia (and now MS) to identify or at least narrow down where a leak had come from in such a scenario...
EDIT: In other words, no two prototype devices were ever identical.

As what I see, the 'track' of the text is at the top, not at the bottom of the fonts. That's why some small letters look like a superscript and small letters with tail (like 'p' & 'y') look like weird capital letters.

I hope it doesn't have in screen bottoms,just like 950/XL.
If it does,I'm not buying it.

I guarantee you're not buying it anyway.

It's cancelled. So it won't be released.

I'm sorry, but I'd rather the 950XL over this. That camera opening and diameter it's huge; make the phone look awkward. This was also a Nokia designed phone, not Microsoft. I hope Panos bring something much better looking than the Nokia designs to the table!

That camera lens is seriously ugly. Posted via my Samsung Galaxy S3 Neo which isn't as much abandoned as any Windows Phone on the Windows Central App for Android

Thank you! No offense here, but the people saying they like this phone design must be Finn's.

Looks ugly now compared to the 950/xl... Let's just hope the gesture features haven't been lost as well

Don't worry. MS is known for reusing features which were cancelled. Like the browser that they wanted to make around the time of xp/vista. (can't remember the name) it got cancelled but a lot of the research and development was used in later versions of IE and now Edge. They will find uses for the 3D touch. Maybe they already have. Hololens

It's even uglier than the 1020. Probably a good thing it was cancelled.

I don't see anything that resembles a premium look in this phone.
-
For me its the hard and software that counts. Not how the phone looks from the left and right side, the bottom, the top or the backside.
-
If you don't like te 950(XL) design, there's MOZO. They're selling replacement back covers that will give a premium look and feel to the lumia 950(XL) Over time more good looking designs wil come.

you know what guys? even if this one makes to the market, iVerge, CNET, and many other "tech" sites will bash the "hideous" camera hump

but they would secretly **** over it as well, if the 1020 would have had good specs and expandability it would still be the best seller http://igg.me/at/K-2U-rel70w/x/12841632

Looks like a portable hot plate or weight scale.

Lol. With the placement of the lens and flash the camera looks like an emoji.

Oh crap just noticed that, forget McLauren, call this the Microsoft iMojii Phone. (purposeful spelling)

Lol... You're hilarious xD

The back should slope towards the 'bump'. I would love to have a f1.9 41MP shooter @ the 950xl size and CPU. I would wrap it in a case anyway.

With the newer 20MP sensors, the 41MP is overkill and destroys performance. I loved the 1020, but it was SLOW. The 950 takes Vetter shots and is super fast.

Lumia 1020 could've been faster could had Snapdragon 800 & 2+ gigs ram but Microsoft's dumb restrictions for hardware didn't helped L1020 soon months later the restriction was removed and then high spec-ed lumia 1520 was launched & soon some OEM's did launched high spec-ed Wp. For me Microsoft was the one who killed Nokia.

Even the SD800 didn't natively support 41MP (that came with the 810), hence the 20MP camera on the 1520/930.

In my opinion, you are right, and they have done it purposly and not cause of mistakes;). But people don't understand and don wanna know that ms strategy was to kill Nokia so they will jump in with an crapple type of business... Software, hardware. Sadly, what ms did not get was the fact that their strategy will also kill their further business. Just cause the mass is well, the mass. And whoever touched wp7 and 8 will never touch wp again...

It was slow bcoz of its configuration and even Lumia camera software. Now Lumia camera is class apart in taking photos quickly.

+1 http://igg.me/at/K-2U-rel70w/x/12841632

Really am of the FIRM opinion that Satya - or whoever - MADE A BIG MISTAKE in cancelling this. Market share likely would NOT have fallen as much, and may have even made some gains in some areas. APPLE would not have been "first" to implement 3D-touch type features, ETC. Windows Phone fan would not have felt so betrayed, in fact we would have been blogging about another cool device from Nokia/Microsoft and most of our commenting for the year would have been positive. BIG MISTAKE.

As a windows fan, with a 950, I disagree on all counts. I went Focus/920/1020/950 in the WP/W10 era and have never felt betrayed.

What Apple has introduced is only "3D" in name. It is a joke how easily they can make people feel they are receiving something "revolutionary". Lol. We have had 2.5 D touch in WP for a while. It's called tap and hold. Smh

Marketshare is at a steady 3% what are you talking about.

1.7% last quarter. With the 950XL not being released on any carriers and the 950 only on AT&T, it is not likely numbers will be any better in the future. Posted via the Windows Central App for Android

OMG! WHY DID THEY HAVE TO CANCEL THAT? IS THAT A 41MP CAMERA? probably not.

No it isn't, the lens is too small and there is no xenon flash, so it isn't meant to be a 1020 replacement.

Why, oh why, were you cancelled, McLaren :o(

I don't get the hate on the 950. I'm probably the very definition of a Fan (PPC straight through to 950 on launch) and I like the 950 the most of all. Even my iPhone friends get their hands on it and say it looks nice. The 950 is more revolutionary than anything Android or Apple launched this year.

Yep, I think you actually might be right, aside from Motorola making a phone with a nearly indestructible screen and Apple releasing phones with 3d touch, but a phone that can used as a Desktop PC, now that's pretty amazing.

Motorola's screen is not going to crack, but scratch easy as ****. My wife has an iPhone 6S (an average iPhone user) and she has yet to use the 3D touch, it really isn't that well integrated at launch. Both Android and iOS had at best evolutionary upgrades this year. The 950 brought Continuum, Hello, a unified phone to desktop (and beyond) OS, a better camera than the 1020, and performance.

You sure did forgot one thing that is: Windows hello BETA,Windows mobile 10BETA Beta this Beta that.Sometimes i do think Microsoft is ******* with windows phone users daily by removing useful apps.

Just upgraded my 630 to windows 10 but waiting for the official upgrade for my 735. I like most things about it, the browser is much faster, customisation of the home screen is better, the office apps are on a different level but I am with you when it comes to deleting apps. I wish they had kept the beamer and photo beamer apps which are the apps that first brought me to windows phone.
Back on track with the article, I much prefer the 950/xl design to this phone.
Posted via the Windows Central App for Android

Just change the branding on the front and back, people buy phones according to the OEM logo right? Sure seems like it.

More revolutionary than anything else this year? Nah. Could possibly qualify that with Continuum but its so quarter baked. There's no real benefit using Windows Hello vs a finger print scanner, either, so can't say that's revolutionary compared to the competition. The hardware itself isn't revolutionary. Posted via Note 4/Nexus 7 (2013)/Lumia 1020/ Lumia 2520

Not really revolutionary, as it does not bring much new to the table, but more evolutionary. Still, 950 is a very good package and seems to do what it does very well (I have no actual "hands on" -experience).

It was cancelled because Verizon didn't like the design, which may have been an excuse because they didn't really want to support WP anyway.

Omg I almost puked when I saw the back of the device, that extremely massive camera bump is gross.

That's why it was cancelled and I'm sorry that you've just been scarred for life from seeing that abominable hump.

That's not why it was cancelled... Posted via Note 4/Nexus 7 (2013)/Lumia 1020/ Lumia 2520

I think one of the reason's former devices VP Mr Elop and his team were laid off was because they held back Windows smart phones because they did not create a Flagship Windows smartphone to show that microsoft could deliver great windows smart phones tech.insteadf they came out showing the Lumia 640/640XL which were not bad smartphones but not flagship stuff. Windows smartphones fans really felt hurt. Elop tokeWindows smart too deep into the low end market

Politics my friend killed Nokia. Internal or be it External.

The modules look far cheaper built than the 1020's. Also knock if off with the 950 being "ugly", some of you are fickle enough to change your opinion if it had Nokias logo on the back and front instead...

More to the point, they change "their opinion" based on every 'article' they read. Which makes you wonder if they have a genuine opinion at all.

I would've definitely gotten this.

My decision is made XL is going back. I will just keep using my 1020.

Wow it looks great and the material looks premium too
Microsoft is loosing its sheen coz of the bad decisions taken by its top level management
One day I'm sure it's fate would be similar to BlackBerry and Infosys
Come on guys acknowledge the fans and give them what they wanted
Coz customers are the king

It "looks premium"...??? How is that even possible??

Well, you can't make a cheap plastic look good now isn't it? No matter what design it will always look cheap. That is how it can look premium. And people, stop using others words like you are sheeps. If someone said it can't look premium cause premium is a feal, that does not mean he/she is right. Premium is a look and only after becomes also a feal;). A device that looks cheap, will most likely be cheap and will be made out of cheaper materials;). A copy or a fake device will always look cheap as **** even if it follows the same design as the devices they copy. Why? Well cause it's made cheap. Conclusion? Premium is a look and feal;)!

Yeah this is ugly bulky phone

There will not be a 1020 successor, and the 950's will be the last Lumia's. The next windows phones and going forward will be Surface phones.

No way every Windows Phone going forward is Surface branded. Unless they only make 1 phone a year, from now on... Surface is a premium brand. They aren't making low end Surface phones. Posted via Note 4/Nexus 7 (2013)/Lumia 1020/ Lumia 2520

I think Microsoft should've kept Nokia. It was a big part of windows phone Imo. And do whatever else what they want to do. Whether it is surface phone or something else.

They killed/bought Nokia because Nokia itself started inclined towards Android... So they just bought Nokia mobile division. There were no options remained.

In retrospect, this is a terrible design. That large circle on the back would have turned off so many people from buying it. I don't care if it has a 41 mp camera like the 1020, the lens cover should only be regular phone sized and only cover the lens. If you think about it, if your phone had a 41 mp camera but a tiny lens cover to peek out from, it would seem more amazing to people because it would appear you were able to fit such a monster spec into such a tiny everyday package. Having a large hump/circle may advertise you have a giant camera on your phone but it also advertises you have a giant camera module on your phone which wont be as impressive to most people. In other words, what I'm saying is their Industrial Design shouldn't be so overt that camera is massive. Hide it a little and let people figure out on their own how amazing the camera really is so their minds will be blown.

Bring it on. Unleash this phone on the rivals. Shame the people who say that every smartphone maker today have improved their cameras. Let them know what a smartphone camera should be like in the 21st century.

I can already see anti Windows phone users photoshopping a diagonal and a yang to the back of this phone and calling it a ying and yang phone...

Saw images of 850 as well on internet...was looking great and better than 950...
http://www.bing.com/news/apiclick.aspx?ref=BDIGeneric&aid=C98EA5B0842DBB...

Looks alot like a 5X, but I realize the 5X didn't introduce that design. If the edges weren't quite so rounded, it would look like the 1520. Posted via Note 4/Nexus 7 (2013)/Lumia 1020/ Lumia 2520

Because it never came out, it's "the greastest Windows Phone ever". Had it been released it would have been overly scrutinized to death just like every other Microsoft product. ​The WP "community" is so full of ****. Stop with the fuckery already.

I would buy that phone right now!

They need to start making metal phones. Stop with all the polycarbonate. Posted via the Windows Central App for Android

Yep... Right around the time they stop caring about signal strength ans quality. Polycarbonate is very noticeably better for anyone not living directly under a cell tower.

They could have kept the design similar to the 830 though, which in my opinion is the best looking windows phone ever made. Posted via the Windows Central App for Android

Lumia 950 looks better than this ugly fish

Returning my 950xl for att single sim 950... For visual VM. Will buy the next MS phone if they actually step up.

Regardless of sales numbers, this phone would have gotten MS alot of attention in the press just like the 1020 did. That alone would have been worth releasing it especially at a time when they had nothing new coming out. Still don't understand the whole excuse of not wanting to release a new phone before the next version of the OS. That is absurd and yet so many people said it so many times. No reason at all they couldn't have released a flagship or a niche device like this 6-12 months ago and then still had a couple new models ready for the W10 launch.

Sorry, but this is one ugly device. Glad it was canned.

I want a 950xl, but Microsoft has made hard to get. Ridiculous really.

I can buy it almost everywhere and it's already selling at a lower price

What a monstrosity. Good thing this thing never saw the light of day.

Those cameras are too big for me.

They need a 1020 successor. I will not buy a 950 simply because of the camera. The 1020 may be older hardware but nothing beats the camera.

I think they cancelled becasuse that design is from Nokia, microsoft is trying to design their own handset of which they suck at it.

There first design will be the Surface Phone and it's still coming April 1 - Intel Atom "Goldmont"
- 4GB RAM
- 5.5" 1080p
- 2700 mAh battery
- Surface Pen

Lol... Is 2700mah is sufficient?? And also it will not coming that early... Maybe in August-September 2016...
- 5.5" 2k or 4k screen
- 3000-3500mah battery
As edition

950/XL are MS designs, they had plenty of time to change them if they had any interest in doing so.

When background downloading coming to w10? Regret to buy phone!

WP has backgroud downloading and uploading from 8.0. Why devs dont use it, it s another story...

Actual background downloading in mobile data is now enabled in W10 SDK.. Devs need to implement it in their apps..
New UC browser is coming for W10M with background downloading capability....

Windows10 SDK support Background downloading and Uc browser coming soon with background download. Haven't listened this news. When and where you heard that.

If they dumped that camera hump or even just make it flat I'd be on board. They should have released a phone like this. In this day you need something that stands out and the McLaren would've done that. The 1020 did. And yeah it was a niche device but it's better than a device that attracts nobody which that's what I think may happen with the 950. But I guess you can't beat a dead horse so we must move on. Posted via the Windows Central App for BlackBerry

Microsoft doesn't care that much about windows phone.

A phone like that to replace DSLR would be nice

Slr's are simple camera if you dont know how to use them. Lenses make the difference. However, you cant change the lenses for phones.
There wont be a longrange camera shooter for phones until technology makes a mountable/ditachable lens.

I think Dan should do a review of the McLaren ;)

It's basically a 1020 on steroids but still has more character than the bland as **** 950 and 950XL. I'm sure it would've came in more "colors" than black and white too.

It looks good but I guess the huge camera bezel might bother someone in the long run.

My hump, my hump, my lovely camera lumps

I love my Nokia Lumia 1520. If my phone were ever to perish I will eventually get the 950xl, but I don't wanna part with my 6inch 1520 at all I love it too much, wish windows 10 would come out sooner.

I didnt like the curvy edges of the 950/950xl. The bar type,square whatever you may call, of the 1020 ,920,1520,800,900 looks more premium. That is class. Curvy edges seem so lame and downgraded.

You mean rounded corners...

Do not compare the 1020 with 950 ... 1020 runs on years old hardware so obviously 950 will be fast and do process pics quickly. That's why we are asking for 1020 successor probably 1050 with a huge camera and as quick and smooth as 950.

a 1020 successor would be very welcome. The 950 camera is great but I still prefer my 1020 on some occasions. all they really need to do is up the specs

Imagine how big it would have been if 3d touch is released at that time .... It would have definitely be seen as a differentiator and would have helped MSFT to make Gartner predictions true.

Maybe they couldn't get it to work.

This is the Windows Phone I'd want. A true camera flagship. However, if you look at the camera lens, the prototype does not have a mechanical shutter and I'm sure it'd be missing some other things as well, such as an ND filter. I feel like Nokia's camera pedigree has been lost. The Nokia 808 PureView was the peak of Nokia's imaging, 1020 retained some of it, although still dropped the quality, but ever since then Lumia cameras are nothing special. Still, I wish Microsoft would release a proper, uncompromised camera flaship.

ND filter should make the hump even thicker

And people says 950 has a bad design :D

No reason why it cant be resurrected

Now that's good attitude and optimism. It should be brought back to life.

For people saying it is a hump , actually it is a character . That makes this thing unique. Hope they will reveal Lumia 1050 ,1090 or 1100 with the hump.

Someone could do a 950XL back with a huge bump-out and there you'd have it!

I own the 1020 and 950XL havent cried one tear

1050 will best phone ever, the 1020 Had apple saying that photos wasn't everything, now that they have a good camera its important again, the best commercial ever was the ones with the zoom, and everyone trying to get closer. People say it was a niche but that untrue it was just half hearted, no upgradeable memory, outdated processor, dual core really. A 1050/ McLaren with best specs ram, expandable and lots of memory option, 32, 64, 128 make it true 64bit so it can have more than 4 gigs of ram. If fact make it the surface phone but two version of it one with the 50 mega pixel and one with out make it a beast on specs. make it the undisputed leader in spec and camera with the full suite of ms products as well as all bell and whistles and continuum plus, where it actually is a computer, with a base with a dedicated video card like the surface book

You really make no sense man. First things first: Phones are not to brag about what extraordinary hardware they have. Second: Hardware power is not enough, quite at all. Third: There is no phone with upgradable memory, and will probably never be. You are talking about storage, that is something else;). Fourth: When 1020 was launched, dual core was enough, windows 8 was snappier then a quadcore android...by far. Fifth: There is no point of building RAM's like there is no tomorrow. We are talking about mobile phones here, not gaming rig's. Last: Do you even understand what is all this hardware all about?

Further evidence that MS is completely lost! I am so done with Windows Phone!!!!!

such a pitty. Microsoft cupitulated the martket with big mistakes. why did they even bother to purchase nokia?

I for one am glad they shelved this phone. Aside from it being god awful ugly if the 3D touch feature didnt actually WOW then it is pretty much a 950 with a gimicky feature. I really hope the rumored "Surface Phone" has some sort of force touch, that feature is actually really nice & I'm kinda sick of Windows 10 mobile popping up a context menu everytime I leave my finger on the screen for a split second.

I love my 1020 and sincerely hope they come out with a successor. The camera was fabulous. I'm actually ready to go back to it until windows 10 mobile is less buggy. I've had so many issues.... Favorites did not sync in Edge, notifications that email settings need updated at least once daily,
Cortana won't open music when I use "hey Cortana" it gets hung up with the spinning dots forever,
Many of my songs are no longer playable as Groove says it can't verify the license despite the fact that these were songs I already purchased,
Windows Hello works about half the time,
Multiple icons are duplicated in the App menu with one being grayed out and a footnote that says pending.
Overall the OS just seems SLOW compared to Windows 8.1 on the 1020.
Very frustrated with all the bugs

If its down to the camera, get the 950s, check out the gsm arena tool. They are much better than the 1020 in many aspects

good decision, these phones look ugly. i will wait for Surface Phone, until then i have my 950 :)

The comments on this article suck.

Maybe that's because we are all suckers for Lumias.

Don't know the situation about whos design is what (Nokia vs. Microsoft), but what I know is that what we are getting right now is just something terrible - at least in matter of design. Simple thing I loved about Nokia phones was the fact, that no matter what, you could just recognise it from a far that this or that is a Nokia phone - simple, but effective design and beatiful colors. None of other brands had that - they were/are all with the same design combining black, white, "gold" and other boring stuff. Especially the colors was the perfect thing. I thought that with the Lumia 535 and 640 Microsoft will be continuing at least with the color thing, but apparently its not. Now we are getting some neat hardware in a body of Lumia 530 with beuatifully boring black and white color variants in a box titled "Lumia 950". ****, I don't need and actually don't even want full metal phone, I just want what we got in Lumia x30 series. That was one **** of a design masterpiece IMHO. **** - Lumia 550 and 950 looks almost the same! I think that unifiing Windows across platforms is a good thing, but I thought that it won't also assume unifing designs of every Microsoft phone in a portfolio. But what did I expect from a Microsoft, which released Xbox One with a design of a 1980's set-top box... Sorry, but it was not the design what eventually ended in Nokia's not much succesfull sales - it was the people's general distrust in what was inside - the Windows Phone. The system is really good, but they kinda killed that with Windows 10 rushed release. Which could be another devastating big blow that Windows Phone. Brand "Nokia" just sounds way more sexier than Microsoft, and it also looks way more prettier. Thats why Iam buying orange Lumia 735 to my girlfriend rather than little cheapier but ugly Lumia 550.

The McLaren is like a dream girl that many fantasize about but nobody has on their side. The 950, otoh, is like a wife. It's there and it has its flaws.

Oh boy... From 800 to 920 to 1520 to 950 now... Never regretted any but 1520. The beast is too bulky for me, so I went for 950 now, not Xl. 920 is still good phone, I use it for insider program. 1520 was my daily driver with insider w10 and is now ok, but 950 is much better phone with much better camera. Premium look? I really never understood that. What is premium look and what is it good for? Want diamonds, gold or what? It's a phone! Oh, I forgot... With 250€ Airmax goes premium look phone... Go get golden Iphone I guess... Or get yourself exclusive premium casing, as everything else on this phone is premium. From screen, features, silicon, memory....
Btw, I just used my 920 backup to get 950 up and running with all accounts, data, certificates, settings, apps.... Fabulous.

Not sure why many people are saying the design is amazing, it's a slightly bigger 1020 nothing special. I personally think the 950XL design is pretty nice, nicer than what's shown here for sure. I'm just not convinced with the 950/XL build quality especially after hearing about the creaking issues with the back cover. I'd rather have a bit more weight and sturdier body, picking up the 950 felt like picking up the plastic display models that have no internals.

I would prefer this over those 950/xl...this is what the fans want...A beast.. Posted via the Windows Central App for Android

That hump looks sexaayyyy.... Could've upgraded my 1020

Looking at the GSM Arena tool, the 950/XL has better image quality than 920/1020/6S Plus/Note 5. Better sharpness. Better noise pattern at low light. No colour fringing. Better resolution. Better anti aliasing. Better colour accuracy. Better white balancing. You should look at the absolute worse crops to see this level of quality they have managed to achieve. It's safe to say the quality beats many DSLR at wide angle at least.

Lol now that the 950 and 950xl is out people's opinion of this phone have changed drastically! I remember so many people calling it ugly but now alot of people are signing a different tune.

McLaren's camera be looking like dis: (O_o)
Windows Central Newsletter
Get the best of Windows Central in in your inbox, every day!
Thank you for signing up to Windows Central. You will receive a verification email shortly.
There was a problem. Please refresh the page and try again.