New "Refresh Windows" tool makes clean installing Windows 10 a breeze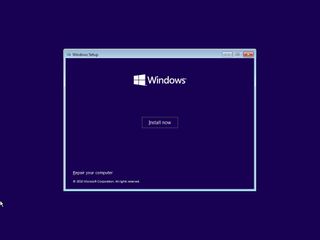 Microsoft is now testing (opens in new tab) a new tool called "Refresh Windows" which makes clean installing Windows 10 super easy, fast and convenient. Right now, the tool is in testing with Windows Insiders, so it only works on machines running Insider build 14342 or later, but the end goal is to have it working on the public release of the Anniversary Update. What this means is that new PCs which come pre-loaded with the Anniversary Update and bloatware will have a super easy way of obtaining a fresh, clean version of Windows 10 thanks to this tool.
The tool is available for download here (opens in new tab), but before you begin there are some prerequisites:
An internet connection to download the tool and the Windows image. Note that the image is about 3GB and Internet service provider fees may apply.
Sufficient data storage available on your PC.
Your PC is currently on the Windows 10 Insider Preview Home or Pro edition. (32-bit or 64-bit processor (CPU)) For the latest system requirements, check out the Windows 10 Specifications page.
Reminder – like your current Windows Insider Preview installation, trying out an early build (and an early new tool) like this can be risky. That's why we recommend that you don't install the preview on your primary home or business PC. Unexpected PC crashes could damage or even delete your files, so you should back up everything. See the Windows Insider Preview FAQ for more details.
There are also some notices you may want to know before you try using this tool:
During the Windows 10 Anniversary Update Insider Preview period, this tool will install a clean copy of Windows 10 from a recent Insider Preview Fast released build. The build installed by this tool is not guaranteed to be the latest build available to Insiders, and at times may install a Windows 10 build that is older that you had previously. Should this apply when you use the tool, you will be unable to keep your personal files, and will be notified during Windows Setup, with the option to cancel. After the clean installation, you can set your Windows Insider Program settings to rejoin your desired Insider Preview ring and get the latest build for that audience. Note that in the future, more recent builds will be made available as the clean installation target, including the official Anniversary Update after it is released. If you are in the Insider Slow audience and do not want to have a build installed that has not yet reached Insider slow, you should not use this tool.
Using this tool will remove ALL applications that do not come standard with Windows, including other Microsoft applications such as Office. It will also remove most pre-installed applications such as OEM applications, support applications, and drivers. The tool does not give you the option to recover removed applications automatically and you will need to manually reinstall any applications you wish to keep. After the clean installation is completed, if you experience any missing drivers, go to Settings > Update & security >Windows Update to download the latest device drivers. We also recommend that you visit your PC manufacturer's website for info about updated drivers.
During this preview period, we cannot guarantee your digital licenses, digital content associated with applications, or other digital entitlements for applications will be carried through after using the tool, which may impact your ability to use paid-for apps or apps-related content. For this reason, we don't recommend installing the preview on any PC where you wish to ensure all of your applications and application-related content (including Microsoft applications such as Office) remain properly installed and licensed.
Currently, the following 3 languages are supported: English (EN-US), Chinese (ZH-CN) and Japanese (JA-JP)
Running the tool is very straightforward, simply launch the app and follow the on-screen instructions. When prompted to choose whether you want to keep your files or keep nothing, have a think and make sure you've backed everything up if you're going to select keep nothing. The tool will then begin to automatically download the latest image of Windows 10, and then proceed to clean install it, preserving your files if you chose to do so.
It's a pretty cool app, and will make grabbing a clean version of Windows super easy and convenient for devices that come pre-loaded with bloatware. I can't wait to use this on any new machines I buy from OEMs.
Zac Bowden is a Senior Editor at Windows Central. Bringing you exclusive coverage into the world of Windows 10 on PCs, tablets, phones, and more. Also an avid collector of rare Microsoft prototype devices! Keep in touch on Twitter: @zacbowden.
What's the difference between this and Refresh in the Setting app?

This tool will grab a clean image of Windows 10 from Microsoft and install that, whereas the Refresh option in the settings app will pull from a pre-baked image by the OEM, which usually means it'll reinstall all bloatware unless the machine you're using that option on is from Microsoft.

What if I'm using a custom pc or a laptop that came with no os, meaning there is no pre-baked image? Do both tools do the same thing in that case?

Yup ! I guess so. I have a custom PC and I 'know' there is no bloatware in it so there is nothing to remove really !
Same with laptops that come with Free DOS.

In that case, using the option in the Settings app will pull a clean image already stored on your HDD, as Windows 10 saves one when you clean install.

So, it's like a tool to convert your OEM PC to a Microsoft Signature Edition PC? Posted from my Surface Pro 2

congratulations on the big move to wc zac!

Honestly it's useless. They need a tool that at least lets you keep your settings, start, uwp apps. Make a backup and restore it for you. Check integrity of everything and fix it if it's not right.

It's hardly useless. It's for people who buy a new PC and want a fast way to get a clean version of Windows sans the bloatware that tends to ruin your experience out of the gate. This has been the bane of Windows for a while now and it's really tarnished the reputation of the OS.

I thought refresh already gets rid of everything? But either way they should have a backup method like phone. Though phone needs to be able to restore it at any point, so it ain't perfect.

No, the current refresh won't get rid of pre-installed junk. Agreed on a better backup system ala Windows 8.1 and the phone backup.

Does Windows 10 Anniversary keep a back-up in cloud of your installed apps and start screen layout as Windows 10 Mobile and Windows 8.1 do?

The nice thing about 'refresh' on win8/8.1 was that it was a clean install of your OS, like keeping the install disc on your HDD for a bad day.
With 8.1 mobile and win10 they did away with this, and now the refresh is based upon your current installation of the OS. The nice thing about this is that it means it takes much less space, and when you refresh you already have all of the latest drivers and updates.
HOWEVER, with this new way of doing things, if there is something really wrong with the OS itself, then the issue will now persist through the refresh process. As an example, last week I attempted a refresh because there was an applicaiton stability issue where all apps would crash when attempting to open them (x86 and store apps) with the exception of Settings and Chrome. Could't even open the calculator lol. Attempted a refresh, and right away, exact same issue. Only solution available was a whole new reinstall... which isn't a big deal... but I wish they would go back to the win8 way of doing things as it was super convenient, and worked EVERY time. This tool is to solve the issue I just had. I needed to do a full reinstall of the OS... but the only nice way to do that is to use the media creation tool, which brings you back to stock Windows, and the need to reinstall all updates, and re-enroll the PC back into the insider program. The new tool will allow you to install the latest preview build directly, and make the overall process simpler. Still, the real solution to all of this is to go back to the win8 way of doing things. Taking up 5-7GB of drive space is no issue at all on a PC with more than 120GB of drive space, so just do it! On smaller cheaper devices, do it the win8.1 Mobile way to save the space... or just don't do it at all and require people to use the Media Creation Tool, or mobile recovery tool.

cool but I don't need to use it now

I don't get it, why make a Refresh Tool if Windows 10 already have an option for it on the Settings page? (Refresh and Reset)

In case an issue happens where your recovery, system files, or something else get corrupted to where you can't use it.

That option reinstalls all the previously installed OEM software (which is bloatware for many). The new software will literally give you a CLEAN Windows 10 PC.

Because those revert to a locally-stored factory image, which isn't necessarily clean. For example, those options on my laptop take it to Windows 8.1 with Lenovo bloatware+drivers and a broken Windows Update. This new tool makes sure you have a clean-install image fresh off the internet.

WinBeta posted the donwload link earlier today before the article describing the tool came up. I was excited to try it because I am moving my phone and PC back to threshold. Only I was surprised to see it push back a few Insider builds instead of 10586. I feel silly having not read the article before using the tool. Got my PC to 10586 all the same in the end. The tool itself is slick, an easy and quick experience, so they got that right. However, I don't think it reconstructs the partition table. If I remember right, there were a few left over folders at the root of the C drive that I thought would have been gone.

So windows will be automatically activated or should I enter the product keys again??

It will activate automatically as it registers with system hardware digitally. No need of product key.

Windows will be activated automatically provided u had valid activated windows 10 running earlier. No need to enter product key starting Windows 10 for reinstalls.

Actually this is there since Windows 7, 8.1 !!

how about Microsoft mandates OEM's to create a restore point right after installing windows, just before they install their crap, so the user can just roll back to the "fresh" state, lmao even then I will just swap their mediocre storage solution with a new shiny ssd and install from usb, I don't even boot OEM computers before that

Its usually an image they put on they don't install the bloatware after they install the os that's too tedious the just mass install an image that has it. Also that is one way they keep the devices cheaper because Companies pay them to preinstall their software so I doubt that will ever change. That's why the signature series is usually a few dollars more than a device straight from the oem. So if you don't want bloat get a signature device from ms

The concept is great; it would be perfect if I didn't have to reinstall all my software.

That's not a clean install anymore, is it?

USB media installation for the win hehe I just hope they make the iso available when the anniversary update is released to the public.

Does the device recovery tool do the same thing for Mobile?

This is of no use to me, as I only have a custom PC build and MS ISO image with no bloatware included

This may actually prove helpful for cases where your PC isn't functioning correctly and needs a reinstall. Of course there's Reset in Settings for that, but it uses a local image and often fails if there's no image found. (Haven't been able to reset since I upgraded to Windows 10. The recovery image on my Dell is still 8.1 somehow) It would be interesting to see how Microsoft handles this redundancy. I mean, if it's a tool you have to download, the average user won't use it. They should eventually integrate this functionality into the Reset function and not distribute a separate tool.

I have a UEFI partition, and a Windows 10 installation media on a USB stick if I need to use it

Don't get too excited. Going by what's written, when the tool goes public it won't uninstal OEM bloatware. And Microsoft wouldn't even try it on penalty of p*ssing off their partners. But for us who build custom PCs, this looks like a nifty tool. Posted via the Windows Central App for Android

Windows on its own has enough default bloatware already. I'd love to be able to do a clean install without having to go and remove junk like Sports, News, Food & Drink, Money, etc.

Facebook beta for windows 10 mobile is in the store! *-*
Go find the link in windowsblogitalia

No support yet it seems for UK ENG or English India

I think they should integrate this into the Settings app as a third option "download and reinstall Windows".

What about touch screen devices like venue pro, will the touch work during the process?

After buying a new Lenovo this week and deleting the bloatware I can definitely see the use for this. Excellent new feature

What's different between this new tool and do regular clean install with a USB/DVD?

The original Media Creation Tool does the same, downloads an ISO that can be used to clean install or repair/refresh. Not sure of the point of this new tool
Windows Central Newsletter
Get the best of Windows Central in in your inbox, every day!
Thank you for signing up to Windows Central. You will receive a verification email shortly.
There was a problem. Please refresh the page and try again.