New report predicts smaller tablets will lose ground to large smartphones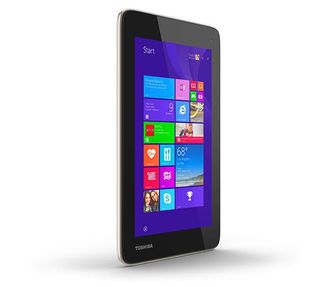 A new report from NPD DisplaySearch predicts that shipments of tablets that are between 7 to 7.9 inches in size will begin to lose market share compared to larger tablet products, thanks in part to competition from larger smartphones.
The report notes that in 2013, shipments of smaller tablets took up 58 percent of the total market. However, that percentage is expected to go down, with NPD predicting that hardware companies will put more of their tablet focus on products that are between 8 and 10.9 inches. NPD believes that shipments of the larger tablets will overtake the smaller ones in terms of market share by 2018.
The report adds that tablets that are 11 inches or more, such as Microsoft's Surface Pro 3, are expected to take up 10 percent of the total tablet market by 2018. Hisakazu Torii, vice president of smart application research at NPD DisplaySearch, stated, "The increase in screen sizes will help increase tablet PC revenues."
NPD has lowered its 2014 tablet shipment forecast to 285 million units worldwide, with the firm blaming the delayed launches of new products as part of the reason for their adjustments.
Source: NPD DisplaySearch
Windows Central Newsletter
Get the best of Windows Central in your inbox, every day!
Naturally. Now a days a phone can do almost everything that a tablet can... While it's not the same vice versa...

Called this months ago but the Gestapo mods here at the forums closed the thread.

I agree. Got a 1320, hated phablets before but now I can see how they easily replace your tablets with additional functionality esp in this ecosystem

That's why I'm praying for a 1525

I would totally replace my 1520 with that

Or a Surface phone
That would be lovely

Unless these phablets will add a pen and handwriting capabilities I do not see this happening. Said that I also started using Tablets in 2002 ... so the market could contradicts me again.

This depends on the tablet. An Acer Iconia W4-820 as example can do almost all things a PC can do. There's no smartphone at all being able to install PhotoShop CC or Visual Studio.

1520 is heavily used on the sofa or in bed, but when I wanna do serious research or compare data/information on different sites, or even some work...out comes the Surface 2 as even a 1520 doesn't have the screen real estate to be efficient.

I'm alsmost sensing that what they are saying in-between the lines is that the upcoming iPhone phablets, the 5.5" iPhone (and 4.7" iPhone), will cannibalize the iPad Mini.

Good. We need better, large tablets.

Surface Pro 3!! Now we just need to get the price down to around $600

Pick up a used one in 12 months, you'll find them all over ebay for about that price.

Absolutely. Surface 3 is priced too high. $600-650 mark will make it must have device. Also keyboard must be included. Hope MS will learn from previous Surface errors.

Can't say it's priced too high as there really isn't anything comparable to it in the market. Plus, the price gives OEMs something to undercut which I don't see as a bad thing. Makes them work harder.

Surface Pro 3 is awesome but a cheap version with the same screen but Intel Atom and a lower price tag would be great.

They mean that you can buy a 6.5 inche windows phone and get everything you want instead of buying a small 7 inche tablet

What is the expected size of the Surface Mini and could this be a reason to delay the device??

Just make them the same thing... Problem solved.

That's what's phablet is. Phone+ tablet.

Around 6 is the max for a phone and 8 the min for a tablet 7 needs to die. In other news, WP does not really take advantage of large screens. I can't stretch my tiles vertically.

I had the 7 inch Huawei Mediapd X1 tablet/phone. It was a beautiful device, and was actually very easy to handle. I agree though...reasonably thinking, 5.5 to 6.5 inches is what I'd consider to be ideal.

Don't quote me on this, but I have read/heard vertical tile sizing is supposed to be coming in a Windows Phone 8.1 GDR Update... Not confirmed but we may see that feature soon. Hopefully.

Where have you read this from

Like that Windows 8 phone..

Agreed. Look at Apples iPad air, schools are abandoning them as the screen is small for education purpose now Microsoft surface is gaining ground. Woyeeee to Microsoft

I don't need a small tablet. Dont want one. I have my phone for that. Though, I would like a larger windows tablet. I use a powerful desktop and a phone. I am personally just missing the portable PC that I would like to use. I don't want a notebook/ultrabook cuz it would be to bulky and clumsy. Not as travel/movable as a tablet. I have really been excited about surface. Probably would get one of those.

When big phones are foldable, the mini tablets will be completely gone.

Exactly my thought. I have a 7.9 inch tablet but it's been collecting dust for long. Because for web browsing and video watching experience, it is no match to my surface rt/2. And in terms of portability and convenience for use, it is no match to my Lumia 1520

I'm guessing its just me but i would prefer a phone that fits comfortably in my pocket, not some monstrosity that would make me look like a tool while making a call *shrugs*

The phone equivalent of people taking photos with their iPad

The 1520 covers about 80% of my profile view.lol But I would still get one if it was the best available on my carrier. I really love the size of the Icon though.

Makes sense to me that the smaller tablets will lose ground BC the phones can do all the same stuff. All the large phablets need is stylus support. It's useless to have small format Windows tablet without it being touch only, i,e. the phones.

Makes sense, I plan to upgrade my 1020 to a WP with a screen between 5-6" and pair that with my SP3, with Threshold merging WP and RT there's no reason I'd want a small screen tablet.

Small Windows tablets won't though because we'll never see Windows 8 on a phablet that's what Windows phone 8's for

How I read the headline: Small tablets are expected to lose market share to slightly smaller tablets.

Can't imagine a phone being any bigger than 7 inches or even close to that, but somebody will probably try it. 6 inches is pretty big, i dont think it is necessary to invest too much in a small screen tablet. Perhaps this is why MS is hesitant for a surface mini, i personally dont think they should move forward with it. Stick with a 10 or 12 inch variant and let the phones handle the small tablet market in the future once RT/WP merges.

They really should put the surface mini on the market while there is still room for it. It will give them experience in how to evolve it in a f#cking awesome phablet.

I'm not sure. I'd NEVER pick 1520 over Dell venue 8 pro (With FULL Windows 8.1).

I felt the same way, but what the 1520 allowed me to do was instead of getting the Venue, which I was interested in getting, I decided to get the ASUS T100 which was 10" and with a built in keyboard attachment and also has full Windows.

Hey John. Go back to Neowin. Ok. Thanks.

I prefer a tablet, that way if I get robbed I don't lose my phone and my tablet since my tablet will me home.

8 to 8.5inches for a tablet is the best for portability. Posted via Windows Phone Central App

Great time to release an overpriced surface mini

Easy with the overpriced. I don't wanna pay over $400 for a Surface Mini. Here's to hope and dreams!

I was really looking at small tablets.... went the 1520 instead ;)

I can see Windows Phone 8.1 has features I would like to see in Windows 8. 7-8 inches tablets are like to play games, browse the internet and take some notes, but not for the hard job like being productive. That's why I believe Surface Pro 3 is a hit for me. Landscape mode brings an experience you won't find on the iPad, a lot of more horse power. Yeah sure, the applications, but meantime you can pin the web page on the start screen. And personally I find Windows 8 more intuitive and with more potential than the iOS.

Makes sense to me. My friend has a 6" 1520 and 10" Lumia tablet. Weird to carry them both to me

Not suprised. I've never liked the mini tablet concept. To me, the whole value of a tablet is screen real-estate, readability, etc. I want a tablet to be at least 10". When you go smaller, you might as well, just use your cell phone, there's no value to carrying a second device if its only and inch or two bigger. I also dont want a phone bigger than 5". I can see bigger phones for older folks or people with vision issues, but IMO a phone needs to be very portable (but not iPhone tiny ;) ). So, give me a 4.7" phone and a 10-12" tablet and I'm happy!

They need to specify if their talking about RT tablets or full OS tablets, if their saying the full OS regardless 7",8" it won't be replaced

Of course they will. Theyre both dumb ideas but the phone has the edge being a phone

Agreed actually. It's in the vicinity of "too big", IMHO.

Makes sense, with my 1520 I have zero need for a small tablet.

The poor sales of the ipad mini and the last nexus 7 shows that

For me the 6 inch 1520 hits the sweet spot between portability (fits in any front pants and short pockets that I own) and great screen real estate. I hope Microsoft will keep releasing high end phablets.

But there are users like me who look for better entertainment and best quality product utilization in lowest price compare to the bigger ones, why one will go for the XL screen size.
On broader scale this will be an issue but, at small scale business and students are concern, this product has a long life, as per my understanding.

I moved up from a iPhone 4S to a Lumia 920 and sometimes I feel it's too big cause I have to use 2 hands to text...a 1520 is way too big for me!

Can't handle a Lumia 920? Weird, on my Lumia 1020, I'm easily able to text one handed thanks to WordFlow.

Yeah, for me a 1520 is just ridiculous. I'm using a 920 and while I would like it to be slightly larger, I can't imagine wanting or needing anything over 5 inches. If I can't use it with one hand I don't want it. Mini tablets are just too small and annoying to read on in my opinion. I tried an iPad mini for the first time the other day and hated it. I don't want anything less than 10 inches in a tablet. That's just me though.

Same idea here. There should be a difference between the size of tablets and cell phones. Enormous cell phones are not convenient to use on the move I think.

Rather than thinking of this as mini-tablet versus maxi-phone, I think this is a great sign the rumors of Windows RT and Windows Phone merging into a single OS are true. I think it would be great, especially on a phablet, to be able to do some of the things RT is now capable of, such as split screen and desktop mode. I currently have a 925 with 4.5" screen. For sure my next phone will have at least a 5" screen, and I am seriously considering 6", where once I thought such a beast would be very pocket-unfriendly, I'm now encouraged to make it work. Likewise, as tablets become more powerful they are moving away from the gadget toys they once were, into legitimate laptop alternatives as evidenced by the Surface Pro 3. If there were a SP3 with a 15"-18" screen, I would be all over that without looking back at any laptop alternatives.

Huge phones are annoying.

I don't have any interest in a new small tablet because my 1520 is a small tablet. With the 6-inch 1520 and the 12-inch Surface Pro 3 I think my tablet needs will be covered.

My thoughts from experience. I am whetting my appetitte for a 1525 on T-Mobile. I currently have a Lumia 925, but it's too small and too narrow. Same for my Dell Venue 8 Pro. What the Surface Pro 3 really teaches me is that all my devices do NOT need to be 16:9 resolution. In Fact, really none of them should be. And for me, it also makes me wonder about device purpose. I get very little voice calls. I haven't called anyone on my phone in at least a month. Which I realize is not the norm. so for me, and with the advent of Windows Phone and Windows RT merging, I want a 9 inch device, in a 3:2 aspect ration. With the Surface Pen and the Surface Phone handset (new idea - which is a bluetooth headset in the shape and function of a nokia candybar phone from gen1). Just put voice calling on RT, and at worst I'd use a bluetooth earpiece, but would prefer a handset idea, like Sony once made. With that device mentioned above, a Surface Pro 3 would be the additional device. In the real world, I will get a 1525, A surface 2 with LTE, and then soldier on with my Dell XPS 15Z. I cannot wait to get rid of my Dell Venue 8 Pro. It's sole value is I got it as a Door Buster from Microsoft for $99. Which is about all it is worth. It does NOTHING well. Screen resolution sucks, screen briightness sucks, Pen sucks, storage size sucks (32gb for full Windows should be against some law), Screen aspect Ratio sucks. On third Motherboard, 4th Pen. Rarely use the keyboard. All that proves to me that 8 inch tablets are just not a good idea. I want RT on a 10 Inch device with same aspect ratio as Surface Pro 3.