New Skype apps are a part of what's new with the Windows 10 PC Insider preview build 10565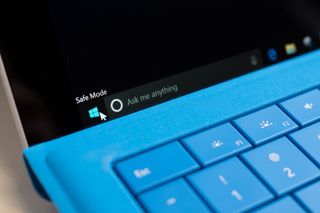 Microsoft has posted what's new and improved in the Windows 10 PC Insider preview build 10565 that's was just released. Among other things, it contains the new and long-awaited Skype messaging, calling and video apps.
Windows Insider head Gabriel Aul revealed the long list of new additions and improvements in the 10565 build:
Skype messaging, calling and video experience: As we've announced previously, Skype messaging, calling and video capabilities will come integrated into Windows 10 through the Messaging, Phone and Skype video universal Windows apps. These Windows applications enable quick and easy, free calling and messaging to other Skype users across phones, over 3G/4G and Wi-Fi tablets and to PCs Wi-Fi. With this build, you can preview the integrated capabilities on your PC while an upcoming Windows 10 Mobile Insider Preview build will have these integrated capabilities for you to preview soon on mobile devices. Try things like Quick Reply from Action Center where incoming notifications will come in with the option to reply inline without opening the application. This is an early preview and you can expect some bugs, and more features to come as we deliver monthly updates.
Tab Preview in Microsoft Edge: In Microsoft Edge, you can now hover over your open tabs and get a preview of what's on those websites. Check it out and let us know what you think.
Syncing Favorites and Reading list items in Microsoft Edge: In this build, you'll see a first look at the new syncing feature in Microsoft Edge that lets you sync your Favorites and Reading list items. We are still working on refining it, but definitely check it out and let us know what you think.
Cortana improvements: Cortana is able to intelligently understand your inked notes – setting reminders based on locations, times and numbers that she can understand from your digital annotations. We are also rolling out new features in Cortana to help you keep track of your leisure time, including movie and event reminders. Cortana will keep track of your bookings for movies and ticketed events through your email confirmations. Two hours prior to the event start time, you'll get helpful information to be sure you know where to go and get there on time, including an option to book and track an Uber ride directly from Cortana.
More vibrant title bars: Thanks to feedback from Windows Insiders, with this build you can now enjoy your title bars with a full color intensity that matches the rest of your theme. Title bars will now appear darker. You can adjust the color by going to Settings > Personalization > Colors. Colored title bars will appear only if "Show color on Start, Taskbar, Action Center, and Title bars" is enabled.
Improved context menus on Start:You will notice we have made some adjustments and improvements to the context menus on Start including new icons for tile adjustments.
New icons:We know Windows Insiders love new icons – this build has another batch of new icons for devices (check out Device Manager). Registry Editor finally gets a new icon!
Device activation improvements: We have received a lot of feedback from Insiders on making it easier to activate Windows 10 on devices that take advantage of the free upgrade offer to genuine Windows by using existing Windows 7, Windows 8 or Windows 8.1 product keys. If you install this build of the Windows 10 Insider Preview on a PC and it doesn't automatically activate, you can enter the product key from Windows 7, Windows 8 or Windows 8.1 used to activate the prior Windows version on the same device to activate Windows 10 by going to Settings > Update & security > Activation and selecting Change Product Key. If you do a clean install of Windows 10 by booting off the media, you can also enter the product key from prior Windows versions on qualifying devices during setup. Refer to the Insider Hub for more information on these activation improvements including requirements.
Managing your default printer: We are introducing a new mode that makes your default printer the last printer you used. This change helps ensure the best printer is preselected in inbox print dialogs. You can manage this behavior in Settings > Devices > Printer & Scanners to change this to the previous way Windows handled default printers. The ability to set a default printer by network location has been removed.
Source: Microsoft
Cool stuff. Many new features. Looking forward to videos of Skype integrated apps from windows central.

Title bar colour setting needs to be separated!! I like the white ones, and would like to keep an accent colour as well.

I already asked this on twitter too (as well as the initial post on WC regarding the build), but here goes. Can anyone confirm whether SMS continuity (the ability to send text messages from a device other than my phone) exists in this build? Microsoft hasn't said much about this, and really nothing about this. If the Messaging app doesn't allow to send texts, I don't see it having much of a use to us here in the US.

Very true Sir. Seems more of a Myth to me for it to be available soon. This'll take time as MS itself hasn't stressed on it as much yet.

I know ultimately the app is supposed to have this functionality but it is yet to be seen if it exists in this build.

I don't know if MS will implement a feature like continuity but it is a highly requested item in the Insider program. However, as part of the new features added to this release MS themselves say "Try things like Quick Reply from Action Center where incoming notifications will come in with the option to reply inline without opening the application" I don't know if the type of functionality will be part of continuity but certantly MS seems to be heading that way.

Hope that SMS continuity comes soon. Sending messages through Skype is completely useless since the 3 people I know with accounts don't use it other than for video calling. And good luck even getting them to use the app in the first place...

Yeah, for me in the US, I don't think I'd have very many friends at all that would be ok with all our communications going over skype. The chat has been so unreliable, mainly with unreliable notifications. Also, here in the US, it's probably Facebook messenger that's used the most for chat.

yeah, same here. I used to have a lot of friends on Skype. MS has pretty well driven everyone from the platform now.

Pretty sure the Messaging app integrates with other services (like Google Chat) as well as Skype.

Well, that's the thing: Microsoft sat on the Skype acquisition for so long, that others came in, and ate their lunch in the messaging area, like WhatsApp, Facebook Messenger, iMessage, and Hangouts...even Facetime for iOS devices is more popular due to the Skype app not being all that reliable. You can blame Skype, or Microsoft for letting it lie fallow.

Considering the SMS messages are already stored on Microsoft servers somehow (at least they show up on both my Windows Phones even though I only have a SIM in one), you'd think this would be fairly easy to do. WhatsApp has a pretty elegant solution for their webchat, hope Microsoft figures out something at least equally good for SMS.

About time they started talking about their OneDrive placeholder solution. Unless they have no plans for this.

Agreed it can't be this hard to implement a check box for us hardcore user into OneDrive that says "use placeholder instead" .

Pretty sure placeholders are dead and buried. They have been hinting from the early days of the Insider program that those were gone and never coming back. But OneDrive on 10 is so badly broken that, critical as placeholders are, they aren't the most important thing to fix.

You guys exagerate so much. OneDrive works just fine on Windows 10. Just cause one little feature is missing does not mean it is "so badly broken".

I disagree about it being one little feature, but I do agree OneDrive works fine on Windows 10 except one annoying thing where I keep getting spammed with notifications that OneNote shortcuts can't be deleted... Even though I've never deleted a OneNote shortcut.

That is simply not true. I have a nearly 100% failure rate working with large PowerPoint documents WRT uploads. When I save a document in Office 2013 using the OneDrive folder on my HDD, it doesn't let me share it until I "save it to a cloud location." If I access a document from my Web browser and it is already on my HDD, then try to save it, it says it's already being edited and fails.
These super annoying bugs do not occur in Windows 8.1.

@x I'm tc: Try turning off the option in OneDrive settings that says something along the lines of "Allow Office to handle documents" or something like that. Not sure why the option is available (and the default) since it doesn't appear to work that well.

Thanks, I'll try it. Can't hurt since OneDrive is basically more trouble than it's worth in its current state.

I just saved a 340 MB PowerPoint and it uploaded. Pjhenry1216, I don't use the word "hero" very often, but you are the greatest hero in American history!

Yeah, Microsoft needs to fix that feature or cut it out ASAP. it's dropping the ball all over the place.

After updating to 1511 OneDrive has reverted to it's previous behavior of being absolutely worthless and I cannot find that setting to disable anymore. The "Upload Center" always handles jobs and almost always gives me errors saying someone else is editing the document (they aren't) and failing to upload my changes. OneDrive is now garbage again. Any tips? W10 is such a disaster I'm thinking the best tip is "Mac."

Well.. I can tell you that on more than one occasion have I saved a document on my laptop, assumed it uploaded because no (obvious) warning, closed for the night and the following day arriving at my office and finding that my SP3 doesn't have (or isn't able to retrieve) the latest version of my document. This was Never a problem in W8.1. And some evenings, when I do notice that uploading has failed, I have to try like 15 times before it succeeds.

See comment above I replied to. Turn off the Allow Office to handle documents. Office is no good at it and OneDrive seems much more reliable, so go that route.

Nice but i would like to see more new stuff to show up on my normal non preview machine. :P

Everything that's come to preview builds since RTM will roll out to everyone with TH2. They said that should happen either the end of this month or in November.

Love that they're improving the Activation process.

well how could they leave it broken. you simply cant activate your device after a fresh install even though you previously did a upgrade to win 10 on the very machine. cost me hours of support calles this bloody problem and getting new keys for some machines

Windows Build 10565 update took around 1 hour or slightly more. Windows activation has been spinning for about more than an hour now. Still not activated yet.


That's just not true. I have installed Windows 10 on about 15 different machines from machines I built myself to laptops all of which were on 8.1 apart from one which was running Winows 7. After each one upgraded to Windows 10 and was activated I performed a clean install by booting to from a USB and wiping everything. All of them activated straight away apart from two devices but that was right at launch and their servers were hammered. A day later they all activated nicely without a single glitch. The biggestissue was that people, even technical people kept trying to enter their Windows 8/7 keys thinking that would work but I have no idea why and otherwise it worked fine. This new method will help remove any potential glitches but the system is NOT broken.

Well my activation has been running for more than two hours now. Double the time of the build update. There is no message and there is no way to cancel other than restarting the pc or using task manager to kill it. I thought I will let it take time but this is going for too much time now. I will just wait some more.

Well after upgrading from windows 7 to Win 10 and performing a clean install from Windows 10 - which key would you use. You only got that one key.

Whelp, moving to fast ring then...

I'm going at some point they'll get around to skewering me til user Groove Music to sync my magical music. Not everyone is enamored with using the cloud for everything. It still freezes for explorer for sometimes 10 minutes when I try to add an artist folder to the SD card folder.

Have they improved the tablet experience? Put back in gesture control of browser, let you use gestures to close and snap apps from Start screen? Make it easier to open app menus without clicking tiny touch points? Bring back the brightness slider, the Start sync, or OneDrive placeholder folders? I tried using Windows 10 for as long as I could on my tablet but it was such an obvious regression from 8.1 that I had to go back. I would like to upgrade at some point, but not until I hear they have fixed the broken tablet experience in Windows 10.

No. Still sucks for touch.

Gestures only work on Windows 10 Universal apps. Windows 10 doesn't support gestures from the Windows 8/8.1 Universal apps unfortunately. So, some apps can be closed with gestures, just not all of them. OneDrive placeholders looks like it'll never return. Hopefully, the universal app that is still supposed to be coming soon will make this less of an issue. I'm not sure about your app menu issue as I simply am not sure what you're referring to.

File Explorer gets extra padding in details view in tablet mode. That's something for an improved touch experience.

Im confused by this. Do the new Skype univeral messaging apps work for SMS messages? Like iMessage on iphones and Mac books?

No, the Windos 10 Mobile build needs to be updated first, so that apps can send text messages on your behalf e.g. from the messaging app on Windows desktop.

Gotchya, so this sounds like something that is on its way though, right?

Idk. But that's a necessity​ for this to work. So probably yes.

How about a checkbox or a question with a standard print dialog box about this whole "change my default printer"(when you select a different printer, have a checkbox become visible that says "Make this my new default printer")? I've got a couple of dozen computers where one or two times a day they print to something other than their default printer. When this full update comes out, I'm going to have to go to all those machines to revert it back to the way it was or these people are going to have to remember to check their printer every time rather than just when they want to do something random.

Yes, and I'm not happy about their removing the ability to select the printer according to the network. I use that feature all the time as I move between home and work. It's completely useless to have the default printer selected as a non-existent printer not on the network I'm currently connected to at work, just because the last thing I printed was at home... Why remove a good feature that actually works if you take the time to set it up properly?

Symptom of the headless chicken programmers at MS. Half of them are doing a great job implementing new features, the others are busy deciding what to compromise, break or kill.

My guess is that they didn't see much utilization of the option. Granted, it seems small enough that they should have had to kill it, but I'm not sure what kind of background resources or services are required to maintain that feature.

is placeholder back for OneDrive? i'm wathing on this to upgrade my Windows 8.1

Not likely ever coming back.

Cool :) More new things. Want to see a good 'Added Features' list in Mobile Builds too. Only bug fixes and not woking lists for past few builds.

Most likely won't happen until after full release. They already said they did feature freeze on it awhile back. Once it's released in December, we'll probably see features over time.

Registry editor gets a new icon? Nonsense, it's been perfectly for the last 300 years, why change now?

Wow, MSFT have managed so much when the 'A team' devs are deployed on Windows 10 Mobile. Oh, wait...

Please for the love of god add drag and drop attachments to the Mail app for Windows 10

Agree, and the ability to see all inboxes at once.

I'm so excited for the skype integration. Can't wait for the actual messenger release.

Started up Messaging, it came up with Skype setup, completed it. Loaded it back up, empty, hit + to send a message and start typing in a skype contact, nothing. I hit the + next to the To: and it came up to open the store to look for an app. It found "Messaging Skype Beta" that has "Free" greyed out "This app is not compatible with this device". *sigh*

Spoke too soon. Just checked the store(I checked after my second reboot after doing disk cleanup and there were no updates available prior) and there's another Messaging update, this brought in my skype contacts and recent conversations.

So that means we can text message from our computers now then?

I think they will do that, but it is not there yet. I hope Android and iOS will be supported too! I think many people who don't use Windows 10 Mobile will love that including me :)

The good thing is that anyone that uses skype on any platorm can send and received messages to the Messaging Skype app. Rumor is that it will tie SMS from phone to PC but nothing on that as yet. Now I just need to get more friends to use Skype as the messaging platform (rather than Line, WhatsApp etc)

Well, that's the issue, creating a brand mind-share for Skype as a messaging platform is not going to be easy, especially for a company like Microsoft that doesn't do consumer advertising well. In fact, I can't remember ever seeing an ad for Skype, at all, even for video calling; on the other hand, Apple advertises the Facetime function all the time.

The activation feature is killer. Many people have gotten into a state where their system cannot activate. The only recourse was for the MS store to give me a retail boxed version of Win10 to use the key from that for my Surface Pro 3. Props to MS for taking care of me but it never should have happened.

I'm kind of scratching my head on what to do with this in the current build. The new Mojis aren't supported which is pretty much how I'm communicating with everyone since they were released.

Right now messaging only works for skype, not sms

Worthless to me. I (nor anyone I know) uses skype. This is the main thing I miss from my OSX/iOS days - the abiliity to SMS anyone on any platform from my mac or ipad keyboard. (As long as the iPhone was nearby).

What's funny is that, Nokia phones running the Symbian OS could do that same thing years ago, circa 2007-2008. I remember doing that on my old Nokia E71, that resembeled a better looking Blackberry. That hardware design was a thing of beauty. I remember syncing my E71 to my then laptop, for wireless hotspot data, and at the same time, via a Nokia application, SMS messages would pop up on my laptop screen, and I could reply to it from my computer. Unfortunately for Nokia, their downfall was that the OS had few apps, and they had a hell of a time converting the OS to touchscreen functionality. Their over-reliance on Symbian ultimately doomed Nokia.

I hope MS could get FB messenger into Skype Messagging like in the Skype App. Really don't know that many people using skype anymore except for skype call. Even that most people I know have transitioned to using Viber.

"The ability to set a default printer by network location has been removed." This is a bummer... I loved the fact that whenever going to any of the known locations where I have printers I could just click on print and not care to go and select the respective printer manually. It seems ThinkVantage Network Connections will be needed again... NOT HAPPY!
Windows Central Newsletter
Thank you for signing up to Windows Central. You will receive a verification email shortly.
There was a problem. Please refresh the page and try again.