New universal apps coming to Windows 10 from Facebook, Uber, and more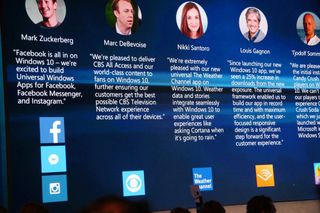 On stage at its Windows 10 Devices event in New York City, Microsoft announced some new universal apps coming to the Windows 10 ecosystem. The big name with these new apps is Facebook, which will be launching a new universal version of not only its primary app, but also Instagram and Facebook Messenger.
New apps will also be arriving from CBS, The Weather Channel, Uber and Audible. Additionally, games like SodaSaga will also be universal.
For more from Microsoft's Windows 10 devices event, be sure to keep it locked to the Windows Central liveblog.
Windows Central Newsletter
Get the best of Windows Central in in your inbox, every day!
Yeah for the Facebook apps!!

I know. Though, you still need to stop abusing '!' :P

No linked in would be great

Linkedin has been the same since Windows Phone 8.0 -_-

Ya, LinkedIn is very basic and takes too long to refresh..... What is Snachat anyways?

Snapchat is a useless app that lets you take photos and share them with a specified person (or people) for a set amount of time.

Brilliant! Now this is what we need! :D

Instagram finally really coming to Windows and Phone!!!! OMG!!!

What A great time to be alive!

Everybody else will soon follow. No app developers can afford to ignore the 1 billion+ user base.

Awesome to get that original facebook app Posted via the Windows Central App for Android

Snapchat! Snapchat! Snapchat! The only main app it lacks

ALOT of people do. The world doesn't revolves around just you. If you or your friends don't use it then fine, but that doesn't mean that nobody uses it. In fact, when 6snap was still in store, it had considerably more reviews than 6tag.

The one app my teen keeps saying she needs an idevice for..

Literally around 70% of people I know

Because it could be figuratively 70% of the people you know?

So, you only know 3 people.

its got ALL the advertisers buzzing...

Kids use them... its for kids.(and if your kids use them then keep eye on them)

It is the 5th most popular app in Brazil

You would think this is something they would want. I can understand not really wanting to spend all that time on phones (which honestly Snapchat isn't exactly a technology revolution and can't be that hard to program) but the ability to bring snapchat to PC, tablets, phones, and possibly even XBox.. for such little effort you think they'd jump at that. Or a band app that gives you notifications when new snaps are posted.

I don't thik it'd be hard at all for the company to do it. The thing is, the CEO of Snapchat seems to have some kind of grudge against Microsoft, so it may not be seen for a while just out of spite.

Thats great. Now the only big official apps that are missing are snapchat and YouTube.

We don't need YouTube. Snapchat, yes

Other way around their YouTube is far bigger then snapchat

The point is we can use 3rd party apps or even IE for YouTube, but for Snapchat we can't.

We already have best 3rd party YouTube apps like MyTube, MetroTube and perfect tube with all features...

I prefer our third party YouTube apps as they contain numerous ways to stream content to wireless displays. Snapchat doesn't have any apps on Windows and nearly everyone I know uses it.

3rd party apps are far more better than YouTube it self. But ya, the native app would be good though!

"metrotube" is a much better client.

Here is hoping that "google apps" rumor is true still.. though they probably would have announced that today... Unless google needs awhile to build their apps and launch them. YouTube app for Windows 10 would be stupid not to create though. Why wouldn't they want a YouTube app for 110 million people? And lord knows that number will just continue to climb. A lot of people are waiting for TH2 before upgrading, as well as all the new surfaces that are about to be sold! (Pro and Book)

YouTube HAS to bring their gaming streaming onboard, I mean...Windows 10 is supposed to be great for gaming, no? You too, Twitch! Amazon, ya heard?!

What about the windows central app?

why people always go for official? there are third party apps some of which are better than official apps..

Keep saying this to yourself, whatever makes you feel better. Posted via the Windows Central App for Android

Wow.. Wat a comment.. 3rd party apps are < official ones.. They dont provide pure experience

Though I agree that official apps are very important. It does not mean that "3rd party < official apps". It may be true sometimes but if you take mytube, metrotube and tubecast as an example, your argument falls into pieces.

Nah. Even 6tag is better than the official Instagram app for Android and iPhone Posted via the Windows Central App for Android

Yea...aside from video uploads not working 80% of the time...and sometimes for periods of weeks..you know a feature we PAID for

Agreed. And mostly.. They do not support the most important thing. Push Notifications.

It's true that 3rd party apps can better. But they will also lag behind. Just look at 6tin, and AMAZING instagram app. Still have to give developers times to figure out, and implement new APIs and features to implement in the app. That we really only find out BECAUSE iOS and Android got it already. If we had a first party app, and proper support we get those new features at the same time. That being said, also, how many of those 110 million W10 users are looking for 3rd party apps instead of just searching for google's offical app? The same one they have on their phones.

Wow they already making things happen.....now lets go snap chat!!!

Instagram? Am I dreaming? Somebody wake me up.

Dude, you just killed that guy.

Poor guy. Killing him was not necessary.

*cops rock up accidentally running over the 3320........ still works*

Finally universal apps on the go
... Go windows 10... Posted via the Windows Central App for Android

So does that mean a Facbook & Instagram apps on W10 for phone that will be on par with Android & iOS?! Posted via the Windows Central App for Android

If they are "All In" then here is hoping!! I just hope it comes very soon! I need an updated FB Messenger on my Phone. Sucks that i can't even SEE GIFs, nevermind send them from the app.

And slowly Microsoft will sneak up on the mobile sector with universal apps. The fragmented operating systems of apple and google across their devices is going to look fiddly, and silly.

And then slowly you'll wake up from your dream.

So you dont think the fact that windows 10 has the ability to run the same app across all devices isn't a revolution in consumer friendliness? Look how fast instagram took to come to windows 10. 7 weeks?? It never came to wp 8 or windows 8. This says everything. Developers see that windows 10 is gonna be big. Hell Is already the fastest ever adopted os.

Instagram did come to Windows Phone 8. It never left beta, and maybe received one update before being completely abandoned. The truth about universal apps is, although they are technically consumer friendly, the consumer really doesn't care too much about it. As long as the app is there on their platform they don't care if it got there specifically or universally. It's more developer friendly, and developers have shown no real issue with supporting iOS for phone and tablet separately, or the many different versions of Android. So universal apps end up not being that big a deal in the end. ​

I think it will have a big influence. A developer can take 1/4th the time to put an app on windows 10 for all devices, that it takes to make several apps for the different android versions and ios devices. Not to mention 1 cost. Then there's the unifying of cloud saves across universal games, apps and services. Its bigger a deal than you first think.

Saving development time means potential of more apps coming to Windows 10.

I m very happy because at last we got official Facebook n Instagram app from windows phone but when are we getting those apps ?

No dates given but im hoping soon. At the very latest when the 950 comes out!

I'm so happy to hear this! It's all starting to come together.

I hope that developers can figure out the formatting on the universal apps. The new weather channel app on 10M seems to be the universal one. It works great on desktop but the formatting on mobile is all jumbled.

Boom baby wow and. We want only android games like Coc

You are with me in COC brother.

If COC comes to PC, Farmbot is easy peasy.

Hopefully if Bridge turns out to be as easy as they said at Build.

Happiest thing for windows phone user

I just hope the new Facebook app on Win10 is going to be much better than the WP store version. The latter sucks b@lls when it comes to groups and notifications.

I don't see why MS can't just throw a bucket of money for snapchat to make an app for WM, it's all that's really needed (and some attractive hardware). The phone market simply won't take off without it. I don't think it would work as a universal app though, with the multitude of ways you can print screen on desktop.

Is this an official facebook or a joint venture like the current one? Will they simply upgrade the current one we have now to a universal app? If so then there's really nothing to get excited about...

It will be brand new Universal app. Developed by Faecbook. NOT MS

I'm surprised that instagram cares about windows, lol

Slowly slowly all people following from needing windows to choosing windows to loving windows, yaah.......

I've heard this before (not the term universal apps) but big game players coming to Windows during the Launch of Nokia Lumia 1520. Talks of Facebook, Twitter, Pinterest, etc. What we ended up was with eternals beta versions and half baked solutions that remained untouched on rarely updated by anyone. Not to mention the Facebook we had was not from facebook but from Microsoft itself (which while not terrible, not necessarily ideal). It would've been best for MS to have full flesh (not beta) versions available during today's announcements...

I belive this will be different though. When they got all the new app for the 1520 launch, those were just for Windows Phone. So what, they got a few hundred thousand downloads? Probably not even that many. With the Universal apps, millions of people will download them, meaning they have a reason to give it all the features and updates. The Universal apps wont have >3% market share. It will have that plus all the PC users, Xbox users, Surface users... etc.

Instagram makes me happy. i have no time for the haters. I really appreciate that social network.

Did we will get official Facebook app from Facebook Inc.?

Will these apps get written from scratch or will be just ported android app using project Astoria ?

It says "universal apps" mate. Android apps are not going to be universal.

It feels like it's happening with Windows 10. Facebook all-in on Windows 10 with even a new universal Instagram app. Unbelievable. I can't wait to see what the future brings in terms of apps for Windows. I think it's a bright future folks, a bright future...

Now, can someone pin down the big US banks? BoA, PNC, Chase, etc?

Sounds like, it's going going to be written by Facebook this time. I wonder how long to a release. Oh well don't get your hope to high. But fingers crossed, that it is of a much higher standard.

Is windows central going to get one? The mobile app is super slow on 10 mobile, and the desktop app doesn't have forums.

They are already working on an update.

I really like what they're saying in their statements... =)

I bet Microsoft is paying Facebook to develop those apps otherwise they wouldn't bother updating.

the much waited w10 experience will finally deliver! love it!

So when all of these coming? was there any timeline mentiioned?

So why is Amazon creating an Audible app, but not an Amazon Video app for Windows 10? There is already one for Xbox. What happens when Xbox receives Windows 10 as its new OS? Will it stop then?

Facebook and fb messenger are the ones that need more attention,I mean its 2015 and we still don't have proper Facebook and Facebook messenger apps. Also, twitter needs to be updated,ios' and android's twitter app is years better than the windows version. Last we need Instagram, without Instagram the is no success for windows. That goes for snapchat as well.
Windows Central Newsletter
Thank you for signing up to Windows Central. You will receive a verification email shortly.
There was a problem. Please refresh the page and try again.