The New York Times ends support for its Windows PC and tablet app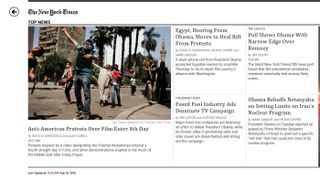 The New York Times has ended support for its Windows 8 and Windows 10 desktop and tablet app.
Over the weekend, Windows PC users who opened the app got the following in-app message:
There's also a FAQ page on the decision to end support for the app for Windows PCs. It shows that the app support actually ended several weeks ago on June 30, but apparently, that news was only sent to the app's users this weekend.
The Windows Phone 8.1 NYTimes app is still available for download in the Windows Store. Ironically, the New York Times Crossword app was updated just a month ago as a universal app for Windows 10 on PC and Mobile.
Thanks to Jaramaine and Brian for the tips!
Download NYTimes from the Windows Store (opens in new tab)
Windows Central Newsletter
Get the best of Windows Central in in your inbox, every day!
In fairness, the app is from 2012 and hasn't seen much in the way of updates. Nor did if offer offline support, which is a bit odd. Ideally, they'd make a new mobile app that could run on the desktop. However, due to the low market share of Phone right now, I wouldn't be too hopeful. They do have their Win 10 Crossword app, which is pretty fantastic actually (Surface pen support).

Can't say that I'm too surprised by this either. I see a lot of Windows PC and Tablet apps that don't really do a better job than the website. Also an app that won't support offline viewing, isn't really much of an advantage over using the web.

Exactly... Apps are not needed 75% of thr time... Made up that percentage, but I want to say even more. The websites are much better content and co tel wise. I just hate these press releases like it is a big issue for Windows... Most windows users use thr browser... iOS/Android users from thr beginning had limited browsers where apps were required... Even for them, this trend will eventually get to them... But not as drastic or fast. Windows users are just used to browsers. With apps... You jump in and out... With a browsers you have tabs and can go anywhere... I cannot wait till all thr apps die. They were made a big deal to ring functionality to a limited device... That time has gone... The only apps windows need are social apps/games for thr masses... But even still windows has thr browser and real PC gaming... Shoot some good games like puzzle agent on steam work great with touch like the iOS versions. I digress.. #BrowserOverApps Posted via the Windows Central App for Android

The future is that there really will not be apps except maybe for games. As the web standard get better and the browsers get more advanced as well as integrated with web storage, there really is no need for apps. Yes, you must be connected all the time, but even that will eventually not be an issue.

A universal NYT app with offline support both on PC and Phone would be awesome. I'm not too confident that they'll take the effort though. They haven't even bothered to add support for the iPad Pro 12.9" to their iOS app in what, nine months?

The sad part is, you can take the first sentence from your comment and use it for just about every story related to a WP app getting canned.

@kojack Agreed and upvoted.

Free upgrades to Windows 10 ended on July 31st, less than a month ago. SO you would use the numbers from the last 2 weeks as a basis for confirmation that Microsoft is going down the ****hole? What about the previous years 300+ million devices, do they not count? because I think Windows 10 is growing faster than any of Microsofts previous O/S's so Nadellas got that going for him. I would agree though, that he's doing a TERRIBLE job with the phones.... Who the **** didn't get fired for saying "Windows Phone isn't our focus this year"? That was just a gift to Google and Apple who could can and will play that in loops IF Windows Phone ever comes around to widely accepted use....

LOL every app thats left recently...it's the same "this app hasnt seen much in the way of updates..."...im not going to be the doom and gloom guy here but at this rate...this is becoming very concerning.

Also to be fair, Microsoft constantly features apps like this.

Not for mobile but for pc and tablet. There is something fishy!

Yeah this is really weird.

Nope but it's not good press for all these developers pulling support seemingly all at once

I don't think they (NYTimes, Guardian, ...) should even make an app for any device and on any os. I think they should just give the developers access to their contents (with t&c of course). It's the survival of the fittest, not many articles catch the attention of the viewers. Moreover, a single app to fetch contents from various source is better than this, right?

There is a logical explanation. Windows Mobile developers are a minority today, since iOS bridge will force Windows Mobile developers to use the iOS app and port it to Windows Mobile to save on development costs. Since NYTimes app hasn't received any updates since 2012 this makes a lot of sense. In 2017 Surface Phone will have the NYTimes again, but this time it will be a fresh updated app with new features, the ones iOS and Android NYTimes app has today. In 2017 the major feature of Windows Mobile will be iOS Bridge, mark my words, and Windows Mobile marketshare will begin to grow again like in the 2000-2010 decade when Windows mobile marketshare was above 40%

You remember Surface Pro 1 and 2 right? They weren't successful products, but what can you say about Surface Pro 3 and 4? They're actually huge business model disruption success, similar in the iPhone phenomenon of 2007. Don't say Microsoft won't try to build Surface phone, I'm guessing they will and I'm hoping its as successful as the Surface Pro 3 and 4 products.

They're actually huge business model disruption success, similar in the iPhone phenomenon of 2007. Come on, dude. They're only selling a couple million per quarter at most.

What you are saying is that when and if they release Surface Phone 1 next year and history repeats itself then it would take 3 more years before they have a "hit device". Cause v1 and v2 usually are not big hitters. Thats a looooooong time

It seems like Microsoft had some type of contract to bring some apps to the store a while back, with a bunch of apps losing support recently.

I don't get why pc and tablet.... They are in good percentage in the market.

The issue is everybody is just using the website, not the app.

I never use the websites if the app is available. If the app is done right, it is generally ten tomes better than any site.

PC users don't use apps, they use websites

I agree, but they have hardly updated their mobile app since release.

iPad users use about 5 apps for games and then websites.

It's amazing how much you believe your opinion is fact.

Actually the reason you are forced to use apps is because the **** OS you talk about is on your iPad with limitations of safari and more. Simply put apps solve your device problem...pcs don't have much limitation and the website is what your app is pulling from to begin with. NYT is not building content to the app them pulling it to the website....otherway around.

"PC users don't use apps, they use websites" That's one of the reasons why UWP is failing.

Well, this is the New York Times -- hemorrhaging money and at risk for declaring bankruptcy within about 3-4 years without some changes to their profitability. You can figure they are aren't going to cut the website, ad sales teams, or the few remaining writers, so it's their app dev staff that has to go.

If the website is a rich enough experience, I wouldn't mind... I read my newspaper via the mobile site also and that's more than i need.

I don't care. It's US.....

Oh, no. The whole MS system is doomed! ;-)

That's okay. It was created to set an example for the Windows 8.1 apps, on how to use typography for branding metro apps. Since Microsoft moved to Metro 2, they should come with something new too. Let's hope that they will come back with a(an?) UWP app.

App was useless, the website provides better content, they are right.

MS killed mobile apps when it didn't release a successor to the 920 or 1020. App usage on windows tablets and 2 in 1s is de minimis. It is too bad, the platform had good things several years ago but it has been a zombie for the better part of 3 years now.

It was over a year too late.

And at least $200 too expensive.

As long as they still keep and support the Crossword app I'm good. That might literally be the one app that takes me out of Windows if they remove it

You'd leave Windows because a missing crossword app?

It's not just any crossword app. It's a subscription that we pay yearly for. It's one that i use almost everyday for my sanity and time killer.

Your crossword subscription has still worked with the Windows app? It stopped working for me back in june - just wouldn't recognize that I was subscribed. I eventually managed to contact customer support and they said Windows crossword support had ended and told me to just use the browser version (uh - no), so I canceled my subscription and got refunded for the remaining time.

No issues here. That blows for you though.

Another win for Nadella. As a side note NYT is past it's prime. They have become integral part of the rigged neocon system.

They are on a track toward bankruptcy in a few more years, if they don't change their business model. That naturally drives cuts to non-essential app devs. But "neocon"? NYT is a far left paper and news purveyor (which is fair -- that reflects the demographic makeup of the city). The New York Post is New York's more right-leaning paper.

+1 Makes absolutey no sense but then when your IT people ar brainwashed to Apple or Google, ,,ehh we'll leave it at that

Really Microsoft? Address to your fans what is going on. At least try and convince singe if us that you have something coming with waiting for. Worst PR decisions ever. Just crickets...

Surely you are aware of UWP. Makes sense to scrap the old windows 10 app and build a Universal Windows Platform app.

I'm pretty sure UWP isn't saving Windows 10 Mobile. If it was, there'd be more users and support from developers. But then again this whole article is about pc and tablet so maybe I'm talking about something else. Posted via the Windows Central App for Android

It could have saved platform if we had more devices in market and a decent future for Lumia devices.

It is better to use website rather than using app

But sad one more is leaving... :(

It's for PC and Tablet. Mobile isn't included. Anyway, I never use the app, I use Flipboard instead and even the W10 News app is already good enough.

The Gardian in the UK is one of the best universal apps going... Shame on the ny times doing this. MS need a push on windows 10, apps that's are out there and to push the amount using w10.

Always choose the browser over an app. Apps are pretty featureless. And on a full OS it seems silly to use a limited app. Again. Apps came about due to limited power of mobile tech. Extensions are the way forward for full OS users.

Trump should switch to WindowsPhone and then claim they dropped support for the platform because Trump said they were engaged with all of mainstream media in a smear campaign against him ;-)

WP has strong support there. "Avast learned the following about the Republican National Convention attendees:
•55.9% had an Apple device, 28.4% had an Android device, 1.5% had a Windows Phone device, 3.4% had a MacBook laptop and 10.9% had a different device." https://blog.avast.com/republican-national-convention-delegates-unknowin...

Wow... just over half higher than the global marketshare ;-)

1.5%?! That is HUGE! That's 50% more percent. Hahaha!

Actually more, as the global market share is less than 1%, and unfortunately, continuing to drop :-(

Yes, because WM has more trolls that users :p

And now, its sad to see the trolls trolling around like there's nothing better to do in life. Get over it and move on!

The NY Times obviously hates him. They've been busted a few times on their stories that turn out to be all made up. The best was the 17 page article about the women who he dated. That was debunked in a few hours. Sad! He should sue them like a dog!

And yet his campaign repeatedly fails to dispute specific coverage or sources, instead continues to issue blanket statements about the "dishonest media". Nice try.

Also these old apps are all going to be cancelled in favour of UWP apps. Especially considering they can reach a larger audience with 1 code now. A UWP app will work on all windows 10 devices. Including the Xbox consoles.

With UWP they can only reach 10% of Windows phones users. Apps are mobile first.

They already reach the vast majority of Windows users via their website, so an app would be a waste

And down we go. What next!?? If the guardian goes in UK,(that's if you have the time for it to load) I'm out. No point in flogging a dead horse!

7 apps take up 95% of the mobile screen time. Please tell me the million of apps...how important they are when 7 are the main uses?

If the website experience is good across all platforms (responsive design?), why have an app? I think we are going to see a lot of this.

I think so too. On all platforms. HTML5 is super powerful and finally meets Apple's original vision of the phone being a web portal to web based applications. Internet was too slow and HTML too limited back them but now we live in a world where that vision is possible. And cheaper for companies too.

You get a -100 for that idiotic prediction

If it means ad blocking it is not cheaper, it is actually way more expensive.

People actually use individual news apps instead of something like Flipboard?

Ah :(
Any talks about UWP app???

I Use Edge for news and fb no worries

THE END IS Ni ! Posted via the Windows Central App for Android

*Nigh Posted via the Windows Central App for Android (LG V10 or Nexus 5x)

Does anybody still read this useless propaganda paper?

You can argue whether it is useful, but it is surely more useful than comments like this.

Just another reason MS needs to shift the paradigm from apps to websites again, Edge should render websites in a way that make them portable, functional and more fun than apps...

I think part of the problem is that this is a news app from a single source. Why would I use that when I can just open up the News app and get news from all sources (including the New York Times)? I think the New York Times app is an example of print media trying to hold onto the days when someone would get a subscription to The New York Times and get all my news from there. I think most newspapers are really just one feed into the giant news source of the internet as a whole. The days of single-source news are over.

Well I don't see it as a lose as long as the retired app is not the universal one...

The NYT is such a joke of a newspaper. If you really want just one viewpoint of the world you can still use their website.

If the NYT was neutral I would support them. They are so left/liberal it's sickening. Be neutral and balanced. Grow a pair.

The PWA support is finally in development for Edge so in a couple of months, all those news apps will no longer be needed. With some minimal effort, the webteam of each newssite will be able to get the same functionalities as with apps today (push notifications, offline support, ...) Posted via the Windows Central App for Android

What's the business case to support an OS-specific app AND a site?

Google and Apple have answers, Microsoft doesn't yet.

MSN News should be blamed...they made it too good!!!

Meh, it was a nice app, but I'm not gonna pay for the same news I can get almost anywhere else...

Every time something like this comes out there's a lot more trolls comming from the suburbs to the WC town to comment on that. What a shame...

You have every right to believe that devs like me are like Santa Claus on a Christmas eve. He can do all his work 5 minutes before midnight :)

History repeats itself, first as tragedy, second as farce.

Another app - Discovery News, articles are not updated for months, at least for me! Assuming it also been gone!

So what? Why is this a big deal? The browser is available. Life moves on. Go to Apple or Android if this really affects your life.

The problem for real Windows fans is exactly what you say - they do affraid that at least some people will follow your last advice.

To be honest news apps are kinda pointless these days
​iOS has Apple News and most big publications are there
​Android has Newsstand and has a lot big publications too
​Microsoft has MSN News but there is still a lot of work since it hasn't many sources ​And then there are the 3rd party aggreators like Flipboard Standalone apps for news sites are very 2012 these days. ​And on PC I use the browser with feedly RSS. No point in using apps on my PC

Bad to see another high(ish) profile app leaving. But do agree that it's hard to see a place for a single news source app denting the platform more than Amazon or MyFitnessPal. The News app has always been my go to news app.

If we are going to be stuck with using mobile sites, it would be great if they would include the necessary code to have live tiles and re-sizing of the tiles. The NYTimes web site has neither, while ironically their own web site for The Upshot supports both.
Windows Central Newsletter
Thank you for signing up to Windows Central. You will receive a verification email shortly.
There was a problem. Please refresh the page and try again.