The next Windows 10 PC preview build is 10122 and it's coming in a few hours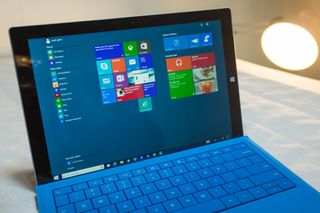 After hinting at a release earlier this morning, Microsoft's Windows Insider leader Gabriel Aul has just confirmed that the next Windows 10 PC preview build will be released later today.
In a Twitter message today, Aul stated:
Earlier this morning, Aul asked Windows Insider members if they wanted to have the next Windows 10 build released this week or wait another week so that the team could fix an issue with Project Spartan (a.k.a. Microsoft Edge) crashing on AMD PCs. The members said they wanted the build released immediately to Fast ring users so that's what's going to happen later today.
Aul added in a follow-up message:
"Since we made th (sic) call to release 10122 last night (you voted!) Langs/editions will roll out through the day - most this AM, the rest by EOD."
Source: Gabriel Aul (Twitter)
Windows Central Newsletter
Get the best of Windows Central in in your inbox, every day!
I'm no longer running Windows 10 on any PCs. It was just too awful. But there were glimmers of promise shining through the pile of refuse. I'll let y'all try this build out and get back to me :)

It is running relatively OK in my desktop PC, although glitches, none of them is critical

There are not "glimmers" but there's "a whole bag" of promise with the new builds.

What was the last build you used? Pretty much everything released since Build has been fantastic.

Your rig must be lacking because every build this year have been pretty solid comparatively.

Probably using an AMD GPU!!!

AMD here , everything runs fine , gamming like a boss.

I think calling the builds awful is a tad too harsh given that is really intended for testing and giving feedback. It is definitely not intended for primetime though I do use it on my X1 Carbon for production database work and it had been fine. I wouldn't put it on my Surface yet because that would be asking for trouble. However, I've been installing each new build and giving it a thorough test drive. Keep 'em coming. P.s. I know that you're fully aware of the intended goal of the builds, I'm just suggesting that we critic it against It's intended purpose.

Dual boot on my SP3, seems to work fine for the most part. Posted via my HTC One (M7)

I'm ready for some more Windows 10 goodness!!

Thanks for specifying "PC"

yeah really. last time was confusing

Hopefully tablet mode works and battery life has improved.

Yes, my dvp8 craves this.

It's pretty good right now on the Surface Pro, can only get better!!

I disagree, it runs fine, but it's really still isn't better for touch than 8.1 was. You can see the plan, just the inconsistencies make it not so.

It is not pretty good. It's downright terrible. But yes, there's definitely hope buried in there. I just don't see how they can possibly polish this turd into a usable OS by this summer.

Because they are many builds ahead for one thing. These TP releases will be a good month or two behind. They just release them to get feedback and find hardware and software incompatibilities. Even the builds they've been running at press events are probably a few builds shy of where they're at. The touch interface is also something that's much easier to sort out at the end than to constantly update as they go on.

Hmm, using build 10074 on my SP compared with 8.1 on my DVP8 I think I actually prefer the multitasking of 10074 in tablet mode mainly because it does not treat the desktop as a separate 'app' like in 8.1. I agree that the 8.1 start screen is still better than the tablet mode start screen of 10074, but this would see improvements down the line

Surface Pro 3. The installation gets stuck at 18% (62% of files copied). Needs to be rebooted and reverts to previous version (100074).

Yes because there is a spartan/amd bug that would kill slow ringers

Is that gpu or cpu related

GPU, it is an issue with Radeon GPUs if I remember correctly.

When I DL'd win10tp I was never asked if I wanted slow or fast ring.

You have to go to "Settings" - "Windows Update". Click on "advanced" and select "Fast" or "Slow" ring there. Save your settings afterwards.

By default you're in the slow ring.
But you can change it as Nola elaborated

I'll install it.. I hope that one drive dissent Delet my files.. Oddly the last few months of my camera roll deleted..

You have a recycle bin on OneDrive.com don't forget.

I will be downloading and installing this when I get home from work this evening! Keep it coming Microsoft. I look forward to providing my feedback!

If this one is stable enough I might try it on my PC

This is the only way to really test it. I don't use it on my home PC, but I use it on my consumption tablet and it's not ready for prime time. Battery life is horrible and tablet mode is borderline unusuable.

You get it wrong. You test it in PC and leave your tablet alone. It runs smooth in PC

I run it in Virtualbox. Works great.

There's Hyper-V. why Virtual box?

Hyper-v? It's just an infant in front of biggies like Virtualbox & VMware player. I also have W10 over VirtualBox.

It needs to be tested in all enviroments, PC and tablet. You can handle PC, he will handle tablets. Seems simple, right?

Battery life is bad on my WinBook TW 801 too. But I blame that on no Windows 10 driver/API adjustments from the OEM, which will come in time. The capactive Windows button doesn't work either.

Oh yeah, no overtime for me today!!

You guys should update the stock screenshots you have... windows 10 has changed a lot from the screens you use.... doesn't show off how good it looks now.

And follow did they get the big Start icon?

What? Not sure what you are saying.... but the start button now alternates between small and large depending on whether you are in desktop mode or tablet.

Nice!!! Can't wait to get home from work later.

yes sure there are search windows central!

If only phone updates were this swift...

not my day :( AMD Radeon proccessor here!!

The problem is only with Edge, and they said they are working with AMD, probably a week out from updating the drivers with the solution, so its not that bad. In the meantime use IE or Firefox, you'll be fine.

It's better to wait, my main laptop :)

Been using 10074 on a Lenovo Miix 2 eight-inch tablet. Holy lag. Hopefully this build shows promise for tablets.

yay for a new build! Can't wait to see what is new and what is fixed! Really hope that metro/store apps work now. Ironically win10 running apps in a window makes me want to use the apps more... but as they crash after just a few minutes I simply cannot use them. Rather annoying really. ... maybe we will get proper 'dark mode' working well? If it does could WinCentral make a dark mode for their website please?

Cool. Hope by the time I wake up there will be good changelog and review.

I loooooove it. works fine and dandy on three pcs of different setups in the house.

Waiting Fr the new built.... No problem in my PC till now. I have been running windows 10 when it was released but now its so awesome and also stable....

Can you play games like steam games on it without any problems??

I ran in serious trouble with the Previews. At sudden with build 10074 my notebook keyboard was not working anymore. And using my Microsoft account this has synced over to my other notebook and desktop, the first not even on Preview but Win 8.1. Reported this on the forum, but no response from Microsoft for a week already.

Installing now (I'm a Microsoft employee).

If you are a Microsoft employee then I'm Gabe aul.....Fcuk You.......

And you wonder why people complain about the immaturity of the WP fan base...

Shouldn't you have access to this build for a while already, or do you also have to wait like the rest? Still no update here in the Netherlands, let's hope the silly translation for the word 'Power' is fixed in the start menu.

I hope it's not Windows-Phone-10-Preview-10080-2 hours.

does the amd affect surface pro 2's?

If it includes the new full start menu ( like 8.1 ) from the previous leak then I'll quickly upgrade from build 10074.

One of my problems with Windows 10 preview on my ex-convertible tablet (Acer Iconia W510) is that some modern apps (not all) could not be turned on to full screen as Windows 8.1 and had odd behavior, some of the app was not drawn since taskbar shown on bottom. This happened when you were in windowed mode (desktop mode) and then you tried to use tablet mode. Looks like tablet mode still kept the app in a not full maximized state. I hope this gets fixed. With that said, I purchased a 2015 Broadwell laptop with no touchscreen which I plan to use for desktop mode and do casual gaming on metro apps when I am stressed. I hope tablet mode also works on my device even if its not convertible and doesn't have a touchscreen, since I want my modern apps to use the full screen, I don't want windowed mode.

Ok great now push it to phone plz ;) yeah i know its a huge build difference but im eager to test more

Can i play steam games in this build ??
Really I didn't get windows 10 because problems with the games

Yes you can. I'm on W10 here and steam user

Can I upgraded now to windows 10 ??
I used windows 7 !

If you have not used windows 10, you can sign-up for insider program and download from here. :) http://windows.microsoft.com/en-us/windows/preview-iso

I'm just glad that I''ll finally have a working Start Menu again. 10074 screwed me over there...

I know this is off topic but will someone please tell me if Cortana can give directions and read text messages in the new Windows phone 10 build

Windows 10 is Amazing i'm using it every day on my Main PC after build 10074
Windows Central Newsletter
Thank you for signing up to Windows Central. You will receive a verification email shortly.
There was a problem. Please refresh the page and try again.