Nextgen Reader adds better OneNote integration, cuts price for next two days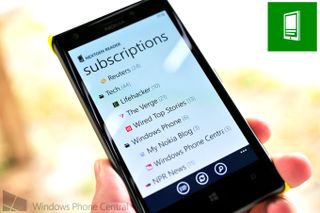 The popular Nextgen Reader RSS app has been updated for Windows Phone and Windows 8.1, with some better integration with Microsoft's OneNote software. There's also a two day price cut on the universal app.
Here's the small but important change log for this latest update, which brings the version number to 6.1.814.0:
New: Save article to a particular section in OneNote (tap the three dots next to OneNote in share menu).
New: Change default save location for OneNote (go to app settings -> accounts -> OneNote).
Small performance improvements.
In addition, to celebrate India's Independence Day, the development team have cut the price of the app from $2.99 to $1.49 for the next two days. Since it is now a universal app, buying the Windows Phone version gives users full access to the Windows 8.1 port and vice versa. There's still a free trial version just in case you don't want to go all in with your money
Windows Central Newsletter
Get the best of Windows Central in in your inbox, every day!
Too bad it requires a Google account...

No you can use MS account as well

@Haroon, because you confirmed this I gave it a try and I can't believe I haven't tried before! I've been using Weave for years and have just gotten tired of them lately. This blows that out of the water.

Nextgen Reader is by FAR the best news reader on Windows Phone period! Having to have an account, which there are different options, shouldn't keep you away. Massive amount of options and customizations.
If Flipboard ever gets their sh!t together then there might be a battle, but until then, Nextgen is the champ. Highly recommended. I've also found it to be very good on battery unlike the other options out there.

Dude its Pakistans independence day not's India....
Get yours fact right first author!

Um, the sale reason and info is right from the developer of the Nextgen reader. It is to celebrate India's Independence day, not Pakistan's. Also, you are wrong: "Independence Day, observed annually on 15 August, is a National Holiday in India commemorating the nation's independence from Kingdom of Great Britain [Commonly known as United Kingdom] on 15 August 1947." So get back to your glass house, eh? ;)

Nice to see people having knowledge about India's independence!! I am touched..

T thank god for google, eh...? /S

Article says discount is for two days, so i thinks it covers India and pakistan..and i am indian but i have to work on my country's independence day because i work for a US based company :(

Pakistan's independence day is today.
Ours is tomorrow.

Pakistan got it on August 14 and India on August 15..

Not many people outside of Pakistanis will celebrate its independence :P

Your face is still on the floor, you should pick it up before Daniel steps on it again

Stop being a kissass,Robert.

Damn....I'm still waiting for Nextgen Reader to support toast notifications. They Developer said he's working on it but it still isn't here. :(

I love nextgen reader. <end>

I got it for free sometime ago!!! :D

It doesn't work with this site. wpcentral use dirty tricks to break the feed readers, they force the users to load this heavy website full of ugly ads. Don't be greedy.

Ugh, oh Flipboard, where art though?

Waiting on Flipboard for WP is like waiting for google to quit being a bunch of evil bricks. Not gonna happen.

I like this app but I wish they would optimize the scrolling. If you use large pictures in the feed it's terrible. I guess I've been using Tweetium for too long now. It has none of the issues with images and scrolling that all these other apps have.

Made the leap and bought this at last. I love the app, want to support the developer.

Why the hell does the app need my contacts with this update? I don't like silent assimilation of further access rights without any subject ... and the change log does not give any clue about the need to acces my contacts. I really like the app at all, but this step made rethink my usage and watch for other rss readers.

Understand the concern but contacts access has been there for some time. It's required so you can set default "TO:" address for sharing via email (please check app settings -> accounts -> email). Thank you.

I neaver understood the reason for the popularity of readers like this. One day I downloaded the free trial of Nextgen on my phone just to see what the deal was. Didn't use it for about 30 days and forgot about it. the last week I used it to see what was up, and it has drastically reduced the amount of time I go through websites looking at stories. I can get through everything I want to see super quick, and save longform articles for later. I bought it 2 days before the trial ended and don't regret it one bit. I even use it on my desktop. One of 2 apps I've bought for my 925 and I don't regret it at all.

Too bad it doesn't support inoreader. I will have to stick to inoreader's mobile page on internet explorer...
Windows Central Newsletter
Thank you for signing up to Windows Central. You will receive a verification email shortly.
There was a problem. Please refresh the page and try again.