Windows 10's Ninja Cat-TRex appears on Microsoft's home page as an 8-bit Easter Egg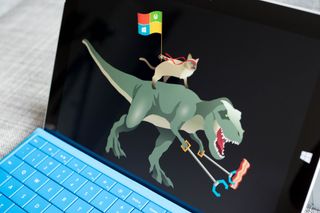 Microsoft's home page is having some fun today, if you know the special code. The company is celebrating 8-Bit Day, which is also the 30th anniversary of the release of Super Mario Bros. from Nintendo, with an Easter Egg that brings up a version of the Windows 10-based Ninja Cat-TRex icon.
To bring up the Easter Egg, just go to the front page of https://www.windowscentral.com/e?link=https%3A%2F%2Fclick.linksynergy.com%2Fdeeplink%3Fid%3DkXQk6%252AivFEQ%26mid%3D24542%26u1%3DUUwpUdUnU34078%26murl%3Dhttp%253A%252F%252Fwww.microsoft.com%252Fen-us%252F&token=L5XZJXQY and type in this sequence on your keyboard:
Yes that also happens to be a version of the famous cheat code that was used in many old console game made by Konami. Anyway, when that code is typed in, you should see the 8-bit Ninja Cat-TRex show up depositing quarters, along with an "Insert Coin to Play" window.
You can then move your mouse cursor and put one of the quarters in the slot. We won't give away what happens next, but it's quite fun. It's possible this Easter Egg could go away after today, so be sure to check it out ASAP.
Thanks to Sayan for the tip!
Source: Business Insider
Have to say I'm enjoying the fun new Microsoft!

Reaction of typical WC whiner :
" Meh.. MS is going crazy.. They are wasting their time for this kinda crap easter eggs and not focusing on insider builds " :D

Yep. Only seven comments so far and two are in this vein.

web developers don't work on operating systems, do they?

Fanatic fanboys :D they're just crazy!

I still remember when Microsoft used to be serious and not fool around with hipster stuff.

I remember when people complained about Microsoft being boring. The whining never ends.

You must be real fun at parties.

I remember them integrating a doom like easter egg in excel, or a flight simulator

Typed the combination, nothing happened. Microsoft Thailand site. Oh, well, I didn't know what I was expecting.

Appears to be a U.S. only thing, as I tried 'microsoft.com/en-gb' but it didn't work. Then I tried http://'microsoft.com/en-us', worked like a charm.

Yep, not working for de-de either but when i put en-us, it worked like a charm!

Hah that was awesome! But boy even their easter eggs are US-only. For real Microsoft? for real?

Exactly what I was thinking. Even mere Easter eggs are U.S. only now.

Hmm, now I think Cortana might just never come officially to Thailand after all.... Something to ponder.

Got the us site 1st try. Guess it has something to do with HE tunnel

This sequence was very famous in the SNES KONAMI games

You did't read the article did you?

"Yes that also happens to be a version of the famous cheat code that was used in many old console game made by Konami"

I wish they put this much effort into Windows 10.

I'm pretty sure a lot more effort was put into an entire Operating System update with tons of new features than a little animation playing across a website.. God you people are ridiculous.

I was being sarcastic because Windows 10 is half baked.

Are you sure you're not the one being baked? :P

Uhm, "this much effort" if they put this much effort in Windows 10, they could have stopped at Windows 3.5

Wow some people just lack intelligence...

Hahahahahaaa! This much effort? You sound like you need a little common sense, dude. I firmly believe they have an entire division of manpower responsible for OS development, and that none of them had to stop to plant this easter egg on the site. For all we know, if, and a big if here, it had to be those people in the said division, this easter egg must've been a one-man's handiwork, let alone a handful of staff, see, they wouldn't need more than a few personnel for this endeavour.

That was awsesome. Microsoft has become the coolest!

It shows a number of picture relating to classic 8-bit games, like Donkey Kong, Pac-man, The Legend of Zelda, to name a few.

A new working build with new features would be cool... Not this.. Posted via the Windows Central App for Android

If you're going to troll might be best to remove the "for Android" part of your sig. Bit of a give away

Yeah cause web devs makes such a big difference in the OS coding.. *facepalm*

Here is the DinoCat for those who can't get it themselves!! https://eightbit.blob.core.windows.net/eightbit/DinoCat.gif

A good easter egg to use on Bing's home page

I don't know why i thought 8bit animations better than 3D :-D

That is why Minecraft is so popular. Its not 8bit though, but it looks like it.

Not sure why they are wasting time foir this (admitedly fun) stuff instead of fixing the myriad of problems the compoany has.

I'm pretty sure Microsoft's website developers don't need to be working on their OS division. And this probably took them like 20 minutes to an hour to do..

Not working for me on the en-us MS site. Incidentally, the site was popping an error when it tried to sign me in too.

Really cool. Nice to see people at Microsoft freely having fun. Good times.

Doesn't work for me. The 8-bit image is gone from the for home section. Since it is just after midnight, I tried changing my time zone to Pacific, and that didn't do it. They didn't have this up very long, did they?

Too bad it's only for their US website! btw, the redesigned homepage looks much better than earlier designs

Still works! Just open the EN-US website, so https://www.windowscentral.com/e?link=https2F%2Fclick.linksynergy.co...

Not working today on the en-us site even. Bummer. I had put one of these on a site I had once for Halloween. Put in the konami code and a zombie popped up and ate the screen.

I just wonder how do they get to know about all these easter eggs? Do they just randomly press buttons on different websites 24/7 hoping that something will happen? :D
Windows Central Newsletter
Thank you for signing up to Windows Central. You will receive a verification email shortly.
There was a problem. Please refresh the page and try again.