Windows 10's Ninja Cat-TRex appears on Microsoft's home page as an 8-bit Easter Egg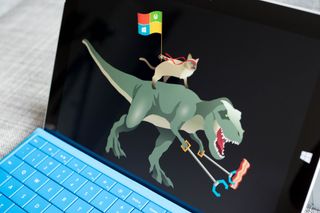 Microsoft's home page is having some fun today, if you know the special code. The company is celebrating 8-Bit Day, which is also the 30th anniversary of the release of Super Mario Bros. from Nintendo, with an Easter Egg that brings up a version of the Windows 10-based Ninja Cat-TRex icon.
To bring up the Easter Egg, just go to the front page of https://www.windowscentral.com/e?link=https%3A%2F%2Fclick.linksynergy.com%2Fdeeplink%3Fid%3DkXQk6%252AivFEQ%26mid%3D24542%26u1%3DUUwpUdUnU34078%26murl%3Dhttp%253A%252F%252Fwww.microsoft.com%252Fen-us%252F&token=L5XZJXQY and type in this sequence on your keyboard:
Yes that also happens to be a version of the famous cheat code that was used in many old console game made by Konami. Anyway, when that code is typed in, you should see the 8-bit Ninja Cat-TRex show up depositing quarters, along with an "Insert Coin to Play" window.
You can then move your mouse cursor and put one of the quarters in the slot. We won't give away what happens next, but it's quite fun. It's possible this Easter Egg could go away after today, so be sure to check it out ASAP.
Thanks to Sayan for the tip!
Source: Business Insider
Get the Windows Central Newsletter
All the latest news, reviews, and guides for Windows and Xbox diehards.