Nintendo emulators for Windows Phone get new menu themes and enhancements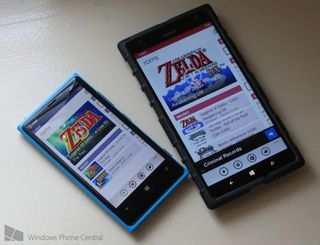 A while back, French developer M.k created a trio of well-loved emulators for Windows Phone 8 based on classic Nintendo platforms: SNES8x, VBA8, and VGBC8. Eventually M.k grew tired of Windows Phone development and surrendered his emulators to a new developer: Duc Le. And since then, Duc has worked tirelessly to add new features to all three emulators such as the much-requested MOGA controller support.
All three of Duc's emulators have received significant updates recently, enhancing the appearance of their user interfaces, improving menu support while using MOGA controllers, and more. Head past the break for full details!
SNES8x version 2.5 release notes:
**FIX**: app crashes when returning to main screen and switching between games.
Go to Settings directly from game screen.
More realistic virtual buttons.
Customize background color in portrait mode.
Fix L2 and R2 button on Moga Pro controller.
Customize button mapping for MOGA controller.
Add landscape support in most frequently used pages.
Increase maximum frameskip to 9.
More meaningful progress messages when exporting saves.
Increase the recent ROM list to 5 items.
New app logo (thanks Eddi Bento).
Note that SNES8x is due to get a version 2.6 update soon that will bring it in-line with its sister emulators.
VBA8 version 2.6 release notes:
New design
Switch between dark and light theme in Settings -> General
Tap on the right side of a rom entry for context menu (the three-dot hint can be turned off in Settings)
VBGC8 version release notes:
New design
Switch between dark and light theme in Settings -> General
Tap on the right side of a rom entry for context menu (the three-dot hint can be turned off in Settings)
Keeping old games alive
All three emulators have advanced a great deal since Duc Le took them over. Not only do they support MOGA controllers, but the recent addition of landscape support for menus really makes them much easier to use with a controller. And the light theme looks great on VBA8 and VGBC8.
To learn about future enhancements to these emulators before they go live, check out our official forum thread. Duc posts as "illidanx" and always provides a heads up about upcoming features and changes.
SNES8x – Windows Phone 8 – 2 MB – Free – Store Link
VBA8 – Windows Phone 8 – 3 MB – Free – Store Link
VGBC8 – Windows Phone 8 – 3 MB – Free – Store Link
Windows Central Newsletter
Get the best of Windows Central in in your inbox, every day!
Paul Acevedo is the Games Editor at Windows Central. A lifelong gamer, he has written about videogames for over 15 years and reviewed over 350 games for our site. Follow him on Twitter @PaulRAcevedo. Don't hate. Appreciate!
It's hard to complain about lack of great games on WP when you have these three emulators free to download and use.

Do these apps come with a preset list of game ROMs?

No, you have to provide your own ROMs. The only emulator that comes with ROMs (illegally) is EMU7800, from a different developer.

So basically most people will have to resort to piracy. Pretty hypocritical article to post considering they wouldn't share a link to the fake flappy bird game that anyone could easily find

There's a difference between playing very old games that are no longer for sale and copying the work of someone else whose game is still available for sale. Also, we don't tell you to pirate ROMs or whatever. Emulation is a gray area and it's up to the individual whether you enjoy it or not.

It's an interesting scenario now with the advent of virtual console and the like wherein a lot of the most popular of those old games are now purchasable. Which is kind of exactly the purpose of it; taking away the age old "you can't buy them any more". That being said there are positives to emulation like having the ability to play games you wouldn't otherwise be able to in your region by altering languages or whatever.

That and so many games are NOT available to buy on Virtual Console or other console services. Certainly not on mobile phones.

But a lot of these games are for sale in the Virtual Console on Wii and 3DS.

Not really. I only have roms of some games that I personally owned on SNES. So I don't think I'm doing any piracy, do I?

rom passed to be pàrt of public domain some years ago
there is kind of a law that says : intellectual property older than xxxxx years is no more protected by copyright laws
soo you can get most of the world available roms for free personnal usage without being illegal note that some productor can extend copyright protection for some years

No game ROM has passed into public domain from Nintendo or anyone else. Typical copyright is life of the creator + 70 years. Thanks to the Mickey Mouse amendment to copyright laws, its a virtual eternity. If you want to download ROMs, go ahead and do it. Don't fool yourself or others with misinformation about public domain, you're dead wrong.

No, I believe that would be illegal, they sync to your SkyDrive.

And that is why I have over 900 roms on my SkyDrive or Onedrive (what ever it's being called now) for NES and SNES with some SMS dumpped in... :) For a NES emulator dont forget vNESlight Pro....Great NES emulator Free http://www.windowsphone.com/en-us/store/app/vneslight/3d8e51b8-1884-4aa7-bb2c-2eda47745a27 No ads.. http://www.windowsphone.com/en-us/store/app/vneslight-pro/11ff7758-04ea-42d9-b012-55f90de82b10

You can get them free at coolrom.com

That's the best site for roms

How exactly (step by step) do you get ROMs onto your phone using Skydrive?

Download GetThemAll app, login in Skydrive and then search toma with its browser. Remember: sfc and smc files are supoorted

Tried this, but don't know what 'toma' is (search didn't turn up anything useful). What am I missing?

Toma = then jejejej. My keyboard was in Spanish lol.

Sweet. I just downloaded everything ever created about the Texas Osteopathic Medical Association.

I think they stay in your SkyDrive and just run on the phone that way.

No, GetThemAll support Skydrive login

All you have to do is download a rom to your computer then upload the file to your SkyDrive, that's how it worked on m.k.'s version anyway, I can't imagine that got changed.

you can download directly from IE mobile

go to coolrom.com from internet explorer on your phone download the rom itll open up with 2 files select the rom and itll open up in the emulator

I can't do that, besides, I can't open zip files

coolrom is bugged on mobile IE. the rom rarely finishes downloading.

Overall app design is a very welcome improvement. The VBA8 & VGBC8 icons are a step back though, and the control graphics look pretty rough.

Hes doing awesome work, the new design looks great!!

Sweet. Thanks for the update, Paul!

Need Sega emulators...... These will do for now.

Here you go
http://www.windowsphone.com/s?appid=e84b6e61-f951-4bf3-abda-0d849e005957

I wish they had a PS 1 emulator.

Search EmiPSX in the market.

Didn't no it was out yet thanks

Time to upgrade :-) Posted via the WPC App for Windows Phone 8.1

Yea at this point its pretty much a given that most developers are not going to develop for wp7.

Seriously they are given away 520s go get one or I'll send you mines lol of course you think it's not worth it cause of low memory and specs well it is trust me just having W8 will change your mind

I'm contemplating buying a MOGA controller just for these apps. If the game isn't available for my 3DS in the Nintendo eshop I have no problem downloading a ROM. Nintendo has been releasing 1 or 2 Virtua console games a week- not enough effort.

I bought one and it was well worth the value.

Oh these are GREAT updates! Very nice work by the new developer.

I do love the UI overhaul, but not the new tile icons.

I need nds emulator as in android

It's actually very tough. All existing DS emulator uses a coding technique that is not allowed by MS. This technique makes the emulator run 10 times more efficient but it is used by viruses to hide themselves. Without this technique, a DS emulator if exists would run slower than a x386 computer. That's also why VBA8 runs so hot.

Slick new interface. Easier to use, too, with those cover art previews there. I do wish the NES emulator, vNes, would be updated with MOGA support and stuff too, though it doesn't need it quite as urgently.

I sent a tweet and posted on XDA to see if he can update vNES for MOGA. I was thinking about getting one of the controllers and that woudl be epic..

Im wondering if there will be a n64 emulator in the future if its possible

Certainly should be, used to run an N64 emulator on my HTC HD2!

It's actually very tough. All existing N64 emulator uses a coding technique that is not allowed by MS. This technique makes the emulator run 10 times more efficient but it is used by viruses to hide themselves. That's also why VBA8 runs so hot.

Would be even better if generic bluetooth controllers would be supported, but that's probably not going to happen due to OS limitations at the moment. :( Would love to buy a MOGA, but they do not seem to be sold officially in my country. The only one wideley available seems to be the pocket, which seems to be missing some buttons. :( Sure, I can buy a pro of off ebay or something, but that's hella expensive. Also, what i don't get with MOGA, wht don't they state on their website that WP devices are compatible too? It's like they don't even want to sell their product to us or acknowledge we exist. And if they don't, how are developers supposed to know they need to add MOGA support to our games? To be fair, emulators like these, with older games, are virtually unplayable withour proper controls. It's not like the older SNES games for example where easy as hell to play anyways. trust me, i've tries with on screen controls, but to me, it's virtually unplayable.

I've got the paid for VBA8 on my phone, Surface and Win8 PC to get the save state functions and its pretty awesome though haven't tried the new update. On the Win8.1 app save states are saved direct to the ROM folder, which is in your SkyDrive, so any progress is accessible on all three devices just by loading the save state. Pre-upgrade the phone was a little less fluent as you needed to manually export and import the save states. Been playing Super Robot Wars/Taisen OG2 (I own the cartridge) and being able to play on the phone while out and about to continuing the game on the couch with the Surface then playing it on the PC with an Xbox controller is incredible given how official games don't even allow you to do that.

Ok so do I delete the other emulators with the same name now? I've got two of each in my app list now. :/

Yes, you don't need the outdated ones any more.

I get why people love emulation on mobile devices, but when I'm more of the physical control type, why even bother? Unless these get some controller support, I'll pass it up. Even so, speed and 1:1 emulation matters to me the most. Perfect example? Kega Fusion (Sega systems: Master System, Genesis/MegaDrive, Game Gear, (Mega)CD, and 32X). I love THAT emulator because the developer wanted perfect emulation across all Sega systems. Sadly that hasn't had an update since 2010. But still love it nevertheless.
But once I hear its possible to get Sega CD ISOs playable on phones... oh man.

VBA8 does support MOGA controller. Greets!

I get my roms from Freeroms,directly from IE mobile. Loved the support to GBC roms in VBA8. Keep it up!

nice please is there any psp emulator for lumia phones if there is please help us out
thanks
Windows Central Newsletter
Thank you for signing up to Windows Central. You will receive a verification email shortly.
There was a problem. Please refresh the page and try again.