No Halo 6 in store for E3, but 343 Industries has 'a little something' up its sleeve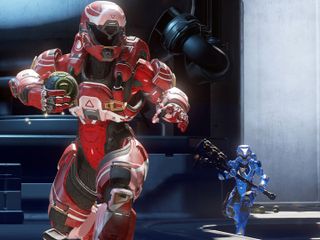 Halo fans may not be getting any news on the next big entry in the franchise anytime soon, but it looks like Halo developer 343 Industries has something ready to show off at next month's E3 conference. In a Reddit thread related to the latest Halo community update, Halo community manager Brian Jarrard (posting as ske7ch343) confirmed as much, stating 343 will have "a little something at E3 but it's not related to the next major entry in the franchise."
In the same thread, Jarrard also quashed speculation surrounding a potential Halo 3 remaster announcement to commemorate its tenth anniversary, saying, "OMG stop. There is no Halo 3 Anniversary." (via Gamespot)
With no Halo 6 reveal or Halo 3 remaster, there's no hint as to what 343 could have in store for E3. Given the fact that it doesn't appear to be anything major, it's possible we might see something related to new content for the most recent entry in the Halo franchise, Halo Wars 2. We don't have much longer to find out, however: Microsoft's E3 briefing is set to kick off in a few short weeks on Sunday, June 11.
Dan Thorp-Lancaster is the former Editor-in-Chief of Windows Central. He began working with Windows Central, Android Central, and iMore as a news writer in 2014 and is obsessed with tech of all sorts. You can follow Dan on Twitter @DthorpL and Instagram @heyitsdtl.
I would think we may get a 4k upgrade to Halo 5. I wish 343 could also branch out just a little bit.

Hopefully upgraded textures with that!

It will be a 4K upgrade for Halo 5. And Halo Wars 2 is likely already set to run at 4K on the Xbox One X.

Little something? Spartan Strike coming to consoles or Halo Wars 2 (At least Blitz mode) coming to phones?

Halo Wars 2 blitz mode on mobile would be nice.

i always liked halo's deep + background story telling from games to comic. i find it a good thing that halo 6 will not be at E3, it gives the new lead a chance to come up with something new again. as long as the story is good.. Halo should never end imo as the halo universe is massive.

Halo, the VR experience exclusively for Project Scorpio

I'd bet it just ends up being a MCC version of Reach

10 years since Halo 3.... Just sayin'

I'm a bit gutted. I love the Halo universe even after 16 years. Love the new trilogy story to. Really want to see where the Cortana/forerunner story goes. But at the same time no Halo 6, no Gears 5 means new IP and time for other games. So its all a bonus to be honest.

Split screen co-op added to Halo 5 would be most awesome!

That would be a pretty epic announcement. Honestly, 343 could win back a lot of fans if they went to E3 and announced any or all of the following: split-screen added to Halo 5, free story DLC that tries to fix the story issues of Halo 5, more content for Halo Wars 2, Spartan Strike coming to Xbox One with a new co-op mode like Spartan Assault had, or Halo: MCC getting its few remaining bugs ironed out and coming to Windows 10 as a PlayAnywhere title.

Would something along the lines of either Halo: Reach or Halo 3: ODST be considered as "related to the next major entry in the franchise"? I would love to have a spiritual successor to either one of the two games.

I am thinking its a 4k scorpio edition of one of their games, one would think its halo 3 though.

While I want to roll my eyes at this, I can't, because I think I'd actually play that.

Split screen added to Halo 5 and 4K HDR support added.

halo 5 for pc with cross platform play

I still believe they'll release a PC version of MCC. I suppose Halo 5 Forge was something like a technology test.

Didn't they also strongly deny the existence of Halo 2 Anniversary and the Master Chief Collection as a whole up until it was announced at E3? I guess it's still wishful thinking for Halo 3 Anniversary, but it'd make perfect sense for a Scorpio launch game considering none Xbox's main major IP's have a major game release this year. No Halo 6, no Gears 5... Halo 3 Anniversary as a Scorpio launch game would make so much sense and probably give the Scorpio a pretty good start. After all, it's not uncommon for devs and publishers to totally deny the existence of a game right up until the actual announcement of it...
Windows Central Newsletter
Thank you for signing up to Windows Central. You will receive a verification email shortly.
There was a problem. Please refresh the page and try again.