No Man's Sky PC Steam users can download an 'experimental' beta patch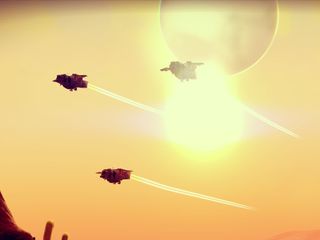 Hello Games has released an "experimental" beta patch for Steam PC owners of their sandbox space exploration game No Man's Sky. The patch fixes a number of issues with the game and will be released to all of its players early next week after testing with the beta group.
If you are interested in accessing this early patch, here's how to do it:
Here's what the experimental No Man's Sky patch fixes:
Improved AMD Phenom Support - Thousands of lines of assembly have been rewritten overnight to support AMD CPUs. Unfortunately whilst the game code no longer relies on anything above SSE 2, Havok Physics still requires "Supplemental SSE 3", which was not supported until "Bobcat" and above. We're discussing with Havok.
Alt-Tab has improved - Some systems/configs were crashing or not pausing correctly on Alt Tab. This should now be resolved.
Shader Caching - Framerate was initially stuttering due to shaders not being correctly cached by the GPU on some systems. We have replaced the GPU caching system. You may notice some stutter during the Galactic Map intro to the game (the very first time you run), but it should be smoother from then on (this will be fixed in future). This is particularly true on ATI cards
Mouse Jitter - Smoothing on mouse movement has been improved to prevent hitching or stuttering, and is now adjustable through the Options menu in "Mouse Smoothing".
Max FPS Cap - On some CPU/GPU configurations, setting Max FPS to 60 or 30 was not giving 60 or 30 FPS (causing stuttering). This has been improved.
Improved Performance - On CPUs with 4 threads or fewer, performance has been improved.
Intel GPUs - The game will now let you know if you are trying to run with an unsupported GPU. This will hopefully flag for some users that their high end GPU has not been selected.
Gsync - Gsync has been disabled by default, which was causing an issue for some users
Check out our review of No Man's Sky
Windows Central Newsletter
Get the best of Windows Central in in your inbox, every day!
Awesome, will try as soon as I get home.

May the force be with you.

The game performs way better now! No fps drops, but didn't have those in the first place. The rest of the noted points have indeed improved, though it's in no way perfect yet.

Best game ever Played.. Download Full version No Man's Land : http://sh.st/XMDrx

Does this game support exclusive full screen ?

Yes it does. Posted via my BlackBerry PRIV

This game support exclusive full boring.

Well, it's true. Posted via the Windows Central App for Android

What us your avatar from? Reminds me of Wolfenstein.

It's from Fallout 3. It's the Brotherhood of Steel armor. Posted via the Windows Central App for Android

Because it is: Return to Castle Wolfenstein​.
And of course, not as good as the DOS versions :)

"Ever" has not happened yet.

New update with a GTX 1080 and an i7 6700K running this game is amazing yes still frame drops but it's way better and more playable than before. I'm glad I got the collectors edition! Posted via the Windows Central App for Android

Lol, damn, that's when you know it's bad.

A beta of a patch? It really has come to this?.
Well, at least they are working to fix the issues.

They want to help out those with really bad issues but haven't done enough internal testing yet to confirm it's good to go to everyone. I think many people will be glad that they've released it early.

Yeah because the best thing was to release the game in such a state in the first place...
​Why didn't they did a proper testing?
​Don't you think it sounds stupid? it's not like it was a free MMO, people expect a patch often, this is an expensive game that people should have at least had some sort of testing without such obvious issues.
​You sounds like those brainwashed people who are happy getting a buggy game because "they can get us a rushed beta patch fix that might be good but nobody knows"
​Why didn't they release this before friday? maybe it would have been a better release after all the overhype. it doesn't change how overhype and bad this game is, But that's what people do in 2016.... if it is overhyped it should be liked, and anything else is not important, because even if it is a boring, full of issues game, it is POPULAR!
Doesn't make sense...

Well considering when they pushed back the release dates, they were sent death threats, I think it's apparent why they felt they had to rush stuff. They shouldn't have, but pressure does that to people. Not sure why the game got super hyped out of proportion, but that's what happens with some things. Sort of a shame really. Would love to grab it some point, bed to focus on school for the next couple months. Also, the "why didn't they get this patch before Friday?" They probably did all of this in the last day or so. Especially the part of the change log that said lots of assembly rewritten overnight. Probably slight exaggeration, but still some way accurate to the lots of work that they have done in the last few days now that the spotlight has been laser focused on them. Pity they couldn't do it earlier, but nothing like a deadline to force performance out of people. Posted via the Windows Central App for Android

60 bucks Australian is not an expensive game.

It's first attempt at avoiding lawsuit.

I tried this after coming from 120 hours of Witcher 3 the past months. ​I must say that handcrafted storytelling and wordbuilding versus autgenerated stuff isn't really a battle at all. ​I am happy some people love NMS but it really isn't for me.

Best game ever Played.. Download Full version No Man's Land : http://sh.st/XMDrx
Windows Central Newsletter
Thank you for signing up to Windows Central. You will receive a verification email shortly.
There was a problem. Please refresh the page and try again.