Nokia advertisements surface highlighting the Lumia 610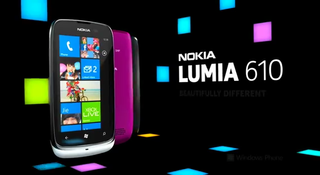 It looks like Nokia in the UK are all set to start a new TV marketing campaign in the very near future as the above Lumia 610 commercial popped up on their YouTube channel (opens in new tab) a short while ago.
While the Lumia 610 may not be the 'daddy' of Windows Phones it does offer pretty good value for money and sits at a price point where it can compete with many low end Android and BlackBerry Smartphones. Vodafone (opens in new tab) currently is offering the Lumia 610 for £150 on Pay As You Go. All of which isn't bad when considering that along with the typical Windows Phone features you also get Nokia Maps for local searches and also Nokia Drive which eliminates the need for a separate sat nav system.
Now we just need to see when the new advert airs. Will Nokia pay the big bucks and go for prime time at the weekend?
Windows Central Newsletter
Get the best of Windows Central in your inbox, every day!
Advertise on air in Italy since last week...

Okay, that was okay, but is that all the phone can do? Imma wp7 user, but this leaves nothing but questions for potential buyers, or let me rephrase, "if that's all the phone does, then I'll pass". Get better advertising highlighting more feature/abilities of the OS. Can some one please tell me why MS highered the marketing guy from Disney? Because so far in the states, he doing a piss poor job ( you can tell him I said that). I advertise wp7 more on YouTube than I've seen on TV in the entire 2yrs wp7 has existed.

No. Nowhere does the ad say "it's all the phone does". The ad only highlights what the phone does really good. And it's not an ad for some "OS", which noone cares about. People buy phones, and that's what the ad presents. TV commercials are simply not targeted at socially impaired nerds.

The first adverts I ever saw for WP was from Nokia... Except they're promoting Nokia phones and not exactly shouting "It's a Windows Phone" from the rooftops. My mum knows I have a Windows Phone - I kept telling her to buy a Lumia and when she tried it out she didn't understand why my HTC phone looked the same :P So all I see people doing is asking for specific models and not "What Windows Phones do you have?". Whereas people are very aware of Android, and there's only one iphone :P

Similar 610 ads are running on TV in other counties for a while now, i.e: http://www.youtube.com/watch?v=G4-J2aIGMIc - with small modifications like various friend photos. The common theme is how "different" and social are Lumia smartphones and its users. Also, it seems TV ads for the 900 are being rolled out too, with highlight on the live tiles: http://www.youtube.com/watch?v=Al2QucXtSN8

How strange... I just noticed a Nokia 610 advert at bus stop in my local town....

Saw the poster equivalent of this ad on a bus stop it was very striking actually made the 610 look sexy. Let's see what it achieves, the recent 900 success could translate to better sales over here who knows.

Just saw it in tv now !!
My girlfriend felt in love at first sight with 610 Pink...She's trying to make me buy it for her now... I think I can no resist to her methods... :D

I am curious to find out how well the 610 performs against first Gen winpho7 devices like, say, the LG Quantum or Samsung Focus. Yeah its got less ram but ram ain't everything...hows the cpu/gpu perform compared to our phones of nearly two years.

I'd noticed a poster on a bus shelter advertising the Lumia 610. Although the bus I was on was going too fast to take a picture.