Live Nation's "Nokia All Access" contest page leaks Nokia Lumia 525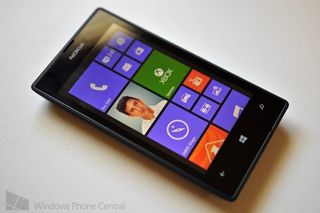 A contest being held jointly by Nokia and concert ticket sales giant Live Nation seems to have confirmed one of Nokia's rumored upcoming handsets, the Lumia 525. the Nokia All Access contest is offering the winner two tickets to a Live Nation concert of their choice in Canada, as well as a Nokia Lumia 525. Oops.
The Lumia 525 was first named in a tweet by leaker Evleaks last month, equating it with the device codenamed "Glee."
We also know from the 5xx naming convention, that the Lumia 525 will be a variant of Nokia's economy-line Lumia 520. Add in the fact that the cash value of the grand prize in the contest rules is $250, and the picture is painted pretty clear.
Despite what looks to be Live Nation letting the cat out of the bag on the Lumia 525, we still haven't gotten much in the way of details on the device and what sets it apart from its sibling Lumia 520. Since the contest prize is confined to Canada, it's a good bet we'll see coming to a carrier up north in the near future.
You can check out the source link below if you want to enter the contest.
Source: Live Nation; Via: MyNokiaBlog
Windows Central Newsletter
Get the best of Windows Central in in your inbox, every day!
Looks like no front-facing camera still...? That's the one thing I really hope they bring to the 525. EDIT: nah, it's probably just too hard to tell anyway. Hope it's there!

And where did you see that :)) ?

If you want a front-facing camera, just get the 620

620 is 'geek budget', 520 is 'consumer budget'.

They should update the 620 too, it's a very odd phone. Thick and small.

There's Nokia Lumia 625, FYI.

If this phone is supposed to be for VZW then I call FAKE in the absence of their hideous logo :)

Oh yeah, there still remains the 525... Wonder why they didn't announce it along the others?

Same reason to not announce the 929 yet. They need to give their new phablets a bit of unobstructed limelight for the Christmas season as they will have a nice big profit margins. Come December or January then these yet to be announced devices will get more press as they will be guaranteed sellers to keep momentum up during the post-Christmas slump.

The picture is just a picture of a 5xx device. Not intended to be 525.

Yeah, what makes it the 525 anyway? Looks exactly like the 520 to me.

This looks like it has a flash, and a different back cover than the 520 or 521.

Stop it Nokia... Stop releasing 5+ phones every 2-3-4 months. I'm just patiently (for now) waiting for the 8.1 line. I hope they hit before Summer. The 1020 hasn't convinced me yet and the 1520 is just way too big for me although I LOVEEEEEEEEEEEEEEEEEEEEEEEEEE it.

You're a mess. If Nokia continues to release 5+ phones every 2-3-4 months, as you say, then wouldn't there be an 8.1 line coming with the next batch of releases? You should be happy that Nokia has taken such a stand for quality updates to their stellar line so that all customers are brought into the ecosystem. But no, apparently the wants and needs of others are somehow inferior to yours... even though they coincide.

Yep. I entered. http://sdrv.ms/1aJ6qr5

Cute, looks like a tiny 920

Also, Lumia525 aka Nokia Glee tipped to come in Yellow, White and Orange https://twitter.com/evleaks/status/395967293605167104

Umm...I don't think the image in the Nokia promo is the 525...sure looks like a 920 to me. EDIT: well maybe it is. No flash on that image. Cant tell if that is prox sensor or FFC. Cool

So many Lumias are coming. Waiting for Update 3

It's going to be just like the 520, except the 525 will be able to shoot laser beams!

Contest has been updated...its a Lumia 520.

It should be a dual sim,..

It would be a dream come true to be able to use a 520 phone on Verizon

Yeah sure. Its a sub.! I know, but..

They should make a 520, but with extra storage. Strip a few things maybe, or an even worse camera...um...strip stuff! Until you get a budget phone, with lots of storage. I'm fed up of getting annoying pop ups saying crap about storage, and I wouldn't mind 512mb RAM for more storage! There are still many games that are either coming or are on 512mb RAM. Nokia can do this!
Windows Central Newsletter
Thank you for signing up to Windows Central. You will receive a verification email shortly.
There was a problem. Please refresh the page and try again.