Nokia and HTC settle all litigation, sign massive patent and technology deal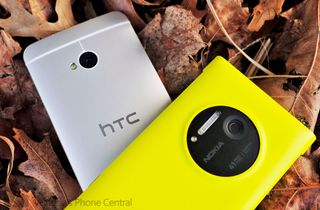 Hot off of the wire, Nokia and HTC have set aside their differences. All past and current patent litigation issues between the two companies have been dropped. Nokia and HTC have just entered into a patent and technology collaboration agreement.
Details below.
Over the past year we've seen countless stories of the court struggles between Nokia and HTC. More recently we've seen analysts suggest that Nokia would most likely prevail over HTC in patent disputes, specifically the ones over USB transfers. Nokia has also won most court battles against HTC. For example this past December a German court sided with Nokia over devices connecting over NFC and Bluetooth to transfer resource information.
Here's the full press release from the Nokia:
HTC AND NOKIA SIGNED A PATENT AND TECHNOLOGY COLLABORATION AGREEMENT
All patent litigation between the companies dismissed
Espoo, Finland - Nokia and HTC have settled all pending patent litigation between them, and entered into a patent and technology collaboration agreement. HTC will make payments to Nokia and the collaboration will involve HTC's LTE patent portfolio, further strengthening Nokia's licensing offering. The companies will also explore future technology collaboration opportunities. The full terms of the agreement are confidential.
About Nokia - Nokia is a global leader in mobile communications whose products have become an integral part of the lives of people around the world. Every day, more than 1.3 billion people use their Nokia to capture and share experiences, access information, find their way or simply to speak to one another. Nokia's technological and design innovations have made its brand one of the most recognized in the world. For more information, visit http://www.nokia.com/about-nokia.
Source: Nokia
Windows Central Newsletter
Get the best of Windows Central in in your inbox, every day!
Win-win for both companies, but especially HTC since a lot of analysts didn't see them winning too many battles against Nok.

How is this a win for HTC? They have to pay yet another company every time they sell a phone. I mean it is better than having their phones banned in the US which is what would've happened, but I wouldn't classify it as a win. Nokia wants to make money by licensing patents and software, that just got easier for them. HTC wants to make money by selling phones, that just got harder for them.

Move on. This is how business gets done.

I'm not complaining about the litigation, just trying to bring the conversation back to reality. This is a big win for Nokia's future as a licensor of patents and another expense for HTC. This victory plus the licensing deal with Apple shows once again the costs associated with non-Windows devices are not transparent or protected.

Loosing lawsuits vs license agreements
You pick

AKA HTC choosing the option that involves lube versus the one that doesn't.

Its a win if Nokia/Ms gets to put indicator lights on Luminas from now on. God how I miss them.

yeah i used to miss the led notifications. But now we have glance screen with notifications. I think I like this better.

If they did actually "win" in the sense you imply, then it's like Nokia's patents would be up for grabs.

They have the threat of litigation lifted from them. When you can settle things outside of court it's a win for everyone. When you get lawyers involved and go to court, everyone loses. Even judges will tell litigants that they should settle their dispute because if it goes to trial there will be no winners.

Pretty massive news, glad that they worked our their differences though. Now time to move on.

Big friendly uncle Microsoft to the rescue?

He probably meant collaboration between HTC and MS on Windows Phones. It is possible that they helped HTC to solve this issue.

Microsoft wouldn't get much benefit from this, because they won't own any of Nokia's patents, the only thing they should be concerned about is not losing a partner

plot twist, MS is using Nokia to weaken HTC before buying it too

Not loosing HTC as a partner, especially since they were the main WP OEM after Nokia is of major importance. With WP picking up, 8.1 on the way, they have to make sure they keep HTC onboard.

Wtf does the last paragraph mean? "About NokiaNokia is a..."

Its from the press release.....
...

I bet its nokias pureview and HTCs beats stuff in one phone

Nah. HTC sold off their share to Beats BC they were hurting. No more Beats in HTC's phones.

See, this is nice. And perhaps now, who knows, HTC has also licensed the PureView technology to put it in their phones and get rid of that UltraPixel hogwash. I'm curious to see what licenses HTC will take advantage of. I'm pretty sure no one would complain about an HTC One with some Nokia tech bundled in it. I sure wouldn't even if HTC isn't the first OEM I think of after Nokia.

Microsoft needs HTC to still make phones and some tablets so they asked them to kindly stop beating the crap out of them. Lol. Its good to know people. This is good news because HTC has some awesome designers. Few people can deny the HTC ONE and 8X are some of the nicest looking phones to come out in the past few years

For sure. HTC One and 8X really are some of the best looking phones in a long time.

I agree. Great phones and great industrial designs.

The sad thing is, in my opinion the 8s looks the nicest! But its so low on specs ... well, actually that wouldn't be much of a problem since WP runs quite smooth ... but 4 gigs of internal storage is just a no go ...
The only other HTC phone I do like as much as the 8s is the 8XT ... but guess what ... its an exclusive ... hell yeah -.-

My thought exactly! I would love an HTC One with WP8 on it... that would be heaven except for the lack of wireless charging.

Should make part of the deal the patents only apply to Windows Phone.

That would not be considered "fair and reasonable" licensing terms.

And why on Earth would Nokia do that?

A double rainbow just shot out of Nokias butt.

So happy the girls have quit their squabbling. Now onto the greatness that is the Lumia line!

Definitely has the hand of MSFT because unlike some other tech companies, they prefer to negotiate agreements vs litigation...

Hope to see better wp devices from htc.
While htc 8s and 8x were gorgeous, 8s had 4gb internal memory (despite sd card) which ran out with just WhatsApp and Facebook, while the onex despite flagship price, had 16gb fixed memory and smallest possible batyery

Nokia sold its devices division to Microsoft, so it no longer has any reason to litigate against HTC. The settlement helps Nokia monetize its patent portfolio. I doubt MSFT had anything to do with this, esp since they dont control Nokia.

Less money for Lawyers = win/win

I bet we'll see an HTC Android phone utilizing Nokia patents very soon. Doesn't look good for WP in my opinion.

I bet it means htc will be a nice girl from now on and not copy other Nokia stuff. And Nokia allowed htc to hold on to those they already copied... at a price.

How about a joint venture for a change, show some good will and make windows phone stand out not only with a killer handset but showing that companies can be friends, to me that would go a long way and i would buy a handset from them like my old Sony Ericsson's

All this makes you wonder what it would be like if Ford patented front engine/rear drive and sued GM and others. Just a thought.

Now I would love to see some great phones by these two company in the future...

Meanwhile in androidcentral... http://www.androidcentral.com/htc-nokia-sign-patent-agreement

So is HTC going to make some new WP8 Devices soon or not ? I personally would like some more especially if they are like their recent Android Phones.

Boom! NOKIA just found a hardware manufacturer for its forked android OS.

Daniel, not a tech guru and I flunked business 101, but would this deal be part of the Nokia/MS purchase or would Nokia be able to "partner" with HTC on an Android phone after the sell is complete?

Any chance Nokia takes the 7ish billion from Microsoft and buys the hardware division of HTC to make an Android phone using the patents of both companies?

Not for awhile, think they cant make any Nokia branded smartphones until 2016.

I wonder how exactly that effects Microsoft

Finally HTC has realized they cannot go forward with all guns blazing, they should have done this deal ages ago. Would have saved them a tonne of money and agro.

A merger on the way with Nokia taking a lead?


Patents are bad for innovation from apple to Nokia. Patents trolls Posted via the WPC App for Android!

This is a better deal than a long drawn out court battle. At least HTC will get "licensing opportunities" i.e. access to patents that will help it in the long run. HTC Windows smartphone customers may have a chance of getting their hands on Nokia-only apps.
Windows Central Newsletter
Thank you for signing up to Windows Central. You will receive a verification email shortly.
There was a problem. Please refresh the page and try again.