Nokia and Nicki Minaj take over Times Square for Lumia 900 launch [Official Video]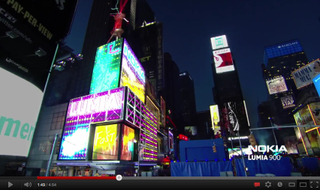 Friday night we gave you a sneak peak of Nokia's launch party for the Lumia 900 that took place in New York City's Times Square. Surrounded by thousands of tourists and New Yorkers alike, Nicki Minaj took the stage to perform numerous songs in support of her new album, Pink Friday: Roman Reloaded.
In addition to the show, a remix of her popular single "Starships" debuted along with a full-production video shot by Nokia to coincide with the AT&T Lumia 900's official introduction to the world.
If one thing can be said of Nokia it's they know how to go big for a launch party (see London and the Lumia 800). For some reason, we can't imagine HTC, Samsung or LG ever throwing such a massive media event and for that we're excited to see Nokia championing Windows Phone (as opposed to Android).
While it remains to be see if the Lumia 900 will be the hit that it is expected to be, it certainly seems to be off to a very good start.
Source: Nokia (YouTube)
Windows Central Newsletter
Get the best of Windows Central in your inbox, every day!
Daniel Rubino is the Editor-in-chief of Windows Central, head reviewer, podcast co-host, and analyst. He has been covering Microsoft since 2007 when this site was called WMExperts (and later Windows Phone Central). His interests include Windows, laptops, next-gen computing, and for some reason, watches. Before all this tech stuff, he worked on a Ph.D. in linguistics, watched people sleep (for medical purposes!), and ran the projectors at movie theaters because it was fun.
Ugh. Not a fan of Nicki Minaj at all, but hopefully this event worked.

lol, I never heard of her till Friday but honestly, I have no idea why she's getting such a visceral reaction from people. I dunno, it's pop-music, not that big of a deal. We need to think beyond our personal tastes sometimes. This is about the platform, about connecting with the mass market, building energy and getting people to take notice. In that regard, Nokia succeeds 100% in my opinion.

True. Getting someone as popular as her was a great idea.

Then they should have devoted more time to the phone and OS. All people knew was that Nicki Minaj played and Nokia sponsored the show. I was there 30 minutes before she took the stage and people were basically just standing around speculating on who was gonna play. They could have shown a bunch of smoked by windows phone clips.

Brand recognition. If nothing else, people are now more aware that Nokia still exists.

Here is a link from an article about her Grammy performance, this was my first exposure to her and it immediately turned me off. http://m.digitalspy.com/music/news/a365386/grammy-awards-2012-nicki-mina...
To contrast that, here is a nice article from a non-tech writer about Friday's event. http://www.hollywoodnews.com/2012/04/07/nicki-minaj-performs-in-times-sq...

I agree! I try to tell people that it's not about what you like, but what the majority catches on to. This tiny group of Android tech guys think the world thinks like they do. If they didn't sell all those cheap phones that appeal to the majority they would have considerably less market share. Its not the specifications they are always bragging about that has them high in the market but ironically those low spec devices that appeal to the majority's pocketbooks. Thankfully the general public now has a quality platform to turn to.

I've always been an HTC fan but I doubt we'll see them match this kind of product kickoff. Now if Tmo could find it in their agenda to bring some decent phones to market, us Tmo users could quit our whining. ;)

tmobile where you @.......not as big as there other launch parties but i still wish i was there, hopefully this is just a taste of more to come.

Bring back DEADMAU5! I find that it's a disgrace for Nokai to team up with an artist like Niki Minaj. For those of you who don't know her, and don't understand why I find it disgusting to see her name next to Nokia's name search youtube for : "Niki Minaj - Stupid Hoe".


Wow, that was awesome. It's like if Tim & Eric made a music video. It was like a surreal art experiment. I dunno, I've been on 4chan, it's going to take a helluva lot more to offend me. Growing up with Madonna, burning crosses, "like a virgin" and yeah, 25 years later, Nicki Minaj is excactly what I expected. No shock.

Stupid Hoe is rather unconventional - but it is an explosion of colours and rather creative (and funny enough, not even an official single).


LOL as much as i hate that song too, really hate it, every artiste have at least one or two songs no one likes but she is kinda awesome and nokia picked the best person in my opinion at least.
Remember toy factories get our kids interested so we have to buy toys, NOKIA officially has all the females in America thanks to her so we has husbands or soon to be or whatever we are will have to buy them what?... yep a windows phone now supported and officially backed by Niki Minaj...

You're a disgrace to this site by posting this comment. Seriously?

This looks great !! Great way to showcase windows phone to America and also throughout the world, as it was done on a Friday evening and at times square, where there are a lot of tourists!! Awesome way to reenter the US of America. :-)

People, take a chill pill. I'm not a fan of her music either, but advertising is advertising. This is one part of the bigger picture of gaining brand mindshare. While some us disaprove of this artist specifically, she is an American attention magnet that can and has gotten non-tech media outlets such as E! and MTV talking about this along with Nokia and the Lumia name thrown in there. They are using her influence. Let's consider it the one great thing she has done so far. A win for Nokia here. Now let's hope it translates into millions of sales... :)

Also not a fan of niki minaj.. but i hope it does help spread the awareness for windows phone.

I'm not a fan of Nicki Minaj either (actually, this was the first time I'd even heard any of her songs), but this still looks like a fun little event which could only be good for advertising the Lumia 900 and helping Nokia re-enter the US market. Every little bit helps. I hope they get some Nokia event like this going in my area (L.A. area), as I'd like to go just to see if I could somehow win a Lumia 900.
And yeah, I agree with those who said Deadmau5 should've been there; the London event was awesome, and that would've been just as awesome to have him there in NYC. Oh well, maybe later on...
One funny thing I noticed; at about 3:30 in the video, in the song it sounds like they're saying "I'm higher than a motherf***er." LOL And they kinda blurred it out so as not to be too obvious about it. Did anyone else notice that?

"Higher than a motherf***er" is exactly what that was ;-)

There is talk on another tech forum that she used her blackberry to tweet before and after the event. Would have been a good idea if Nokia, ms would have pinned that down before the event.

Just checked her tweets. That's what she uses on a daily basis.

I know a lot of Manaj fans among the younger lot...

That's probably the first song from Nicki Minaj that I actually like. Then again it was a remix. Deadmau5's event was better.

This is a win for Nokia, just the residual advertising makes it a successful event.

My teenagers love her music, she is a huge artist and current. They knew nothing about windows phone before but now at least they are aware of it as being some new cool Nokia phone. Watching Smoked by Windows Phone is of zero interest to them...

Nokia really know how to launch a phone!!!

I was shocked when I found out they landed Nicki Minaj for this. Fantastic, edgy choice I would say and very much in-line with Nokia's "Beautifully Different" campaign.


just be glad it was't Bieber up there...:-)
With that said....I agreed that we need to put personal taste aside. Advertising is about marketing to the mass...& Nicki is quite popular in the U.S.

Dude she's like the biggest thing and its hip hop guys love her and females wanna b her :)

How far was this event from the closed-down Nokia store? Lol.

What the fuck people stop trashing the article or event because you don't like Nicki minaj. Deadmau5 is better? Realize how ignorant and childish that sounds? There are people who don't even know who Deadmau5 is, so give it a rest already!