Nokia bumps Extras + Info with some general bug fixing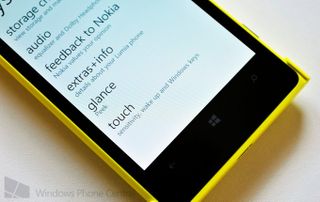 Nokia appears to be on an update spree as of late with not only Lumia Black rolling out worldwide (for both the Lumia 925 and Lumia 1020), but apps and system software too. We've received reports and have confirmed that Extras + Info has been bumped to a new version.
The latest version of Extras + Info is 3.4.3.5. According to the Windows Phone Store listing, this release brings general bug fixes, which is handy to know, should you be experiencing issues somewhere within the experience (we're not entirely sure what's been addressed). As well as the change log, here's a comparison between the old (left) and new (right) Extras + Info screens.
Our Lumia 1020 hasn't received Nokia's Lumia Black update yet
​You'll notice the new listing for Glance PinBoards App Agent on version 1.0.1.6, while Firmware Update Notifier, Nokia SpamFilter and SMS vCard Receiver have been updated to 1.0.1.11, 1.7.3.1 and 1.2.1.7 respectively.
You can check for updates using this store link or the QR code below. Note that the app is part of the Nokia experience and is unavailable for Windows Phones from other OEMs. Thanks to everyone who tipped us!
Windows Central Newsletter
Get the best of Windows Central in your inbox, every day!
Rich Edmonds was formerly a Senior Editor of PC hardware at Windows Central, covering everything related to PC components and NAS. He's been involved in technology for more than a decade and knows a thing or two about the magic inside a PC chassis. You can follow him on Twitter at @RichEdmonds.
Hmm what was bugged out ?

now bring the black for my black 920 ;)

But it doesn't matter if your.......oh never mind hahaha

he couldn't say it because *you're is preventing.

For me its amber that they should bring

Well the phone is from UAE but I live in Jordan

I live in jordan and I updated my phone from a long time.

take your phone to the nearest nokia care centre to get amber installed on your phone ;)

But that's the problem it'll be hard reset and I have a lot of apps and my internet isn't good to redownload everything

you have to compromise lol

When it rains, it pours :)

Live tiles Definitely more live.

Ya. i got this noon (IST) for my 920. I'm from India...

Why not bumps our telephones with some black update?

The bug is that it shows wring number version.

Nokia Camera received an update too.

Yes and phone feels lighter too.

Yeah and now it just disappeared

What's that "Glance PinBoards App Agent"?

I assume its the notifications like on the lockscreen, but with Glance.

Maybe not for Glance Beta, but for Black... because I think that is a Black feature.

Anybody get skips when recording video on 1520

Yeah are you recording to SD card? You have to get a class 10 to avoid the skips

I have a class 10 and still get skips

Whats the "Glance pinboard",? Cab anyone explain it?

Wonder if this fixes the random charging notification on a wireless charging plate. Happens all the time on our 920s. Can't charge wirelessly at night anymore.

I randomly receive charging notifications on wired charger after it reaches 100% and I touch the device. If I don't move it, it's okay. Lumia 820.

I thought it was my cheap charger :p Yes it's a little bit annoying...

Good to hear, I thought it was just my battery starting to die after one year of extended wireless charging.

Bug/issue not fixed. Maybe Black will fix it.

Nokia Share has also been updated from 2.1.2.3 to 2.1.3.2

My Lumia 520 also got glance pinboards app agent....means are there any possibility that glance will be available for 520???

Woho! I got lumia black also! 1020 with developer gdr3 on Telenor in Norway.

I find it quite odd that this, the most simple and minor of Nokia's apps, is receiving such regular bug fixes. I mean, it just shows the version numbers of components, right? How badly was it coded if all these bugs keep coming up? Nokia are so good with the rest of their coding, this app is really incongruous. Was it written by the work experience guy or something?

This app is really the backend of most of the Nokia apps. I only know this by trying to decompilng it (along with several other Nokia apps) and reading though it to find out how we're going to get an interop-unlock. FOR ALL LUMIAS.

Hopefully it can be unlocked soon aka jailbroken

Well, its odd really, cause I can read the code and understand what's going on. If you frequent xda-developers enough, one could get that thals1992 is my username everywhere. The only thing is that I still would need someone else to create an app to have an on device tutorial. And possibly the app to do the unlocking for that matter too.

This app is kind of like nokias back door to the OS remember with previous updates to this app it enabled call and sms blocker and other features.

Waiting for Lumia black update for my L920 in India.......

Whatever bug they fixed sure didn't fix the 1520's touch sensitivity issue.

After updating the app my 920 got real hot without using. Had to turn it off for it to cool down... Luckily I have my 520 to use while other phone is off.

Does anyone experiencing heating problems for 1520 after update. ?

My phone cuts the grass and takes out the garbage now. Hopefully next update it will feed the dog.

Where's our Cortara update? Huh?

Cortana is coming for wp 8.1 update...not for Lumia black update

Nice update, wish it were three tier and pinnable.

Dayum my 520 is fast it also got the glance pin agent do you think that it will be getting glance?

I read the reviews that some were complaining that the call & SMS blocker app was disabled after the update. Can anyone confirm this? This is an important feature for me as I get random phone calls from telemarketers. If this feature has been removed, then I'll pass on this update.

Yes my update caused an issue with the call SMS blocker. Restarted phone, same problem persists.

How do you block random telemarketers? Do they call you from the same phone number? In the telemarketing business, they call you 95% of the time from hidden numbers, so in this case all you can do is to block unknown numbers. Which results blocking all unknown callers and any callers who dont send calling number, but text-only caller line identification strings without numbers, for example the mobile operators.

After updating 'extras+info' and the 'call and sms blocker' apps, all of my apps are not opening! Then I read the info part of the 'extras+info' update which said that: Update your phone before installing extras+info by going to your App list > Settings > Phone But since that I usually press 'update all' in the store, I didnt get to read this! :( When I updated these, my phone was still with the Amber update. Now when I go to the 'phone update' in settings, it would just say that my phone is up to date. How can I get my apps running again? I am so frustrated about this. Anyone had the same problem? (Lumia 720)