Nokia Camera updated, though changes remain a secret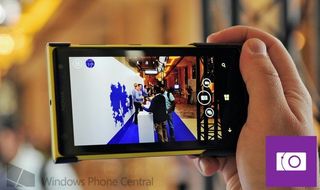 This morning Nokia has bumped up their new Camera app from version 4.3.0.6 to 4.3.0.9. If that sounds like a minor improvement, you would be correct as we can't see any initial differences. Neither does the app description reveal any added features or fixed bugs. If we had to guess, Nokia was polishing off some little tidbits in the app, perhaps preparing it for the Lumia 1520­ which is due to launch real soon here in the US.
Nokia Camera replaces Nokia's previous camera apps Pro Cam and Smart Cam by combining the apps into one for more convenience. The app also adds some quick settings features like Modes in case users don't want to fuss with the advanced settings.
No word if Nokia will bring other features like HDR, though considering bracketing is already present, we would hope it's on the roadmap.
Head here to the Nokia Collection to pick up Nokia Camera, version 4.3.0.9 for your Lumia 92x or 1020 device. Note: Nokia Camera is still not available for devices below 92x.
Via: Plaffo
Windows Central Newsletter
Get the best of Windows Central in your inbox, every day!
Daniel Rubino is the Editor-in-chief of Windows Central, head reviewer, podcast co-host, and analyst. He has been covering Microsoft since 2007 when this site was called WMExperts (and later Windows Phone Central). His interests include Windows, laptops, next-gen computing, and for some reason, watches. Before all this tech stuff, he worked on a Ph.D. in linguistics, watched people sleep (for medical purposes!), and ran the projectors at movie theaters because it was fun.
Hopefully the memory issue was addressed

Well...it doesn't actually "replace" Smart Cam. Smart Cam is still an autonomous App. It does replace Pro and adds the features of Smart Cam in the same App, but people who don't want the Pro Camera (aka Nokia Camera) can still have Smart Cam independently.

It's just it might lead people into thinking both apps - Pro and Smart - disappear, when only one did. ;)

Smart Cam only didn't disappear because the Nokia Camera isn't covering all models. When all models can get the Nokia Camera then Smart Cam will disappear

It actually makes sense because Smart Cam is available on most (all?) Lumia's, but Pro Cam was only available on Pureview models, right? Can someone with a lower end Lumia download Nokia Camera?

You can with the proxy hack :D
But it's rumored that with Black update Nokia Camera will be available to low end Lumias as well

when i captured pic after update and checked picture info , i noticed one chng.. it is showing capture mode as JPEG ( 5 mp + 8mp) though m using 820 you can find low and high res sample in file explorer. but low rez sample isnt an oversampled/ 5 mp image...resolution is just 0.4/0.3mp, depends on asapect ratio may be it works well on 9xx but not on lower models

My tip to wpcentral was that quick...i think not lol

One feature I want badly: Make timer changes stick between shots (at least till the app is restarted). I hate having to set the timer for every shot I take.

They should add a countdown instead of the loading circle, my Fiance has the HTC 8x and when you switch to the front facing camera there's a cool countdown

Seems to load slightly faster on my 920.

Me too - old version took 3-4 seconds. This one takes 2 (I have it tied to shutter button).

same here, starts faster on 925

I use this app on a lumia 720 and i am having no problems with it.....

since bracketing is already available. i want a nokia app that can use those bracketed pics to make hdr photo

Exactly I don't understand why the merging of the bracketed photos into an hdr photo is not included, hopefully in a future update.

+1 for hdr; also panorama app is in need of an update.

Yes, and I hope it can be fast. My iPhone 4 from 2010 could take an HDR photo instantly, you didn't have to hold the camera steady for ages while people walked around and messed up the picture. They looked great too.

Increase sharpener and remove yellow tint under lowlight. And also deepth of field also increase

I'm still getting the yellow tint applied post-processing. At least it doesn't to be an issue with shots taken outdoors.

This! Post-processing on my 920 is a mess.

Couldn't agree more. The night shots always comes out blurry and white balance off despite shows up excellently sharp and colour accurate in the quick review (right after shot was taken)

one thing it didnt fix is the locksreen bypass bug (or omission). the built in camera app allows the camera to fire up and bypass the lockscreen and pin, whereas the nokia camera app goes to pin from sleep, very annoying issue considering one reason for a dedicated camera button is to able to grab a photo quickly, perhaps nokia is starting to thin out its resources a bit?

Starting to? Elop axed 40,000 people during his reign.

you are correct. I should have said remaining resources

i guess it's more of a windows phone OS problem. it doesn't allow apps to work with the phone locked (except background streaming or stuff). even voice-activated apps don't work under the lockscreen, though you can start TellMe with the phone locked.
so ya, that's what.

you would think Microsoft would open the api to allow Nokia (at the very least) to enable the feature. Either that, or Microsoft should build Nokia camera into the o/s

even nokia can't get MS to modify the OS to such extents. it might seem a small change. but it involves apps working with the phone locked. and there are people ever ready to exploit anything they find.
but ya, if the leaks that nokia camera will come to all wp8 devices after WP8.1 is released, you can expect that to happen.

Seems faster! Nokia camera has so many bugs that pro cam didn't seem to have. I really want pro cam back, I liked it more. The subtle differences bug me :(

What are you talking about? I have found no bugs on Nokia camera at all. Its faster and has more built in than Nokia pro cam...

I think the delayed shutter option is missing on 1020, had that earlier.

I miss the change logs in iOS apps. I think they must have been a requirment on that platorm.

I agree. I always know what has changed on my iOS apps. MS should make that a requirement for Windows Phone.

The aperture setting is still missing. Why did they remove it in the first place?

Aperture was never there.

It was in the pro cam. Edit: Could have sworn aperture was in it before. My memory is wrong

Aperture is fixed on all cameraphone lenses. It'd require something much larger to have that be adjustable.

A few older smartphones had variable apertures, most notably the Nokia N86 smartphone. http://www.gsmarena.com/nokia_n86_8mp-review-364p5.php

That's correct I had that phone. The photos that I took were great and it has a mechanical shutter.

i switched to Clever Camera.......and yeah its paid. :P

Now it'd be nice if Microsoft would make it so setting lenses as your default camera app wouldn't require a password. Even better if switching lenses didn't require it.

Yes this is a must. Completely make me want to stop setting this as the default. Also to arrange the lenses by most used.

Kinda off topic but a big chunk of pictures that I took using Nokia Camera disappeared from the camera roll. I went on a hiking and took lots of shots with my 920 and when I came home, I think more than half of them disappeared. Anybody here familiar with this issue?

Happened to me too. Happened one time, didn't happen again, but I am at a loss. They were there and then just gone. Everything from one session. The camera was saving very slow during that session but they were on the phone for a while before disappearing. Thankfully the pictures were auto uploaded to skydrive before they disappeared, but I lost the high res versions of my kids Halloween costume which was a bummer.

There was something about this bug a while back in the 1020 forums. The photos don't actually dissapear you just can't see them on the phone because of a thumbnail bug or something, just read the forum posts.

pyberjay this bug has hit me also. If you plug your camera into a computer, they are still there. I nearly lost my mind as all my autumn pics had disappeared and the leaves were gone so I thought I couldn't replace them. Nearly danced when I found them still there.

Scipio, thanks a lot! Yeah, I plugged my camera into PC and the pictures are there. Is there any way you can make them to show up in phone? I will try deleting and putting themn back into camera roll. Thanks a bunch!

So, another update and they still do not address the PIN lock enabled devices to go straight to the camera. Again, why is this so hard and difficult to do? What is the point of having a dedicated camera button and phone security if they cannot be used in a way to allow users convenience?


Thats something Microsoft needs to change in the OS, nothing Nokia can do about that. 3rd party apps just can't by-pass the pin for security reasons.

I just hate when developers are so lazy that they don't even bother to include a change log.

i cant get any of the proxies to work. has something changed? i still have 4.2.2.8 on my lumia 822 and i want to update

They seem to have fixed the Image preview double tap to zoom behavior. It zooms in further when double tapping. Before it was really short distance

I wish they would make it so that Nokia smart cam or Nokia pro camera could be added to the camera button and act the same as the camera (built-in app). Because on my 920 when I hold down the camera button to wake up my phone in camera mode only the camera (built-in app) is able to bypass adding in my password. Not only that, pro camera isn't even added to the list of cameras you can add to the camera button, it's still Nokia camera.

Was the "framing grids" setting available for videos before this update? I know it was there for photos, but I think it may be new for videos.

- Zoom while recording a video
- Open your video with Nokia cam or edit the video will open automatically the Nokia Video Trimmer

Zoom isn't new in Video you could do that even before with Pro Cam/Video and open in Nokia Camera opened with Nokia Video Trimmer before this update too. Framing grids in Video aren't new either....

Zooming while recording was not there bb ;-)

"Nokia Camera updated, though changes remain a secret" If I tell anyone they will have to shoot me, sorry...

It seems that post processing of the picture is less aggressive. Before when the picture taken, it will show a very sharp picture then becomes very soft. Now when the picture is taken, the intial picture and the savedmpicture will be the same

No one noticed the change? The update fixed the inability the app had. The inability, the app couldn't be used with multiple apps opened, was fixed in this update. Don't know if I was the only person with this issues but the update fixed this irritating constraint. One thing I wished to be fixed is for the sharp image taken with the app not to be ruined by the "post-processing". You take a picture and get this clear beautiful sharp image and then it becomes painted in a tiny green cloak that's a bit noticeable. Its annoying. Am I taking pictures wrong?????

These Nokia cameras have been a disappointment. The yellow/green crap on the 1020, the soft/blurred pics on the 920 has left me very unimpressed with the Nokia camera offerings.

i keep hearing about the yellow tint on photos but i don't get then, all shots turns out fine. you might have a defective phone try going back to nokia.

when i captured photo after update using nokia cam and checked picture info, i noticed one chng..
it is showing capture mode as JPEG (5mp +8 mp)
though m using 820.
but unable to find oversampled image . i checked pic info of images captured before update but capture mode Is only showing jpeg 8 mp

What do mean, it's showing the image as being 13MP, (5MP +8MP)? That is impossible, show a screenshot of that OK? unless you mean something else...like images recorded from 5MP to 8PM if so that isn't new, that has been there since Pro Cam on my 810.

actually i have posted another comment, to reply Daniel Rubino. the comment is as.. when i captured pic after update n checked pic info..i noticed one chng.. it is showing capture mode as JPEG ( 5mp + 8mp) though m using 820 you can find low and high res pic in file explorer but low res sample isnt an oversampled/5mp image...resolution is just 0.4/0.3 depends on aspect ratio

Then how people have commented that it works fine on my Lumia 520,620 etc. ????

Post a screenshot please, a picture is worth a thousand words ! Thanks ahead of time ;-)

http://i.imgur.com/revsjqQ.png http://i.imgur.com/AzvLZ5G.png

Pls help. .i cant download it on mu L720 tnx