Nokia cares what you think, seeks participants for locations product study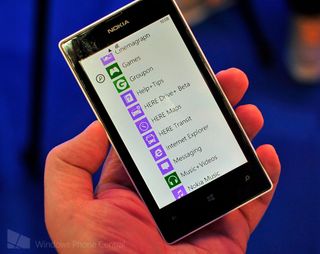 We've received a tip from a reader that Nokia is conducting a consumer study of a product and is seeking a handful of participants. It's touted as an opportunity to provide feedback to help the company improve its products. Nokia is listening to the cries of consumers. This could well be nothing, but it's worth noting, especially if you're interested and have been contacted.
Those who decide to participate in the study and who are selected will take part in a one-on-one interview between May 13th to May 26th, 2013. The interview (conducted via Skype) will see the participants bag an Amazon voucher worth $75 afterwards. Nokia is currently sending out surveys to verify who's best suited for the study.
As already stated, this could be nothing at all. But with Nokia giving its location services some love over on its conversations blog, it could well be something to think about. We'll reach out to Nokia for more details.
Thanks, Jesse, for the image!
Windows Central Newsletter
Get the best of Windows Central in in your inbox, every day!
Rich Edmonds was formerly a Senior Editor of PC hardware at Windows Central, covering everything related to PC components and NAS. He's been involved in technology for more than a decade and knows a thing or two about the magic inside a PC chassis. You can follow him on Twitter at @RichEdmonds.
I real enjoy my Nokia. Its Microsoft that's bothering me and the slowness or lack of apps. I wish my 920 ran android.

If I had a wish, I would wish for quickness and more apps, not Android...

I'm really glad it doesn't run Android, but this isn't the point of the article. The HERE stuff is great and its good to hear that they are listening to see how it can further be used to differentiate. I have some ideas, but I didn't get contacted.

HAHAHAHA!! That made me laugh real hard

Pah, one reason why the phone is great is due to the OS. I love the Lumia 920 but would hate it with Android on it. It simply wouldn't be the same. I agree I want to see updates to the OS come more frequently but Microsoft are working on a wider strategy that takes into consideration a lot more than just WP. Apps, yeah we need them too but that isn't solely down to Microsoft, although I would put them at fault with the whole debacle around not having access to the WP8 SDK until far too late. They should have been investing in the devs that had invested in their platforms over the years. Sadly, I have seen too many jump to iOS in particular due to the barrier of entry being less than it used to be and the perceived lack of direction and apathy towards technology suddenly becoming obsolete from MS. Saying all this I love the way MS are going but they need to put extra effort in making sure everyone is on the same journey before it is too late.

What Apps would you like to see?

I use Nokia because it does Windows Phone, if it wore droid it'd be just one more.

For me its opposite, as 90% of the issues I have are limited to Nokia Lumia 920's

Can you name at least five of them here? I would be interested to know what issues you had.

I wish people realized that MS went that route with Windows Mobile and look at what happened. I like what they're doing and not rushing the os and giving us a solid experience. Nokia will never run android ever, MS would buy it before that happens.

What apps are you lacking now? What would make you happy? Let me guess, Instagram. After that is released on WP people will hopefully cut the crap, finally. I don't care about the apps so much but I care about basic functionality like notification light, freely customizable ring and text tones, app level and media volume control,..

I would love to see drive come out of beta for wp8

Nokia drive needs alot of work. #1 it needs to lower volume of music when reading directions out loud like google maps. #2 faster rerouts #3 accurate traffic (like waze)

When "fastest route" is chosen it would be nice if it rerouted around congestion that might build up while you're enroute.

I would say...like INRIX, not like waze

How come you've got Drive+ installed on a 520?

I would like to see that Storage app come to all Lumia, even to TMO's sorry ass.

You never told us you got a 520, I'm might be wrong though.

Nokia doesn't care.. They don't care!.. You don't care about me!.. Nobody cares about me!!..... Slit wrist...

Ha ha ha good one! I will send flowers to you. :-P

Checked phone updates for my Nokia 822 on Verizon and there was an update...anyone else

Thanks for the head-up. I just checked my phone and am now installing the update :-)

I would have loved to be sort of this. I got a survey from Nokia about a week ago but nothing like this. About a month ago I also got a $10 amazon gift card because I took another one of their questioners. I really hope they pay attention to our concerns and put Microsoft's feet over the fire. If WP 8 fails, Nokia fails right along with it. It will hurt MS but they won't go out of business like Nokia will.

$75 in amazon cash, is like $150 elsewhere if you buy the right things. This is an awesome deal. Pick me Nokia, I have a lot of insight into windows phones!

Hey I got this invite :) filled it out this morning

I got a similar email from them, but for us Canadians there's a chance to win Purity headphones.

How can someone (ME) participate?

nokia selects random people who registered their phones with them. I did it with the launch of the 900 way back when. I did the first survey and asked if theyt could use me agin for future surveys. For another $50 giftcard i'll wash your dog too.

Off topic: yesterday was invited to watch a football game in the vip section, and the receptionist was a beautiful young lady, dressed in black with amazing legs, and... she had a Lumia 800 with green tiles, and, shit... She looked hot and ultra cool.

I am so glad that Nokia is still making phones and will continue support them. They are the reason why WP is alive and kicking :-) Great Job!

It's nice to see a company eager to get response from it's costomers to improve the end product.

My comment. Stop with the provider exclusive crap. I'm not about to switch providers and pay more monthly. But if I want a Nokia either I pay full price and get it unlocked or switch to Rogers here in Canada. Main reason I'll likely get a Samsung because it's the only windows phone my provider has not the phone I want.

No problem Rich! And like i said in the email, i"ll give you a run down on what it was all about. And if any of you guys have any suggestions on what you would like Nokia to know about i will jot them down and if selected to participate i will bring them up in the interview. Thanks for posting the news as well. I always get stuff like this from nokia and they always use me in their surveys which is cool for me because ive made around $200 on amazon gift cards .

I have also received the invite also, and reading your above comment about others who haven't received this invite, but have suggestions they would like to provide Nokia with as well is a great Idea. What do you think of setting up a topic in the forums for this particular reason, but would also like to keep the survey as genuine as possible. Would this be a good idea in your opinion without compromising the integrity of the survey? This could be a great place for Nokia and Pino to come and read many other suggestions, as stated below, Pino from here maps said they are always looking for feedback from others by reading wpcentral, blogs and many other sites as well. Just a thought.

Yeah we can defiantly do that. As I'm pretty happy with maps,drive and city lens I haven't really pondered how else it can be better. I'm sure it can be tho, So this would be a great way for others who have something that would be useful get their voices heard.

interesting... i received an email from a survey group this morning on behalf of microsoft, asking for my opinion about the surface, and they are offering 75USD also - but didnt say it was Amazon... the deadline is May 6th also.
Curious to say the least!

I like this. This is some old school Microsoft stuff they used to do a lot before Microsoft Office, WYSIWYG and Windows 3.11 dropped. This is a good thing for us. Always good things come from these kinds of inquiries.

I bought a nokia lumia 810 on TM and they seem to have forgotton us already 'should i pay more money for this in the future !

i dont know if this is the right place, but ill ask anyway. so far im very happy with my 620, and windows phome OS (it's my first wp). i had only 2 problems:
-while lisening Nokia Music, display didnt want to turn on after i pressed power button few times, but music was still playing
next one, happened twice, and im wondering if there is any solution
-while being on EDGE, with NFC, WIFI bluetooth turned off, battery went from around 80% to 0%. phone was on my table while i was sleeping (around 8h).
2. is something i realy want to fix. anyone?

Your phone may be a little wonky. Its technology so it happens, try resetting the phone. If it doesn't help you should be able to take it back. My first 900 was a little wonky and had no problems with the replacement.

HI everyone this is Pino from the HERE team at Nokia.
I hope you're not very surprised that we are listening to you guys ;-) We do that all the time.
For instance, we're reading what's being said on WPCentral (or other blogs) very often. We also arrange user studies and user tests before introducing new products or features. We have done it in the past we will continue doing it also in the future.
Right now, however, we are not accepting spontaneous applications.

They will only pick people who have never said bad about their products. They would never pick me as I tell it like it is.

Thanks for the invite Nokia, I look forward to participate in this survey.
Windows Central Newsletter
Thank you for signing up to Windows Central. You will receive a verification email shortly.
There was a problem. Please refresh the page and try again.