Nokia China officially releases Lumia 620, 820 and 920 Windows Phones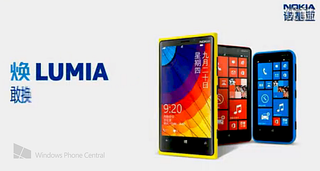 China is now officially the single biggest market for Windows Phone and Nokia are keen to pull out all the stops to get their latest Windows Phones 8 to market. As of yesterday morning Nokia has made their Lumia range available to the Chinese market by way of video announcement.
The devices are said to be available now in many of the main online retailers in China such as SuNing, JingDong, YiXun but the 620 is not showing just yet.
In the Official Nokia announcement video we hear the sales director of China, Paul Huang tell us the good news. The Lumia 920 will retail with a price of RMB 4599, The Lumia 820 will retail with a price of RMB 3499 and Paul even puts mention in on the Lumia 620 which will go for RMB 1999. The announcement unveils the ability to pre-order from today but as mentioned before the Lumia 620 is missing in action on that front.
Sales of Nokia devices in the country are reported to have "pleased" Stephen Elop, Nokia's chief executive. Nokia previously made good head way with the launch of the Lumia 800 in that market, even surpassing the iPhone at the time.
For Nokia the need to push their devices into as many regions as possible is paramount, seeing them continue to deliver on this is good news. The Lumia 920 has made quite a splash and it could be argued that its finally put Windows Phone OS on the map as a serious contender. It's now up to Nokia to drive sales into emerging markets and re-establish their lead present markets where they lost ground.
If you live in China, we would like to hear from you about any promotions or advertising taking place.
Thanks, Hongtu Chen, for the tip!
Get the Windows Central Newsletter
All the latest news, reviews, and guides for Windows and Xbox diehards.