Nokia China officially releases Lumia 620, 820 and 920 Windows Phones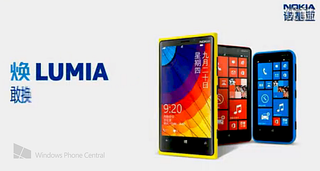 China is now officially the single biggest market for Windows Phone and Nokia are keen to pull out all the stops to get their latest Windows Phones 8 to market. As of yesterday morning Nokia has made their Lumia range available to the Chinese market by way of video announcement.
The devices are said to be available now in many of the main online retailers in China such as SuNing, JingDong, YiXun but the 620 is not showing just yet.
In the Official Nokia announcement video we hear the sales director of China, Paul Huang tell us the good news. The Lumia 920 will retail with a price of RMB 4599, The Lumia 820 will retail with a price of RMB 3499 and Paul even puts mention in on the Lumia 620 which will go for RMB 1999. The announcement unveils the ability to pre-order from today but as mentioned before the Lumia 620 is missing in action on that front.
Sales of Nokia devices in the country are reported to have "pleased" Stephen Elop, Nokia's chief executive. Nokia previously made good head way with the launch of the Lumia 800 in that market, even surpassing the iPhone at the time.
For Nokia the need to push their devices into as many regions as possible is paramount, seeing them continue to deliver on this is good news. The Lumia 920 has made quite a splash and it could be argued that its finally put Windows Phone OS on the map as a serious contender. It's now up to Nokia to drive sales into emerging markets and re-establish their lead present markets where they lost ground.
If you live in China, we would like to hear from you about any promotions or advertising taking place.
Thanks, Hongtu Chen, for the tip!
Get the Windows Central Newsletter
All the latest news, reviews, and guides for Windows and Xbox diehards.
When does this happen in India...!!

I think I heard something like January. We Indians are still stuck at WP7. Hope they won't make it too pricy.

Buy Nokia stock now if you haven't already.

Bought mine in July...... $2.20 a share. Num num....

Nokia India seems to be silent about the launch of 920 in India. Guess, Indians will have to request Nokia China to push some devices into the Indian market.

Isn't the 920 going to launch in India the last week of December. I could be wrong but that's the rumour I heard.

Although I'm not from India, I also read from somewhere that the 920 and 820 will be available there last week of December.

Thats right!
A store manager at an exclusive Nokia store in Delhi told me its releasing on 26th Dec and would retail for appx Rs 36,000/-

Preorders are open from 15th december to 25th december. Retail will start from 26th

are you sure about it ?. i e-mailed nokia India and this is what they replied
"Thank you for enquiring us about the Launch date of Nokia Lumia 820 & 920 Device. We would like to inform you that currently we do not have any official information regarding the launch date of Nokia Lumia 820 & 920 Device. We apologize but at present we don't have the exact timelines for launch of this particular device. However, we can assure you that you will find a communication though media channels (television/radio/newspapers/website)."
hope they release it here soon. They shouldn't forget they have a large fanbase here.


are you sure? could you please tell us the source of the information?

they replied it to my e-mail query.

Disclaimer/warning: I am an auto Paint and Body man. Do not take my knee jerk fanboy cheerleading comments as legitimate financial advice. (just making sure)

No need your advice. I decided my own lol

Also I know the Chinese market is huge but I think India could be even bigger (or at least comparable). Nokia sinage is everywhere.. or at least in the cities I've been to.

but they are ignoring india this time ... no one knows when the devices are launching, at what price they wud launch, also all the rumors have now stopped too , no one is now really bothered about all this , people who were really waiting for a windows phone 8 have bought the 8X and who were waiting for apecifically a nokia WP either have bought high end android or are going to buy that .... they missed diwali and are now going to miss christmas too

The only problem with cellphones in India is that we have to pay a premium for a mid range phone. I hope Nokia will price their phones competitively this time. Would be awesome if Lumia 920 goes below Rs. 35k.

i'm more worried about the 820 pricing as that wud drive the sales and by looking at unlocked price for 820 in almost every country its coming at a price of rs. 30k+ and lumia 920 at 40k , where as htc one X and GS 3 price is about 33-35k in india

Guess will have to wait a bit for the prices to go down. Bought my Lumia 800 for 30k and now its retailing for 19k and that too with a free purity headphone. I feel cheated. So will wait for my WP8.

Early adopters always have to pay a premium. I like to avoid the winner's curse by waiting for prices to come down.

I already did bought nokia stock since last year at price of $1.75 bought 100 shares. Yup china will be great sell out

We bought over 800, so news like this is quite pleasing.

Hopefully before new year I guess.

I am the original cyan L900 owner. Last night I went to the At&t store and looked at the red L920.......people this is a beauty! No other phone in the store comes close. Now I have to find a yellow one. The red is a different kind of red, very intresting. I also love the white. I think the British will buy lots of white phones with red tiles.....so British.

Please release this India ASAP :(

Lumia 620 for RMB 1999, that is equivalent to 17.3k rupees (320 US DOLLARS)
while nokia announced that it will be available for 250$
now that is highly overpriced

$70 difference and you can't be serious converting RMB to $. I like teddy bears.


70$ may not a big deal for you
but in india $70 amounts to 4000 rupees
so yes it does make a difference

Ack! My daughter is playing an oyster in a kindergarten play tomorrow. No way I can miss that and live with myself. Then, my wife is getting one wisdom tooth pulled and another filled. No way I can miss that and still live... The nearest Suning is only two f-Ing city blocks away and I'm still trying to figure out how I can get over to see if they've got a 920 in stock yet:[



i thought lumia 620 asia launch date will be in january


yo Indian fellas, Nokia L920 & 820 & 620 will be released altogether next year by February, and this is confirmed, no Lumias are arriving this year in December. So if youcant wait till February, but HTC windows Phone 8X or any other Android Sh*t !