End of era. Nokia confirms 808 PureView was the last for Symbian.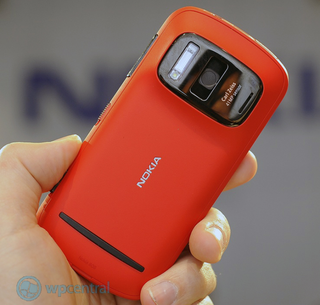 The biggest takeaway from Nokia's Q4 2012 earnings report is obviously that Nokia finally turned a profit after deciding to make Windows Phone its operating system of choice on its smartphones. But one tidbit that also stands out is that Nokia officially confirmed the demise of Symbian, saying that the 808 PureView was the last of the Symbian name. Amongst 22 mentions of Symbian in its earning report, a short blurb from the Finnish phone maker put their former platform to rest:
Now, there's nothing shocking about this. It was long thought that the Nokia 808 would be the last of its kind, but we thought it appropriate to mention that it was now official. Symbian was a much-loved mobile OS for a long time and had a fitting end in the spotlight, powering an amazing 41MP camera in the 808 PureView.
And while Nokia has discontinued its once-popular Symbian operating system, the PureView name will live on. They are expected to reveal a new device, codenamed EOS, that will incorporate the sensor technology found in the 808 PureView. The PureView name has also been adopted as the general branding for all of Nokia's latest and greatest camera technology.
So in true Lion King fashion, the death of the last Symbian device gives rise to new line of Nokia camera technology and perpetuates the Circle of Life (queue Elton John).
Source: Nokia; Via: TechCrunch
And will this new phone be available to all. Instead of just one carrier?

That entirely depends on the carriers.

Nice written, always loved Nokia

Way to go... Just focus more on wp

They have been. Symbian support was outsourced a while ago, and there is zero marketing behind it. How they sold 2.2 million symbian phones.. i don't know.

Those numbers are indeed remarkable... Its a wise decision to keep Symbian to rest while they take wp8 to the race..pretty excited about stuff from Nokia.

Will they still have new updates? Will they still support it? And what about their one MeeGo phone?

The meego phone was basically experimental, as stated from the start.

Yes, Symbian is in.. "zombie" mode.. it will be properly dead in a few years time. There are still a lot of Symbian phones in use out there.

On to the next one, on to the next one.. *queue jay-z music*

Hopefully when they do build the EOS device it will have an improved camera app built by Nokia. Much of the quality issues with photos are the fault of the default app and its usability can be massively improved.

The camera app on the 808 is indeed very good.. I hope they can port it over to WP, and that MS would actually let them.

Grrr dont know whether to get lumia 920 in a month or wait for EOS!!

Just wait.. the 920 is not the best Nokia can do.

Your probably right but it could be a long time before that comes out, maybe november and my hd7 is 2 years young :L

Same for me! I know there will always be a "better" phone out in the near future, I don't want to get a 920 now and settle for "PureView" Phase II when Phase III could be a few months out! (And hopefully incorporate Phase I & II)

Its a shame really. The whole project was mismanaged..
Symbian is actually a very good OS.. Nokia didn't know how to propelry use it. It (the kernel) was designed for mobile devices from the beggining.. unlike all the desktop OS converts we use today.

Anonymous poster on the internet knows best about an operating system than its own creators; news at 11:00

Symbian was designed for mobile devices of the 90s - where every single bit had to be optimised as the CPU was slow and RAM very limited. It was also a major pain to develop for. Not a single ex-Symbian developer I know misses it. Good riddance!

True, but it doesn't mean that it coulnd't be fixed. A proper implementation of QT 5.0 would have done wonders for the devs.
Despite the powerful hardware, tts still nice to have a well optmized kernel running it.. that is always a plus.

Symbian was in a decline depite Nokia's efforts to stop it. Could they not stop it because they weren't handling it right? Possibly, but the fact is, it wasn't working and they not only needed a plan, but also outside support. Microsoft was pretty much in the same postition, except the support they needed was in logistics. Nokia had it and a ton of other services that Microsoft needed. Navteq saves them a crap ton of mapping work and it is a crucial part of every smartphone today, location services.
It's sad to see something great go, but it's time was just up.

RIP Symbian... You had your days...
Now we shall live on with WP...

Where is that guy now who was telling me two days ago to Google it to find out that Symbian is not going anywhere. I told him to Bing it instead to find the truth. LOL

End of Symbian?... I thought the Nokia Asha phones were running Symbian 40?

They're not the same OS. Asha phones are more capable dumb-phones. The 808 and others ran a smartphone OS. A different Symbian.

Asha runs S40, which is a basic non-smartphone OS. It is not Symbian.

Wonder what the S in S40 stands for if its not Symbian?
My old Nokia 6600 ran S60 which was Symbian.
In my mind it's all Symbian, even the menu's all looks alike.

the ''S'' stands for series. series 60, series 40, series 90. and they all have the same ui to identify them as a nokia product

http://en.wikipedia.org/wiki/Series_40
http://en.wikipedia.org/wiki/S60_29
http://en.wikipedia.org/wiki/Nokia_Series_90
http://en.wikipedia.org/wiki/Series_80

The "S" in S40 stands for "Series" not for "Symbian". It is a software used by Nokia for their Asha line which are feature phones. It is not Symbian and it is not an OS for smartphones, like Symbian is or was. Maybe the UI is similar to S60 but S40 itself is not Symbian. The Series 60, or S60, is the UI running on Symbian. Symbian is the OS Nokia has been succesfully using for their smartphones for maybe a decade now. Recent updates were Symbian Anna and Symbian Belle. In recent years, the two most famous Symbian phones by Nokia were the N8 and 808 PureView. I think at this point, Motorola, Sony-Ericsson, and Samsung had already stopped producing Symbian phones.The N8 was originally released with Symbian 3 and updated to Symbian Anna and finally Symbian Belle. I think the 808 PureView was released with Belle on hand.

Symbian was a very flexible OS. My N8 can still do things other phones can't. If I had more money I would have bought the 808 and the N9, they're the last of their kind. Still happy with my Lumia 800, just hope that more of the flexibility comes to Windowsphone.

Rest in piece Symbian you deserve a rest.

This is depressingly depressing... Can somebody write a eulogy for this Symbian OS? I'd love to read it.

How is the Nokia EOS phone going to deal with Canon's EOS camera? Especially if the phone has a built-in camera?

Trademark infringement?

It most likely won't release with the eos name, its an internal name for the device

rest in peace, good old Symbian

I had a couple of Symbian the n95 and n86. They were great phones and on some ways I still miss them.

My first and last symbian smartphone- e71..it was my favourite...:) Symbian to me is like one of those cricket greats...eventually the time had to come when Symbian had to call it a day, retirement was declared and everybody moved on...

everybody except the trolls that still haunt tech sites to declare their undying love for the platform and hate for everything microsoft

Finally about time. Who really cares has Symbian is so outdated. Next will be BlackBerry.

Funny thing you report everything Nokia, except why they refuse to deal with most US carriers

damn...it was looooong time ago when i saw my first symbian phone.nokia 7650.love at first sight.it was to pricey for me.i just started working,saved my paycheck,had some points on t-mob and get it.parents wanted to send me to doctor because of my spending but i just have to had it.i belive its still somewhere in my house.later on i got nokia 6260.that one was great in conversation starter.didnt find anyone that didnt like looks of it.later on i had couple more of nokias,ending symb era with 5230,playing with freesigner ;-) ,spb,htc weather and clock widget that actually worked fine ...good times that was.starting with my first mob,nokia 3210,3310... and now on lumia 710 ...
years have passed,symbian is gone and nokia living on.nokia all the way
r.i p symbian.i will miss you
Windows Central Newsletter
Thank you for signing up to Windows Central. You will receive a verification email shortly.
There was a problem. Please refresh the page and try again.