Nokia continues to push forward with NFC at WIMA, shows off apps and hardware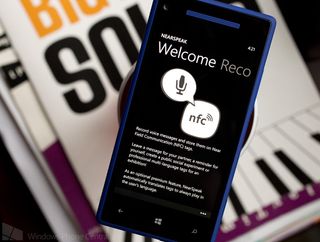 Nokia is continuing to push NFC and remains the driving force at WIMA (www.wima.mc), the foremost NFC conference. The event took place in Monaco this week and the manufacturer has been showing off its product portfolio, NFC-enabled hardware and the overall ecosystem. As well as showing off its stuff, the company has also held an NFC developer workshop.
The resources help developers learn how to implement NFC applications and solutions on the Windows Phone 8 platform. Multiple employees at Nokia have made speeches about NFC at the expo, which have been accompanied by demonstration areas to show off hardware and third-party apps.
Nokia is cleverly launching unique apps for Windows Phone that enable consumers to interact with NFC tags in creative ways - NearSpeak being a perfect example. NearSpeak allows Windows Phone owners to record audio messages and store them on NFC tags. But this wasn't the only app demonstrated at the event.
A McDonald's app was also updated especially for WIMA. It enabled users to order food on a Lumia smartphone in advance. Tapping the device when at the event would permit the owner to bypass the regular queue. The app present at WIMA is an upgrade of the GoMcDo app developed by Airtag. It's available in more than 70 restaurants in France, and the NFC feature will be live for the summer.
Interestingly enough, Nokia also showed off NFC Writer, as well as Nokia Music with the capabilities for user generated custom music tags. We'll not miss out Vimeo for Windows Phones with the ability for users to share videos with a simple tap.
It's exciting to see just how fast Nokia is pushing both software and hardware with new technologies. Not only are we seeing innovation in its mobile devices, but the company doesn't appear to be slowing down when it comes to presenting new apps and features for consumers.
We'll may get called out for being too pro-Nokia, but no one can deny the manufacturer receiving credit where it's due.
Source: Nokia Conversations
Rich Edmonds is Senior Editor of PC hardware at Windows Central, covering everything related to PC components and NAS. He's been involved in technology for more than a decade and knows a thing or two about the magic inside a PC chassis. You can follow him over on Twitter at @RichEdmonds.
With that headline, I was expecting an image of a Nokia phone!

Still disappointing that there are no NFC payment services available on WP8.

in my eyes nfc has so much potential on wp, but with microsofts restrictions its just almost useless at the moment...

Completely agree. I always leave it off.

Totally agree!! Microsoft is killing innovation in Windows Phone thanks to ttheir severly restricted API, as a WP user i still use android for development as certain things are just not possible with Windows phone.



Where would one find NFC tags? Also when is gdr2 coming?

You can get some from Amazon.

In may somewhere if im right :D

http://rapidnfc.com/cat/15/nfc_starter_packs

Unfortunately Nokia is really the only company making noise so we're going to see tons more Nokia stories. I hope I can pick one up with T-Mobile this summer. I'm regretting going with the 8X instead of the 820.

I love me my 8X, but I feel your pain there. The 820 was just "eh" to me. But isn't "Catwalk", with that aluminum body coming soon??

The api for WP8 seems to limit what you can do with nfc. For example i want to record a sequence of events so that when i tap on an nfc tag in my car it enables Bluetooth, turns off WiFi and launches drive+. No chance of doing that with the current api. Sort it out MS.

Okay so if I had to work a booth at a show. Monaco would not be terrible duty. Not a bad place to have to cover a show either. Lucky guys.

Lets rename this app, and website, to NPCentral..."NokiaPhoneCentral".. Lol!!

Just because yur HTC or Samsung doesn't innovate for Windows phone doesn't mean Nokia does not so they kinda have the right to have articles here so f&%$#

What the Fuck are you talking about?? Whoever said that these articles about Nokia are showing favoritism? Well, actually they are showing favoritism, but whose complaining about that?? Do you think I am jealous of Nokia, and their phones? Do you think I wish I had a Nokia device? Who are you talking to? You cursing me out dude? Next time know what the fuck you're talking about before you open your mouth! Listen fool.. I love what Nokia has done for the platform. I love everything Nokia right now, and I am extremely impressed by the support they give to their products.. You got a problem with me joking about renaming this community to NPC? Who are you to judge me fool? FYI I have a red Nokia Lumia 920 as my current device. I started with a original Samsung Focus, and after that I promised myself that I would only get a Nokia device from this point on. Check yourself!!

It's only the internet, ain't like he individually slagged off every single one of your family members in intricate detail, chill dafuq out! Seek help.

Oh you want some to punk?? Say something fool.. LOL!!

Yea tell em dk he HTC Samsung fan , fanboys they can't help themselves you know xD

Lol!! Actually I am a fan of Samsung and HTC, and don't forget Huawei! At least they do more for WP than LG, Dell, Sony, and the others. Even if their efforts don't compare to what Nokia does they still deserve some amount of respect for making WP devices. Right??

You obviously missed his LOL at the end. Take your own advice and "check yourself".

You obviously missed every single LOL In every comment that I've made! So whoever you are you need to check yourself.... Check Yo Self!!!!! Lol!!

Sorry, not sure if that was meant for me...

Nokia app for nfc is not available in Poland. Way to go Nokia.
I really hate how they all forcibly fragment the market by limiting what app goes where (no official nfc, Call blocking or app to view data usage in here for example).

So far I absolutly love my Lumia 920, but have to admit I am disappointed in the NFC capabilities. You can only do 1 function at a time and most of the time, all the tag does is open the app. I want to put a tag on my windshield mount that will turn on Here Drive AND turn the volume all the way up, AND turn WiFi off all at once. (I have to have the volume all the way up to hear music on my cassette adaptor). I would like to make one close to my bed that turns the ringer off AND alarm on.

More features are coming,, I personally promise. More NFC capabilities, with the addition of full payment support, are coming to the wallet in a future OS update. Hang in there!

In Nokia and WP8 I trust. I assumed there would be an update for it some day. I can't wait till it happens. I think NFC will be awesome.

Cassette adapter? Damn, homie... Time to upgrade.

Haha, I know. It's a 2002 4Runner with a factory 6 disk CD/tape deck. No outputs for accessaries but at least I can dig out those old 80's cassettes and listen to some Whitesnake or something, lol.

Cant have everything i suppose:(

It is just that ppl don't wanna give the credit to Nokia anymore but love to highlight it as Sinking ship or organization with burning platform. I mean seriously Dog days are over for Nokia. They're back in form..

You got that right. We haven't seen what they have in store for the platform yet.
Windows Central Newsletter
Get the best of Windows Central in in your inbox, every day!
Thank you for signing up to Windows Central. You will receive a verification email shortly.
There was a problem. Please refresh the page and try again.