Go forth and tag as Nokia releases NFC Writer app for Lumia users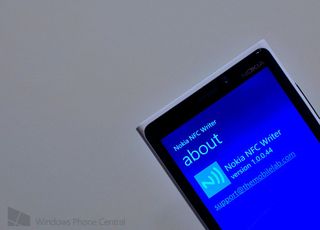 We're still trying to get to bed here in Barcelona, but that hasn't stopped Nokia from releasing new apps to their Collection.
The latest is NFC Writer, which is exactly what it sounds like: a clever app to write to blank NFC tags specific functions or tasks. We've seen similar apps before, like the excellent NFC Launchit, but for some Nokia users they may prefer the more streamlined design of NFC Writer.
From the app description:
The app has built in Foursquare support allowing you to generate NFC Tags that will allow you to check-in with just a tap of your phone or post a tweet to Twitter. Likewise,you can "like on Facebook" or even bring up a Google+ account (no joke).
Truth be told, it's quite powerful and really neat that Nokia did this. Not much else to say about this app other than go grab it here in the Nokia Collection. Thanks, Sanjeev S., for the tip!
Windows Central Newsletter
Get the best of Windows Central in in your inbox, every day!
Daniel Rubino is the Editor-in-chief of Windows Central, head reviewer, podcast co-host, and analyst. He has been covering Microsoft since 2007 when this site was called WMExperts (and later Windows Phone Central). His interests include Windows, laptops, next-gen computing, and for some reason, watches. Before all this tech stuff, he worked on a Ph.D. in linguistics, watched people sleep (for medical purposes!), and ran the projectors at movie theaters because it was fun.
Nokia bringing the heat on WP. Ty based nokia

Going to buy tags here: http://www.amazon.com/TapWise-NFC-nTag-10-Pack/dp/B009L93IMI/?tag=wpcentralb-20

Those seem to be the cheapest. It has a review from a Lumia 920 owner so I know it works and there's no dorky Android branding on it either so that's a bonus.

Nokia and HTC should really put out stickers and keychains with their own branding.

I am one of the people that have reviewed that exact item, haha. These work just fine on our Lumias. NOW...the WP system does not work that great with NFC...you have to confirm EVERYTHING...so you create a tag to call someone, it doesn't just call them, it prompts you "are you sure you want to dial XXXXXX". If I wanted to tap a bunch of stuff, I'd just use the live tile! haha. 1st world problems, yes.

There are other NFC writers already. For none Nokia Lumias, try NFC Interactor or NFC Launchit

Wow!!! Love Nokia!!!!!!!!!!!!!!!!!!!!

Not available for my 820 :/

I got it on mine with no problems.

I can't get it on my 820 either. :/

If one day instagram comes to Nokia, then it will be bacause of Nokia.

Ummm...yes you are correct. Who else would bring it to Nokia? Space aliens?

I think he/she meant WP in the first part of the sentence

@thirdday2002 sixtydays2013 detention for your attack on sri_tech typo. ;O)

Sorry. I meant "to WP".
Thank you.

No problem in my 920 here

It says "This App is not available for your device ... blahblah" on my Lumia 920 (bought it in Germany) :-/

Currently I'm located in the Netherlands. The phone is set to English language (United States; also for search), Country Netherlands and German for the regional format.

Did you try to set the regional format to Netherland?

Yes I did tried several settings. :/

Me too here in Sweden, I get the same message as yours. NL920, no branding.

Same here in Finland, 920, unlocked

Seems like another US/UK-only release.

Nokia's new US-centric policy is geting really aggravating.



For an instant when that notification came i thought it was for nokia glam me & nokia tag place. Ah well

Can I make it open links when tapped (android phone or Windows phone tapping it)?

Yes! It works on all NFC enabled devices..

It's great that Nokia creates these apps for WP, but I can't help think Microsoft should be doing a lot of this themselves.

I think you should do it too... ;)

This App is apparently not available worldwide

Anyone know a good place to get blank tags in Australia?

just bought 5 for $5 on ebay coming from HK. they even come with 3m sticker on the back so they look easy to stick around...

Are NFC tags standardized (I.e. Will any tag work with this)? Pardon my ignorance.

The standard you need is NDEF but practically all the tags you find will be that format.

Wait, writing is one thing but how do you get the tags to put places...how does THAT work? Like the actual thing you scan comes from...? O_o

I found this link from another article about this. Haven't tried it but these tags should work- http://www.amazon.com/Mifare-NFC-Galaxy-Nexus-Tags/dp/B006SMFKHC?tag=wpcentralb-20


I got mine from here http://rapidnfc.com/

Yeahh...first tip that got published. Freaking awesome :)

Wow.. Great Job Nokia! I guess I can use this app to write Sony's NFC's smart tag

You can buy them online. Bing it!;) This is why I am loving my Nokia 920! Can't get enough of the support and love for this platform that comes from the Finns!

Nokia loves Windows Phone more than Microsoft. Hahaha.

Nokia has more to lose in the near future than MS. Nokia needs profits right NOW, MS has billions in the banks. MS can live off those billions for several years, Nokia is in danger of bankruptcy if things don't turn around.

Microsoft payed nokia 1 billion dollars because of that

They way Nokia was burning through money the first 1.5 years after they announced the switch to windows phone, makes a billion dollars seem like nothing.

Getting error code when trying to download, I'm in Canada

I downloaded it and its installed. What do I do next?

No, not yet. I mean unless they came in the box, I don't have any tags. I got to hunt some down. I noticed a link above at Amazon just now.

The app came in a box? #oldschool

I was kinda hoping that Nokia would finally used their power to mod the OS so that we can can get direct on/off of BT, WI-FI, etc. That would make this writer a little more compelling in my opinion. I'll stick with NFC interactor.

I agree...I wish their was a way you could someone CONFIRM a certain action was "OK"...and do that once, and then from there out it would just do it with a tap instead of all the confirmations and toggles.

Just ordered tags on Amazon

Can I program the tag that came with the 920 with this app?

Unless I'm doing something wrong, I don't think so. Just tried to program the tag that came with the 920 to open up m.wpcentral.com and it just wants to open the link on there.

Seems pretty cool, although right off the bat I can see a feature I'd like added. It doesn't seem like you can set a tag to open any app on your phone, just some pre-selected one. I'd love to tape one of these things onto my car mount and have it automatically launch Navigon.

No. The one supplied is pre-written, read-only tag.

where is this one anyways? I cant remember having a tag in my box

It just took you to a Nokia site. Just a demo of the technology really. It was with all the paperwork in the box.

Can't download in my region. Houston, texas

I had the same error in CT. I waited 5 mins and tried again & installed no problem


Same for me...in Ohio, but I don't think it looks at that specific of a region. Looks like I'll just try again in a couple minutes.

I regret buying a Samsung...so many exclusive apps for Lumia users.... :'(

Not available in Switzerland ... Yet I hope.
So I could program a tag to switch off sounds and ho to lockscteen and use it, say, in the office, am I understanding this correctly?
BTW, I never got how foursquare works. Do, say, restaurants have tags somewhere, I tap it when I enter, and then ... What happens? Will all people in my contact list be updated where I am so they could see me in case they're nearby? Sorry for asking, but things like these are not widespread in my circles (I believe fouramsquares is not very common in Europe anyway, but I'm not sure)

Cannot download it on my Lumia 620. Btw I am in Indonesia.

not available for me, NL920, Germany :-(

This is a great app, but exclusive to Nokia. For a non-exclusive alternative check out NFC Tag Writer.
http://www.windowsphone.com/s?appid=895711f1-2b38-4af1-8780-f6501f4371e0

hey. why in indonesia, i dont get NFC tag in my lumia 920 box. why?

Nobody gets them anywhere

920 on AT&T in the US, not yet.

I couldn't install the app too, but once I changed my country/region setting to "US", then I installed the app
After that I changed back to Dutch and the app still works.
Cheers.

Works on my 920 in Germany too. After changing regional settings to US I could download the app. Thanks for the tip.

Says that it is not available for my device, lumia 820 portico unlocked in Germany

I am still not entirely sure what use tags are. Those of you buying them, what will you use them for?

Disappointed as Nokia could have made the app do stuff which are not possible with Third Party NFC apps. For example, turn On/Off Wifi or Bluetooth settings. Right now it opens the settings page, but since Nokia has access to internal APIs they could have made it very powerful.

Yeah I would have loved that. So much potential potentially wasted. Still, the app is very simple to use so I shall stick with it. Hopefully the 610 gets it too once the NFC is unlocked on it.

You can't "unlock" NFC on a 610. Lumia 610 NFC is a different model.

Would be nice if I could use NFC on WP8 like i could with my Nexus or my Speedpass to pay for things or gas...

Why is it that I can never download any Lumia exclusive app ? I have a Lumia 920 and whenever there's a Lumia exclusive app or free for Lumia game, I can't download it...

Download link is not working that's the reason for this one...

Does anyone know if I could use this to connect to the bluetooth receiver in my car? Like sit down, tap the phone to the tag, and bam...the bluetooth setting is turned on.
Wasn't sure if NFC has access to the phone's bluetooth toggle...

NFC Interactor is my app of choice.

Please mention if it's WP8 only in the headline, at least until October 2013 when those stuck on WP7 can upgrade.
Windows Central Newsletter
Thank you for signing up to Windows Central. You will receive a verification email shortly.
There was a problem. Please refresh the page and try again.