Nokia Drive version 2.0 with offline navigation now available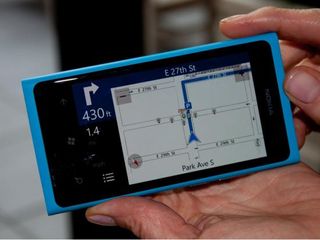 Nokia Drive (our review) version 2.0 has been released and is available for download on the Marketplace. The Windows Phone turn-by-turn navigation app from Nokia now sports offline navigation to further cut the use of data. With this functionality not dependant on your connectivity (or data allowance), you'll be able to drive with peace of mind.
As well as the offline use, we've also got "Last Destinations" that can be selected for user convenience. The ETA (Estimated Time of Arrival) of the selected destination is also displayed along with the speed you're currently travelling at (as well as on the route selection screen next to the distance). An audio speed limit alert can be set up in the settings, which will sound should the user exceed the road limit.
Should you really want to take an in-depth look at how Nokia Drive can help you on your way, be sure to check out the user guide (updated for version 2.0).
Thanks to everyone who tipped us!
Rich Edmonds is Senior Editor of PC hardware at Windows Central, covering everything related to PC components and NAS. He's been involved in technology for more than a decade and knows a thing or two about the magic inside a PC chassis. You can follow him over on Twitter at @RichEdmonds.
Does Drive offer the ability to avoid toll roads or highways?

No, which is why I don't like it/use it.

This is one of the features we have on Nokia Drive for other platforms like Symbian. We are currently working on porting these features to Nokia Lumia too and developing new ones.

Is there no way to look up contacts' addresses directly? This seems like something that shouldn't be missing in a navigation system, at least I find it annoying.

No, I find it INCREDIBLY annoying. I also find it annoying that when I use bing search for a location I can't pick it to open the address in local scout like other apps can.
Finally, I'm frustrated that as soon as you switch apps navigation stops.


Hi guys, thank you for this feedback, which I'm going to take to the product team.

Well the l900 should have had this app at launch. Maybe they were waiting for this?

Can non-Nokia phones download this app? (I don't own a WP device yet.) I know that Nokia apps were once only for Nokia devices, but I thought I read that they were going to be available to other makes as well. Thanks.

Drive will stay exclusive for Nokia or will eventually go to the other phones for a paid price. If you want good free stuff from Nokia, just buy a nokia. Companies like HTC or Samsung are not that good with apps. They all have a bunch of useless photo apps.

Drive will stay exclusive for Nokia or will eventually go to the other phones for a paid price. If you want good free stuff from Nokia, just buy a nokia. Companies like HTC or Samsung are not that good with apps. They all have a bunch of useless photo apps.

Yes other phones can get Nokia apps if the phone is unlocked

How much memory does this use? I understand the 900 only has 14.5 GB user memory.

Since you choose which maps to download for offline use, it depends. All of the UK is 200MB, and all of the US os 1.8GB

But many locations allow you to download only certain parts. IIRC, the UK is split into multiple regions, the US is split into states, so you can only download what you need.

The App something around 8 MB, the voice around 5 MB, the maps depending on your location. Germany 446 MB, Austria 131 MB and Switzerland 88 MB.

Same for me in the USA. It allows you to download state by state or a whole. My state was something around 88mb give or take.

question does the update now include street names with voice nav?

This update does not include this feature, I'm afraid. But we are continuously updating Nokia Drive, so just stay tuned!

FYI Nokia Transit is also available on the marketplace.

Interesting, it isnt for me. Are you in the US?

Nokia Transport used to be available under a direct link opened on the phone:
http://windowsphone.com/s?appid=2a006d06-08c0-4728-9635-474661226a14
I managed to grab it a couple of days ago on my Lumia 800 in Poland.
However now it says it's not available for my phone, so I probably won't be able to upgrade when a new version of Nokia Transport is out.


Ah thanks, im getting a "not available for my phone" also. I guess I will just have to wait :)

Nokia Transport is available in the Marketplace for Nokia Lumia. The name is however localized into different languages, so you might not be able to find it as 'Nokia Transport'.
Soon it will appear in 'Nokia collection' but if you cannot find it there yet, just tap on any other Nokia app, then on 'more from Nokia Corporation' and you will find also Nokia Transport.

Does this integrate with search at all? Like I use voice commands to search for things, if I tap on directions, will it still open up Bing Maps?

When you have found what you were looking for in local search, just swipe to apps and there you can find a link to Nokia Maps.

I got Nokia Transit today from the following link: http://www.microsoft.com/windowsphone/s?appid=5e41c972-de66-47f0-95bf-06eb115b3e48 Lumia 710 user from Canada under Rogers. The link will open up on your phone and lead you straight to the app. As always, great stuff from Nokia (Creative Studio, Transit, CNN, Drive, Maps, etc) - you actually care about the platform.

This update will trigger a notification in Marketplace ?

Yes, but if you didn't get notified yet, you can force an update, by selecting Nokia Drive (Nokia Maps has been updated too) in Markeplace.

And, I had an Omnia 7 before I went Lumia 800, and I bought Turn by Turn at the time, and... Nokia's Drive is soooooo much better, I mean it's not even fair to compare. Fast, reliable, knows every street, every small company/store... Amazing!

I noticed with the update that it will show the speed limit of the highway you are on and beep twice periodically if you are speeding.

Indeed speed limit warnings are included in this update too. You can find more info at http://conversations.nokia.com/2012/03/20/nokia-maps-drive-and-transport...

Ok, I figured it out, I went to Nokia Apps and then selected update to both Drive and Maps.

Does anyone know if there is a route summary? Either I am just missing it or its not available yet. That said I still love the app its much quicker and smoother then telenav on sprint.
Windows Central Newsletter
Get the best of Windows Central in in your inbox, every day!
Thank you for signing up to Windows Central. You will receive a verification email shortly.
There was a problem. Please refresh the page and try again.