Nokia in exclusivity talks with Everything Everywhere to launch LTE Windows Phone in UK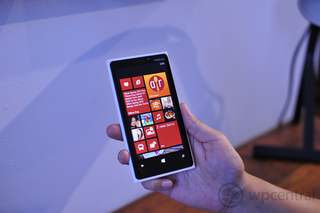 The Lumia 920 to sport LTE speeds on Orange / T-Mobile UK?
Nokia is reportedly in talks with Everything Everywhere to launch an LTE Windows Phone in the UK, according to the Financial Times. Everything Everywhere is the parent company of both Orange and T-Mobile UK, and has authorisation from UK communications regulator Ofcom to begin using its 1800 MHz spectrum to offer LTE and WiMAX services.
This will bring increased network capabilities to customers of both UK carriers, though which Nokia Windows Phone will be featured to launch on upgraded networks is unknown. Other UK carriers who desire to build up LTE / 4G networks will have to wait until next year, including the likes of Vodafone, O2 and Three. We're likely to see Apple take advantage of new network speeds with the next iPhone.
The FT also notes that Nokia is looking to plan a potential November launch with Everything Everywhere. Should a deal be signed between the two companies, we'll see a new approach from the Finnish manufacturer - Nokia striking an exclusive partnership in the UK as it has done in the past with AT&T and the Lumia 900 in the US.
This move could spark complaints from consumers (or will ensure they blank the new devices), who would prefer Nokia's collection of Windows Phones to be made available across the board. Though UK carriers have been slow to pick up Windows Phone and effectively market it to consumers, we'd also like Nokia to continue to get as many phones in the hands of consumers as possible.
The Lumia 820 and Lumia 920 are both contenders for this launch and are solid Windows Phones. Phones 4u is also set to sport both devices in its inventory, though no information on carrier availability, pricing or release dates are yet present.
What do you make of the news? Would you like to see Nokia enter exclusive partnerships with UK carriers? Let us know your thoughts in the comments.
Source: Financial Times; thanks, Nickkk101, for the heads up!
Rich Edmonds is Senior Editor of PC hardware at Windows Central, covering everything related to PC components and NAS. He's been involved in technology for more than a decade and knows a thing or two about the magic inside a PC chassis. You can follow him over on Twitter at @RichEdmonds.
Damn near thought they were talking about sprint. Simply Everything

What are the frequencies that the Nokia lumia 920 can connect to? I remember there being quite a few but after I checked back they weren't listed. Since all of those are listed will that mean the 920 will have all of those frequency bands to become somewhat of a world phone?? Do you guys know what the frequency bands are for the 920?

Has anything come out about the 820 or the 920 (preferably the 920) being available on t-mobile? I really don't want to switch to att or but an unlocked phone (too expensive)

Awesome news as I was worried the UK version of the 920 would be the gimped version with no lte.

GSM 850
GSM 900
GSM 1800
GSM 1900
WCDMA Band V (850)
WCDMA Band VIII (900)
WCDMA Band II (1900)
WCDMA Band I (2100)
LTE 800
LTE 900
LTE 1800
LTE 2100
LTE 2600
Yes it seems to be a world phone.

Shame, as I won't touch Orange or T-Mobile with a barge pole.

Same, lived in Manchester city and always had missed calls, late texts etc as network congested. Switched to Vodafone and no issues - even my Orange branded HTC Mozart was faster on Vodafone. Live elsewhere now but even in rural Devon I've got HSPA+.

I'm a die-hard Windows Phone user, but have been thinking of moving away from Orange due to connectivity issues. This news sucks and may mean I have switch device ):

I use WiFi so I don't give a monkies

Does this mean we might not see any unlocked LTE devices at launch?

I doubt that's possible. It doesn't work that way in Germany, Scandinavia, France.... well anywhere else than North America and UK.

So does this mean we (orangeuk/t-mobile/everthing everywhere users) will get rid of these god awful data caps 500mb. I ended up getting a 3 sim with an unlimited data cap (@ 20gb so far this month) but I would rather stick with orangeUK. Their customer service is better. Deffo getting lumia920 though, its a sweet ride :D

man, i hope so. Like you, im an Orange customer but have lost nearly all my loyalty to them for various reasons. i'd be happy to move but im biding my time until i see those offers... they definately need a more realistic data tarriff.

I like how Nokia is always trying to help WP.

Well it's not like they have a choice. All or nothing for Nokia.

It's not like they didn't or don't have a choice. They could have always gone with more than 1 OS like other mfrs. They chose not to do so. Decided to give their 100% to only 1. Fully dedicated to only 1 goal.

The only way I think an exclusive partnership will work in this case is if EE will play a big role in marketing, touting the higher speeds. And then when LTE rolls out on other networks next year exclusivity ends. If I remember correctly, Apple had a similar strategy with the original iPhone on O2. Either that or Nokia also does a non-LTE version for other networks.

Yes, except we're not in 2007.
This strategy is a trainwreck waiting to happen.
Shorter Nokia: "We need to put our phones in as many hands as possible, so people can try Windows Phone 8. Hey! Here's an idea: restrict availability in both the U.S. and the U.K to one carrier!"
WTF, really?

But that's not what is being said. It won't be restricted to just one network in the US and it only will be in the UK for a few months. I mean, who wants a 4G phone on a network that won't have 4G for up to a year. EEs approach is great and Nokia is still managing to play it safe.

It already supports the UK proposed LTE bands of 800 and 1800 as well as normal UK GSM bands, just EE gets the LTE rollout first so probably more of a marketing thing in my opinion as an unlocked version would still work on their LTE network when it comes out.
Plus locked phones are rubbish and although I'm an Orange customer (for now) I still get contract phones unlocked.

But wouldn't this exclusivity deal delay these unlocked devices until next year? Sucks if you ask me.

It could, but if it does places like Expansys will still sell them normally (hopefully). I can't see Nokia playing exclusivity in the UK when 3rd party stores such as Phones4U and Carphone Warehouse sell quite a lot of unlocked phones. IMO Nokia can't afford to be exclusive with their phones anywyhere.

I really hope they don't make it exclusive, it would really limit the market. And the price points for contracts would be too high as well

Sounds good I am a Orange customer will try to get early upgrade to the 920 got my 800 up for sale right now.

Well I will attend the EE announcement next week. I was expecting something about 4G a Nokia announcement would be cool. T-Mobile have not been great at supporting WP but they have got better of course this could go to Orange.

I'm curious about this move. Wouldn't making it available across many carriers increase exposure and consumer base? The only thing I can think of is the exclusivity ensures a huge marketing effort by both the carrier and Nokia.

EE will get 4g/LTE a lot sooner than the other carriers so the exclusivity goes beyond it just being a deal with EE for phones it is a deal with the first UK carrier to have it and one that covers a large proportion of the user base as EE include both Orange a T-Mobile which is 2 of the four main carriers.

Thanks for explaining; it makes a lot more sense now. This sounds like an opportunity for incredibly good publicity, hope they're able to capitalize on it!

but, the phones will work on all the normal networks too. yes, lots of advertising round lte with ee is fine, but i really hope nokia don't do full exclusivity to them as it will mean that most UK people will miss out....not to mention, lte coverae will be crap to start with so it will be unlikely to do the WP or Nokia brads any lon term good if it is exclusive

Ee has already announced they are launching a 3rd network so will prob be this new network that launches 920 not orange or tmob


No doubt they'll try and maximize their return on LTE for at least he first year with ridiculous prices which are very high as it is..

I am on a 10GBP/month PAYG now with unlimited internet and text with GiffGaff so it's going to be hard to find a reason to switch. Especially with the dense coverage of Wi-Fi in London and having free access to The Cloud hotspots with my Sky Broadband contract.

I never buy on contract/carrier locked so if this is an exclusive thing it'll have to wait.

I really hope that Nokia don't make the phones exclusive (well, i'll buy one sim free and unlocked if i have to). I hate that Ofcom have allowed EE to implement this technology before the other UK neworks, it is bad enough that they own 2 networks....which wasn't allowed when Vodafone bought France Telecom a while back, they were forced to sell Orange. I have always been a Vodafone customer, and the little stint I had with Orange was just awful, so I really hope that Nokia don't make the handsets exclusively available to EE.

i fear you may be right....£££ talks right?!

My wee bro works for t-Mobile soma family and friends discount maybe in order!!
I was hoping not to have to get an iPhone on EE's 4G network and if Nokia can release an LTE version for EE's network then I'm game for it

Im guessing if I get an unlocked version this will work with Tmobile US?

It's missing the 1700 band, which is what you also need for TMO US. Having said that, depending on when TMO gets farmed out to a wide enough area and to what degree of speeds the farming allows (21?, 42?), then you should be okay. The question is how fast they will do this?

Hope this is true, I'm on t-mobile and due an upgrade to my Omnia 7 in november.

Yeah due to upgrade my omnia7 in November.... Can't wait to get on the Nokia train

on T-Mobile,unlimited internet,overdue for an upgrade, cant wait

Exclusivity Contracts suck. Very few people are going to switch carriers to score a 920. Nokia, quit trying to be like Apple, and get the phone on all carriers!

It's the only way they'll survive in the UK.

if things where that easy.

People still need to remember that this is not old Nokia. They can't do whatever they want.
Nokia has always been about lots of unlocked phones and availibity everywhere, like Samsung. With WP it's probably Nokia's only option.

Like it was in AT&T. AT&T would have probably not picked the phone without getting exclusive stamp on it.


This would be bad news for the UK, but maybe I'm biased, as I can only get a decent signal with Vodafone. If they went for an Everything Everywhere UK exclusive, I'll be keeping my SIM free Lumia 800 for a while....

Shame orange and tmobile suck especially the pay as you go deals and their contracts rip you off im stick with my pay as you go sum from gift gaff :)

This is bad news as Phones4u (the most supportive WP7 retailer) would not be able to cook such aggressive deals. I was able to get a free unlocked Lumia900 from them at launch for £29.50pm with 900 min, 1Gb, etc on Voda' - a carrier that doesn't carry the 900. I know better deals are around now but to get a free phone for this little at launch wasn't possible directly from any of the carriers.

it's over for nokia and over for Windows 8 OS. is't already hated by everyone. Last on out shut the lights off.

Great insight there WindowsFan.... smh

Exclusivity = bye bye Nokia. Btw, EE need to think about getting decent 3G coverage instead of investing money into LTE which will simply upgrade the areas that already have 3G... There is far too many GPRS only areas on EE, my 3 is practically HSDPA everywhere, the smallest and youngest network, and yet two behemoths like Orange and TMobile get together, and they can't even compete. Besides which, I fail to see the need for LTE? Faster net, wtf can I not do on the 4-7mbps I get on 3's HSDPA service? Its a phone FFS!! Besides, 3 has 'upto' 41mbps HSDPA in a lot areas bow, not that many phones support it lol.

EE is already talking with Apple about an exclusive LTE iPhone 5 (with other networks getting a non LTE version). If they get both, I doubt their marketing effort would go to the 920.

The only LTE network in the UK will be expensive and if their current network is any guide quite limited. I'll stay with a sim free, non LTE version

I really hope exclusivity will apply only to LTE version, and there will be a separate sim-free 3G version. I'm not touching EE with a barge pole, and my network (O2) won't get 4G for another year (not that I even need 4G as their 3G is great in London) - so I will be quite happy with 3G phone for another year.

Good to see that Nokia is finally making itself to ward the top, despite that there is still a long way.
http://technologyfeed.net/

Here's hoping Orange get this sorted by launch date. I'll drop O2 like a bad habit (they didn't even stock the Lumia 900). If this doesn't happen until next year, I don't think I can hang on that long... it's been long enough holding out for Wp8!

It will only be exclusive on EE for a short while coz they have 4g. 3 network use O2's network don't they?

thats a great news for all Lumia Lovers including me, i am very excited for both Lumia 920 and Lumia 820, hope they wont bring disgrace for their predecessors. apart from this, Nokia Lumia 900 is a great phone i would say, not because of i own it but also on the basis of users comments and reviews. i have read n numbers of reviews and comments of people who have ever used this tremendous device, and you know what everyone has said its an excellent phone. i am posting a small article of Lumia 900 here http://howmobile.net/nokia/1932-nokia-lumia-900-a.htmlso that you guys could also have a glance at its superb quality features and design. It will also help you all making a decision whether you wana buy this or not , am I right ?? i hope most of you would love it as i do. Thanx
Windows Central Newsletter
Thank you for signing up to Windows Central. You will receive a verification email shortly.
There was a problem. Please refresh the page and try again.