Nokia Lumia 820 and Lumia 920 Windows Phones heading to Phones 4u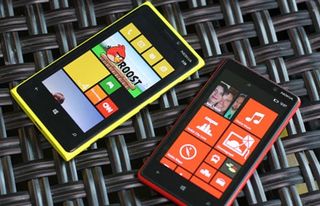 It was only a few days ago when we reported that UK retailer Phones 4u will be stocking the recently announced Samsung ATIV S once released, and now the company has returned with both the Lumia 820 and Lumia 920 Windows Phones.
Phones 4u has continued to play an important role in Windows Phone's UK strategy by running with exclusives, as well as stocking many smartphones on the platform. The retailer has been with Microsoft through the good and the bad times thus far and it's promising to see that support continue.
While no pricing or dates have been revealed just yet, be sure to head on over to the Phones 4u website to register your interest in either (or both) handsets.
Source: Phones 4u (Lumia 820 / Lumia 920); Thanks, Marco300, for the heads up!
Rich Edmonds is Senior Editor of PC hardware at Windows Central, covering everything related to PC components and NAS. He's been involved in technology for more than a decade and knows a thing or two about the magic inside a PC chassis. You can follow him over on Twitter at @RichEdmonds.
woop! finally, the first bit of news about UK availability... :)

And in other news, Google and Motorola also announced three phones yesterday. The phones start hitting the streets next week. What is the hold up with Nokia's phones? Nokia? Microsoft? Carriers? Premature announcement?

Microsoft obviously. Who else?
There was rumors WP8 was supposed to be released in summer. The hardware by Samsung and Nokia is probably well and tested. Samsung has not been even allowed to show WP8.
Nokia was only allowed to show small parts of WP8 and Microsoft still didn't fully announce WP8.

Windows Phone 8 SDK is not out either and is delayed from summer when Microsoft said it was going to be announced.

This is what makes me worried. Win8 release date is already set, but not a peep about WP8? I know it'll get released at some point, but wtf is the holdup? I think there is something more to this that no one is picking up on.

Mary J announced a few days ago: http://www.zdnet.com/mark-your-microsoft-calendars-windows-8-windows-phone-8-launch-dates-revealed-7000003450/ useful article

Since when was a release date of Summer ever scheduled. Microsoft have never ever announced a date of Windows Phone 8, rumours are only rumours so people shouldn't dwell on them.The only thing we can be fairly certain of (and still no confirmation) is that it will be soon otherwise Nokia, Samsung and HTC wouldn't be announcing devices.

yes! yes! i can upgrade from end of this month, or mid december if i expire my contract - perfect timing for one of these lush phones.

Looks like I'll be waiting a bit longer. I refuse to do business with P4U. Missold contracts to me twice - most recently the Lumia 900 Batman, arrived plain black and I've returned it. Apparently it wasn't in stock when the salesperson 'ordered' it and should never had said I could have it.

Great news!! contract ends start of Oct - Omnia 7 served me well but defo in need of an upgrade

I'll never go back to phones4u, they are conmen!

Agreed, not sure why they keep getting the exclusives

Good to see Phones4u continue to show the love for Windows Phone! :)

That's not really news to be fair, it's like saying your local bakery will sell bread :)

I want that yellow 920 soooooo badly!!!

I want the 920 but I bet it will be so expensive, don't know why they got rid of the cyan I love that colour, but I do kinda like the yellow too

I like Cyan. No.. yellooooooooow!

It seems they closed CMYK with yellow and started RGB with Red. I guess we'll see green and blue Lumias in 3rd gen next year. I know at least one person who would buy one if green was an option.

I went into a Carphone warehouse yday, and 1/4 of the contract phones wall was Windows Phones, noteably Lumias. About 5 of them were 610's. It makes the platform look popular to the consumer. Its a shame this blitz took Nokia to happen, and came at the end of WP7's life, but if it continues into WP8, it would be fantastic. Suddenly 99% of handsets arnt crankdroid, and I think it serves Nokia and WP really well to have multiple-coloured handsets, as it entices shops to have more out on show. I guess in reality there was actually only 4 -5 different handsets there, but with all the different colours, it looked more like 12 lol.

P4U or Carphone Warehouse will get my business once my contract ends with O2 in Nov.... Just hope 3 will be running the 920 as I'm sick of data allowance "bolt ons".....

would you say 3 have a good rep for data tarrifs? im on Orange UK and...well.. lets just leave it at that.. currently looking at my options too.
Windows Central Newsletter
Thank you for signing up to Windows Central. You will receive a verification email shortly.
There was a problem. Please refresh the page and try again.