Nokia fans dream up some Windows Phone concepts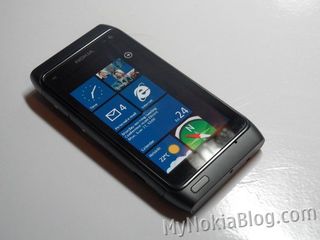 While we've seen those renderings of what Nokia may be thinking in regards to their Windows Phones, the Nokia/Symbian community too have been busy pondering what it means to them and how it may look.
Enthusiast Peter Lackman emailed some concepts to My Nokia Blog showing what Nokia may have in mind. He understands that although Nokia can change the UI drastically, they most likely won't. Going with that, he has made two themes (Blue Leather and Summer) and has made the following changes:
custom background wallpapers and
revamped, theme style dictated live tiles in homescreen view with more live tile size options
a reorganized App view with what looks to be
a very helpful AZ for easy finding of apps (at the moment all you can do is scroll. I don't know why you can't "search" like you can with contacts).
Collapsible category bars – with icons showing content of this category
The result is above. Our thoughts? Bring it. This looks really sharp and it's kind of fun seeing " it for real" on a Nokia phone. Makes this whole partnership seem that much more real, doesn't it?
Read more at My Nokia Blog. Thanks, Just Visiting, for the tip
Windows Central Newsletter
Get the best of Windows Central in in your inbox, every day!
Daniel Rubino is the Editor-in-chief of Windows Central, head reviewer, podcast co-host, and analyst. He has been covering Microsoft since 2007 when this site was called WMExperts (and later Windows Phone Central). His interests include Windows, laptops, next-gen computing, and for some reason, watches. Before all this tech stuff, he worked on a Ph.D. in linguistics, watched people sleep (for medical purposes!), and ran the projectors at movie theaters because it was fun.
Live tile size should not change, unless the change applies to the entire WP7 platform.I do like the app grouping, but I'd be happy with the contacts-style alphabetic groups. Come to think of it, it'd be nice to include the custom grouping option to contacts as well.

Agree. I like the AppList. From what I can remember, some were 'requesting' themes when WP7 was first released, so it's not a bad idea. I would still like to see or have the option to set transparent tiles. This is a concept for the Nokia devices only, so it is a good and interesting start and I don't think it veers to much from the Metro design. I'm anxious to see what Nokia is actually going to do, and I don't think that I will be disappointed.

There's some interesting ideas here, but that Start screen looks simply horrific. Yes, it is Apple like, but Microsoft needs to stand up for keeping the look uniform across their entire product line, no matter if it's made from HTC, Nokia, or what-have-you. As for the App list, some type of favorite and letter search would be a good idea just for sorting.But seriously, Nokia, do not, I repeat, don't go down this route. I mean, if they do, they should have just gone with Android. That's for the overzealous customizations. Windows Phone is for an actually clean UI. Apple is for ... well, complete lockin.

The more you think about this design, the less sense it makes. But its an excellent way to **** up the interface. Less is more. Leave the gadgets to Windows 7. The only thing I found helpful was an oversight that many thought Microsoft made, the "A-Z" feature to pull up a keyboard to select the first letter of the app and scroll down (like they do in the contact list).Perhaps a better alternative would be for Microsoft to provide a Gadget button that can be pinned to start, and that brings up a canvas area where gadget app tiles can be pinned. Then each gadget app can have the option of pin to gadgets (but not pin to start). That would still keep the overall interface and Metro design. Short of that, I think Lackman's designs are horrific. Metro is one of the best things about WP7, please don't try to break it.

I agree - thats too much. But some ideas are good. Like the collapsible applist categories. I'd prefer them instead of the alphabetical list. Often I really don't know the name of an app I'm looking for ;)

The only change I'd like to see to the tiles is the ability to have/change their theme/style. What I mean is instead of just the base flat style we get by default that the OS should have a few more options like the more solid, 3D like tiles OEMs can make for example. Or different ones like, for example, glass, or some sorta metal or stone etc. Let the user change that and the color to whatever they want. If in the future MS lets you add a start screen wallpaper then also let users set the transparency level for the tiles. Just some basic theme related options, nothing else. I can understand if people like to change the size, it would be neat, get more tiles up in the same space but I like the size they have right now actually.The other thing i'd like to see customization wise is lock screen related, it'd be nice if you could do a bit more with it somehow.

If you have not read it, I strongly recommend reading the Microsoft document entitled "UI Design and Interaction Guide for Windows Phone 7". The beginning section explains the design philosophy. I think July 2010, Version 2.0 is the most recent.

I live the new look home screen. Choice is ALWAYS good. If you don't like it, don't use it.

I love the idea of a categorized apps menu, however I dislike this particular theme of the start page. What I would like to see is for Microsoft to incorporate Windows 7 Aero into WP7. Give the option to chose the color of the tile (via hue wheel, not predefined colors) and then to give a transparency slider to determine the transparency of the tiles. That way, if you like the flat color on black background, its yours. However, if you want a wallpaper, then the transparent tiles enable the use of a background, and still provide a very fluid and elegant look. It also would inspire Windows 7 brand recognition for new users of WP7, which is never a bad thing.

I like the Messenger tile. We need something like that.

Title of this article should have been, "Nokia fans conspire to ruin the WP7 Home Screen." The hardware is nice tho

Whatever happened to "less is more"? I guess this is what always happens, somebody thinks "Yes, but if less is more, imagine how much more, more would be!" and there we have it.Thank you, but no thanks! I'll stick to the UI I fell in love with.

This UI will evolve, it might not be their concept exactly, but MS will add more and more customization. For those that want more. But you can always stay simple. i doubt you will.

Of course it will evolve, but in regards to this particular concept - I don't like it - it does not have the graphical simplicity that I like about the current one. That was my point - it is too much - and it does not at all respect the simplicity that makes the current one so cool.

I don't see any need to worry about Nokia causing fragmentation. They've already come out and said that anything they do to the GUI will be rolled back to MS, so it gets baked in, and then everyone would get it. It's in their best interest to do so. So if you want a custom background, you can do it. Don't want to? Then don't do so. Choice is good. Fragmentation is bad.

Work on the WP7 system should be about important stuff, not this fluffy stuff.Give a European a shot at "improving" something, and you will end up with Son of Symbian. Switches and toggles and layers of choices instead of up-front simplicity.Leave the interface alone. Add features. User definable hubs (folders); let me email/share video that I record on the phone; give me Flash support; give me support for hidden wifi networks; the list goes on and on. Here's an important one: give me an OS that can be updated.STOP worrying about tile size or background images.

So worry only about the stuff YOU want. #rolleyes

I like the app list changes.I hate the border around the tiles. Makes it look way too busy. WP7's appeal is all about the streamlined interface and it should stay that way. Which is why I am also not sold on the background.

I like all of the ideas. Options are great. Not everyone has to use them. :)

The Metro design language specifically speaks agains using skeumorphic elements like fake leather and cluttering the interface needlessly. These UI changes work against Metro. Part of what I love about Metro is that it's so unabashedly minimal to the point of where the UI disappears. It really does make my content the star of my phone, as it should be. It'll naturally gain more controls and widgets and whatnot to increase it's functionality. I'm for that. I'm not for traditional theming which serves no purpose but to attempt to spruce up the UI. That's what the homebrew community is for.I questioned why there wasn't an A-Z piccker in the app list like there was in Zune and the People Hub, then I looked at how it would work. Even when I had something like 100 apps installed, they weren't distributed nearly as evenly by letter as my music or contacts were. I found that there were several letters where I only had a couple of apps and it really didn't make a strong case for the feature. Grouping apps by function seems pretty logical, but just thinking about how I'd use this makes me long for what we have now; the big, dumb alphabetized list. It actually works amazingly well for me for what it is, and I find myself making it more efficient from time to time by uninstalling apps I don't use. I'm sure this is intentional because the uninstall feature is built into the app list. They handle organization by alphabetizing the list, and allow you to deal with the issue of having too many apps by removing them. I've noticed that for the first time on any OS, I actually casually remove apps I never use. I'm sure it helps that most of these I could download at any time. On any other OS, I'd organize apps in folders, including most of those I don't use, and only really remove apps when I ran low on space. I'm curious as to how others find using the list.

Good Concept, id rather have the option for more complexity then brain stupefying simplicity. A back ground skin in anyform is definitely needed.

★★★★★Something unexpected surprisewelcome to: http://www.shoesforking.com The website wholesale for many kinds of fashion shoes, like the nike, jordan, prada, also including the jeans, shirts, bags, hat and the decorations. All the products are free shipping, and the the price is competitive, and also can accept the paypal payment., After the payment, can ship within short time.3 free shippingcompetitive priceany size availableaccept the paypalexquisite watches 75$90X Extreme Fitness System ONLY ONLY 42 $$$$$$$jordan shoes $ 32nike shox $ 32Christan Audigier bikini $ 23Ed Hardy Bikini $ 23Sm ful short_t-shirt_woman $ 15ed hardy short_tank_woman $ 16Sandal $ 32christian louboutin $ 80Sunglass $ 15COACH_Necklace $ 27handbag $ 33AF tank woman $ 17puma slipper woman $ 3090X Extreme Fitness System ONLY ONLY 42 $$$$$$$Believe you will love it. welcome to: http://www.shoesforking.com

as someone who used to work at nokia, this is exactly like something they would actually do. i think they should change NOTHING in WP7 UI. except, use the Nokia Sans font. that is enough. sorry, but no one in nokia can even imagine to improve the metro UI. it took years to do it for their own platform, i doubt they can do anything for launch of WP7 nokia. don't encourage them!
Windows Central Newsletter
Thank you for signing up to Windows Central. You will receive a verification email shortly.
There was a problem. Please refresh the page and try again.