Nokia giving branded Windows Phones to developers in the fall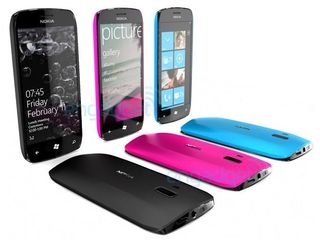 Slashgear managed to get their hands on a letter from Nokia to their developers (under Launchpad) that states Nokia is willing to give two handsets away for free, in an attempt to keep their community happy with the monumental change that is coming their way. The letter is quite to the point about the matter:
Couple of things here to note: Although Qt/Symbian may seem "dead", Nokia is still planning on shipping 225 million handsets this year under their old system, according to Rich Greene, Nokia's CTO--who discussed the transition on Wednesday in Barcelona. Shipping nearly a quarter-billion phones is still a lot of market for developers, meaning they should not quit. Further, The Nokia World/Nokia Developer conference is held traditionally in the fall--for 2010 it was held in mid September (opens in new tab), giving us a time-frame when we should begin to see prototype and developer handsets.
This all sounds about right to us: developer devices in the fall, big launch in early 2012, work on your dev community in the meantime. Nokia currently ships one million phones a day (once again, according to Rich Greene), meaning in the next year, Microsoft is going to get a huge punch in the arm in terms of mass production and availability when they tap into that system.
This partnership sounds better and better to us everyday.
Daniel Rubino is the Executive Editor of Windows Central, head reviewer, podcast co-host, and analyst. He has been covering Microsoft here since 2007, back when this site was called WMExperts (and later Windows Phone Central). His interests include Windows, Microsoft Surface, laptops, next-gen computing, and arguing with people on the internet.
All well and good - I'm just concerned about the timing. Losing another year before we have some differentiating hardware (finally) is going to be a tough place to launch from. I get the whole "better late than never" philosophy, but this is an extremely rapidly evolving industry. Even the iPhone's 1 year refresh cycle looks slow and stagnant compared to Android's mega-massive marketing push from various OEM's - they are literally flooding the market to the extent where "choice" beyond Android is almost non-existent. Let's push MicroKia! Faster, faster, faster! MicroKia better come out with some insane hardware next year to be on par at that point with the "super-phones". (Yes, I get the argument that as long as the software runs super smooth, you don't need the latest hardware, etc. Try marketing that to the average consumer, who's been trained with the "first in the block", "biggest, baddest, coolest" mentality).

Agreed......hopefully Microsoft actually gets some other handsets out there this year in the meantime. They need to be steamrolling....it seems like all the momentum has come to a standstill.....big announcements, but it's like a hurry up and wait kind of feeling right now.

It sounds like all the new phones are waiting for the big 7.5 update before they get pushed out. We just have to wait and see when MS finishes it and how fast OEMs can get them out. MS is aiming for a new batch, and it could be a big one again, around Oct/Nov when on the bday. If they come out with aother 10 or so new phones that'd be fine IMO. While the android market trickles out a new phone every 2 months or so, which seems more active how many new phones is that really at the end of the year? 15? 20? I mean you should put it into perspective, if new android phones for 2011 = 30 for example, and at the end of the year we get 10-15 new WP7 phones then it's not really that bad I say.

I have a feeling we are barking at the wrong tree. What do people mean when they say that Microsoft needs to play catch up with specs ? Take a look at Galaxy S2. "Mindblowing" specs but that phone still has lag, ok maybe not literally lag but it sure is not as smooth and fast as the WP7/iOS. We don't need to get in a race of (hardware) numbers, we need to get in a race of providing an overall better OS/user experience. Leave that race to notebooks and PCs.Sure, in order to progress the overall OS from time to time you will need an overhaul but let's not make this the most important aspect. At this pace we will need to spend another >400 EURO every 4 months and for what ?I think mobile (!) phones need to focus more on the mobility and friendliness of a mobile device.Oh, and upgrade the damn battery technology !

Upgrade battery technology! That's all I'm looking for right now. WP7 is fine, just fix up better batteries that can last for a very long time. I say at least 3 day long battery with heavy use...This Nokia-Microsoft partnership is actually running pretty well.
Windows Central Newsletter
Get the best of Windows Central in in your inbox, every day!
Thank you for signing up to Windows Central. You will receive a verification email shortly.
There was a problem. Please refresh the page and try again.