Nokia invests $100 million to further advance connected technologies in automobiles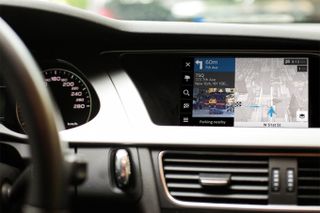 Even before the deal to sell its hardware and services division to Microsoft, Nokia was investing in development with technologies in vehicles. Working with multiple car manufacturers, the Finnish company has worked to provide HERE mapping and location services in its Connected Car program. Today, Nokia Growth Partners (NGP) announced a further $100 million to identify in companies with innovations that will be "important for a world of connected and intelligent vehicles".
It's an interesting move by Nokia, further investing in reshaping what's technically possible in a car environment. With location and sensor data becoming more and more accurate, vehicles will have more powerful tools to help drivers integrate more seamlessly with the world around them. All this while keeping said drivers safe and connected. Today's announcement also marks another large step in a direction which Nokia will be taking themselves without its mobile business.
The new fund will extend global activities in the US, India, China and Europe, bringing the total fund managed by NGP to $700 million.
Nokia launches $100 million Connected Car Fund managed by Nokia Growth Partners (NGP)
The fund will invest in promising auto tech and local services companies in collaboration with HERE, a Nokia company, to grow the ecosystem around HERE's mapping and location products and services. Espoo, Finland - Nokia today announced the launch of a USD 100 million Connected Car fund to be managed by Nokia Growth Partners (NGP). The fund will identify and invest in companies whose innovations will be important for a world of connected and intelligent vehicles.
Nokia is already a major player in the automotive industry providing location intelligence for connected vehicles through HERE. The NGP fund, working closely with HERE, will seek to make investments that also support the growth of the ecosystem around HERE's mapping and location products and services.
"NGP has been consistently performing well bringing in both new innovation and financial return to Nokia," said Rajeev Suri, Nokia President and CEO. "Our new USD 100 million venture fund launched today further underlines our belief that the connected car is a significant growth opportunity where NGP is poised to make great investments."
"For the last few years there has been a surge in innovation that has brought technological advances leading to safer, cleaner, increasingly connected, intelligent and more affordable vehicles. Vehicles are becoming a new platform for technology adoption very similar to phones or tablets," said Paul Asel, Partner at Nokia Growth Partners. "We are excited to deepen our collaboration with HERE through the Connected Car fund to invest in companies that are driving the future of the auto ecosystem, local services and personal mobility."
"NGP's Connected Car fund underscores that connectivity is rapidly reshaping what is possible in the car environment," said Michael Halbherr, CEO of HERE. "We believe that connected cars equipped with precise location awareness and sensor data can become powerful devices capable of helping drivers make sense of the world around them. With more than 25 years of experience in creating automotive grade maps for the automobile industry, we look forward to working with promising companies in NGP's new fund to create a whole new class of services that keep drivers safe and connected." The Connected Car fund extends NGP's global investment activities in the U.S., India, China and Europe where Nokia Growth Partners continue to invest in high potential businesses. The new fund brings Nokia's commitments managed by NGP to USD 700 million. As an independent VC sponsored by Nokia, NGP has a strong track record of investing in technology companies that have made an impact in their respective industries globally, including Rocket Fuel, Heptagon and UCweb.
The Connected Car fund will be the fourth fund that NGP has managed on behalf of Nokia over the past decade.
Forward looking statements
It should be noted that Nokia and its business are exposed to various risks and uncertainties and certain statements herein that are not historical facts are forward-looking statements, including, without limitation, those regarding: A) expectations, plans or benefits related to Nokia's new strategy; B) expectations, plans or benefits related to future performance of Nokia's continuing businesses Networks, HERE and Technologies; C) expectations, plans or benefits related to changes in leadership and operational structure; D) expectations regarding market developments, general economic conditions and structural changes; E) expectations and targets regarding performance, including those related to market share, prices, net sales and margins; F) the timing of the deliveries of our products and services; G) expectations and targets regarding our financial performance, cost savings and competitiveness as well as results of operations; H) expectations and targets regarding collaboration and partnering arrangements; I) the outcome of pending and threatened litigation, disputes, regulatory proceedings or investigations by authorities; J) expectations regarding restructurings, investments, uses of proceeds from transactions, acquisitions and divestments and our ability to achieve the financial and operational targets set in connection with any such restructurings, investments, divestments and acquisitions, including any expectations, plans or benefits related to or caused by the transaction announced on September 3, 2013 where Nokia sold substantially all of Nokia's Devices & Services business to Microsoft on April 25, 2014 ("Sale of the D&S Business"); K) statements preceded by or including "believe," "expect," "anticipate," "foresee," "sees," "target," "estimate," "designed," "aim", "plans," "intends," "focus", "continue", "project", "should", "will" or similar expressions. These statements are based on management's best assumptions and beliefs in light of the information currently available to it. Because they involve risks and uncertainties, actual results may differ materially from the results that we currently expect. Factors, including risks and uncertainties that could cause these differences include, but are not limited to: 1) our ability to execute our new strategy successfully and in a timely manner, and our ability to successfully adjust our operations; 2) our ability to sustain or improve the operational and financial performance of our continuing businesses and correctly identify business opportunities or successfully pursue new business opportunities; 3) our ability to execute Networks' strategy and effectively, profitably and timely adapt its business and operations to the increasingly diverse needs of its customers and technological developments; 4) our ability within our Networks business to effectively and profitably invest in and timely introduce new competitive high-quality products, services, upgrades and technologies; 5) our ability to invent new relevant technologies, products and services, to develop and maintain our intellectual property portfolio and to maintain the existing sources of intellectual property related revenue and establish new such sources; 6) our ability to protect numerous patented standardized or proprietary technologies from third-party infringement or actions to invalidate the intellectual property rights of these technologies; 7) our ability within our HERE business to maintain current sources of revenue, historically derived mainly from the automotive industry, create new sources of revenue, establish a successful location-based platform and extend our location-based services across devices and operating systems; 8) effects of impairments or charges to carrying values of assets, including goodwill, or liabilities; 9) our dependence on the development of the mobile and communications industry in numerous diverse markets, as well as on general economic conditions globally and regionally; 10) our Networks business' dependence on a limited number of customers and large, multi-year contracts; 11) our ability to retain, motivate, develop and recruit appropriately skilled employees; 12) the potential complex tax issues and obligations we may face, including the obligation to pay additional taxes in various jurisdictions and our actual or anticipated performance, among other factors, could result in allowances related to deferred tax assets; 13) our ability to manage our manufacturing, service creation and delivery, and logistics efficiently and without interruption, especially if the limited number of suppliers we depend on fail to deliver sufficient quantities of fully functional products and components or deliver timely services; 14) potential exposure to contingent liabilities due to the Sale of the D&S Business and possibility that the agreements we have entered into with Microsoft may have terms that prove to be unfavorable to us; 15) any inefficiency, malfunction or disruption of a system or network that our operations rely on or any impact of a possible cybersecurity breach; 16) our ability to reach targeted results or improvements by managing and improving our financial performance, cost savings and competitiveness; 17) management of Networks' customer financing exposure; 18) the performance of the parties we partner and collaborate with, and our ability to achieve successful collaboration or partnering arrangements; 19) our ability to protect the technologies, which we develop, license, use or intend to use from claims that we have infringed third parties' intellectual property rights, as well as, impact of possible licensing costs, restriction on our usage of certain technologies, and litigation related to intellectual property rights; 20) the impact of regulatory, political or other developments on our operations and sales in those various countries or regions where we do business; 21) exchange rate fluctuations, particularly between the euro, which is our reporting currency, and the US dollar, the Japanese yen and the Chinese yuan, as well as certain other currencies; 22) our ability to successfully implement planned transactions, such as acquisitions, divestments, mergers or joint ventures, manage unexpected liabilities related thereto and achieve the targeted benefits; 23) the impact of unfavorable outcome of litigation, contract related disputes or allegations of health hazards associated with our business, as well as the risk factors specified on pages 12-35 of Nokia's annual report on Form 20-F for the year ended December 31, 2013 under Item 3D. "Risk Factors." Other unknown or unpredictable factors or underlying assumptions subsequently proven to be incorrect could cause actual results to differ materially from those in the forward-looking statements. Nokia does not undertake any obligation to publicly update or revise forward-looking statements, whether as a result of new information, future events or otherwise, except to the extent legally required.
Rich Edmonds is Senior Editor of PC hardware at Windows Central, covering everything related to PC components and NAS. He's been involved in technology for more than a decade and knows a thing or two about the magic inside a PC chassis. You can follow him over on Twitter at @RichEdmonds.
Hope Microsoft move to automobile making sector too so that I can buy a Microsoft having here maps intergration.

You don't need Microsoft to have HERE maps on your car. This is precisely about it. The days of HERE only on Microsoft OSs are over.

Only on windows phone, Nokia x, Firefox os

Nokia X runs Android. Just in case you didn't know ;)

U think nokia will provide their maps to droid too???

Yes, they will bring HERE maps to all platforms, including Android and iOS.

Yes, this is exactly what they will be doing. Their new strategy is to be independent OS-wise. So HERE maps and applications will be available for Android and iOS (and others) as well. Soon.

Bad. They were a distinguishing feature of windows phones.

Not bad actually, because HERE will function better when more people are using it. :)

Yeah but maps aren't the main feature of any phone

But they certainly are a pull factor in the usa. Here in India we hardly ever use maps, and are pretty happy with nice cars even if they don't have a gps. Not in the usa.

Here we are note worried about mileage

Umm they've been on iOS for months, not sure about android.

The iOS app got pulled months back because of performance issues...apparently iOS7 was causing app instability...

Actually Here maps has not been available for iOS 7 at all.

Nokia X already has here drive.

Because that's a phone with forked android operating system with Microsoft services and nokia so here drive will definitely be there.

Yes, they will as they are independent company. And the money are money - no color, no odour... So, they will sell whatever the market need.

Why haven't anyone thought of integrating a tablet styled device in the car's dash to have a true experience. That would be cool

Because they don't want drivers playing angry birds in their car. That and in dash systems are already tablet like.

You can buy aftermarket accessories for that ... Some people even replace the stereo unit permanently with iPads, Surfaces & Nexus tablets.

Peugeot already does something close to this. All reviews point out that using touch controls that you cannot feel without looking is impossible while driving. Isn't it bad that you need to stop or not pay attention to driving when you just want to turn on the AC?
Also, Tesla has that huge tablet in the center console. Not sure what it controls though. The point still stands - touch controls are unusable while driving.

Indeed. Never go full retard. I'm hoping they settle for hybrid versions asap. Having the infotainment/gps as touch is fine, I'm all for clearer and larger displays, but for AC and other things you are likely to want to change while driving, keep the physical knobs, IMHO.

I think the Tesla is pretty close it. It has the largest in dash touch screen that I know of. Its pretty efficient. Check it out. I may be wrong.

Will Nokia support the services which are available on Windows Phone devices in future ???

Nokia will support all their services regardless of OS.

How was this related to windows phone?

It isn't. It's news that helps paint a picture of the current market dynamics. Windows Phone doesn't exist in a vacuum. It's part of a much larger market that is affected by many variables.

What's your trouble if I question the relevance of the article? Just like you and everybody else, I come here to read windows phone centric news and not something totally unrelated. Just wanted to point that to the authors. Cheers.

There is none. You asked a question, I respectfully replied, homie.

Well I mean it has to do with Nokia which has been a big party of Windows phone so.... It's okay.

Don't get an attitude or else your mum will come and give you a spanking.

Get a life yourself and some manners if you can. Thanks.

I know it is easy to say things to people on the internet that you wont say in front of them and hence will ignore it.

I would most definitely say that to your face.

Are you by any chance using the mobile app to reply? Because my earlier comment was for another user and not for you.

Yes, haha. I assumed the same, actually. All good! =]

It is related because a dying company got this money from Microsoft to spend. Acquisition already working out!

Let's hope here maps stays free on Windows Phone.

Would not surprise me if Nokia grows into the European version of Google but better..

It is interesting, but not my cup of tea. Why have and a navigation system built into the car when I carry a lumia device with here maps and nokia drive? It's double. Now if nokia were to cosider design products for car modules of carkits, where a lumia device would fit into the dashboard, then things would be more interesting.

100$ million dollars for maps in the car, and the Windows Phone users are praying to the developers to port their games on Windows Phone.
Shame on you Microsoft!

The steering wheel on that car is on the wrong side!

Microsoft and Nokia seems to late again considering Apple and Googles car manufacturer deals. Here as a service might be I trouble.

Are you stupid and idiot, you little basted fool? Msft has been in cars for more than a decade! Posted via the WPC App for Android!

I will not dignify your comment with a answer to why your a shame to the community.

Ford is thinking about switching to Blackberry, they should use Nokia in stead

Nokia X is not Android phone
Windows Central Newsletter
Get the best of Windows Central in in your inbox, every day!
Thank you for signing up to Windows Central. You will receive a verification email shortly.
There was a problem. Please refresh the page and try again.