Nokia launches the Lumia 625 Windows Phone in the UK, available August 28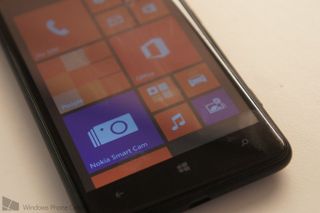 Nokia announced today the launch and availability of the Lumia 625 here in the UK. The 4G Windows Phone was unveiled last month and sports the largest display on any Lumia Windows Phone yet, a whopping 4.7-inches. O2, Vodafone, EE, Carphone Warehouse and Phones 4u will all be stocking the new smartphone for consumers to pick one up.
Prices will be around £21 a month on contract or £179 on Pay As You Go (PAYG). When will you be able to purchase the Lumia 625? From Wednesday 28th August. If you're looking at an affordable smartphone with a massive display and neat specifications for the price tag, the Lumia 625 will be a perfect investment.
The screen size is joined by a 1.2GHz dual-core, 5MP rear shooter (FFC included), 512MB RAM, 2000mAh battery and 8GB storage (with microSD support). Here's what Nokia's VP UK and Ireland, Conor Pierce had to say about the Lumia 625:
Five semi-transparent changeable shells are available as optional purchases, should you desire to further personalise your Windows Phone to keep it looking fresh. You have orange, bright green, yellow, white and black to choose from. Another massive selling point here, along with the screen, is the 4G connectivity. With UK mobile operators looking to launch their new 4G upgrades this year, now is a perfect time to get a compatible handset, preparing for the future.
The Lumia 625 fits in comfortably in the Lumia family, being a step up from the Lumia 620. Check out our previous hands-on for a quick look at the handset. We'll have more coverage to follow.
Rich Edmonds is Senior Editor of PC hardware at Windows Central, covering everything related to PC components and NAS. He's been involved in technology for more than a decade and knows a thing or two about the magic inside a PC chassis. You can follow him over on Twitter at @RichEdmonds.
Hope this will sell well, maybe better than the 520

I wouldn't have thought it would sell more than the cheap as heck 520, but that price actually seems cheaper than I expected. How much does 520 go for in UK?

I got mine for £118 unlocked 2 weeks ago. Cracked the screen 2 days later though whilst doing some over enthusiastic urban mountain biking. :(

If you swap any phone in (dumbphone, hell even go buy a one on eBay for £5 or something) at the Carphone Warehouse (called PAYG upgrade), you can get one for £79.95. Plus Carphone Warehouse aren't absolute bastards so its unlocked by default.

Release it in India quickly.

And in the US❗❗.. Parents would eat this thing up for their kids here in America.. They should've advertising this thing as the biggest back to school must have item for students... WP needs to start taping into this endless US market share..

Mine is right in the middle, the 820. Really like my phone, but I'll never buy a phone with at the very least, 16gb of internal memory.

Hmmm, no problem with the battery. Every time I'm driving, it's charging, same thing at the office. No... just the 8gb internal poses a real problem.

Seems like you dont travel to far, do you :)

It depends what you mean, by far. I drive to work, have a FatBoy on my desk, so... that's it. When I'm out socializing, I try not to use my phone, I think it's a bit rude.

THe €189.90 / £179 PAYG is lower than I expected; I hope they keep that low price point when they launch it in NA, sub>$180.

Less than $180 isn't £180.
$232 plus tax is.

NOkia - Hitting every price point known to man...when you include the Asha line

It would be better if they would hit every price point in every country,, where reasonable of course.. I just wish America had the entire lineup of Nokia phones available... Why won't they flood the market❔

Waiting to be launched in india

Anybody having idea about cost of this phone in india ?

Hello..i am currently an android user(sgs II) and I would like to change this platform but i don't know which one to choose (ios or wp8) or maybe I should just stick to android and buy a new handset. I like wp8 and the way it works and i also like that it's efficient, plus i love that offline nokia here maps and drive. But the one thing it concerns me is the app ecosystem. I don't know..i would really appreciate a sincere opinion about wp8
Thanks

If you want to experiment with WP8, pickup a cheap 520 in addition to your existing SGSII and try it out. If you like it you can then pickup a High end Windows phone. I have done the same (SGS3 +520). Love the user experience, but would like to wait some more time before going in for a High end Windows phone, but I do believe the future is WPOS.

As someone who came from a Galaxy myself I can say you should definitely make the leap. While I used to love the customisation on Android in the end I was just wasting time, trying to find ROMs that weren't laggy (there's none, even if they work well for a couple of weeks, install apps and it falls apart) and playing with different launchers to get "the perfect set-up". Then I got a Lumia 920, everything is smooth, works without crashing and is a joy to use. Set a colour scheme to your mood, arrange your tiles and you have a way more personal experience without any of the hassle of Android. I could never go back (well unless Android 5 shocks us with a massive change).
Apps are a lot less a problem than they were 6 months ago. Even when official apps don't exist there's usually a third party solution, which can sometimes be even better than the official one. It really depends what apps you need. Microsoft have an app in the Android market that lets you check all your apps and see if they exist on Windows Phone. I forget what it's called but i'm sure you will find it if you search for apps by Microsoft. But if you are a big apps person then you are better off sticking with iOS or Android for now, it'll be at least another 6 months before I expect it to be about on par. I've got friends very tempted by the Lumia 1020 and 925 but they are big into Instagram, some "locate your friend" app, and a couple of other things I forget that aren't on WP yet. They will probably switch next year once those apps are available and WP8.1 and the next service release allow for higher res screens and add a few more features.
iOS isn't bad either, but I personally think WP is way more future proof and forward looking. iOS has hardly changed since it came out in 2007, whereas Windows Phone is a year old (well 2 if you include WP7), written from scratch and is a generational leap over Android and iOS.


Thank you all very much for your response:D i take many pictures it's a hobby of mine and seeing that lumia 1020 blew me away. I have a dslr camera but I don't carry it along every time so this cameraphone sounds great for me. I know it's not that good but it's still good enough especially because it's so compact. But i have a google account which i need a lot and i heard that Google doesn't invest any resources in building apps for wp.in my case this doesn't sound good.

Regardless of which mobiles OS you use you should start moving away from Google "services." With the exception of YouTube there are better alternatives to them all.

On the app side, I don't miss that much apps anymore things have been great since februari. Yes, there are still some little local apps missing but most of the big ones are there!

If one important aspect of your phone will be making photos then look no further, their is nothing that can compare to it. Yes, that auto shots can be better on some phones but the manual shots will blow people away. And it doesn't matter if you go for the 920 or 1020 both make beautiful shots and yes the 1020 is the best but if you look what you can do already with the 920 and the proShot app http://www.flickr.com/photos/7192427@N08/sets/72157633958161239/ from someone who hangs around on this forum and made them all with his 920! So rember all reviews use the auto shots af a phone and none of them compairs the manual shots, and on the manual side the Lumia rules!

Yeah the 1020 looks amazing, am very tempted to sell my 920 and get it myself. But it's too soon for me to upgrade so I'll wait til early next year for a "1025" with a bigger & higher rez screen, but that's by the by.
It's true Google don't have much for Windows Phone, it's a direct competitor so they don't want to invest much in it until demand gets too large for them to ignore. Probably won't be til next year that they start to do that.
But for me it's not really an issue, my Gmail works fine although i'm using my Outlook account more and more now. All my photos are now on SkyDrive which syncs great to my computer so I actually prefer that to any Google solution. It's easy to share photos by email, Facebook, etc or upload to Flickr and other photo sharing networks. So there's always a way and the most important thing is having the amazing camera which you just aren't going to get with any Google phone or iPhone for a long long time (if ever). Nokia have a massive lead over the competition there and for a photographer there's no better device. As they say the best camera is the one you always have with you, and one thing we always have as you say is your phone. I'd bite the bullet and get it (though I would say that), you have a lot more to gain than to loose and I think after a little time with WP you'll come to prefer it anyway.

Last 4 months have been very good...with all official new apps joining WP8 app store. Any specific app you are looking for?

Any news on the 1020 (Sim-free) UK release date Rich? Heading on my hols on the 17th and hoping I'll have one to take with me! :-S

So glad i bought my 720 yesterday. Otherwise 625 would have added to the complexity of selection that 620 and 820 had already created. No regrets :)

You are right.. too many options, you dont know which one to buy:).. but in my family i have 521, 620, 720, 920.. :).. me waiting for 625.

We have 3 920s and 1 1020 in ours family.

Shouldn't you be trying for 820/1020? ;)

Off topic a little, but I need help from the gurus here. What would be the cheapest unlocked and no-contract Lumia that can be bought in the USA and used in Pakistan?

AT&T 520 is no contract for $99. It will be locked to AT&T network, but you can probably get them to unlock it if you tell them you need to make a trip to Pakistan.

When will it be released in India???


Still hoping for a Lumia with a keyboard. Nokia, you have slabbed us to death already. How about something different, hmmm?

We need this in the US.. NOW❗❗❗

I'm not a fan of the fact that it seems like they're moving away from the color cyan :/
Windows Central Newsletter
Get the best of Windows Central in in your inbox, every day!
Thank you for signing up to Windows Central. You will receive a verification email shortly.
There was a problem. Please refresh the page and try again.