Nokia Lumia 1020 launching in Canada on October 3rd with Rogers and TELUS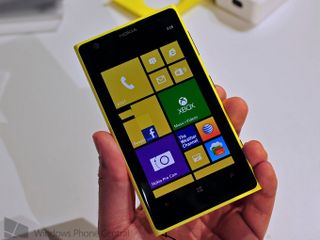 Nokia will be launching the Lumia 1020 in Canada soon, and the smartphone will be carried by Rogers and TELUS. MobileSyrup have got their hands on internal TELUS documentation, which reveals October 3rd as the date to pencil in the calendar. As well as the release date, a 2-year contract price of $199.99 and outright price of $725 were also included. Oh, and if you're one about colours, both yellow and black variants will be available.
That's TELUS out the way, but Rogers has gone for a similar pricing model (outright is $100 cheaper though, be sure to shop around). Should you require reminding, the Lumia 1020 is Nokia's flagship Windows Phone, which sports a 4.5-inch display, 41MP PureView camera with Xenon Flash, LTE connectivity, 2GB RAM, 32GB internal storage and is powered by a 2,000mAh battery.
Source: MobileSyrup; thanks, pedenske, for the tip!
Rich Edmonds is Senior Editor of PC hardware at Windows Central, covering everything related to PC components and NAS. He's been involved in technology for more than a decade and knows a thing or two about the magic inside a PC chassis. You can follow him over on Twitter at @RichEdmonds.
I was really excited about this phone 2 months ago but now i'm looking past it into the new upcoming 5inch or 6 inch screens with 1080p displays. Gotta love the options Nokia's giving everyone. - - For Its Really Spectacular Treatment.

I bet that if you wait for the next phone, this will happen again...

Of course it will. God forbid Nokia annouince a phone and then release it right away so there isn't time for the next 3 devices to leak before we can get the one that was announced.

That's not always the case. Sometimes the new flagship is a major leap from previous models, such as the Lumia 920 for example. When the Lumia 920 was released, there were no solid rumors about anything better at that time. I expect the Lumia 1520 will be the same as well. This is the kind of flagship I would buy and not regret anything announced later.

me, a buddy of mine, and my sis are all getting it, but i didn't tell them about the big ones lol
don't think they need that big of a phone :P

Yeah but this one has the best camera on any phone out there right now. And none of the new Phablet devices will have a camera that comes anywhere near the one on the 1020

And imagine what the inevitable Nokia future firmware update will do for the picture quality. More important than quad cores IMO when we cant get any decent content yet to take advantage of them.

Keep in mind that the US has had it months longer than us (or it feels like months) we get the short end of the stick.

I don't think att 920 owners would agree with you right now seeing as Rogers has already released Amber. :)

Those outright prices seem to be very good indeed. They work out between £374 and £434. In the U.K. you would need to spend around £500 to £600 to buy this phone outright. I don't know if those Canadian prices include any sort of tax though.

Time to get Rogers 920s for cheap :P

They just exchanged my 920 for a new one. It's in the mail back to me now. I'll sell cheap....

Hey did they replace it for free? And does it come with the free camera grip if you replace it?

Its been cheap for 6 months. Was $0 on a 2 year. Now up to $50

Oh nevermind, I misread, I thought he said he got the 1020 after he replaced his 920. /facepalm

Well by cheap i meant the off-contract price to use it unlocked here in the US on T-Mobile. I have one and absolutely loving it!

They really know how to keep it going. Go Nokia!!

I already picked one up past Thursday. TELUS version, $650 outright (inc taxes) unlocked. I am a happy soul :)

Mind if I ask where? Looking for the exact same thing.

I got it off Toronto Kijiji, you will find a link if you search.
Sorry I can't post link here.

Does it have AWS Frequency

Nice!! Now that I know the price of the 1020 I'll preorder it and get the camera grip thrown in for free! I'm really excited for this phone. I've never been so excited for a phone like this. I can't wait to get my hands on this camera!

Better hurry. Deal ends soon for the free camera grip.

Looks like Rogers is dropping the 920 from the line up & replacing with the 1020.
They only show white 920's now online, & the leaked price of the 1020 is the same $599.99 + $50 outright price.

I'll have to keep an eye on Expansys for this one - they seem to sell a few unlocked, Rogers branded devices that generally work well in the US. After switching to Aio and rebranding my 920 with Rogers, I'm done with AT&T (excepting the network infrastructure).

Ditto for Negri with the unlocked Rogers phones. I'm going to be checking them frequently after Rogers releases the 1020!

Nokia Lumia 1020, launched in the Philippines today :) (sorry for the shameful plug )
http://hethlerized.wordpress.com/2013/10/01/nokia-lumia-1020-launched-in...

Finally going to get to replace my water damaged 920 and retire my dreadful old HD7 for the 2nd time.

I'll pick my pre-order up the next day likely. But super excited. Does anyone recommend the screen protectors or charging case?

I've never bothered with a screen protector in the past but I may just splash out and get a good quality one for my 1020. I've got the wireless charging cover which is pretty decent and doesn't add too much bulk or weight to the phone and doubles up as a protective cover for the phone.
I've read of some people having problems getting the phone to charge wirelessly though because of the camera bump probably. I haven't had any trouble with wireless charging though so definitely get a shell if you already have a plate or a stand.

Will do. Thanks. It is after all a hefty investment.

Guys buy wat fits u well..nothing can beat 1020 as a fone with best camera....as of 1520 tat in a diff league. ..I have 808 pv and note 2...so will replace 808 with 1020 and keep my note 2...as note 3 is not worth it....

Hopefully this means we will be able to get a Rogers 1020 unlocked and use it in the U.S. on T-Mobile! :-)

Yes t will work as it working on Wind here in Canada.

and no shitty at&t logo ;p

No love from Bell once again...

Rogers/Telus won't get the white option?

only problem with this is rogers devices are usually released on fridays like att

Confimred! I just picked up a Black 1020 with a Yellow Camera Grip. It is the RM-876 which works on T-Mobile, Wind Mobile, and Mobilicity.

Sorry I know I said RM-876 but really it's RM-877. That the same model as AT&T but I read that it's disabled in AT&T model. Is it possible to enable these settings? Regardless I have the Rogers 1020 working on Wind Mobile with no problems.
Windows Central Newsletter
Get the best of Windows Central in in your inbox, every day!
Thank you for signing up to Windows Central. You will receive a verification email shortly.
There was a problem. Please refresh the page and try again.