Nokia Lumia 1320 announced for the UK; available from February 24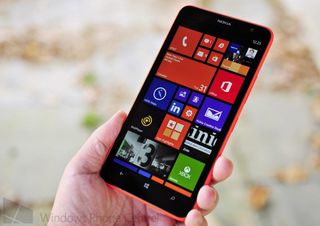 Nokia today announced the Lumia 1320 for the UK. The 6-inch Windows Phone phablet will be available from multiple outlets starting February 24th. The Lumia 1320 is a rather special Windows Phone as it packs multiple high-end features at a more affordable price point.
Conor Pierce, VP of Nokia in Ireland and the UK, had the following to comment on the announcement:
From February 24th, consumers will be able to pick up the phablet from multiple sources, including EE, Virgin Mobile and the Carphone Warehouse, as well as online retailers and other distribution channels. Check out our unboxing and first impressions of the Windows Phone.
Nokia announces the Lumia 1320 in the UK
London, UK - Nokia introduces its larger than life Lumia 1320 to the UK market, bringing many of the high-end Lumia innovations to a 6-inch screen smartphone at a significantly lower price point. The latest imaging features, like Nokia Camera and Nokia Storyteller, the most loved Lumia experiences such as global mapping and location services from HERE, together with unlimited streaming of ad-free music with Nokia MixRadio, all come packaged together to offer consumers a compelling choice in a larger-screen smartphone.
"We are building on the continued success of the Lumia range by looking to offer the latest Windows Phone in a large-screen smartphone format at a highly competitive price," said Conor Pierce, VP of Nokia in the UK & Ireland. "Consumers and particularly businesses will love its large screen, warm industrial design and the richer imaging experience it is able to deliver. The Nokia Lumia 1320 brings a cost effective addition to our large screen Windows Phone portfolio."
A rich and fun imaging experience
Nokia Lumia 1320 allows people to take advantage of Nokia's rich and powerful imaging experiences and have more fun with pictures. The new Nokia Camera integrates the most popular imaging modes – Pro, Smart, and video – into one seamless picture-taking experience on the Nokia Lumia 1320. Nokia Storyteller makes stories come to life on the six-inch screen by automatically integrating images with HERE location information into a chronological picture journey on a map. Creative Studio allows editing pictures easily into photo collages and making the images come to life with different filters or colour popping effects.
Entertainment and gaming made better
With the latest apps, the best from Nokia, and the best from Microsoft supported by LTE 4G connectivity, people can make the most of the screen on the Lumia 1320. With Xbox you can easily access the latest games, Zinio delivers a great magazine experience to a large-screen smartphone, and the Netflix series or films are more enjoyable on the six-inch screen. A wealth of content can be stored in the 7GB free SkyDrive storage or on a micro SD card. And on the home screen, the third column allows people to see more of their important apps and content at a glance.
Get a rich package of the most loved Lumia experiences
Nokia Lumia 1320 features a number of high-end Lumia exclusive experiences, including streaming unlimited music for free with Nokia MixRadio without ads or subscription and downloading your favourite playlists for offline enjoyment.
Offering the world's best navigation and mapping services and featuring augmented reality view through the suite, HERE Drive, and HERE Maps are preloaded on the phone and HERE Transit is available in the Store to help people discover everything around them in an even more intuitive way. On a larger screen, finding places and navigating to destinations is even easier.
The supersensitive screen of the Nokia Lumia 1320 responds to touch even with gloves on. Furthermore, an update to the Nokia Glance screen allows people to see more on the standby screen with notifications for missed calls and new emails.
Nokia Lumia 1320 goes on sale in the UK from February 24th and will be available from EE, Virgin Mobile and Carphone Warehouse as well as online retailers and independent distribution channels.
Windows Central Newsletter
Get the best of Windows Central in in your inbox, every day!
Rich Edmonds was formerly a Senior Editor of PC hardware at Windows Central, covering everything related to PC components and NAS. He's been involved in technology for more than a decade and knows a thing or two about the magic inside a PC chassis. You can follow him on Twitter at @RichEdmonds.
FYI it's already available in the middle east from few days... It has a very good price of 350$ off contract and unlocked... This is the launch price which is really good...

Excellent. Well that is certainly relevant to this article.

Hoping for a us release! My brother would love this phone.

+1520/1320 I'm liking the design of the 1320 more than the 1520. Am I the only one? If T-Mo US grabs either, I'll be on one faster than Thirsty Nuggas be liking pics on Instagram.

I agree. I have the 1520 and he design of the 1320 is way better.

FYI, it's already launched in Thailand last month. And I had attended to this event.

You sir are my hero. could i get your signature ?

I compared it with my note 2 and it is humongous

It's true but you'll get used to it. I recommend buying a case with rubberized coating to help with the grip.

Its body is a soft touch and replaceable back cover

Will probably be released Monday here on Brazil, alongside with the 1520 and the 2520.

Just use the 2520 as your cell phone I think its big enough.

Cannot use with screen protector.
Because it will double tab all the time.

Had the same issue before. Try using a matte type screen protector, it works for me. Also, try switching the touch sensitivity to see what works for you. Cheers!

It could be another minor (CPU) / major (screen) upgrade to my 820. But, it is too heavy!!! (220g vs. 160g)

Try holding one of the demo units from the store, it's not that heavy :).

well the 1520 is not much of a difference to my 920. just waiting for a good offer

Wait, it WASN'T announced for the UK already? o.o Bloody hell Nokia, step up your game!

Looks better than the 1520...only because I prefer the curves.

Is the text cutout a problem in all phones with an extra live tile column? You can barely see the '16' in the email notification in that Lumia 1320. Even the Nokia Creative Studio tile is cut off from the end.

Why can't they release phones across multiple carriers like that in the US. They need to launch a flagship both in the US and UK at the same time or very very shortly thereafter. That'll push WP to a new level.

+1520 My point exactly. Instead Nokia building some lame-ass watered down Android phone. smh

+2520. I really hope that their next wave of Windows Phones start doing exactly that. This year will be filled with too much competition and has too,much opportunity for them to not do so.

+2520. I really hope that their next wave of Windows Phones start doing exactly that. This year will be filled with too much competition and has too,much opportunity for them to not do so.

Lol we have it here in Bulgaria for more than a two months (both 1520 and 1320).. This is so unusual.. :D

Anyone enthusiastic smartphone fan would rarely ever wait for an official launch. Usually these phones are available from 3rd party sellers way before the official launch.

I'm not sure but I think negri electronics has them all.

True dat, but as with my ATIV S on T-Mobile there is some compromises...ie no WiFi calling, no sharing Hotspot, plus some apps just don't sync. And yes my ATIV S picks up 4G LTE and 3G via T-Mobile US. I'm never spending $500+ on a "unlocked phone" ever again. Carrier Branded phones for me going forward.

Screw the US. So much for freedom

Perfect timing!! My little brother wants to upgrade his Xperia to a Windows Phone, and I think this is great phone he'll be interested in. His T-Mobile contract ends at the begining of March, so I reckon he'll be getting this on EE sometime then :)

Am waiting to see what's announced at MWC I want a 5" phone like the Icon released here in the UK

5inch for you and a 6inch for me (PAUSE). I guess we'll know soon enough.

My phone...camera sucks....

Beautiful, like most Lumias :)

I haven't even seen the 1520 yet in a UK shop. Nokia and their legendary distribution.

M using L1320 since 1 month and its also my 1st WP device after using BB for 5yrs I can vouch in to say that its a brilliant phone with fantastic feature

Announced 22nd Oct 2013... Now we hear it will be released 24th Feb. Thumbs down Nokia. I waited and waited and waited and ended up getting the Nexus5... Look what you made me do Nokia! I am crossed!
Windows Central Newsletter
Thank you for signing up to Windows Central. You will receive a verification email shortly.
There was a problem. Please refresh the page and try again.