Nokia Lumia 1320 – Unboxing and first impressions of the budget friendly phablet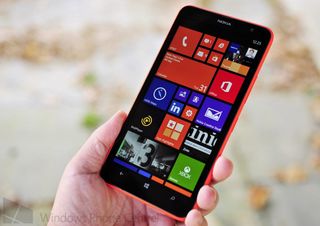 I reviewed the Lumia 1520 and even did a follow up on living with the monster 6-inch Windows Phone. Today, I'm taking a look at the brand new Lumia 1320, a more budget friendly version of the high end Nokia device. Running between $350 and $400 off contract in various markets, including China, Taiwan, Hong Kong and Singapore, the Lumia 1320 looks to be a winner for those wanting something a bit larger.
My Lumia 1320 just showed up, so we figured we would show you folks around the latest Lumia to grace our site. So grab a hot coffee and watch the unboxing video with a quick device tour. We'll even throw in some high quality photos as well.
Lumia 1320 Specifications
6-inch 1280 x 720 IPS display, Gorilla Glass 3, ClearBlack polarizer, Super Sensitive Touch, Lumia Color Profile and 60 Hz refresh rate
Snapdragon S4 1.7 GHz dual-core CPU
8 GB of internal storage; micro SD expansion
1 GB of RAM
5 MP f/2.4 rear camera; 640 x 480 pixels f/2.8 front facing camera
Bluetooth 4.0 LE, no NFC
3400 mAh battery, micro SIM
164.2 mm x 85.9 mm x 9.8 mm; 220 grams
Windows Phone 8 build 10517 (Update 3) with Lumia Black firmware; 3 columns of Live Tiles
All in all, the specifications of the Lumia 1320 are quite solid for a more budget friendly Windows Phone. The processor is not as impressive as the Lumia 1520, which sports a quad-core 800 clocked at 2.2 GHz, but the 1.7 GHz S4 found in the Lumia 1320 is now officially the second fastest of all Windows Phones.
The display is a lower resolution with only a 245 PPI measurement, but with the high quality IPS and ClearBlack technology, we're not complaining. It looks real good, even on par with the Lumia 920. Seeing as this is a six inch device, you would think Nokia would focus on that aspect and they sure do deliver.
Lumia 1320 camera sample - 5 MP
The 5 MP, non PureView camera is not the greatest for specs, but as you can see for outdoor shots, it's actually quite good: clear, sharp and decent color balance.
Brothers in design: Lumia 625 (L) versus Lumia 1320 (R)
On paper, the Lumia 1320 is a hair bigger (taller, thicker) than the Lumia 1520 and even heavier (220 grams versus 209), but the truth is that in your hand, they feel identical. The Lumia 1320 does have more rounded corners though and is very reminiscent of the Lumia 625 in terms of design and build quality (though the display is much better on the Lumia 1320). See the image above for a direct comparison.
We'll be doing a full review of the Lumia 1320 in the coming days, before CES next week, so look for that soon.
For now, if you have questions, ask away in comments or head into our Lumia 1320 forums for discussion!
Windows Central Newsletter
Get the best of Windows Central in in your inbox, every day!
Daniel Rubino is the Editor-in-chief of Windows Central, head reviewer, podcast co-host, and analyst. He has been covering Microsoft since 2007 when this site was called WMExperts (and later Windows Phone Central). His interests include Windows, laptops, next-gen computing, and for some reason, watches. Before all this tech stuff, he worked on a Ph.D. in linguistics, watched people sleep (for medical purposes!), and ran the projectors at movie theaters because it was fun.
Happy New Year y'all from Norway

This is amazing...you are from the future! What's it like in 2014? Have they elected a female president yet?

Happy New Year to All, from Costa Rica

Really interested what the battery life is like. Since we are talking mid range specs the 3400mAh battery should do quite well. Please let us now in an update. Thank you and all the best for 2014.

Gsmarena did a test for the battery life for the Lumia 1520. In their own words it was out of this world. This phone with lower resolution and that huge battery capacity can perform much better.

False. Even Nokia doesn't claim the 1320 gets better battery life than the 1520. The S4 has a lot of power improvements that make it more efficient. While I expect the 1320 to be good, I am not expecting it to be "out of this world".

Happy new year to everyone!!

The processor is fine...but 5mp is too low :/

Duh!? It is a BUDGET phablet...

True, but I would have opted for the 720's 6.8 MP camera instead.

Yup. Underrated for low light shots imo

I would have thought they would use up their possible stockpile of that 720 low aperture sensor, but maybe a future midrange "phablet" is on the horizon, the 1720 perhaps? :P

Mid range phablet will be 1420 ;-) just my guess :-P

That's a HUGE phone, wow!

I am getting this for my bro!

Love the design of this and the 625. Would be nice to see a screen this nice on the smaller, budget lumias. That's the only thing holding the 520/625 back imo. Curious to see what price point they could hit with 720p display on a smaller phone. Maybe close too the Moto g.

Ugh, it looks so much better design wise than my 1520 :( sigh. But good to see some news about this device finally.

Funny how this has gorilla glass 3 and the 1520 has GG2. Anyways, good review. Happy new year (soon for me)!

I know, right? It seems like each 'superphone' has 1 or 2 obvious omissions. Maybe it is a marketing gimmic.

Because when people spend that much money on high end device like 1520, they will be very careful not to drop it :) ... For the budget phone like 1320, it will get dropped more often ahahh :) ....

I thought Gorilla Glass 2 is stronger than 3. Someone needs to do a test on that.

Ok...Give me one 1320 and one 1520 and I'll tell you which I manage to bust first ;-)

Happy New Year ! 2014 - look forward for Windows Phone 8.1

Did they include an oleophobic layer on this 1320? The 625 felt gross without one, and the plastic felt really cheap, so I returned it very quickly. I'm looking to this 1320 as my next WP device.

Nokia never specifies that, so it's hard to ascertain definitively. To me, yes, it feels much better than the 520/625, which gets dirty super easily.

Now how about a high end phone with a small screen? Are you listening, Nokia?

Anyway to pick up this device in the states?

Not thru a carrier, though you should be able to order it online, unlocked/international fairly soon from retailers.

for 400$ rear camera should have been 8mp pureview

Going to take a guess that a 1.7 GHz dual core cpu and 6 inch IPS display cost more. Saying it "should" for $400 tends to ignore the economics of making these devices. The profit margins are not that high here where Nokia is purposefully skimping on specs.

BUDGET! Key word. Plus its probably that price due to the battery, core and 720p screen. There are some similarities in specs between the 1520 and 1320, besides camera.

6 inch display...what else?

$400 is half the price of higher-end phones! It costs peanuts by comparison

Anyone know if this works on T-Mobile and what kind of data it'd get?

It will work but you're looking at Edge and 2G for data. T-Mobile's HSPA network is an odd frequency, rarely used in international devices. I'll double confirm in the review, but these devices are rarely optimized on Tmo.

You should get hspa in refarmed areas, right? Most major cities have been refarmed, but I would call T-Mobile to confirm 1900 MHz hspa is available in your area.

In theory, sure. But my experience so far has been "meh" with refarmed.

Thanks. And what about at&t in the states. Is this dc hspa+ (21Mb/s). What are the fastest at&t 3G speeds supported on this device? Will the import version support all the at&t specific features? What's the difference between 1520 at&t and 1320 import? At&t 1520 costs $550. Imported 1320 costs $350-$400. Thinking to replace RT tablet. Liking large WP screen

That's one Sexy phablet. I waiting on the coming electronic shows in early 2014 and hoping & praying & crossing my fingers that T-Mobile announces the 1320 or 1520.

AT&T still has an exclusive on the Lumia 1520 I believe. But it would be nice to see T-Mobile get the 1320. Here's to hoping though

Supposedly according to GSM Arena there is a "RM-995" model that supports 2100 and 1700 for LTE (T-Mobile's frequencies, if I've understood it correctly): http://www.gsmarena.com/nokia_lumia_1320-5791.php Don't know where this can be found though...

You are correct. FCC has tested for T-Mobile frequencies. It is listed on the Nokia dev pages as a LTA variant. I think that may stand for Latin America.

Good in car device. Nokia Drive, SD card for music. Big old screen. Nice.

Daniel can you do a vrs matche between this and the 1520 in various departments? I really wanna know how this will perform. I like the form factor of this phone. With all these phones coming out, I can now see my 920 diminishing in the spotlight.

Sure, will probably do that as a separate article from the review.

Nokia needs to create a response to the Moto G. The 525 ain't cutting it.

I just need Microsoft to release these phones on other Networks other than AT&T.

With the money Microsoft has, I agree. After the acquisition is truly done I better see Lumia's on all major carriers.

Like the Moto G's 195 is a global price. Open your eyes, the world is bigger than a continent.

This look nice. Only thing is camera. Oh man, too low :/

Too low, how? I know you mean 5MP is too low. Let me tell you, I have a 3.5MP camera, more than enough for now and forever. I can shoot photos and print out 10x8". I never have desire to print anything bigger than that. I doubt you will ever print out your photos from a phone. So what you use that for, viewing on 50" screen? In short 3.5MP is more than enough in any cases. If you are talking about Pureview oversampling, yes, 40MP would great, but except for a few Nokia phones, oversampling can't be seen anywhere. For a non pureview phone like this one, 5MP is more than enough. Unless you want to print a wall sized photo. What bothers me is those so called geeks wants every specs the best, they don't even know if that makes any difference. For example, can anyone with normal eyes see a difference between 245 PPI and 300PPI? No one. And still they call 245PPI too low. Does a 1G memory make any difference than 0.5G? It doesn't for me and 99% of people.

You can see the difference when u zoom.it comes out horrible.also during night time or low light photography

If you ever have a look at your taken pics using a decent screen you'll find that 5mp is very decent, the screen on say a 720 doesn't do it's own pictures justice

Anyone have a clue to how much this phone will be in the UK?
I would love to get this phone if its the right price. N please, no more happy new years grrrr...

does nokia 1320 support HERE City Lens

Happy new year everyone....and thanks for making me addicted to wpcentral....keep up the good work

Embedded youtube videos never load using internet explorer on windows 8.1. why?

People posted here 31 December 23:50 ish...shame on you

Not sure I like this. Better to get a 925 or a 1520. Why get a hardware crippled phone like this?

Happy new year!wpcentral!

hey guys. happy new year! Any websites to order this phone?

I like the rounded corners. It is surprising how uncomfortable the square corners of the 1520 get when typing a long message.

Whatever happened to the Lumia 929? The 6 inch screen is a bit too large for me but the 5 inch screen would be about my limit. Also, I'm already on Verizon and I will be looking to upgrade this coming summer.

I'm sorry, I couldn't find this info anywhere - are the capacitive keys backlit on this phone?

Daniel...have you noticed any sort of screen sensitivity issues or dimming issues on the 1320 similar to what some of us are experiencing on our 1520s???

Yes i just bought 1320 tonight to replace the old samsung focus. My biggest sour is the screen sensitivity that i hardly browse news or type properly, way worse than my focus.

Daniel, What particular model of Lumia 1320 you used for the first impression review?
Is it RM-994, RM-995 or RM-996? I am thinking to buy Lumia 1320 on ebay and use it on T-Mobile carrier in US.
So I need to make sure that it will work at least on HSPA/HSPA+.

It isn't an international charger, it's a british one. International means european standard.
Windows Central Newsletter
Thank you for signing up to Windows Central. You will receive a verification email shortly.
There was a problem. Please refresh the page and try again.