Nokia Lumia 625 – Unboxing and first impression; video and photos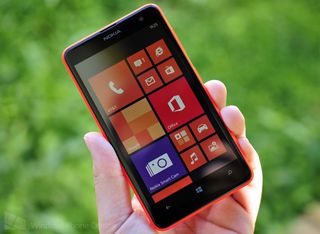 Another month and another Lumia device is ready to launch from our favorite Finnish Windows Phone manufacturer. This time around it is the Lumia 625, an expansion of the Lumia 6xx series including its smaller cousin the 4-inch Lumia 620.
The Lumia 625 is Nokia's attempt to continue to hammer the entry level market for smartphones by giving users a choice in design and features. While not as feature packed as the 8xx or higher Lumia series, the 620 and 625 offer some premium features for a low cost.
The big selling point of the Lumia 625? Its massive 4.7-inch 800x480 IPS display, which contrasts dramatically with the 3.8-inch Lumia 620's screen. In the same series you have Nokia's largest and smallest display offerings, which is quite interesting.
Head past the break to see our unboxing video, first impressions and some high quality photos of this compelling Windows Phone.
The Lumia 625 out of the box has some great upgrades for new users, including a bumped up 1.2GHz dual core CPU. That's an increase from the typical 1.0 GHz dual cores that we've seen in the 52x and 6xx series previously and while it's not as fast as 1.5 Ghz device, we're happy to get that extra boost in performance. Indeed, launching apps and the camera application feel very similar to the 1.5 GHz devices and offers a happy medium between cost and performance.
Other features include 512MB of RAM, 8GB of internal storage and the ability to use microSD (up to 64 GB) for expandability. For the camera you're looking at a 5MP (f/2.4) rear with LED flash and a front facing shooter. The OS is Windows Phone 8 10328 (GDR2) so there will be no Other storage issues.
The build quality of the device, as always from Nokia, is excellent. It's relatively thin, coming in at 9.2mm and weighing in at 159 grams (by contrast, the aluminum Lumia 925 is 8.5mm and 139 grams). It's not the lightest and thinnest device out there but it feels solid with those dimensions. To us, it feels like a larger Lumia 820 (they weigh the same but the Lumia 625 is spread out more). You also get a 2000 mAh battery for a rated 15.2 hours talk-time over 3G.
Another feather in the cap is the Lumia 625 has Bluetooth 4.0 Low Energy (LE) out of the box. That's a first for a Windows Phone and is something that other current Lumias can be expected to have updated via software later on. However, NFC has been omitted.
Getting back to the display, you have a 4.7-inch IPS 800x480 curved screen (201 PPI) with Corning Gorilla Glass 2 and a 60Hz refresh rate. Unfortunately, ClearBlack (the dual layer polarize to give deep colors and low reflectivity) has been omitted for cost reasons. While the sunlight readability and super sensitive touch are there, it looks like Glance is not (though we'll have to see if there are any updates to enable).
So far, we're impressed with the Nokia Lumia 625. The low cost phone feels fantastic in the hand and while the 4.7-inch display is clearly low resolution, it's still really nice to use, especially with that curved display. It's easy to type on and that screen size lends itself to the Windows Phone UI very well.
Exact pricing off contract has not been settled, though it's thought to hover between $275-$300 with availability in the UK and Russia in the coming weeks.
Look for our full review in the coming days here at Windows Phone Central.
Lumia 625 Camera Sample
Lumia 625 Camera Sample
Lumia 625 Camera Sample
Windows Central Newsletter
Get the best of Windows Central in in your inbox, every day!
Daniel Rubino is the Editor-in-chief of Windows Central, head reviewer, podcast co-host, and analyst. He has been covering Microsoft since 2007 when this site was called WMExperts (and later Windows Phone Central). His interests include Windows, laptops, next-gen computing, and for some reason, watches. Before all this tech stuff, he worked on a Ph.D. in linguistics, watched people sleep (for medical purposes!), and ran the projectors at movie theaters because it was fun.
Sorry but the Lumia 620 has a 3.8" screen not a 4" that's the 520

First thing that cought my attention too! :P Interestingly, later on the size is given properly :)

He is uploading the video again guys .. Youtube sucks so

dont use youtube...use vimeo..or flickr.....or skydrive..

Oh, reminds me of the good old titan days!!!

That's what I was thinking. The original Titan is still one of my favorite phone to date.

Me too! I currently own two Titans and I'm finding it hard to part with the phones given they are custom flashed and run flawless with one caveat; their mobile download speeds seem terribly low compared to other Cat 10 devices though users swear the internals are likely set at Cat 8. The memory is a downgrade from the Titan but also an upgrade in that it does have an expandable memory slot and a 5 meg camer a vs an 8 on the Titan Eternity and 16 on the Titan Radiance. But if there's a phone I will likely upgrade to, this is it; given how closely matched it is to the Titan in regards to physical aspects and hardware short of what I just mentioned.

This is the phone businesses will probably jump to get if they make the switch from what ever their employees use at the moment. Reasonably priced, wide range of out the box applications and having a bigger display is always a plus point for businesses.

Why it's always about photo quality? where the real fun side of smart phone?????

What are you referring to? I added three sample photos with no commentary and mentioned the phone's camera specs. I don't mention photo quality anywhere.

Is it me or did a bunch of the comments disappear

A bunch of comments saying "video is broke" have been removed since they are no longer relevant. Nothing of substance was deleted. But having 8 comments saying the same thing is not conducive to a discussion about this phone.

I've heard about the unmentionable things that happen in that shed.
The horror!

Would this phone work on AT&T? LTE?

Good question. If so I would get it for my nephew

So when's a review of that case coming out (L925) :P

I don't know if you noticed, but there is a ton of higher priority events happening today ;)

Yeah, but no it was just a joke as the week is almost over. Lol.

Why are you so snarky to your readers?????????????????????????????

That is not snarky, he is telling the reality without sugarcoating stuff for small kids.

correction 620 has 3.8 inch screen

Looks like 620 with 520 screen

The big display might have made Nokia drop the Glance option as it would have murdered the battery ! !

It's 4.7" and 480 by 800; how hard can it be? The HTC Titan (WP7.5) has these same specs and that was the rap one this device too. What I'd give to see HTC put out a WP8 version of their upcoming "Max" device.

Wow, the pictures look pretty decent, and I like the color! :)

I would definitely recommend it for a low-end user.

Daniel why don't you guys lead from the front and stop using youtube? Just upoad it to vime or any other video sharing website, should not be difficult to imbed that link in article. I am so pissed at Google for blocking youtube, just don't want to support them in any way

Google is slowly but surely becoming like everybody else including their Android platform.

+1000000 Then again, I'm in China which is a Google-free zone. So we don't have YouTube anyway. Why don't you dump Google and go with one of the "big boys" whose service we can get all over the world?

Because it's an entry level device?

Is this not getting Glance either?

How can it use Glance when it uses an IPS LCD, *NOT* a ClearBlack AMOLED?

I'm not impressed with this phone unless it's $199, at least for real US price.
512MB means that many desktop websites are going to chug, and screen resolution and overall screen quality is second rate.
At "$275-$300" the Nexus 4 8GB is a better deal due to its far better screen and superior memory and performance on desktop websites with Chrome.



I'm guessing the reason the 520 and 625 don't have Glance is because they don't have the Clearblack technology.

$300 is NOT low cost, $150 is low cost. Otherwise than that it's a good product, it has a bigger display and LTE (if the price was $240 in September it would quickly become a popular model).

Can somone explain to me why Nokia has a 52x, 62x, 72x, 82x, 92x, and a 102x and yet one would think the 52x is likely to be the cheapest..which it is and the 102x is likely to be the most expensive, which it is but the 62x's, 72x's, 82x's and 92x's device specifications are over the place? Why doesn't Nokia produce some sort of continuity with all these devices from the 52x to the 102x and adhere to this structure? The 620 has a tiny 3.8" display but the 625 has a 4.7"...the upcoming 825 is expected to have a 5.2" 720p display but the 820 has a 4.3" display? My favorite is some phones have expandable memory and some don't...some whine about the 920's weight and thickness but if you slap on a case to the 925, guess what? Why do they do this?

It really looks interesting. The device is beautiful. I'm very picky when it comes to ppi but I find bigger pixels quite inetresting at times, especially for displaying my pixel art.
I'm looking forward to trying this phone.

Daniel, could you post in the review macro photos of the display comapred to other Lumia displays. I want to see the pixels and the rendering.

NFC remove and doesn't glance. :(

I thi k you would be crazy to get this over the Ativ S since the Ativ S is a faction over €200.

i'll get it for the fact that Nokia gives way better support and value-added apps.

What's the point when it's an inferior product to start with. Besides WP 8.1 won't be supporting 512mb

The BIGGEST FEATURE IS 4G on a budget phone, I'm stocked you didn't even mention this !

I currently have lumia 520 , but i will upgrade to 625 when available in india , i totally love lumia 520 so specs of 625 are not any issue , now plus will be big screen and front camera.
And also i would love run my developed apps on 625.

Looks pretty sweet, but I'm not sure if I'll upgrade. I'd prefer the slimness of the 620 but with some higher specs. ;)

I agree if Nokia focus on low end Windows Phone 8, it is better than releasing high end Windows Phone 8. Nokia Lumia 1020 said that in the GSMArena news will be available in free of contract in China with price USD 980. That's crazy, the OS itsef still restricted and they give notebook price. If I compare with HTC One, this,HTC is better with around USD 750, it comes with 1.920 x 1.080 pixel resolution screen, while Lumia 1020 screen resolution only 720 x 1.280 pixel. Lumia 1020 just win for the camera, but OS is restricted (if when it is released globally comes with Windows Phone 8.1 OS or higher, that would be better) and apps still under Android. Look at Ubuntu OS, that smartphone will have price USD 800 (4 GB RAM, dual boot OS, 128 GB memory).

So, I think Nokia would be better focus low end Windows Phone 8 where the price can be reached by many-many people (affordable price) and makes high end Lumias like 920 or 820 and 925 price down, become mid end Lumias with price not more than USD 360.


How can I update my Lumia 625 on 8.1 because when I go to settings and check for update..then there is no update shown it is still on 8.0
But I checked that it would be up gradable to 8.1
Windows Central Newsletter
Thank you for signing up to Windows Central. You will receive a verification email shortly.
There was a problem. Please refresh the page and try again.