Nokia Lumia 525 starts selling in Vietnam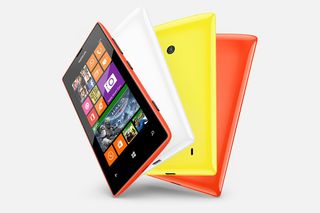 Following Singapore's availability, the Nokia Lumia 525 goes on sale today in Vietnam. It's the successor to the Lumia 520, Nokia's most affordable and best-selling Windows Phone 8 device. The device costs 3,499,000 VND, which is approximately $164 USD. At that price, the Lumia 525 in Vietnam also comes with insurance worth 7,000,000 VND (approximately $329 USD).
The insurance includes repair or replacement for damage caused by falls or water. It's valid within 12 months of purchase. The fine print states it won't cover several things such as losses as a result of war, invasion, nuclear risks, or state of emergency. You can read more about it here (opens in new tab).
The Nokia Lumia 525 features a 4-inch IPS LCD display (800 x 480), dual-core 1GHz Snapdragon S4 processor, 5-megapixel camera, and expandable storage with microSD slot. More importantly, the Lumia 525 includes 1GB of RAM, which is twice more than its predecessor. This means more compatible games and apps.
The Nokia Lumia 525 runs Windows Phone 8 with the Lumia Black update. This includes new camera software algorithms that improve picture quality and other useful features such as screen rotation lock and the ability to close apps in the multitasking view. Driving mode is also included to politely reject messages and calls while driving.
At this low price, Lumia 525 owners can also take advantage of apps from Nokia such as Smart Camera, HERE Maps, HERE Drive, and HERE Transit. Want to listen to free music? Nokia's MixRadio is also available. Of course, there are many other apps to discover at the Windows Phone Store.
The Nokia Lumia 525 comes in glossy orange, white, and yellow. The covers are exchangeable, so you can change them depending on your mood.
Are you buying a Nokia Lumia 525 today in Vietnam? Let us know in the comments!
Via WinPhoneViet, Thanks for the tip, tungha!
Windows Central Newsletter
Get the best of Windows Central in in your inbox, every day!
Super phone features at that price

Wrong price for 2 years old spec.
One world: Moto G

You should stop existing in this world

There are politer ways to refute someone...just sayin'

Moto G has no micro SD... it doesn't even come with a charger.

It would be great to know at what price 520 is selling there now.
That will give a clear idea whether 525 priced well or not

L520 is $140, l525 is like in the article.

Street price is currently $220sgd (about $175usd).

Does anyone know an estimate on Lumia black for the 520?

Did you already get the update 3? If not, I would suggest you to get it without waiting for the black.

How would I get the update 3? When I check for updates it says I am up to date

Just wait to January 2014.

Type in 'update 3 developers preview' on the WPC app. Instructions will tell you hoe to get update 3 there. With Lumia black, you will have to wait. Unless you got the testing email from Nokia of course!

I wish Nokia made the Lumia 620 with 1Gb ram instead of 512mb ram.

I wish Nokia made the Lumia 720 with 1Gb instead of 512mb

I wish Nokia made the Lumia 1020 with 32GB + microSD instead of 32 GB :P

I wish Nokia should remake Nokia 1100 with wp8 OS with same old specifications ;P LOL

I wish nokia would make an atom bomb in the form lumia 525 ...blah blah blah

And I wish Nokia's D&S was never sold to Microsoft.

I wish i could travel by flying and not just walking.......which i assume takes up around 512gb of brain ram

This is the most hilarious thing ever! :D

I wish Nokia would announce the 929 for Verizon...

+929. I wish Nokia would announce 929 worldwide, not only for Verizon.

I wish a m*****f***** would.

I see Temple run 2 is installed on device !!

Yeah ,what about it guys ?

They say it will come soon with Xbox Live features or without xbox features.

It will come wen TR3 releases on ios and android and that even without XBL

What game GTA: SA will be at 512 mb RAM? or just 1GB

Rockstar's said that 1GB is necessary for GTA:SA

I bought my Lumia 520 one week ago. It's time to sell it :(

Crack addiction is a terrible thing SMH

Isn't Vietnam and Singapore have like 20+% market share?

Yup. WP is everywhereeee here in VN!!!

Singapore market is low, getting better though...

I was in Singapore in May. When I got in the subway, I was the only with the Nokia Lumia 520. LOL. The copycat Samsung is everywhere.

Damn. It's still not available here in Philippines, the two other SEA countries got it. I want to get it for Christmas.

They need the war and nuclear risks disclaimer on the warranty over in Vietnam...

Yeah I like that part. There over prepared.

I'm wondering who would actually get the insurance when you can get a brand new device for that price.

So the only difference with Lumia 520 is the 1 GB ram. How can you install lots of compatible games if the phone storage is limited to less than 8 GB?

He meant you can install and use apps that require 1GB RAM minimum. About phone storage, there is a very good chance that in the future WP will allow users to run apps from external storage.So don't worry about it.

Launching 525 with 1520 in india makes sense. Not much time left...

Very informative post.I Like this post thanks admin for this information.
Windows Central Newsletter
Thank you for signing up to Windows Central. You will receive a verification email shortly.
There was a problem. Please refresh the page and try again.