Nokia Lumia 525 now available in Singapore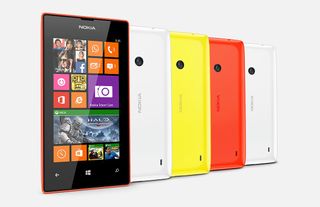 The follow-up to Nokia's best-selling Lumia 520 has arrived in Singapore. Upgraded with 1GB of RAM, the Nokia Lumia 525 is now available at Nokia Stores in Singapore for SGD 249 (approximately $198 USD).
More RAM in the Nokia Lumia 525 means more compatible games and apps compared to its predecessor with only 512MB. Other specifications include 4-inch IPS LCD display (800 x 480), dual-core 1GHz Snapdragon S4 processor, 5-megapixel camera, and expandable storage with microSD slot.
The Nokia Lumia 525 is also setting out to be different from the 520 by releasing in shiny colors. It comes in glossy orange, white, and yellow. Matte black is also available for a subtler look. The shells are exchangeable to make your color decision easier.
We're not sure when the Nokia Lumia 525 will be available in other regions. Did you pick one up today in Singapore? Let us know in the comments!
Source: Nokia
Windows Central Newsletter
Get the best of Windows Central in in your inbox, every day!
620 needs a 1gb successor. Lumia 628!

We definitely need another model with the same type of shells (dual shot) and 1gb of ram.
It would be awesome if Nokia kept the same dimensions as the 620 since I already have eight shells for it.

520 and 720 are better than 620 IMHO....it has no radio capability and it's small and doesn't have a great cam nor a good battery..the 720 gives way more in a slight bit more price or you can try the 520 in which the lesser features are justified by the price.. i mean i guess it's good for some depending on their convenience..but this is just my opinion..

Well i believe 620 is better than 520 bcz it has flash n EQUALISER and has better display than 520/720 just compare them on any of R,G,B colors... N obviously radio is lacking but its not that much anticipated function...

Yeah, it's just that I prefer smaller phones :)

Friends in Singapore, kindly start listing these on eBay (with worldwide shipping). - Your European and American friends.

Yeah- if this would work on T-Mobile I'd love to pick one up to use as a second device, primarily as a media player and occasionally as a tethering hotspot (now that TMo seems to be allowing tethering on pre-paid plans at no extra cost).

I just want one of the new shiny covers for my 520.

198 bucks?????
They sell L920 for 260$ here!!!

Please, give me a 725 with 1GB of RAM and swapable shells already

Someone kindly confirm if glance screen and music equaliser have been included or still left out deliberately like the 520.

I have the 525 with me now, and yes it does not have the glance screen or music equaliser.

This new model will allow developers to think of expanding the features in their apps with more RAM to use.

Nokia should just release 1gb ram versions of their old devices instead of letting people suffer

I waaaaaant this phone :(

If my 620 could be reissued with 1gig of ram, I would be a happy camper indeed.

Agreed . I hope Nokia would like to make a trade-in program . Just like Microsoft did with the iPad .

TR2 sure is a false promo, it's not even out for WP, yet they use it on the posters.

I think TR2 will not run on 512 mb devices after looking at the TR2 in Lumia 525

In vietnam, l535 is only $170.

dumb move not launching in india first

hell.... i will miss pro cam ....
Windows Central Newsletter
Thank you for signing up to Windows Central. You will receive a verification email shortly.
There was a problem. Please refresh the page and try again.