Nokia Lumia 620 Review - Affordability never looked so good
Nokia's Lumia 620 could be Palm Centro of 2013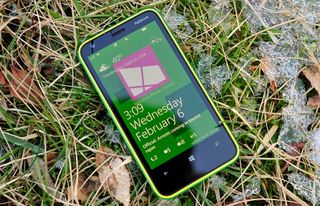 The Nokia Lumia 620, a modestly priced entry-level Windows Phones, represents one of the best value devices we've encountered yet on the platform. The 620 replaces the Lumia 610, a device that went on sale last year and now runs Windows Phone 7.8. But in our opinion, the value impact of the 620 is leaps and bounds higher than its predecessor.
Make no mistake, this is an entry-level device that is not meant to rival the 800/900 series of Lumia Windows Phones. But also know this: it is one cool device and we're having a hard time putting it down.
Swipe to scroll horizontally
Bold, eye catching phone with fantastic features and excellent quality all for less than $300.
May be too small for some. Needs to be on more carriers.

Nokia has a winner on hand with the Lumia 620. It has some high-end features in a compact, exciting and nimble body. Although it's an entry-level phone, it raises the bar for quality and could give Nokia a much needed boost. An excellent choice for teens, adults who want no fuss but quality or enthusiasts who want a 'weekend phone'.
The Body
The Lumia 620 clearly borrows heavily from its bigger brother, the Lumia 820. Both have "shell" cases that wrap around the back and sides of the device, allowing one to pop it off to swap out the 1300mAh battery, microSIM or add a microSD (up to 64GB).
Weighing in at just 127 g (4.5 oz) it is significantly lighter than the Lumia 920 which is at a hefty 185 g (6.5 oz). That's not to say it's especially thin because it's not—in fact it's just as thick as the 920 just smaller. But it's a comfortable, ergonomic design that doesn't feel cheap.
Due to the Lumia 620 only having a 3.8" display, it is easily one of the tiniest phones we've used recently. That's not a bad thing, mind you. Not everyone needs to or wants to stare at their phone for extended durations and some just want a phone that makes calls and good some "smart things". It should also be pointed out that the original Lumia 800 also had a 3.8" display and that phone had quite a few fans as well.
Speaking of fans, the Lumia 620 has won numerous accolades from Windows Phone admirers due to its bold, colorful design. Coming in two toned colors (what Nokia calls "Dual Shot" where two colors are layered on top of each other) it is supposed to create "depth effects" and "textures."
Marketing language aside it is certainly eye catching. With colors ranging from white, matte black, blue, yellow, red and the popular lime green/yellow, the aesthetic matches the Windows Phone OS perfectly. We've heard some dismiss the more bright colors as making the phone look "toy like" but for those users, opting for the more traditional black will solve that critique. Personally, we love the lime green/yellow and are sticking with it—it's just fun looking.
No word if Nokia will sell the shells separately, allowing you to changes colors at will but hopefully they will.
Overall, the smooth, cool-to-the-touch plastic shell, pocketable size and quality materials (such as the ceramic buttons) make the Lumia 620 a fine little device—at least on the outside.
The Display
In 2013, it's hard to get excited about an 800x480 TFT LCD display--having said that as far as entry level displays go the Lumia 620 is a tremendous improvement over the washed out Lumia 610. If we had to make a direct comparison, it's like Nokia took the display from last year's Lumia 710 and tossed that into the 620. And yes, we mean that because it also includes Nokia's famed ClearBlack polarizing display technology, which filters out certain wavelengths of light to give deeper, richer colors with a low-reflectivity. It works.
Sure the Lumia 620 lacks PureMotion aka the 60 Hz refresh rate found in the Lumia 920 and Corning's Gorilla Glass, but for less than $300 you're getting a sharp screen with rich, vibrant colors. The colors are not oversaturated like those found in AMOLED displays and at 3.8" you are still getting a modest 245PPI.
The Lumia 620 also omits the Super Sensitive Touch technology from the Lumia 920, which means you'll need to pull your gloves off to use the touchscreen on a cold day. But it does include Nokia's "Sunlight readability" option whereby the display ramps up way past "max", giving users a temporary reprieve from the harsh light on their display. That is a very useful feature and it's great to see it included here.
As far as screen sensitivity goes, it's certainly usable but you do feel it requiring a little more effort than the more high-end devices. It's not bad but you can feel slight performance degradation here but that's more a nit than complaint.
In short, it's obvious that last year's mid-range technology is now this year's entry-level and it's kind of awesome. For a "cheap phone" the Lumia 620 does not compromise on the display and in fact, offers more than what its competitors can offer due to the patented Nokia technology on board.
The Hardware
Powered by a 1GHz dual-core Snapdragon S4 CPU, the Lumia 620 is certainly on the low end when it comes to horsepower. Whereas most Windows Phone 8 devices opt for the more powerful 1.5GHz dual-core variant, Nokia has presumably shaved some cost off of the device here with a speed reduction. Does it matter? In practical terms, no. It's certainly noticeable when you put it side-by-side with a 1.5GHz machine but when it comes to using it in isolation the little green phone feels just fine.
Let's be clear though: it is slower but it never approaches the point of frustration. Does it handle racing games like Asphalt 5 without stutter? Absolutely. And really that's all you need to know, you can use the Lumia 620 without pulling your hair out. All apps and games installed and we saw no limitations.
Speaking of, the 620 sports 512MB of RAM unlike the earlier 610, which only had 256MB. That latter spec prevented the device from running certain games and even Skype. With 512MB of RAM, any software barriers have vanished. Once again, not much to say here as the phone was able to run every app we threw at it. Case closed.
The phone also sports Microsoft's tap + send feature, meaning yes this "low end" phone even has NFC on board. Though near-field communication is still nascent, who wouldn't want to have such hardware built in, especially when Apple couldn't be bothered with it in the iPhone 5?
Battery wise, the Lumia 620 sports a modest 1300mAh battery which yes, is on the small size. The good news is with a 3.8" display and the efficient Windows Phone 8, it will last you easily a day and a half of modest usage or a full day with more heavy usage. It's also replaceable so you can always pick up a spare.
Real world tests it edges out most phones of its class. (Rumor also has it that Nokia has some optimizing new firmware that improves performance and battery life in the pipeline). Nokia claims 3G talk time is around 9.9 hours and while our numbers fell below that it was not too far off either.
Sound and Speaker
If we had to give a solid impression of the rear speaker it'd be better than expected. The speaker, located on the lower right on the back of the device, is a little tinny but it makes up for it in clarity, specifically volume and speaker phone. Did we mention how much it cranks? Because this is one of the loudest phones we've ever used. It does start to distort at about 24 (out of 30) but yeah, it's shockingly good for, once again, an entry level device.
We should also mention that the Lumia 620 does feature Dolby Headphones, audio leveling and Nokia's 7-channel equalizer with 19 presets (including a custom). While these are merely software tweaks for music, it's the exact same feature set as found on the Nokia flagship Lumia 920.
For phone calls audio clarity was good—not great but not terrible either. Once again, we're dealing with a device that is less than a Lumia 820 or 920 but being Nokia, even their cost-effective phones still sound quite solid. Same thing here and we found it superior to our Samsung ATIV S.
Otherwise the Lumia 620 sports Wi-Fi, Bluetooth 3.0, accelerometer, compass but sadly no gyroscope. That latter omission though is not really a big deal as you'll be hard pressed to notice it missing.
The Camera
Sporting an f/2.4 28MM 5MP rear shooter absent any Carl Zeiss branding the Lumia 620's camera is certainly nothing amazing. But for daylight shots it's actually very good—sharp with great color balance and accuracy. In fact it's probably one of the best 5MP shooters we've used, which goes to show you how much these things have evolved over the last few years.
Low light is another story. Things get grainy fast and since this obviously lacks the Lumia 920's PureView technology, we can't expect too much. It'll do in a pinch though and once again, considering this phone's range the rear camera is above our expectations.
Video is also impressive. It does of course lack the smoothness of the Lumia 920 but once again for accuracy and sharpness, it's very good outdoors on a sunny day. Inside it of course lacks quite a bit, but Nokia has exceeded our expectations for a sub $300 phone.
The camera has the same setup as Nokia's other Windows Phone 8 devices, meaning limited selection:
Scenes: Auto, Close-up, Night, Night Portrait, Sports, Backlight
ISO: Auto, 100-800
Exposure Value: -2 through + 2
White Balance: Auto, Cloudy, Daylight, Fluorescent, Incandescent
Aspect Ratio: 16:9, 4:3
Focus Assist Light: On, off
The inclusion of a focus assist light, which acts like a pre-flash allowing the camera to provide enough light to judge appropriate focus, something that Nokia is evidently using on all their modern phones and it's a nice touch, something that that their competitors do not offer.
Luckily, if you want extra features, you can download and use Nokia's Cinemagraph (animated GIFs), Panorama and SmartShoot Lenses to augment the camera.
The front facing camera is less impressive being only 640 x 480 pixels but once again, the fact that this phone even has a front facing camera is impressive (HTC's similar 8S lacks one, for instance). It does the trick though and performs within our expectations.
Finally, the audio recording was superb. Believe it or not this device does sport Nokia's High Amplitude Audio Capture (HAAC), which basically means the microphones are really good and can capture a wider, more accurate range of sound than their competitors. Though the Lumia 920 has that feature we're pleasantly surprised to find it on the 620.
The Phone
We've already commented a bit on the quality as a phone, but here we'll go into more detail.
As a phone the Lumia 620 is kind of awesome. The reason we say that is due to its compact size, it fits very nicely in our hand and as a result, feels natural when using it. It was only within the last few years that "giant" smartphones became the norm and one forgets how nice it can be to have such a nimble device.
Audio quality, as previously mentioned, is quite good. We found the sound for phone calls to be reasonably clear and on par with other Nokia phones though less "rich" sounding.
Although the phone lacks "flip to silence", leaked firmware suggests Nokia is bringing that feature back sooner than later, enhancing the phone experience. Other than that though, it's your standard Windows Phone software with no advanced call-blocking features as found on Samsung's offerings.
The Conclusion
The Nokia Lumia 620 is one impressive device. On paper, the specs don't impress the techo-glitterati but in real life, it should.
For one, Nokia has brought an exceptionally well made Lumia experience to the masses for less than $300 off contract. On top of that, it has also brought with it some unique and borderline high-end features that Nokia's competitors lack:
HAAC microphone for exceptional audio recording
Solid 5MP camera with a suitable front-facing one
NFC
ClearBlack display
Sunlight Readability mode
Focus Assist Lamp for the camera
Ceramic buttons
Multi-color "dual shot" covers for pizzazz
One of the loudest rear speakers we've used
Expandable storage (64GB microSD)
Dolby Headphones, audio leveling and 7-channel equalizer
Look over that list again. Those are some impressive features for an entry-level device in 2013 on top of it running the latest version of Windows Phone 8 (10211).
We'll just flat out say it: we love the Lumia 620.
Sure we use our Lumia 920 as our daily driver (it's the camera, really) but the 620 is right there next to it mostly because it contrasts so nicely. We understand not everyone wants a lime-green phone with bold colors, but take a look at the 620 in matte black and ask yourself would you not want such a tiny weekend phone?
And that's the odd thing here: smartphones have gone from a two-year cycle to yearly to nearly every six months. Now we're at the point that some of us are considering a secondary phone due their novelty and low price. Nokia has in effect raised the bar while at the same time lowering the barrier of entry.
Our only regret? No US carrier has announced this little gem. Sure, the 8xx series is nice but in a lot of ways it's too middle-of-the-ground, whereas the 620 runs in the other direction. T-Mobile, AT&T, Sprint, Verizon…are you listening?
That brings us to our sub-headline, calling the Lumia 620 the Palm Centro of 2013. The Palm Centro was the last Garnet device from Palm before they ascended to webOS and then crashed and burned with HP. [Flashback: Read Dieter Bohn's review of the Centro from 2007]. It was a remarkable little phone that we personally bought on first sight due to its compactness, low price and feature package. Plus it was adorable.
We more distinctly remember how we signed up no less than ten friends on Sprint's plan with the Centro being their first smartphone. They all loved it and it gave Palm a temporary rebound in the market as the phone was quickly picked up by numerous carriers, showing we weren't an anomaly.
The Lumia 620 could be that phone for Nokia. It's stylish, affordable, compact and powerful. It's the perfect phone for teenagers, adults who aren't into smartphones or tech geeks who just want a fun solid device for certain days. Nokia could sell millions of these devices, boosting their bottom line and more importantly, wetting people's appetites for something more from the company next time around.
We could imagine this phone being given away for free on contract or exceed in the more lucrative pre-paid market that Android dominates right now. The difference here is that the 620 is not a compromise when compared to those craptacular low-end Androids—it's just a solid, eye catching Windows Phone.
Will carriers respond to the Lumia 620? We're starting to see significant pick up and even the media is giving the device high praise. A lot will depend whether Nokia can leverage the device into people's hands, but we think they may have a mini-hit with the Lumia 620 if they can succeed.
Get the Windows Central Newsletter
All the latest news, reviews, and guides for Windows and Xbox diehards.
Daniel Rubino is the Editor-in-chief of Windows Central, head reviewer, podcast co-host, and analyst. He has been covering Microsoft since 2007 when this site was called WMExperts (and later Windows Phone Central). His interests include Windows, laptops, next-gen computing, and for some reason, watches. Before all this tech stuff, he worked on a Ph.D. in linguistics, watched people sleep (for medical purposes!), and ran the projectors at movie theaters because it was fun.