New Nokia firmware hints at return of Flip-to-Silence feature for Lumias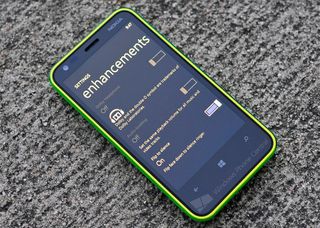 With Nokia's new Windows Phone 8 devices, including the Lumia 620, Lumia 810, 820, 822 and of course 920, one feature that was previously available on earlier Lumias went missing: Flip to Silence. Part of that reason may be due to the curve screen on the Lumia 920, but it doesn't explain the 8xx series or 620 as those are flat.
New firmware found on Nokia's servers for the Lumia 620 hint that this feature is on its way back. The firmware (1030.6402) looks to be still experimental and it is difficult to download but one of our readers did manage to grab the files and flash his Lumia 620 (we tried but received some errors).
Our reader noted that with the new firmware, the 620 appeared to get better battery life, increased device performance and the inclusion of the aforementioned flip-to-silence feature. The OS was not updated with the firmware and it remained on Windows Phone 8 OS build 10211.
Our bet is Nokia is diligently working on porting over some missing features to their Windows Phone 8 series, including DLNA support and flip-to-silence. The former is expected soon as Nokia even admitted recently when asked about their missing PlayTo app. Now we're seeing the first evidence that this useful phone feature is coming as well.
Flip to silence is a fairly standard smartphone feature that enables a user to literally turn their phone over if a call is coming in and disable the ringer. While certainly not a "must have" or groundbreaking feature, it's one of those little things that make smartphones more useful.
It remains to be seen if such a feature will be used on the Lumia 920 where placing the phone display-down could risk scratches.
Thanks, tungha, for the files and screenshots!
Windows Central Newsletter
Get the best of Windows Central in in your inbox, every day!
Daniel Rubino is the Editor-in-chief of Windows Central, head reviewer, podcast co-host, and analyst. He has been covering Microsoft since 2007 when this site was called WMExperts (and later Windows Phone Central). His interests include Windows, laptops, next-gen computing, and for some reason, watches. Before all this tech stuff, he worked on a Ph.D. in linguistics, watched people sleep (for medical purposes!), and ran the projectors at movie theaters because it was fun.
I don't know what it is but damn is that phone beautiful. I almost envy it over my Lumia 920.

That my friend is the Lumia 620.

I'm getting it next week :>. Can't wait!

i totally agree, i just think its perfectly balanced.

It's a great addition. I love flip to silence in my L710. It's very useful and I see myself using it a lot during class or reunions.

i think this month is full of excitement for lumia users, hopefully all windows phone users

Next couple of month for Windows Phones user could be exciting.
Hopefully Microsoft pull there fingers out of there bum holes and start updating WP8 with some missing features.

I am still waiting for Portico on unbranded Lumia 820 - shocking. It's February, HTC uses got this update in DEC

As a programmer, that scares me. Why does anything at an OS level require tweaking for manufacturers? I'm referencing something a Microsoft employee said regarding the release time table.

THis is great & all but I"m starting to get a little confused about the portico update (or lack of) for my Lumia 920 which still hasnt become available for me. My phone is factory unlocked and in the UK. Anyone know what has happened here?

I recall reading that the Portico update will be released worldwide sometime in February in phases up till early March. Don't know what advice to give other than to wait until you see an update notification.

Portico is a "roll out" that will continue till end of March.

With my case the screen of my 920 is very recessed. I hope Nokia gives the 920 the update, and lets us decide what's best for our phones... Also, I would love DLNA!! Does anyone know how that works?

My 920 does not have a recessed screen - it sticks out from the front of the unit. The question for me is whether the gorilla glass is likely to scratch or not. I'm not up for risking it....

It does scratch. Mine already has a few scratches.

Gorilla glass per say DOES NOT scratch. Its got oil repelling coating on top of the glass. That is what scratches from daily use esp if you introduce that coating to coarse surfaces.

I put my 920 with the screen down on many sort of surfaces and it does not have one scratch - and no, there is no screen protector applied. I really don't know what people are doing to their phones to get scratches on the display. The only things I could think of are sand corns in their pockets or putting it in the same pocket where you put your keys.

Why did it go away In the 1st place. I'm trying to stay content with WP8 but so much that worked in 7.5 doesn't work now

Because of the kernel change. While WP8 might look like WP7, the whole base of it was changed and made more modular (with the Windows 8 kernel).
Above means you get benefits like native code (easier to make games and port them) and in theory faster developement on bringing more versatile hardware to the platform. With it also some of the old app compatibility was lost. Though the change had to be done at some point.

Right, and with time you will see WP8.0-WPx grow, and most likely surpass the functionality of other platforms because of this more technically competent kernel WP is now using.. Basically, MS did this move so that the possibilities of what a WP device can achieve in the near future, and for years to come, will be endless...

That's just how it goes. I work in the software industry and we offer a 15 old program that sucks, but does a LOT more than our newer software. Main reason is that while the programmers were adding new functionality to the old software, the programmers working on the new program were trying to get the new program to look better and be easier to use. Now that the UI is finished it'll few years before we have all the functionality added in.

Plus key here is Hardware! This WP8 in future can go upto 16 cores as one of the articles said. Our old WP7 was limited. It doesn't know how to use more than two cores correctly!

Actually, Windows Phone 8 can theoretically support 64 cores :)

I don't see why it wouldn't be available in the 920, as it was in the 800 which also has a curved screen. Ultimately if you're worried about scratches, just don't use it or put it down on a soft surface.

I agree. but then again, I have a screen protector (Skinomi) on my 800 so it doesn't bother me at all. Looks like I'll have to go shopping for another one again if I do buy the 920. ;)

I miss that option on my 920 that was on my Titan

I'm fine. My N8 makes a great alarm clock. I just leave the power turned off and the battery lasts me for months.

How does it work anyway? Is it prone to false positives? Is it useful for situations where the phone is not sitting facing up horizontally?

Anymore progress on Microsoft's patent of tap to silence? I've been interested in that feature for awhile.

How does that work? Sounds interesting...

Your phone rings in your jeans pocket...you slap it to silence it.

Glad they are finally getting around to adding it. I used it on my 900 fairly often. Was surprised when I flipped over my 920 and the ringer kept going.

Same here its a feature i really miss from my old Lumia 710 love to see it on my 920

Its not available after 7.8 update on 710 also. Really miss it. Wonder why they scrapped it.

That's a good point, and something to be considered because we've always suspected it was just a current limitation of WP8..

My L800 still has it in WP7.8 ..

I am not certain that it is limited to the kernel. My HTC 8X has this feature built in under attentive phone options in settings. Was this just specific to HTC?

Better battery life! Yes please

when is it releasing in india? we have been waiting for a very long time ... :

its releasing in 2nd week of fab.....

Hope this fixes the ongoing Bluetooth issues in my 920, so tired of hearing popping sounds and skips when I'm streaming songs through my my Jeeps radio. Also the freeze UPS when I'm internet sharing with Bluetooth streaming.

Great... Just what I needed. Now about that screen auto-brightness idea? Can we get a fix for that?

That auto brightness is horrifically bad. I was reading (Stacks/Kindle) on an airplane the other day and the constant brightness pumping was embarrassing, frankly.

Can't beleive this was missing in the first place

I don't really get it. Why would I see the effort of flipping over the phone instead of just muting it from the button if I have it screen up? Not only I have putting my phone screen down in fear of scratches, but then I'd end up flipping it again after a while, not to mention it's a lot less effort to just poke one button on the screen if the call comes than pick up my phone, flip it, and put it back down.
More features is great, never just quite understood the value of this one.

ths feature is already available in my Lumia 920 i use it everyday... only difference you dont have an extra menu to be able to deactivate it... Germany here

I'd like to see the whack to silence that MS patented.

Stolen feature from HTC even my WM devices that suppported it had it. Even the Trophy offered this feature...

IT works pretty well on my 8X.... and it did work great on my old Trophy (no longer own)

I wonder if this works if you have it in your pocket. I can't have my phone face down at school or they will literally send me home. Having a phone visible is a huge no-no, so I hope this works while in a pocket.

Still waiting to be burned by WP9
Windows Central Newsletter
Thank you for signing up to Windows Central. You will receive a verification email shortly.
There was a problem. Please refresh the page and try again.