Nokia announces post-Tango 8779 updates for Lumia 610, 710, and 900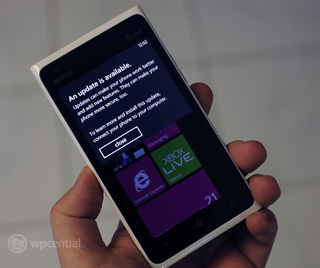 Last night we revealed that Nokia had some 8779 OS updates with presumably some new firmware on their servers for the Lumia 710 and Lumia 800. At the time, we didn't know what the updates included as 8779 is just slightly ahead of the just released 8773. Looks like we got Nokia's attention as they just gave out the details on the forthcoming update.
Technically speaking, we still don't know what it's in the OS as far as changes go (they're expected to be minor) but we now know what is coming with the bundled firmware. What's more, it looks like the Lumia 900 will be getting the update too (although no word about AT&T, specifically). In fact, we've heard that the Lumia 900 in Germany already had 8779 on board so this is probably ready to rollout. Also, instead of the Lumia 800 we have info on the Lumia 610 instead.
On the Nokia Connects blog, details about the forthcoming updates were posted and it looks to be quite solid:
Lumia 900 version 2175.2101.8779.12201: Enhanced sensitivity for proximity sensor performance and improvement to your phone's screen colours in low light conditions
Lumia 710 version 1600.3031.8779.12180: Internet sharing (Wi-Fi Hotspot) — Share your phone's internet connection over Wi-Fi with up to five other devices or computers and Flip to silence — Silence incoming calls by turning your phone face down.
Lumia 610 version 1066.0000.8779.12201: Enhanced sensitivity for proximity sensor performance and improved sound level for alarm tone during voice calls.
From the sounds of it, these updates are very close to being releases so you'll have to check for availability (or just watch our site). You can get more info when it's made available at https://www.nokia.com/support/ (opens in new tab). You do have to give Nokia some credit though, they're on top of these updates.
There was no mention of the post-Tango 8779 for the Lumia 800 though, which is curious because we did see those on Nokia's NaviFirm servers. Perhaps they're not ready for prime time just yet. We'll keep you posted.
Edit: As some users are pointing out, Nokia Connects may have the firmware numbers wrong. The latest firmware looks to be 12221 and not 12201 and some of those 710 new features came out with the 8773 update. So this is still a bit murky.
Thanks, Giovanni, for the heads up and Mark T. for the Germany info
Daniel Rubino is the Editor-in-chief of Windows Central, head reviewer, podcast co-host, and analyst. He has been here covering Microsoft since 2007 when this site was called WMExperts (and later Windows Phone Central). His interests include Windows, Microsoft Surface, laptops, next-gen computing, and for some reason, watches. Before all this tech stuff, he worked on a Ph.D. in linguistics and ran the projectors at movie theaters, which has done absolutely nothing for his career.
So nothing specific for the 800?

Not yet but from our story last night, we saw 8779 updates with the 12201 firmware for the 800. So they're in the works is my guess.

I wouldn't expect to hear from AT&T about anything regarding any updates. I'm still waiting for my Tango update...

Me as well. I wish they would push it out already

I don't want to be the guy to blast them because they're supposed to be the largest windows phone carrier in the U.S. I'm sure they have their reasons...but would it hurt to just release a statement of some sort? Ya know, just to feed the sharks.

ATT isn't releasing the Tango update. We've known that since March.
http://www.wpcentral.com/att-not-planning-roll-out-8107-update-windows-phones

The article you linked to is not about the Tango release, it's about the 8107 update. The only mention of tango in that article is speculation that the reason for not pushing 8107 is because Tango was not too far behind. AT&T has not made mention of their plans for Tango.

As long as Microsoft puts the L900 update on the servers im doing the WiFi trick. I can't record a thing on my phone because all you hear is loud bass. And my Samsung focus did a great job. I got videos to prove it as well.

The features listed for 710 came out with 8773

What's new Latest software release for Nokia Lumia 710 is SW 1600.3031.8773.12121
•Latest version of the Windows Phone operating system
•Internet sharing (Wi-Fi Hotspot) — Share your phone's internet connection over Wi-Fi with up to five other devices or computers.
•Flip to silence — Silence incoming calls by turning your phone face down. That is copied from 710 support page

I think Nokia connects have put wrong firmware numbers in post

I think you're correct. Updated post.

I never received the Tango update for my T mobile Lumia 710. What the hell!!!!

Still waiting for Tango on my unbranded Lumia 800. At Nokia site they state roll outs are weekly but they don't mention which day it starts/ends ( Monday, or did it really started at 27 Jun?). Anyway, eager to get flip to silence it'll be quite useful, and internet sharing as well.

Since installing on my 800. Audio clicks between tracks, flip to silence work on call by call method, leaving face down doesn't stop it ringing again. No call divert options, and battery seams to be draining rapidly again.

Then why does it show an update on your att Lumia?

I think that's just a stock photo. It screwed with me too.

Btw did someone experience this bug with 8773 on Nokia lumia 800: the sound goes low when I am watching a video or listen to music while the e-mail notification 'ding' bells? At this moment, I need to restart the music+video app or YouTube to fix this problem...weird

Already have internet sharing on the 710 at 8773. Don't know what this ads.

Does anyone know if the share WiFi is free or is there going to be some kinda fee on my bill

Almost sure the WiFi will be charged, when I allow it on my 900 I immediately get a contact phone provider for plan change message.

Yeah, depends on the carrier. Most carriers won't care as it's just eating into your data plan allowance. I think only some US carriers expect you to pay more.

Those features already came to the 800 with 8773. The only thing left to introduce in 8779 is the location icon. Nothing interesting here, please move along.

Now I know what this icon is :D Thanks.

My friend had his Lumia 800 flashed to 8779, but didn't notice any "changes" yet...

My 900 has been delivered with 8779. Got it 3 days ago.

I'll assume you're not att

need the update so badly, i have many problems.
1. my keyboard diassapear sometimes
2. cannot share internet
3. cannot join tethered hot spot
4. it gives me the message "battery critically low" even when i charged, have to remove battery to solve this issue.

I am from India but I dont see any update for lumia-710???Can someone pls help me???


I have been thru 3 900s... A black and two whites and still have the reminder issue with outlook...

What about samsung omnia w?. Will it ever see the light of tango update ?. I thought all the windows phone updates will be coherent and available to all the users at the same time unlike android. Didn't expect it would be like this.

Hello I'm from India,when will came firmware update in India,please tell

I have lumia 800,I want know when update will come in India,,,
Windows Central Newsletter
Thank you for signing up to Windows Central. You will receive a verification email shortly.
There was a problem. Please refresh the page and try again.