Nokia prepping post-Tango 8779 Windows Phone OS updates for Lumia 710 and 800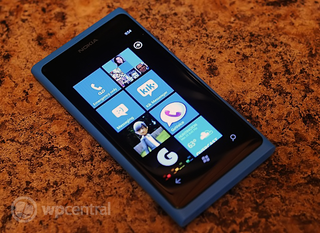 Nokia is keeping up with developing OS updates for its Lumia line of devices or at least they keep priming them for release. The latest update, found on the NaviFirm servers, is for build 8779 which is just slightly ahead of build 8773 aka Tango. Tango just started rolling out by various carriers and OEMs last week (see out documented features list for Tango here).
What's new in 8779? We're actually not sure. Support for the location-based alert icon is thought to be one, but we've seen it on a Lumia 610 with specific firmware (not ours though). Due to the regions where this is being prepped for—Thailand, Pakistan, India, Lebanon, Tunisia—we're going to guess that better support for specific markets could be another feature. Other features like static-IP for WiFi and more SIM options may also be available are other possible options.
Windows Phone 8779 showing up in NaviFirm Plus for the Lumia 710 & 800
The OS update is unofficially available for the Lumia 710 and Lumia 800 (nothing for the 900 just yet) and can be downloaded using NaviFirm Plus and flashing your device. It's a tricky process but technically legit as it uses Nokia's own methods. However, there are still risks involved including not being able to flash back and due to the language issue (we're not sure what language packs are onboard) you may not be able to read your device again.
For that reason, we can't recommend trying this out but we'll keep an eye out if and when more region- or carrier-specific versions pop up. Thanks, Melicaster, for the tip
Daniel Rubino is the Editor-in-chief of Windows Central, head reviewer, podcast co-host, and analyst. He has been here covering Microsoft since 2007 when this site was called WMExperts (and later Windows Phone Central). His interests include Windows, Microsoft Surface, laptops, next-gen computing, and for some reason, watches. Before all this tech stuff, he worked on a Ph.D. in linguistics and ran the projectors at movie theaters, which has done absolutely nothing for his career.
Static IP is possible through a registry tweak on 8773.

I never received the Tango update on my Lumia 710 for T mobile.

Same here im stilling waiting

I still haven't received my T-mobile update either. I called them to ask where it was and blew their minds. They don't have a clue.

I'm running 8779 on my Arrive (LEDPOIZON custom ROM) and can confirm the Static IP... Haven't actually seen the location icon pop up but in sure its in there... Nothing else different that I notice over 8773 though...

Cool, that reminds me...need to install a custom ROM on my Arrive, lol.

Just wait for ver 7.8 or get a new wp 8. Hahaha

I have 14 phones, i think I can spare my Sprint.

I'd love to know the relationship between AT&T and Nokia... No love for Lumia 900 :(

They probably figure why support a dead end device when they can push you to buy a WP8 this fall.

Well we know yours is dead end device lol....

Lumia 900 has most features of the 8773 update. The 8779 should be coming though I am kind of disappointed as well... However it still works great!!. I will never get a AT&T WP again i would buy the International version or a T-mo WP ( they give more support than AT&T).

But I had to hack in 8773, and the international version does not support att-us lte or lte of any kind. Even if I bought off contract, I still have to pay the same monthly cost... I'm also hoping the best for T-Mobile!

Don't even have Tango on my unlocked, unbranded Lumia 800 in Australia. wtf.

No tango on my LG Optimus 7 unlocked in Australia.

You can update yourself... Read the a few previous article on WPCentral...

Me neither, and I'm from Malaysia. I recall a moderator at the official Nokia forum pointed out that it is Microsoft that is pushing the update in stages, not Nokia, so that means the latter have no control over the update's release in which country even though it is already complete.

Even Nokia posted this on their update page when you select your country:

"The updates will be published in weekly waves, here you can check the status of the update for your country. Also, software updates for the Nokia Lumia range are released gradually through a quality control system called 'throttling'. That means, once the updates are started, throttling will initially decrease the update's visibility to ensure that quality and performance requirements are met for the update process itself. As soon as the update is available for you, you will get a notification pop-up on the phone screen (if automatic checking not disabled manually)."

I have TANGO installed on my LG Optimus 7 I would like to install this version too :D

what country/network are you with?

Still no tethering for 800?

Tethering is enabled in 8733.

I don't even have tango on my unlocked Rogers lumia 710, and already more updates wtf indeed

It should be available for you. I am supposed to get it from telus on the 13th for my 800.

Sim Options as Sim Tool Kit right? If yes, does that mean we'll finally be able to use USSD (Unstructured Supplementary Services Data)?

I would like to see it on my radar 4g from t-mobile. I have no clue why they release it for one phone but not the WP they have.

The radar mostly has tango already. Biggest thing from tango (from carrier POV) was WiFi hotspot. Radar had that from the get go. Radar has gotten other updates as well. I use it and love it

Tango seems to have better voice recognition and consistent LTE connection even in places with bad signal. I always have signal now on my Lumia 900, doesn't matter where.

I hope it resolves the no network bug. That will make my 710 perfect. Well as near to as possible :-)

Talking of 8779 while I don't yet have 7740 on my Focus. I'm angry with AT&T.

Agreed. It's so demoralizing to see a new update-related post come out every day now, while I'm still stuck on 7720 with a disappearing keyboard. I'm honestly convinced everybody is getting updated, even other AT&T customers, except for the early adopters (first-generation devices) who have been dealing with the disappearing keyboard the longest.

Why dont you update with the disconnect trick?

Tried it, doesn't work. It either reported that 7720 was up-to-date or it simply said it couldn't connect to the Internet to check.

If anyone is on o2 in the UK, no luck for us, as o2 has no plans on releasing this update. Probably will have to wait till 7.8 is released.

Don't get me wrong, im perfectly happy with my Lumia800 but, I don't get why O2 think its ok to dictate to us which updates we get and which ones we don't......never used any other mobile provider & i give them enough cash every month via phone, broadband, mobile to think that maybe I should be entitled to choose whether i wish to install any updates or not. So much for rewarding your loyal customers eh.!!! I think we should just hound them on their bloody forums till they do release it.!!! :-)

http://www.nokia.com/global/support/software-update/lumia/europe/availability/?page=3

http://nokiaconnects.com/2012/07/06/alert-nokia-lumia-900-710-and-610-software-enhancements-available/
Features of 8779 announced for 900, 710 and 610.

I haven't got tango yet. O2 are so slow.

02 UK got not plans on releasing update, not sure about o2 anywhere else.

What a day for Zune to refuse to connect to my 710 at all.
No problems yesterday, but today.... grrrr...

Is there any diffrence between The latest Windows Phone Tango update 8773 and 8779 version is same ?
I am using Nokia Lumai 710, I udate my Phone through Zune the version to os version: 7.10.8107.79 to new os version: 7.10.8773.98 and Firmware revision number: 1600.3015.8107.12070 to new Firmware revision number: 1600.3031.8773.12121, Redio hardware version: 7.33.0.0 to new Redio hardware version: 8255 and Chip soc version: 0.7.4.2.1 to new Chip soc version: 0.74.2.1
Windows Central Newsletter
Thank you for signing up to Windows Central. You will receive a verification email shortly.
There was a problem. Please refresh the page and try again.