Some new undocumented features of Windows Phone Tango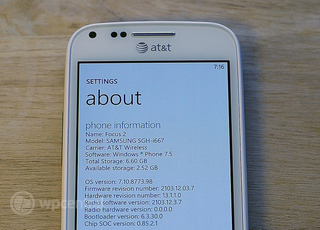 Windows Phone 8773 still has a few hidden things in it
While users around the world are slowly getting the Windows Phone Tango 8773 update, a few under-the-hood changes are being noticed by users. We forced manually installed the update onto our Focus 2, Titan II and Lumia 900 with the Focus 2 (review) being our main device these days. As a result, we have had some experience running Tango and noticed a few little nuggets which we'll share below.
New wallpapers – We first noticed this on our Tango-fied Lumia 610 but Microsoft is now including those new "nature" themed wallpapers in the Tango ROM
Faster numeric PIN response – At least on our 8112 devices (Titan II, Focus 2, Lumia 900), when we would attempt to unlock our PIN on our phone it would sometimes be very slow and not register, requiring you to re-enter the number. While minor, it was annoying. That was fixed by updating all our devices.
Send ringtone via MMS – We can now attach and send ringtones to others via MMS. You can only send custom ringtones though and nothing that is "in ROM". This in addition to the new "send voice note" and attach multiple images in an MMS that's found in Tango too.
Letter indexing – On Windows Phone 7.x after a user installs 45 apps, the app list will automatically index, giving you the "letter picker" to jump to find your favorite app. The problem, albeit minor, was if you went below 45, the "letter picker" would not disappear. It was odd behavior and nothing we ever experienced but Tango evidently fixes this. [Forum]
More reliable notifications – Many users are reporting better notifications, both Tile and Toast, with the Tango update. To be honest, we feel this has more to do with "flushing the system" than any actual optimizations, though perhaps there are a few.
Users can now share custom ringtones over MMS
Another anecdotal fix may be related to "the Internet Sharing bug" which sometimes causes normal WiFi to stop working, then forces users onto cell data unknowingly. This only occurs if you've enabled internet sharing at some point on the device. We've seen this on our Lumia 900 and so far it seems better to us under Tango, though we're still evaluating.
Things not available that were thought to be:
Static IP for WiFi- We haven't seen this but you can reportedly enable it via a registry hack. Bad news is you need a rooted phone to do that. Some Nokia users supposedly have this though we assume it's tied to the firmware [Forum]
Location icon – This actually not a part of Tango (8773) despite previous reports, but is part of 8779+, so don't look for it or expect it
Export contacts to SIM – Not available though you can enable it via a registry hack, assuming you have a routed device [Forum]
Did we miss anything—specifically any new features or options? We get a lot of "this is now faster" reports but those are near impossible to verify, so we're only looking for actual new additions to Tango 8773. If you have some, let us know in comments.
New nature-themed wallpapers are now included in "Tango"
Finally, we have not seen a Tango update for any of our AT&T phones, including the Focus S, despite some isolated and unverified reports. Sorry, folks. Thanks, rockstarzzz, for the forum links
Daniel Rubino is the Editor-in-chief of Windows Central, head reviewer, podcast co-host, and analyst. He has been here covering Microsoft since 2007 when this site was called WMExperts (and later Windows Phone Central). His interests include Windows, Microsoft Surface, laptops, next-gen computing, and for some reason, watches. Before all this tech stuff, he worked on a Ph.D. in linguistics and ran the projectors at movie theaters, which has done absolutely nothing for his career.
AT&T, can you just do us all a favor and give us an update in 2012!

You can force the update yourself.
Set phone to airplane mode
connect to Zune
click update and cut off your connection.
If the timing is right, you should get 8112. Repeat for 8773.

Will this work for all carriers or just att phones?

Should work for other carriers. Worked for my focus and focus s both unlocked with Telstra

Worked on my DVP T Mobile.

Gave up after 60 tries with my titan on at&t

Yea, me too. Titan II with 8112.... Tried it since July. Still nothing.

REALLY Frustrating. I'm going to a Lumia soon as it comes out. Support from HTC and ATT has been Zero.

Worked on my Samsung Focus on Rogers in Canada.

Same. This worked for me as well with my Samsung Focus. And it worked for my partner too on the Nokia Lumia 900.

It'd be nice if AT&T just freakin' release the update.

An easier method is to download the CABs manually and push it. Instructions are posted on XDA. I did this on my Titan on Thursday and it's working fantastically.

Will this affect the future updates ?

No. I got software and firmware through this. I suspect this works because MS releases the update in stages and disconnecting causes the server to issue the update when the phone ID does not transmit.

That never worked for me.

Same disconnection trick works in Italy too ;) Just updated my Lumia 800.
I disconnected wifi after 2 seconds, for both updates.
I received a 3rd update too, firmware related.

Well, I can confirm this works, since I asked, I've installed 4 updates, focus s in at&t, will update about changes, till now I've seen the multi-pic send and the ringtone send from sms, no more

Not a Tango change itself, but one of the positives I see after having recieved the update on my Focus S: With the firmware update from Samsung that installed after the OS updates, "Use auto display intensity" under "extra settings" now remains off after a reboot if you've disabled it. Hated having to re-disable it every time I rebooted.

Good to know. I hate that too. I only reboot maybe once every two weeks but nice to know it has been fixed. Either way I'll wait for 7.8.

I always enjoyed the letter picker even though I don't have 45 apps now I am not too excited to get tango

I wish ms would add the option to enable/disable the letter picker even if you don't have that many apps. I personally don't like scrolling to apps.

I think I may be suffering from that internet sharing bug - just got a text from my carrier to say I've reached my 1gig limit for June yet I rarely get anywhere close to that in previous months (with eMobile in Ireland on an Omnia 7).

I had the exact same situation! Never had that before until last month.

LoL art sucks. Now I know why sprint unlimited all you can eat data best no need worry of getting pass.your data limit. I heard they will have windows phone 8 phones

Again it would be so much easier to say windows 8 phones! Hint hint MS

Unlimited data at dialup speeds.

@tim- where did you hear this nugget of good news? I am on sprint and they are just stupid about WP. Have 6 months til upgrade. If sprint had not committed by then ATT will be my new carrier

Nevermind ,I always have over 45 apps.

You can now import single contacts from sum. Keyboard umlaut bug is still there though :/

Hmm, the Umlautbug is definitely fixed for me.

I'm on AT&T, and my Focus S updated Saturday around noon.

We've heard this from one or two folks but I nor George have been able to verify on our devices. I just tried my Focus S before I published this and nothing is being reported. Not sure what's going on but even on the AT&T forums, no one is reporting it.

Yeah, same here, been checking everyday and it sadly tells me Im up to date with 7720 :( - Focus S user

Seem to be a very limited and slow rollout. My S got it late last week (from AT&T), but the other S and the Flash in my house haven't

Same here, AT&T and Samsung Focus S. It notified me of updates as soon as I plugged it in to Zune

Am I missing something as I only ever get updates through Zune and my carrier has nothing to do with it. In UK on o2 with unlocked phone if that helps.

Your Xbox avatar, as well as those of your friends, are facing more to their left than before.

You got this update on a HTC Arrive? On Sprint? How?

Me too. Just use the same method as with 8107.
I have the "send ringtone" option on my Arrive.

We used the force-update method. Odd ours doesn't have the send ringtone though. Will have to take another look.

Daniel, forced on what device, method, and carrier?

Sorry, bad choice of wording. We manually installed not "forced" as in the Zune/Airplane mode trick. That hasn't work for any of our AT&T devices so we manually updated them via the CAB method.

No worries. I appreciate the clarification!

aw man, this is frustrating - I can't get the timing of the force-update method right. I'm on 7720 still, btw.
Here's what I'm seeing:
With Airplane mode off: - no matter how quickly or slowly I cut the internet on my computer, the result is always "Your phone is up to date"
With Airplane mode on - no matter how quickly or slowly I cut the internet on my computer, the result is always: "Can't check for updates right now. Please try again later."
Any tips on what I'm doing wrong?

Try my method, I did the Zune, airplane mode, unplug stuff, after clicking update I two seconds later I turn off my internet but I don't turn airplane mode on yet, then I count 2-4 seconds and then I turn on the airplane mode, has worked with 5 updates...

Plug into Zune, turn on airplane mode then hit update then quickly disable your internet the update should pop up.Turn you're internet back on and install.

Not working for my HTC Arrive. Dan, did you use the CAB file force or Zune force?

I used the CAB files. Worked perfectly for me.

What about 8107? I'm not on that yet, either. Is there a CAB for that?

There is, but you need to go to the article detailing how to use the CAB method to get it.

cliff08er - did you use cab force method to get to 8107 and the use zune force to get to tango? I was wanting to avoid cab force method all together since it seems like a risky move.

Nope, just used Zune and my phone was at 8107 already.During the update it went to 8117 then to 8773.Unlocked DVP.

Not seeing the ability to attach anything other than pics or vids to my MMS messages. And how exactly does one enable internet sharing? Verizon HTC Trophy here, 7.10.8773.98.

I've got pics/vid option and ringtone. As far as Internet Sharing goes, I have a feeling this will be a Verizon/HTC firmware update. I think this will come too since Verizon released their Share Everything plan and you get "free" tethering.

Weird, I only have "picture or video" and "ringtone" as my mms options on my Quantum (on AT&T). Wonder if that's a registry item I can enable.

That's all I can do pic and video DVP, and video if it's anything over 5 seconds it says file is to big

Tempted to force the 8773 update on my Lumia 900 but have read rumors a forced update could stop future updates from being received or downloaded. Anyone have any experience proving otherwise?

I've been receiving updates without issue. That issue was true only with the "Walsh" method in the pre-NoDo days. Besides... why worry if you can always manual update in the future too? ;)

Sorry to go off topic, but is anyone else in the US having dificulty connecting to the Zune server through the Zune software? I can connect fine through zune.net, but I get a "Can't access the server" error every time I try and sign in through the desktp client. Maybe related to the big storm we had in the NE this weekend?

Not just NE. All over East Coast, and some Midwest now, I think.

Whew! Glad it's not just me, I was getting ready to rebuild my whole dang desktop. Thanks for the response. MS really needs to get better about communicating this stuff.

Oh, well, I was talking about the storm, actually. I apologize for that. My Zune desktop client is working, force update is not.

It was future OS updates I was concerned about. I'd be bummed to force 8773 just to have it released in a few days/weeks. Then not be able to get 7.8 whenever that comes around because of forcing 8773. Maybe I could just force that then? Or could I still miss out on firmware updates frrom Nokia? Anyone had any experience of getting OS/firmware updates after a force?

I forced Nodo, got Mango regularly on focus. I have L900 now, but can't force...not doing cab...gave up, guess I'll wait... No big deal with current update for me

All I want on my Lumia 900 is a bloody eq,...

Jajaja I got sound enhancer on my HTC.

I hate the ugly new Nokia Marketplace Tile :(

For some reason my 900 didn't get that ugly new icon, luckily. Probably due to the fact I forced it with the cab update.

EA575, how did you update to tango in Arrive? via force method? Also, do we now have tethering? I have been trying to force it with no luck.