Nokia Lumia 630 and 930 heading to Brazil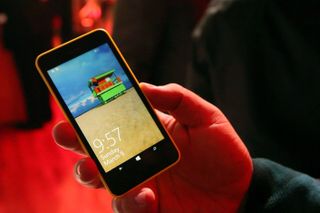 Microsoft is planning to release both the Nokia Lumia 930 and Lumia 630 in Brazil later this month, alongside other first-tier launch markets. To celebrate the new Windows Phones entering the local market, Microsoft Brazil will be hosting an event on May 15th in São Paulo. This marks the shift from Nokia to Microsoft with the latter now handling marketing and device launches.
Should you be wishing to learn more about either handset, be sure to check through our previous coverage, including an unboxing of the Lumia 630. The Lumia 930 is the interesting device in question since it's Nokia's (now Microsoft) next flagship device. Featuring a 5" 1080P display, 32 GB of storage, 2 GB of RAM, a 2.2 GHz Quad-core processor and a massive 20 MP camera, the Lumia 930 certainly has the horsepower for Windows Phone 8.1. Throw in Qi wireless charging, and you have it all.
While we don't yet have pricing for the Brazilian market, the Lumia 630 is expect to retail for around US$225, while the Lumia 930 is to be priced in the neighborhood of US$680 (even though it's not expected to be available in the US market).
Source: WindowsPhoneBrasil, via: WMPU
Windows Central Newsletter
Get the best of Windows Central in in your inbox, every day!
Rich Edmonds was formerly a Senior Editor of PC hardware at Windows Central, covering everything related to PC components and NAS. He's been involved in technology for more than a decade and knows a thing or two about the magic inside a PC chassis. You can follow him on Twitter at @RichEdmonds.
When is the 930 coming to AMERICA???!! The Icon is only on Verizon, what about us faithful 920 AT&T users who want its direct successor? I switched to AT&T just to get the 920, assuming that Nokia would support it foremost over Verizon.

I think we will be getting a 1030 :)

Can we buy it from another country? I'm in the same boat you are.

Don't forget about us T-Mobile customers.. I think that it is crazy that it wasn't announced to come here to the USA.

Relax, they probably did it this way to honor verizons exclusivity period. Other first-tier, I can't imagine that US doesn't fall into that category, btw. Its coming that should be enough.

Poor AT&T customers with your Lumia 1020 and 1520. Yeah, T-Mobile customer here.:)

i believe it is coming to india simultaneously also , the event post's colors shows it. http://wmpoweruser.com/microsoft-holding-may-15th-event-to-launch-the-no...

The Lumia 930 needs to cut their price anyhow. If its more than ₹40000 ppl won't buy it. There price should be ₹35000. Then see how sales for this piece will boost

It said initially that ir would retail at ₹36,000.. But if they give a free wireless charging stand then it might get to 38-39.. I have an eye onit but it still is very expensive. With no mid range phone in sight, it seems to be the only upgrade possible for me which is future safe. 630 is a downgrade for me :P. Anyway, i might push till 36-38 if my admission results get great ! ;) wish me luck :)

I don't know bro the Chennai plant was an asset for manufacturing and easy marketing for nokia don't know how Microsoft gonna deal with it they have to be very fast with their marekting.

Actually. I read that nokia india were given a 400 million VAT relief. Didn't read the whole story, but maybe things might get positive soon.

Though i agree solid, they need to market it like samesung markets their S5. Promoting it as if it was a huge technological advancement. Pure gimmicks. Nokia needs to show how 930 is the best smartphone in recent times in terms of useability, performance, looks (some may not agree), camera, aesthetics, and yes, OS ;)

Those are not India colors bro. Those are the new colors in which 930 is going to be available....:)

look it Microsoft watch http://www.freepatentsonline.com/y2014/0121539.html http://www.freepatentsonline.com/20140121539.pdf

Price in Brazil for 930: U$ 1.100,00

No mínimo ele chega por R$ 1.999,99.

acho que o preço ficará por volta de uns R$2.500,00

These release dates are coming out so slowly

Before heading to Brazil iv know that Brazil wp store doest have many apps. Microsoft has to improve the apps in Brazil and even test of the world. Currently inky the US region WP store has a better app alogarithm. So when avg consumer will look for apps in the electronic store such things will pretend him or her to buy WP.

Still waiting for 930 here..... :'(

Knowing the market here in Brazil, the Lumia 630 should cost about US$ 360 and the Lumia 930 around US$ 950 and US$ 1,050. (It's the price of Lumia 1520).


The Lumia 1520 cost $515 in USA and Lumia 930 over $600 I expect at least $1100 in brazil for 930 Thats going to be a huge failure again. People that are willing to pay that on a phone in Brazil will buy an iPhone instead. The 630 will fail too since it will cost at least 10% more than the Moto G with similar spec I hope they start to sell 930 in amazon so brazilian tourists can buy their phone in a trip to USA

@wpcentral ... eagerly waiting for lumia 630 detail review. how many days more???

Will come when Nokia allow they to do it. Probably aroun May 15th.

The 930 in June. And the 930 will also probably only arrive in Brasil in June.

I'll wait for the 830; a smaller display and expandable memory as the main reasons.

"Throw in Qi wireless charging, and you have it all." Except a bloody microSD slot.

Sadly, very true.. SD :((

My thoughts exactly. Though I seldom need one. I'm managing the 16GB from my 925 just fine... Kind of.

Apps on wp are HUGE if compared to android. For example, the game 'think' takes about 30 mb on my phone, while it takes 12 mb on my bro's lagdroid tab. I know it is because of performance reasons, but... Even minor apps take so much of space here after installation. Games are almost the same size, usually smaller. The minor apps would be a problem if i get a 930, shoot at 20MP RAW, keep big games to play, and also keep my music library offline, I'm going to have some trouble. (in India our internet is too slow. And 3g is very limited and still a bit expensive. So we dont keep our music online)

I didn't know about the app stuff. At least in my case I won't take pictures in RAW, neither do I keep loads of music on my phone. Games aren't much of an issue since we don't get the latest and greatest, so 32GB will (hopefully) do fine for me.

You're good to go then ;)
I'm also worried about others storage. People, anyone who got a huge others storage after a hard reset on 8.1 ? I am curious, i haven't updated to it yet.

Other storage = 2.1Gb
Nokia Lumia 925, WP 8.1

That sounds nice. People on 920 often report about 6-10gb. Maybe they optimized it finally ?

Why are they announcing phones so far in advance and doing it without announcing release dates? That just leads to massive frustration. I've been holding out on the 930 since it was let out of the bag early April. Now I'm being told it's likely to be end of June/mid July before its available in the UK. Why not keep it secret then announce it and release it almost simultaneously like the big boys do?

Is it a dream that these phones are coming to Brazil before the US? Both of them are already on Nokia's website, though it only says "coming soon"

Well.. 930 isn't even going to USA.. They have the icon there and have no plans to release 930 in the usa. Non-Verizon customers can complain.

We Brazilians only wish the 930's price tag were to be around $700. It'll probably cost around $1300 off contract... Ridiculously absurd!

Lumia 630 will come to Brazil with digital tv integrated. Strangely nobody commented it here, but is what they're saying everywhere.

Has not been confirmed by Nokia, but will have Digital TV! And the price!? R$ 699 Leaked in Colombo. Yes, he's going to have Digital TV! http://www.colombo.com.br/produto/Telefonia/Smartphone-Nokia-Lumia-630-3G-TV-Digital-Windows-Phone-9-Dual-SIM-Branco

The Lumia 630 will have Digital TV in Brazil.

For the first time we will get the phones first than the US!

Sounds like a bad joke, right? Lol

The original post says "maybe the 930 too?" That's wishful thinking, IMO.

Very interested on the 930, but I'm already convinced it will become too expensive here in Brazil. I think it'll cost around R$2000,00 or even more, wich is around US$1000,00 plus. And then, the person with a thousand bucks to spend on a phone will head to an Apple authorized reseller. Or to a Samsung's to grab a S5 (both of them, I think, inferior to 930, but with more status, so people are gonna buy 'em instead).

I can only hope Microsoft stats bringing the new devices faster to Mexico... in here the 925 its the "newest" one... at least MS started selling the Xbox one from day one... reeeally hope that apply to the new Microsoft Mobile.

when Nokia Lumia 930 and 630 will release in Malaysia. I can't wait

LOL the 930 will retail for waaay more than $680.
Windows Central Newsletter
Thank you for signing up to Windows Central. You will receive a verification email shortly.
There was a problem. Please refresh the page and try again.