Nokia Lumia 630 available to order in Italy for €150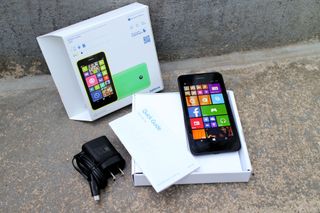 Folks in Italy looking forward to getting their hands on the Nokia Lumia 630 are in for some good news. Head on over to MediaWorld – see the source link below – right now and you can place your order for Nokia's first-to-market Windows Phone 8.1 device for €149.99.
Shipping is expected to start on May 20, so you've got a little while to wait to get your hands on it. But you do get the complete range of colors to choose from at this point.
If you're in Italy and you're pulling the trigger, let us know in the comments below!
Source: MediaWorld (opens in new tab) via WMPowerUser
Windows Central Newsletter
Get the best of Windows Central in your inbox, every day!
Managing Editor - Tech, Reviews
Richard Devine is a Managing Editor at Windows Central with over a decade of experience. A former Project Manager and long-term tech addict, he joined Mobile Nations in 2011 and has been found on Android Central and iMore as well as Windows Central. Currently, you'll find him steering the site's coverage of all manner of PC hardware and reviews. Find him on Mastodon at mstdn.social/@richdevine
Cool... Hoping forIndia release:-D

At a good price of ₹10000 please

Knowing Nokia, it will be released for something around 17k or 18k :-(

I'm hoping for a ₹35,000 release of 930.. 1520 with some better things (glance, sd card slot, bigger screen) is available for ₹37,000 max, so i hope 930 comes out for 35-36 grands. Really want that out soon, not later than June first week.

Me too for 935 but I thi k ill wait a year for goldfinger

I'm not that big a fan of gimmicks, and 3d touch sounds too gimmicky :P Besides, i'm due for an upgrade, tired of not being able to play most games on my 520, and my admission tests getting over (the most free stage of a person's life, when there's nothing to study, and no job, just fun and celebration of the results), that's a nice time for an upgrade ;)

Just tired of not having good games. Better of u buy a any tablet for yourself for that purpose.

I meant that i cant play games like subway surfers, temple run 2, and many major ones on my 520.. But yes, i think its a nice way, get a windows phone for the premium experience and the big games, and get a cheap android tab for all the indie games which aren't available on windows phone (many major ones are available)

This phone sucks compared to 620 Posted via the WPC App for Android!

it has bigger screen , better proccessor , 8.1 out of the box and FM radio.....so it doesn't suck compared to 620

Also the launch price is even less than the 520 so it's a nice deal for 150 on day one!

Oh really ? 520 sells at about ₹7500 these days. 630's expected price is more like that of 525..

It has Bigger screen but similar resolution as 620, no flash, no ffc, same RAM (512MB) so it's not actually an upgrade from 620 only processor n battery are better so it suck big. 525 is better than this.

My 520 has fm radio.. It also has capacitive buttons, camera button and a much lesser price. I'd rather buy the 525 for ₹ 9500 instead of the 630, but that's just my choice.

Of course it does. A newer version has to be worse right?! Guessing you've already used it, then?

What does suck means in your dictionary?

I think this phone is meant to be a successor to 520 rather than 620...cause the 6xx series always had minimum additions such as flash and front cam..the 630 seems to have been pushed to the bare minimum possible...except for the presence of the quadcore...
Am thinking they might push down the prices of the 520 series even more...

I hope Daniel doen't see this . :P

Yet another EU country, but still no UK dates

Have you tried contacting your carrier. I asked Orange when they will have the 930 and what colours, they gave me details. Just an idea....

I am not on contract and have no wish to get tied into an extortionate deal with orange or anyone else. I just want to buy the Phone

Yah, waiting patiently for UK availability, and no I don't want to buy from my carrier. I want 630 dual sim SIM-FREE as my second phone, currently I am carrying 3 phones with me, 920 as a personal, 820 as a work phone and old Omnia 7 to make overseas calls. I want 630 to replace 820 and Omnia 7. (and then 930 to replace my aging 920, but that can wait).

there are firmware on navifirm for UK so i dont think it will be long. Currently O2 and Tesco Mobile firmware is available for the RM-976, Lumia 630

How can nokia release a phone with this buggy 8.1.

i am assuming you are not a troll so i guess you are talking about the 8.1 preview . L630 runs the finished , polished 8.1

Lets see what version it comes with then.

It comes with the firmware version ^_~

Most of the bugs are due to firmware that isn't compatible with WP8.1 on current devices. You'll have to wait for Lumia Cyan.

Did you actually try 8.1 official OS, so you have rights to tell it's a buggy OS? Atm I'm using preview version of 8.1 WPOS and didn't noticed any bug, my Nokia Lumia 625 works pretty much smooth, fast response and none bug here.

I haven't tried the official one obviously. But this WP8.1 preview is one heck of a buggy and slow thing as compared to WP8. So, hoping the new phones get a more polished version.

Can you please explain me what is buggy in it, because we obviously have different standards what is buggy and what's not?! I'm using 8.1 preview for developers version from the date it were released, and I'm very satisfied with this kind of beta version. Which phone you use?

I'm dyslexic or is it dislexsic?

Can you please enlighten us with the bugs you have found? I have updated all my household phones with WP8.1 DP - 920, 820, 620 and 520. Apart from few graphic glitches, I have not found any bugs and that is purely because none of these phones have correct firmware/drivers as yet and that is always understood for DP version of the software.

I personally experience nearly daily restarts on my 920 running 8.1. It's not that horrible; it usually only happens once a day and the phone simply turns off and then back on.

That is strange, I do not have this problem with my 920. But then again I did hard reset my phone after installing 8.1, backing up every thing first and reinstalling all apps with fresh versions. Have you tried hard resetting your phone? May be one of the app causing this problem?

It does have a few bugs like notifications never showing unless you open the app SD card takes forever to load random restarts camera takes a while to load. Bugs not daily but still annoying, its still in beta and still a great update.

Many of the members here have listed the bugs they faced. Here is what i faced. I installed WP8.1 preview on my Lumia 820. Xbox Music is Slow and doesn't update. If you do it manually by going to store it says this app is not available for your device Xbox Games are damn slow to open Skype doesnt ever ring on my phone if someone calls. Apps stored on SD card sometimes loose there icon and go Blank Games like Subway Surfer is a lot laggy now Phone hangs and doesn't respond at all. so i need to take out the battery Unlocking the screen doesnt work sometimes i.e it becomes slow. After pressing the unlock button you need to wait for like 10 secs to unlock the phone. Despite all this I Love the 8.1 and hope MS fix this soon.

I also feel that it's a little bit not stable, and slow. But it's a preview after all. And the firmware hasn't been optimized for 8.1. So it's completely understandable that some glitch are there. Based on previous record, in site the official one will be much more polished.

I am using it on my 520 and had no problems with the 8.1 preview whatsoever.

Just remember the Developer preview is not the final consumer rtm that will be shipping with phones and no existing phone has firmware updated to run the OS. even as a preview os is runs better than android and ios.

WP 8.1 PREVIEW is better than Android 4.4.2. I have downgraded two Nexus 5 from 4.4.2 to 4.3.1. My iOS dev friend told me that WP 8.1 Preview is much better than buggy iOS 7.1.x Preview.

We know we are better than others we dont need to compare.

Want Installous? you can find it at iOS-Tips.

It seems as if you spell "iMore" as "wpcentral"..

Don't blame im, spelling mistakes can happen...

Dildos here, get your dildos here. Oops, spelling mistake.

Not really an upgrade and an empty store why would anyone get this?

Because it's a decent cheap budget phone with the lastest software and the store is full of useful apps .

I wish more people saw it that way, but I still feel it a downgrade, even from the 520

another troll go back to your android or ios forums where you belong.

No trolling intended, I just feel this phone lacks some excitement compared to others of the same range

New phones should come with 1GB RAM.. :(

Yeah 1gig not much to ask for but it is surprising how well 8.1 runs on 512mb. Would be interesting to see benchmarks on this new quad core processor. Just because its quad core doesn't mean its faster

Tempted to get one and change it for my Nokia Lumia 920.

Good news for folks in Italy

Mediaworld, with few exceptions, hasn't cheap prices

I'm worried how would that xbob music app perform on that phone.

Yeah what's app and Skype are so s*** they need sorting especially for 8.1

skype is receiving a major update on final consumer release of wp8.1, along with facebook, twitter and more... whatsapp i cant tell you about but i think they will update too after consumer relase of wp8.1

I have a nice fealing..hmm...

I CANT DELETE IT :( just a comment test nvm haha

I confirm Italian folks appreciate this xD

wtf? why in Poland it cost almost 250euro on pre-order?

Promotions of the single vendors I guess