Nokia Lumia 630 headed to Norway on May 15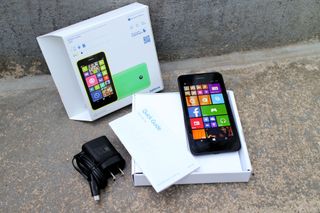 Nokia's new Windows Phone 8.1 toting Lumia 630 will be headed to another European country on May 15. According to the folks at Itavisen, Nokia's local team has sent out a press release dating the launch of the phone in Norway with a price of 1295 Krone. This puts it around the £130/€150 price we've seen elsewhere in Europe.
The Lumia 630 offers a lot of phone for the price, not least being one of the very first devices on the market with the newest version of Windows Phone. We've got a Lumia 630 in house right now, so while we're working up our full review be sure to check out our initial unboxing.
Source: Itavisen Thanks Morten for the tip!
Windows Central Newsletter
Get the best of Windows Central in your inbox, every day!
Managing Editor - Tech, Reviews
Richard Devine is a Managing Editor at Windows Central with over a decade of experience. A former Project Manager and long-term tech addict, he joined Mobile Nations in 2011 and has been found on Android Central and iMore as well as Windows Central. Currently, you'll find him steering the site's coverage of all manner of PC hardware and reviews. Find him on Mastodon at mstdn.social/@richdevine
Hey wpcentral admins, I'm looking forward to see the review of this phone :)

Short version; it's the 520 on steroids Great little phone which I am happily using as second/backup driver

Stay away from 512mb, no flash phones unless it's for a pre teen. That's all you really need to know.

Or someone who doesn't play games or take photos in the dark...

Better go for Nokia xl, front cam, 768 ram, main cam with flash.. Sd support .. Its totally great for VFM N price is almost same

630 has only 512 of ram and I think quad-core (not so sure) but for first time users of windows phone 8.1, I'm sure they'll enjoy it. Besides, 630 is designed more for the 3rd world and maybe for europe, not the US. WP8.1 is great, so this phone should be good enough for a start. Think of it as a 520, it's still better than a 520 right?

It's better, but I don't know if it's £50+ better.

This has been a really uninteresting week on WPC...

you must have really high standards, or unrealistic ones. I can't wait for this device to hit Canadian shores. Im buying a bunch for family members to replace their aging phones with something modern and new.

So what, because the news hasn't been relevant to you and where you live it's uninteresting? What about folks in Norway that might be really excited by this?

Send us a list, Medo0, of what interests you and we'll make sure you're entertained.

Your silence would be interesting to me;)

I think you misunderstood me (or maybe I wasn't clear enough). I wasn't refering to 630 nor this article, what I meant is that we haven't heard any big news about new apps... or Nokia Cyan update... you know.

You better be careful. You don't want to p*ss off the WPC mafia... lol

I'm norwegian, and think its nice to have more phones available, the L630 looks like a great starter phone for people wanting a not so expencive smart-phone, not all are tech freaks like me, I have a L820, a L920 (will put up for sale) and a L1020. All are on wp 8.1 and I'm waiting for L930 :-) The L820 is a really great phone and I use it alot (when not taking photos, then I use my L1020).

Lumia 630 nothing anything more like now windows 8.1....

I hope for MS that Music will be usable and that Photos and Games and Email (is that even possible?) receive some big updates until then.

So WP8.1 would be out then?

I think Microsoft take more than 2year to complete improve the os windows 8.1.tht time android will king mobile and that os will more improved than wp8.1...

Ya agree with u,the development process of windows phone is too slow

Android is already king...
Of fragmentation and lag...

You missed King of scanning your private info to sell you!

Avg consumers don't know about that. That's y android sells very well. Ppl have to come to know the true colours of google.

Definately ,average consumer don't know that at this price level one get hig spec handset than this ,

So the windowsphone a king of os restriction and less capability ,limited customisation,

Go home Android fan! you are drunk !

Lol drunk baby fan check any android phone at this price nd dont cry

Baby check canvas juice spec,it has high processor,1gb ram,flash ,big screen almost at this price level go home sleep well,don't panic

Couple of things to point out, canvas juice has an inferior processor, pathetic screen resolution, less on board memory with no way to install apps on the SD card, front facing camera is present but of little to less use due to low pixels, less powerful gpu and not so good build quality, sorry to say but you need to bring in another phone for comparison here

No dear all you mention is not whole truth,photography in L520 is pathetic during night because of absence of flash in juice,you can move app to sdcard via Esfileexplore,battery back up is also good,it has good processor with good ram it play hd game very smooth without any problem,heir we have most of the app with limited feature

When will it come to India?

Shouldn't be far away from Finland, then.

This phone already been released in any country??
Here in Brazil the 630 will comes with digital TV built in.

Unfortunately these phones are all the same in esthetics,they lost 30% sales this quarterly ,if they don't come out with something really new they will never get a big piece of the cake!

Don't know why this phones are in market in todays world ,where sky is limit,heir in this phone it has still OS restriction,with very less number of apps,games,and instead of this if MS is still dreaming to defeat that android and ios without changing something big than it is big lol,still huge list of missing features inwp8.1

Did your android phone lag so much, you had to come trollin on Wpc so you would feel better ? ;)

Its L520 with slow internet ;)

What? Which missing-feature list you are referring to? Can you at least learn to spell correctly before passing your judgments! Failed!

The basic feature, data toggle is absent in notification +action,can u pls learn basic requirement of smartphone please,first realise the basic need first than recomment and stay tuned their are many more,don't panic
Negative(-)

Data toogle in action center is a basic feature of any smartphone? WOW, you are so lost!

Hope whatsapp is fixed before the phone is released...

Yeah that's the main thing a person buys a smartphone. Many avg users just buy budget phones just to use watsapp

Well yes, that and I'd love to see the dual sim device come to Europe also. It's rather funny but I'm currently giving corporate finance classes, at university for post graduates, and yesterday evening some members of my class were actually talking about the wpc article, re whatsapp not working, and how they were looking forward to the 630 as an alternative to the iphone!!! I've never been in a setting where people were talking about their mobiles. Ah, the youth of today lol Anyway, excited to see the device come to Europe - I have a 625 and want to see if this is an improvement.

nice to see 8.1 devices are coming but realy want to have reliable dates for the 930. i can not understand why nokia presents new deviced which take about 3 month after the presentation to hit stores and nokia is not able to give an exact date :(

I agree. It makes no sense that they can't set a release date when they announce a phone. But the real issue is that it takes too long between the announcement and the release date.

People wanting to buy mid range phones always face dilemma...why don't they make something like L720 with 1gb ram as a mid range phone...according to me what's missing in 630 is another 512 MB of ram which would have made this a super cool mid range phone...what I feel is 1gb ram is more important than a quad core processor...in the end even this phone won't be able to run all the apps(especially games)

I agree with tha dude don't want a phone with 512 Mb ram...coz unity and Disney and many other devs don't want to rewrite their app just to make it work on 512

It's also missing a front camera.

If don't wanna play big games this will be the best smartphone to rock the market. Moto g has done a lot with its specs and low price. This piece will sell like hot cakes in India with just the name of Nokia.

I dont want the Lumia 630... I want the Lumia 930 :D

One random product per month to be sold in a certain country. Next quarter, 40% down.

Good point. WHERE ARE THE PHONES, MICROSOFT?!? I mean, seriously... there was no new flagship for the 2013 holiday season... and it shows by the decline in sales. Microsoft/Nokia really needs to get its butt in gear. The competition isn't sitting still...

Isn't there a research team of Nokia microsoft to research exactly what customers want? A phone with low memory and without front facing camera??? No doubt why the handset sale is down by 30%. Just dual sim and it will be a runaway hit? Lol.

Nokia has good name in India i think this will hit the store to the maximum when it comes... Lumia is rocking in India. Bcoz we got a lot of monuments and thinks to photograph and share that's the best part. With pure view Lumia 930 will also become one of our daily needs .. And that Superman posted by you it will be rocking.. Bcoz most of the people here are selfies in India... So i think nokia will only come back to a profit rate after Lumia 930 and the superman :).. Its my opinion on my social network society in India.. My friends already own more Lumia mid range and high range mobiles .. I own a Lumia 620 as I'm only 18. After i earn i will buy the Lumia 960 or maybe micro(soft) 960 lol

Hmmmmm, the 960? what do you know the rest doesn't or did I miss some other news?

630, 930.. 30... Yeah, that's exactly how I said Microkia would be naming devices.. And it makes sense seeing that for the most part these are 3rd generation Lumia devices... I wonder if we'll see a 935 for T-Mobile.... I bet we can count on a 1030, 1330, 1530, 2530.... But, I will say that I do like using names like Icon....

The 13 series will be ended i think so i read about that somewhere.. But after an year or so.. The names will change .. As Microsoft products :P
Correction: not sure about the 13 series ending but the Lumia will change

IDK.. We'll have to wait and see..

+adding up we need a developed os here too... And its a good developed os for basic needs like cooking , booking, sharing, and even music is rocking in headsets... We love nokia i expect the os will meet others need too... :) ;)

When will Cortana be 'de restricted', will this Phone release include it?

This phone is doomed, too late to market, with Nokia pretty much death, and lame specs, this phone is irrelevant, with phones like the Moto g around, this 630 is pointless

Oh yeah you will pay for an virus affect able open android than an secure Microsoft phone with crystal clear photo quality and a lag free mobile is that joking? Lol

I'm aware of Android's problems and virus and all, the fact is that they have sold more than all Nokias

Its like the starters, dual sim fone for Romeo Juliet type people... Better Nokia xl... Front cam, 768ram and same processor as of 630 n 635 with front cam n main cam with flash... At almost same price

Nokia x is trail version and its kind of laggy when you read the reviews ... Its just a test version you can wait for other nokia mobiles

Its better I will wait for Lumia 735 to come in June with wp cyan out of the box.. N check the specs for 20k INR..

630 has only 512 of ram and I think quad-core (not so sure) but for first time users of windows phone 8.1, I'm sure they'll enjoy it. Besides, 630 is designed more for the 3rd world and maybe for europe, not the US. WP8.1 is great, so this phone should be good enough for a start. Think of it as a 520, it's still better than a 520 right?

Yeah start selling phones off contract in the US and the situation would become the same as other parts of the world, just saying

"The third world and Europe"... Isn't that a slightly arrogant statement?

haha, you gotta visit the states to see how backwater it is

Is there any news on the 930. When and where can I get this?

OK I think we can assume that cyan firmware is finished if they can start selling the phone. Hope it does not take too long until the update is ready for the existing phones.

8.1 is nowhere near "finished" state and there is no way they can polish it in remaining weeks. 630 will be coming with a bunch of promises to "fix everithing in coming weeks/months" in the box.

Can my friend suggests me for windows 8.1 lack

I really like the onscreen buttons.

So in two weeks time will developer previews be updated?