Nokia Lumia 710 and 800 lands in Malaysia on Feb 10th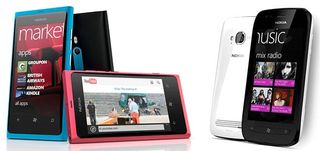 Nokia's global launch of the Lumia line of Windows Phones continues with the Malaysian wireless market set to get both the Nokia Lumia 710 and Lumia 800 on February 10, 2012.
No word on pricing for the new Windows Phones and according to Lowyat.net you can find the Lumia 710 and 800 at the Nokia Store in the Pavilion Kuala Lumpur shopping mall and in Gardens Mid Valley.
source: Lowyat.net (opens in new tab); Thanks, Chapree, for the tip!
Windows Central Newsletter
Get the best of Windows Central in your inbox, every day!
George is the Reviews Editor at Windows Central, concentrating on Windows 10 PC and Mobile apps. He's been a supporter of the platform since the days of Windows CE and uses his current Windows 10 Mobile phone daily to keep up with life and enjoy a game during down time.
Lol did I not JUST say in the Indo thread if would probably come to Malaysia around the same time? Good stuff! I'll be there late feb, so I'll see how much advertising is being done.
EDIT: Malaysian Lumia 800 price expected to be RM1,890 (around US$620), while the Lumia 710 is estimated to be around RM950 (around $312). Can't say who my sources are (they've got a 80% chance of being right). If that's the case, it's a little high.

The prices are a bit high jubbing, agreed (the price you quoted for the 710 feels ok), but remember these are the flagship nokia stores, not carrier subsidised, nor outside retailers, and prices are historically a couple of hundred bucks higher. I remember this from the time I got my 5800XM, a few shops down from the Nokia store you could always pick one up for about 200RM less. So let's hope that's the case here too. And I hope the idiot carriers here finally start pushing WP for real, maxis has recently taken a step back and removed 'Windows Phone' from their list of device categories... RIM's still there though, and of course iPhone is up top.
Oh, and all 800's are 16gb, I don't know if there was any doubt to that, but just wanted to clear that up, as storage has personally been one of my points of contention with WP devices.

Still cheaper than the iPhone. Yes I know Maxis don't push WP7, when I was in 1 utama, I asked about windows phones and they gave me such a blank look. On top of that, Yow Lat seems to be the ONLY mall where you cna purchase wp7 devices outside maxis. Shame. Nokia will help. Hopefully they drop the price too, before launch. Heard they're giving a xbox 360 away with it as well.
Yea we know 800's are 16GB! Never any doubts there.

I was gonna WPCentral but... haha :D You guys are gonna be there ? Anyone ? BTW, is it a launch party ? :)

Great! All that left is a front camera.

Oh shiz... good point. Now with the Skype app announcement that puts a bit of a damper on my desire to got the 800... but seeing it in person (device?) probably had a negating effect on that. It's so purty.

Ah jubbing, you beat me to it. I can reconfirm, as per what the Nokia sales people at a Nokia store at a mall said, the 800 will be under 2k RM and launching on Feb 10th, as stated above. However she refused to speculate on the pricing of the 710 as it will supposedly be released somewhat later, something that doesn't agree with what's said above, though I personally feel the fact that they have working models of just the 800 (according to what I've seen and as reported by lowyat.net) back that up. I think I might drop by the launch event, the sales rep hinted there'd be goodies given away, and I'd just like to be there in corporeal support of Nokia and the platform in general.
They've also redone the Nokia store at this mall completely, giving maximum room to WP, though I didn't see that pretty arc :p, I could get pictures and post 'em up. I expect the big push, and as mentioned, launch party, will be at the Pavillion which is a pretty high visibility mall down here, but it's good to see other Nokia stores getting the WP makeover love, reinforces that the Pavillion deal isn't just a token gesture.
One sad thing I have to say, the 800 sets they had for play at the store, (as beautiful as I've read them being) inexplicably had the sim card trays removed (broken? doubt it, since it was the same for all 3-4 sets they had), ruining the look of the phone, and the phones were not configured with any live IDs or even wifi connections, so they were essentially pretty dumbphones populated with fake contacts, but even those fake contacts only showed a picture, phone number, etc, you couldn't see any of the awesome facebook and twitter integration, which would be a major selling point, and kind of leaves the phone feeling empty. I play with my friend's WP device incessantly, and the feel of a fully configured WP phone in use is in stark comparison to something out of the box and not setup, it just doesn't have that 'alive' feeling.

Yea well, a source of mine works for one of the papers, so she had a nice chat with Nokia. Though pricing could still change closer to date. Is the launch at Midvalley or Gardens? You should go, see what they give out! Do take pictures and put them up! Or send them to me :P EDIT: Just saw Pavillion, they should have done it at KLCC! But I guess Pavillion is launch central these days.

Ah, I heard about the briefing they had for the press, you've got friends in high places ;)

The lady at the Nokia store mentioned Pavillion, I'd prefer Midvalley, closer for me. Unfortunately I think the launch is going to be more of a press and in-the-know sorta thing, rather than a full blown media and fan frenzy like you'd get for an iPhone launch. The sales rep sounded surprised that I was so keen on going, but from how she said it, it didn't sound like a by invitation only event. If I make it I'll get pics :)

KLCC would definitely be a statement, but Pavillion's where all the cool kids seem to hang out these days :p

Correction, Malaysian Nokia pricing for wp7 devices confirmed - Lumia 800 is RM1,650, and the Lumia 710 is RM999. So I was close.