Nokia Lumia Momentum Map reveals plans for world domination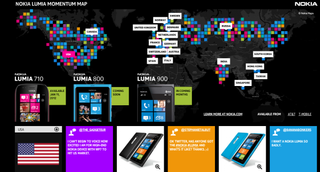 File this under "awesome use of a web page". Nokia has published up a very colourful map (opens in new tab) showing all the countries Lumia has so far invaded, as well as where it plans to go in the future.
In terms of information, the map tells us that the UK is unlikely to see the Lumia 900 any time soon (in fact the 800 is the only listed device), whereas the rest of Europe will find release dates for the 800 and/or the 710. For those of you living in the states, you'll see that the 710 is released tomorrow, with both the Lumia 800 and 900 to follow in the coming months.
But it's not all pretty colours and release dates. If you click on each country you'll see related media, reviews and tweets - including the footage from the Nokia Lumia Live event with Deadmau5 in London.
All in all, it's a page well worth a few minutes of your time to bring a bit of colour to your life.
Source: Nokia Lumia Momentum map (opens in new tab); Thanks, TheWeeBear, for the tip!
Hmmm flash. Should be using Silverlight Nokia, bad!
Sucks seeing no 900 for the UK (or even a date for the 710!)

Yeah I have to admit I was disappointed to see nothing for the 710, it was an ideal phone to recommend to family members...

Ok, Why would they not offer the 900 in more areas??? Then my second question, why am I being screwed as a consumer in WA. ATT/T-Mobile are the two carriers that are downright HORRIBLE in my area. I was so desperate for a WP7 phone last year I tried them anyway and I had practically ZERO service at work and home!
I am stuck w/ Sprint and the Arrive. Who do I have to kill to get Verizon/Sprint to stop giving iphone/Droid a handy?

the guy that decided to not get 2nd gen wp7, im sure u can find his name somewhere lol

Nokia's world map looks like a map from the 17th century. Maybe or maybe not there is a large landmass to the south called Australia. Australia, the land that Nokia forgot.

This made me LOL and people in my office are looking at me strange.

They didn't even manage to put New Zealand on the map :(

im guessing they need to guarantee stock for the states for 900 and until they have enough supply they won't go selling them in other countries, looks like they really are set to take over US market

we're only up north, come on share some love here lol (900 for canada)

I was hoping for a 4 plus inch phone with a slide-out keyboard. My wife has the LG Quantum and wants to upgrade! I was really hoping Nokia was releasing more than two phones in the US. Need more variety like the slide-out keyboard, hdmi port option, etc.

Do any European Carriers even have LTE yet? If not, what's the point of offering the 900?

Bigger screen, front facing camera =)

Still waiting for the lumia phones to be announced in Mexico...
Stephen Elop said in a conference some months ago that the Lumia phones will be coming in the first months of 2012 to latin america... But no announcements yet =/

Well from this, looks like the U.S. is indeed getting the Lumia 800
I predict it'll come to Sprint & Verizon.

Oh well if it's not coming to the UK I'll have to keep hold of my Titan; what is it with this 4.3in phones only releasing in the US?


No Australia.

DIAF Nokia and take your awful N9 with you.

lumia 900...where is Cyprus on the WORLD MAP

Windows Central Newsletter
Get the best of Windows Central in in your inbox, every day!
Thank you for signing up to Windows Central. You will receive a verification email shortly.
There was a problem. Please refresh the page and try again.