Nokia Lumia 720 and Lumia 520 Windows Phones launch in Italy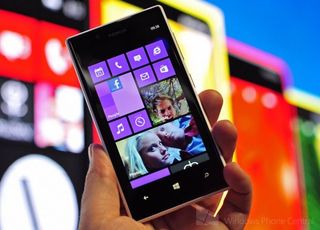 Nokia has announced that both the Lumia 720 and Lumia 520 are launching in Italy. Both the cheapest Nokia Windows Phone and mid-range Lumia smartphone will be aggressively priced and marketed to further push the platform in the market. Windows Phone has done well in Italy, according to previous market share reports so the two new devices should do well. But how much will the Windows Phone 8 devices cost?
The Lumia 520 will be available in yellow, red, cyan, black and white for €199 ($255). Unveiled at Mobile World Congress back in Barcelona, the Windows Phone sports a 4-inch LCD display (480x800), dual-core 1GHz chip, 8GB internal storage (with SD support), 512MB RAM and has a 5MP rear shooter. What's unique about the Lumia 520 is how Nokia has managed to include Sensitive Touch, much like what's available on the Lumia 920.It's a perfect choice for those who are new to the platform.
The more expensive Lumia 720 will have a price tag of €349 ($450) and will also be available in yellow, red, cyan, black and white. It features a 4.3-inch IPS display (480x800), 1GHz dual-core chip, with 8GB internal storage (SD support included) and 512MB RAM. The added bonus with the Lumia 720 is the front-facing camera. This 1.3MP shooter joins the 6.7MP main camera on the rear of the device. It's reported that the Lumia 720 will be available next week.
Source: Windows Phone Italy (1) (2)
Rich Edmonds is Senior Editor of PC hardware at Windows Central, covering everything related to PC components and NAS. He's been involved in technology for more than a decade and knows a thing or two about the magic inside a PC chassis. You can follow him over on Twitter at @RichEdmonds.
Is that the 720 in the photo? Looks like a gorgeous phone.

Yes it is going to be one hell of a seller I think..

Looks like a black rectangle with a thin white bezel to me :)

Amazing Alex on WP8

http://blogs.windows.com/windows_phone/b/windowsphone/archive/2013/04/03...

Wow both are expensive as sold in other countries

Freaking overpriced .. Yeah ..
U could get Lumia 620 and Lumia 820 for the price of Lumia 520 & 720 in Italy ..

no way: if we are to consider list price 620 is 250E and 820 is 499E...in addition you have to understand that converting Euros to Dollars using current exchange rate make no sense at all if you're tryng to figure out if something is to be considered a good/b or bad deal: to understand if a device looks cheap/convenient here in Europe you should just switch E with $ and evaluate it. EVERY manufacturer in the world just converts $ to E in this way (1 to 1) and we're perfectly used to this practice...hooray for EU! :(
eg when Samsung S3 16gb came out was 699E (=900$) in Europe and 699$ in US

I was talking about Euro conversions only ..
In India Lumia 620 costs 210 euros and Lumia 820 costs 350 euros

Well in Europe the garanty is warranty time is much longer than in US or India, namely 2 years. And in the US in many states there are no sales taxes or just very low or do not apply for online sales at all. So the US price is often displayed without any taxes, but some local taxes may apply...Freeky wicked country...but thats it..

Just me or do these two make the 620 and 820 look crap? The 820 has the 1GB of RAM to save it but the 620 has nothing.

Newer models tend to do that to older ones...

I would love to have the 720 body on my 810

I'm happy with my body :)

620 has the front facing camera compared to 520. It also has the HERE Drive+ compared to HERE Drive on 520.

The 620 has a flash, the 520 has no lights at all.

620 also has a small screen... a plus for some who like small phones.

620 has NFC while 520 does not have it.

I'll take the 620 over at least the 520 any day.

The 520 has no NFC, no front camera, no flash, no compass and a reduced Bluetooth profiles set.. Also while only having a 0.2"smaller screen the 620 has IMO a nicer overall size.

Remember these prices include 22% tax, so that would be $199 for the 520 and $349 for the 720

if 720 could get 1gb ram, then it'd be more attractive. come on, memory is cheap nowadays.

Same here if the 720 had 1g of ram it would have been way better, considering limitations in many games and apps i will have to pass this device even if everything else looks very good.
Difficult to choose a WP8 device i had a 920 (the rattle and build quality did not seem good as for many) and i think i will have to wait for another flagship device from Nokia, the 820 has a fugly design so that is not an option for me.

well is 720 has that, no one will buy 820..

Iphone costs around 150 dollar to make.. Tell me how much they sell for?.. it is not about parts.. it is about margins.. I am sure 720 is going to be a big hit never the less. Many do not know about memory and stuff.



it also starts selling in Southest Asia from April 4 at ~ $360 (vat included). Btw, where's the Lumia 928 ?? not even a new rumour

In India , Lumia 820 is for $450 .. ;)

Check http://www.youtube.com/watch?v=tnuYyhNp17E


If L720 is > $370 i'll pass i think.

I hope it comes to Mexico soon. =)

I want one to use it as a music player with xbox music =)

for $450 in the USofA I can buy a 920. WTF Europe sucks.

No you can't. That's for a phone locked to AT&T without contract. That's why it's cheap.

Well, those are prices off-contract.
For example, in Italy, we can buy a Lumia 920 with Three Italy for 0€, with a contract of 29€ (for 30 months) worth 400 minutes and 100SMS plus 2GB of mobile internet, so... everyhing is relative.
Stille: now the price for the 820 is 449 on the market, so... do 100 euros worth the difference?

Hi every one..
I wanna buy 720 or 820 im totally confused.Is 820 camera better than 720 and also a phone will 512 ram be upgraded to WP9
Rite nw im sailing on galaxy y wanna the ship to win 8.

If Nokia want to regain number 1 position, it should start selling all its Lumia line in India and also need to make it more slim. I am still waiting for next big phone from Nokia with aluminium body and finish like Apple product till then I am happy with 900.
Windows Central Newsletter
Get the best of Windows Central in in your inbox, every day!
Thank you for signing up to Windows Central. You will receive a verification email shortly.
There was a problem. Please refresh the page and try again.