Nokia Lumia 800 goes "Cuckoo" for BBC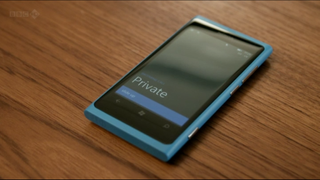 It looks like Nokia got a new talent agent because it has once again seen one of its phones get a walk-on role on a TV show. This time around, it's the cyan Lumia 800 in the BBC series Cuckoo (opens in new tab), starring Saturday Night Live alum, Andy Samberg. Not only was it featured on the show, but it also looks to have gotten it's very own close-up.
We also just saw what looks to be a dressed-up Lumia 900 appear on ABC comedy The Neighbors. But it's not just the small screen. A Lumia 710 (?) is shown in the trailer for a movie called The Canyons, due out in 2013, as well as a strange, drab-green Lumia 800 in sneak peek of the upcoming Hugh Jackman move The Wolverine. Not to mention that actress Jessica Alba was spotted toting a Lumia 900 recently in real life.
Nokia's sure got the full court press going on in the advertising department. With the new batch of Windows Phone 8 Lumias due out soon, we expect the trend to continue.
Thanks for the tip and pics, Robrecht!
Windows Central Newsletter
Get the best of Windows Central in in your inbox, every day!
I saw this in Cuckoo, but don't have PVR and wasn't with my Xbox for iPlayer replay. Good show to showcase a vibrant handset to a young audience.

Finally Nokia is puting some money behind marketing. I think it's a good choice to for them to do product placement.

It's a bit too late... They should have put it when it first came out or make it the 920.

well, the good thing about not changing the design this go around is that the 920 will appear to look like the one in the shows, since regular viewer will never know the difference lol

Are you serious, no marketing for Lumia in UK? Never even seen MS or anybody else avderitsing WP other than Nokia. Why probably Lumia is more searched word in Google here than Windows phone.

They where bombarding ITV, X factor with Lumia ads 24/7. Nokia also had big events like the huge Deadmau5 concert.

BBC is not alowed to show any advertisments, no Nokia dollars went into this.

Might just be me but I think all 3 of those chicks are hot.

Bahahahaha!!!! I hope you're being sarcastic. Can't really tell. If you are serious then you should watch the show. The "chick" holding the phone is actually the SON of the chick on the far right and the BROTHER of the chick on the left. Lmao.

Would be good to get the iPlayer (maybe without the iApple I)

It's also been in Elementary, the new Sherlock series in the States.

I noticed the other night that Channel 4 dramas are now sponsored by Nokia Lumia

The BBC aren't allowed to do Product Placement, so it cost Nokia nothing.

And don't forget that we can see Nokia Lumia 900 in recent Hawaii Five-0 episodes, I'm surprised that Steve McGarrett changed his phone from iphone4 to Lumia 900......

Why is it always be Nokia must be paying for this and that. Can't it be just that Lumia 9XX is now considered by many as the new "cool" phone to have, especially when iPhone doesn't have that wow factor for everyone anymore. It is so impossible to imagine that a producer, writer, director or actor has or prefers a Lumia phone? I'm sure Nokia didn't have to pay Jessica to use their phone. Geez.

+10 yeah not everyone is a hypotised isheep

Hollyokes in the UK have them on there daily, they even use the normal windows ringtones as other phone rings

Nokia Lumia are spondering Homeland on Channel 4 right now.

There's a movie playing on the tv here a work and one of the main characters is sporting a black Lumia. I can't tell what it is, but it's my first spotting of a Windows Phone on tv.
Windows Central Newsletter
Thank you for signing up to Windows Central. You will receive a verification email shortly.
There was a problem. Please refresh the page and try again.